Top Trends in Technology: Extended Reality (XR), 3D Printing, and Artificial Intelligence
While in the first article about the top 10 emerging technologies, we analyzed metaverse, NFT, and Cloud Computing, it is time to move on to the next trio of leaders. Hence, as you already understood from the title, today we are going to talk about extended reality (XR), 3D printing, and artificial intelligence (AI). Are you ready? Then, let us crush top trends in technology together.
4. The Mind-Blowing Popularity of Extended Reality (XR)
Probably, you have already heard of virtual reality (VR). But did you know that it is, actually, a subcategory of a much broader digital trend? That is when Extended Reality (XR) breaks in. It is a general name for all real-and-virtual combined environments. And this trend is really hot. Yet, what makes this technology so attractive? Let us find out by explaining the main XR statistics & variations.
Future in Numbers: Extended Reality (XR) Market Growth Forecast (2028)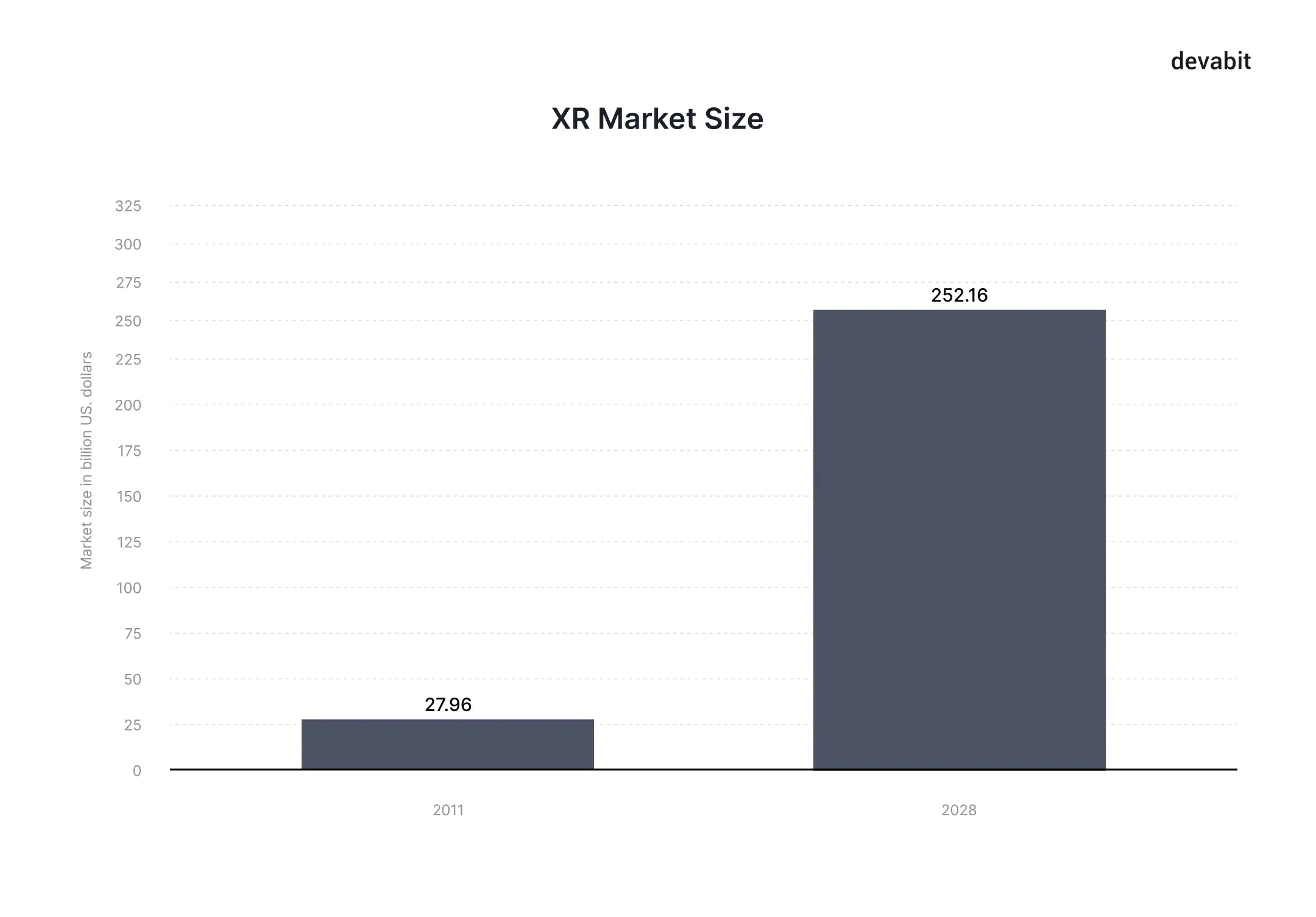 AR + VR + MR = XR
XR incorporates VR, MR (mixed reality), and AR (augmented reality). Let us add some clarity to these innovations.
Virtual Reality (VR)
Virtual reality (VR) is a completely digital experience that can be similar to or different from the one a person gets in the real world. Mostly, it goes about taking on VR headsets that generate realistic images, sounds, and other sensations. VR is mostly applied for entertainment purposes and is very popular in the video gaming industry. However, just like any other cutting-edge technology, VR has a whole bunch of implications and can help users host business meetings, organize interactive classes, and even practice professional scenarios. Overall, VR may come in handy in almost any industry. And there is a solid reason to think that technology is still (thousands of) miles away from reaching its full potential.
Augmented Reality (AR)
Augmented reality (AR) is an interactive experience where digital objects are placed on the real-world layer. A perfect example of AR is a mobile app that enables you to see digital objects through the lens of a smartphone camera. Remember Pokemon Go? This simple game shows a great example of AR. It was also an app that introduced AR to a broad audience. Surely, just like in the case of VR, AR is not only about entertainment. This technology brings great value to engineering, education, arts, and other disciplines where 3D object visualization matters.
Mixed Reality (MR)
Mixed reality (MR) is a tech innovation that combines physical real-world experience with digital elements. At a first sight, it may seem completely the same as AR. Although the dividing line between the two is blurred, there are still numerous differences between MR and AR. The main one is that mixed reality interacts and connects to real-world objects, while augmented reality is about non-interactive digital objects that can be only seen or heard in the real world. Perfect examples of MR are interactive digital images in museum exhibits. One should also mention Microsoft HoloLens, a mixed reality headset that serves many purposes. To name a few, it can help vehicle drivers get a circle view of their vehicle, provide healthcare practitioners with interactive tips during their internship, facilitate household management, and help business executives visualize necessary metrics.
XR: The Long Story Behind Top Trends in Technology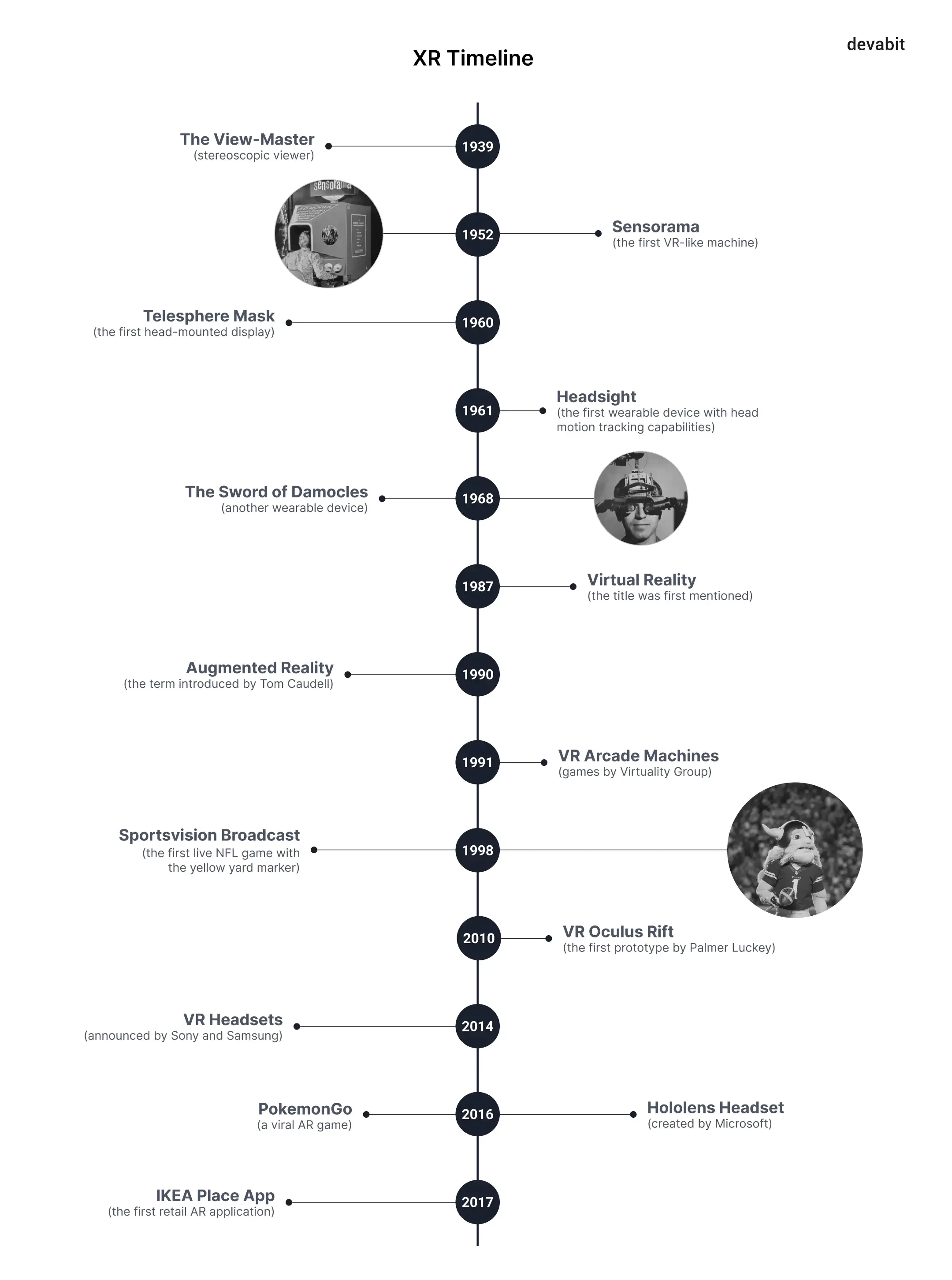 5. Top Trends in Technology and ...3D Printing? Revealing the Connection
One more technology trend that has a bright future is 3D printing. The market for this innovation is expected to grow at a compound annual growth rate of 20.8% in the next 8 years. So, what does 3D printing, actually, mean from the perspective of top trends in technology? Speaking in a more official language, it is about creating a physical object from a 3-dimensional digital model. In simple words, it is when you upload a schematic 3D file to the system, the system connects to a manufacturing device, and the device manufactures the item displayed on this schematic model. 3D printing techniques can vary from the ones that lay down numerous thin layers of material in succession to the ones where lasers carve the required object from a large piece of material.
Future in Numbers: 3D Printing Market Size Forecast 2022-2026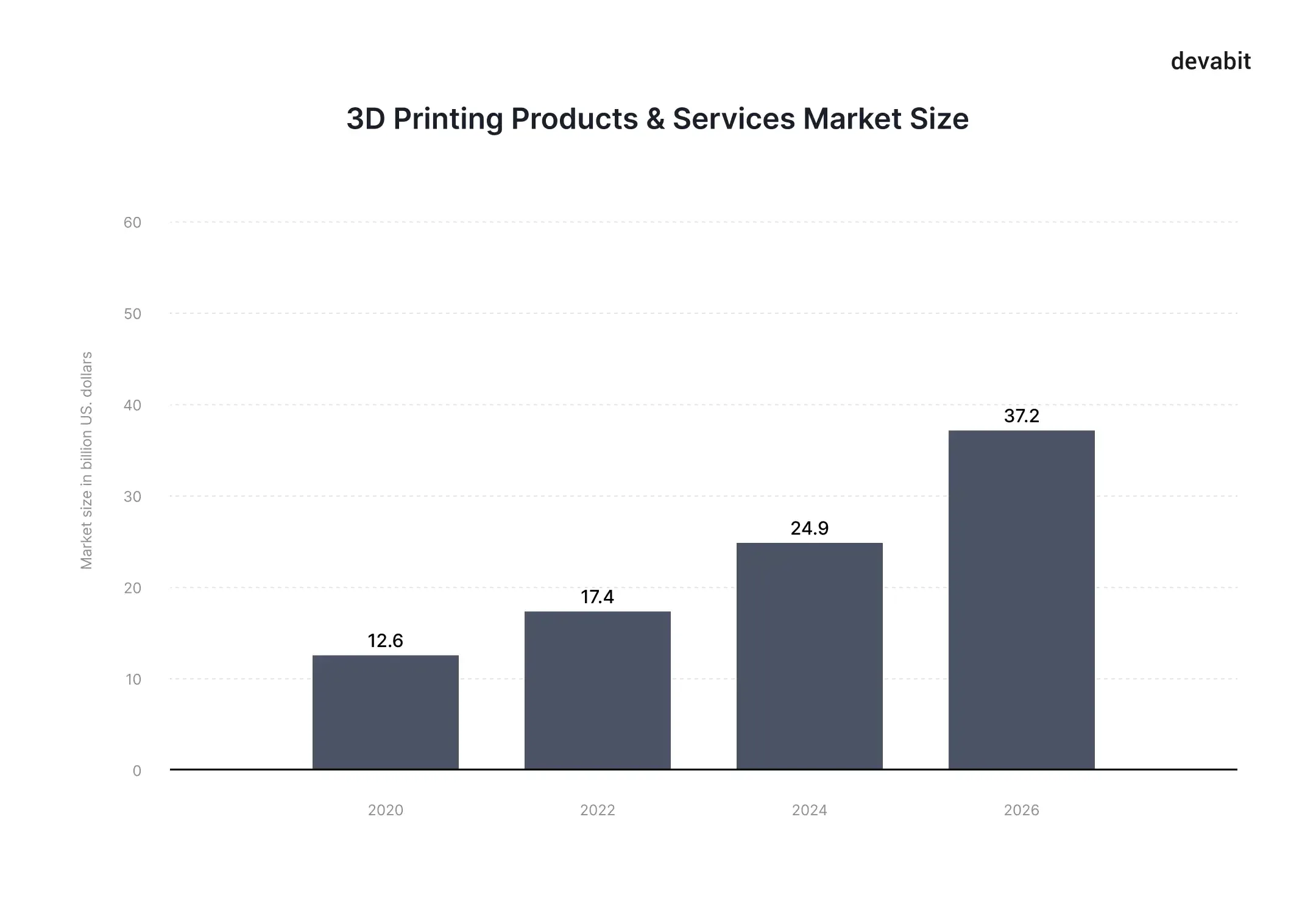 3D Printing or How Top Trends in Technology Bring Value to Businesses
We can continue exploring top trends in technology or dive into the topic of materials applied for creating three-dimensional objects. But let's be honest, the business value of this innovation is what really matters. And that is when the most interesting part goes. Almost any type of manufacturing may be enhanced or replaced with 3D printing. Here are just a few examples of items that are commonly created with 3D printing technologies:
Shoe design;
Toys;
Mechanical vehicle parts;
Construction tools;
Jewelry;
Tripods;
Bags and other types of tourist equipment;
Furniture.
Moreover, this technology doesn't intend to stand in one place. 3D printing constantly develops and helps people create more and more unexpected things. Up to the point when construction companies build cottages composed of large parts that have been created with 3D printers. And do not forget about revolutionary cases where this technology is used to create organs, such as the liver or even the heart, for transplantations.
But even apart from these cases, 3D printing brings much value to businesses operating in a broad range of industries. One of the greatest benefits of 3D printing is speed and cost-efficiency. Companies can use it to manufacture various objects in minutes. So, when it comes to doing things fast, 3D printing is a great solution. Besides, it is cost-efficient and predictable because, in most cases, you can estimate the amount of material needed with striking accuracy.
Surely, there are some claims regarding the quality of 3D-manufactured items. Traditional manufacturing practices are much more reliable and bring better quality, or that's what they say. Fortunately, everything is not so certain. Firstly, 3D technologies have grown to the level where they deliver manufacturing-level quality. If you have any doubts, just consider that BMW, Toyota, and SpaceX utilize this technology to create some parts for their vehicles and rockets. Secondly, 3D printing still remains a perfect solution for developing item prototypes. After all, prototyping is more about visualizing things long before the release than about delivering final-product quality.
Finally, it is essential to mention the connection of 3D printing to software development. Just like any modern tech trend, 3D printing incorporates the digital part. Software is what allows the 3D printing device to process the scheme and re-create the object physically. The higher the quality of this processing software, the better the printing outcome. And there's always room for development, so optimizing and creating new software solutions for advanced 3D printing may be a very lucrative idea.
At the Dawn of Top Trends in Technology: 3D Printing Timeline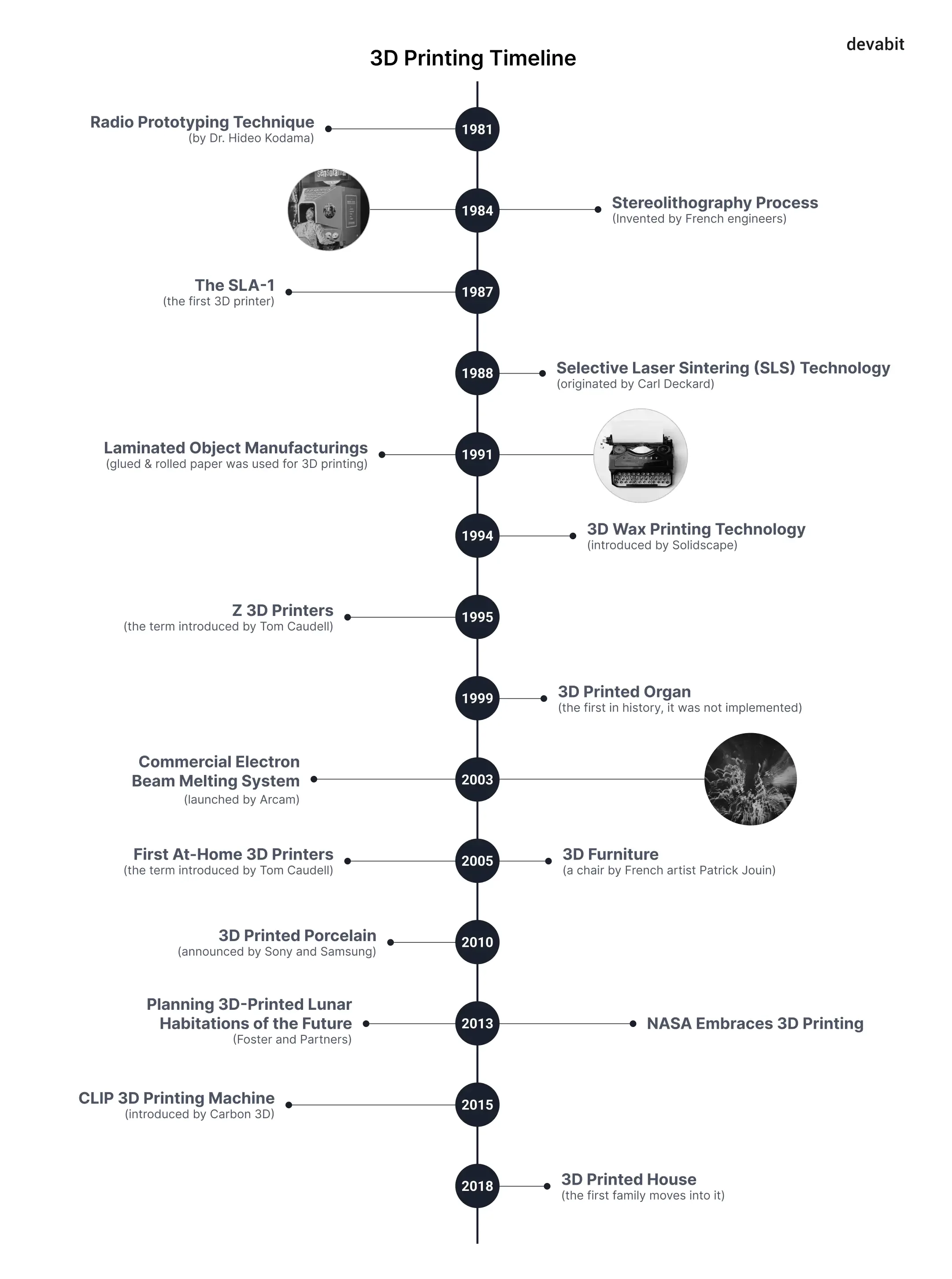 6. Artificial Intelligence (AI)
At last, we are approaching the hottest digital trend as of 2022. According to the Gartner report, the global market for artificial intelligence (AI) solutions will exceed $62 billion this year, showing an impressive annual growth of 21.3%. Isn't it a solid reason to take a closer look at this technology trend and the many promises it brings?
Top Trends in Technology Revealed Through Numbers: AI Market Growth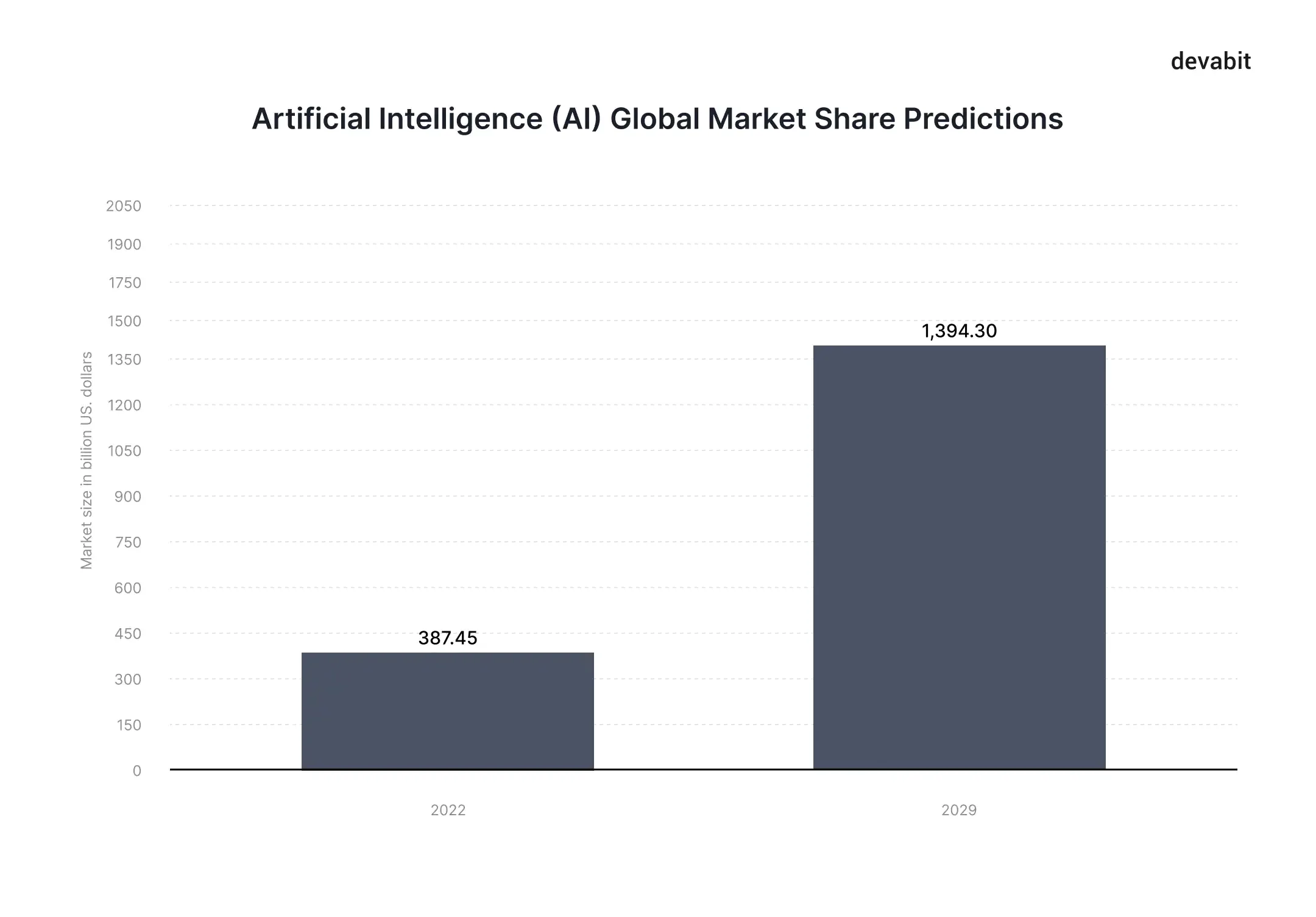 Everything You Need to Know About AI
Artificial intelligence stands for the human-like intelligence displayed by machines. Usually, it is based on machine learning (ML) algorithms. In simple words, a digital network receives a certain amount of initial data and applies its built-in analytical and machine learning algorithms to independently develop its analytical and data processing capacities. This process may continue up to the point when the AI system can make complex data manipulations without any human involvement.
How Top Trends in Technology (AI) Benefit Businesses
When hearing the term "artificial intelligence," some people can think of Skynet, a dangerous AI system from The Terminator film series that wants to eradicate humanity. Fortunately, things are much less dangerous in real life. AI is far from posing a threat to humanity and is generally applied to solve narrow tasks that correspond to its primary purposes. In other words, most AI systems are not universal but rather purpose-driven. There may be a great variety of AI-supported apps and software solutions. These include:
Commercial chatbots that can independently handle basic communication with customers;
Analytical tools that automatically process large data loads and provide businesses with useful insights;
AI-powered cruise control tools that can drive the vehicle without any human involvement;
Tourist apps that help users find the most attractive booking opportunities;
Image recognition apps that automate document parsing;
Logistics automation applications;
AI-powered interior design creators;
Apps for the automated insurance claim processing.
And this is just a small part of what you can achieve with top trends in technology like AI. They perfectly integrate with applications of different types, and there are an awful lot of ready solutions that simplify AI app development. That is why such solutions are so popular, and that is why even digitized companies with limited budgets seek artificial intelligence integration.
What are the benefits? There are plenty of them. But there is one great advantage that you will find in most AI benefit overviews, and its name is "automation." Here everything is simple, artificial intelligence can partly substitute humans and handle their tasks. This helps businesses save time and cost on staff maintenance. Also, machine algorithms can handle some tasks with better precision than human beings. One of the best things is that AI development has already helped business automation go far beyond simple routine tasks. The more advanced AI and ML algorithms become, the more complex tasks they can handle. Some people even say that most human tasks will be automated by machines in less than 20 years. And if you look at the tempo with which AI conquers the tech industry, you won't be too skeptical regarding such an opinion.
As for now, the best idea is to start taking advantage of top trends in technology as soon as possible. Artificial intelligence is more available than ever, and they are ready to take your business, either startup or an established enterprise, to a new level. So, there is no need to wait for something. The ones who embrace trends sooner have much better chances to spearhead the innovation!
At the Origins of Top Trends in Technology: The Emergence of AI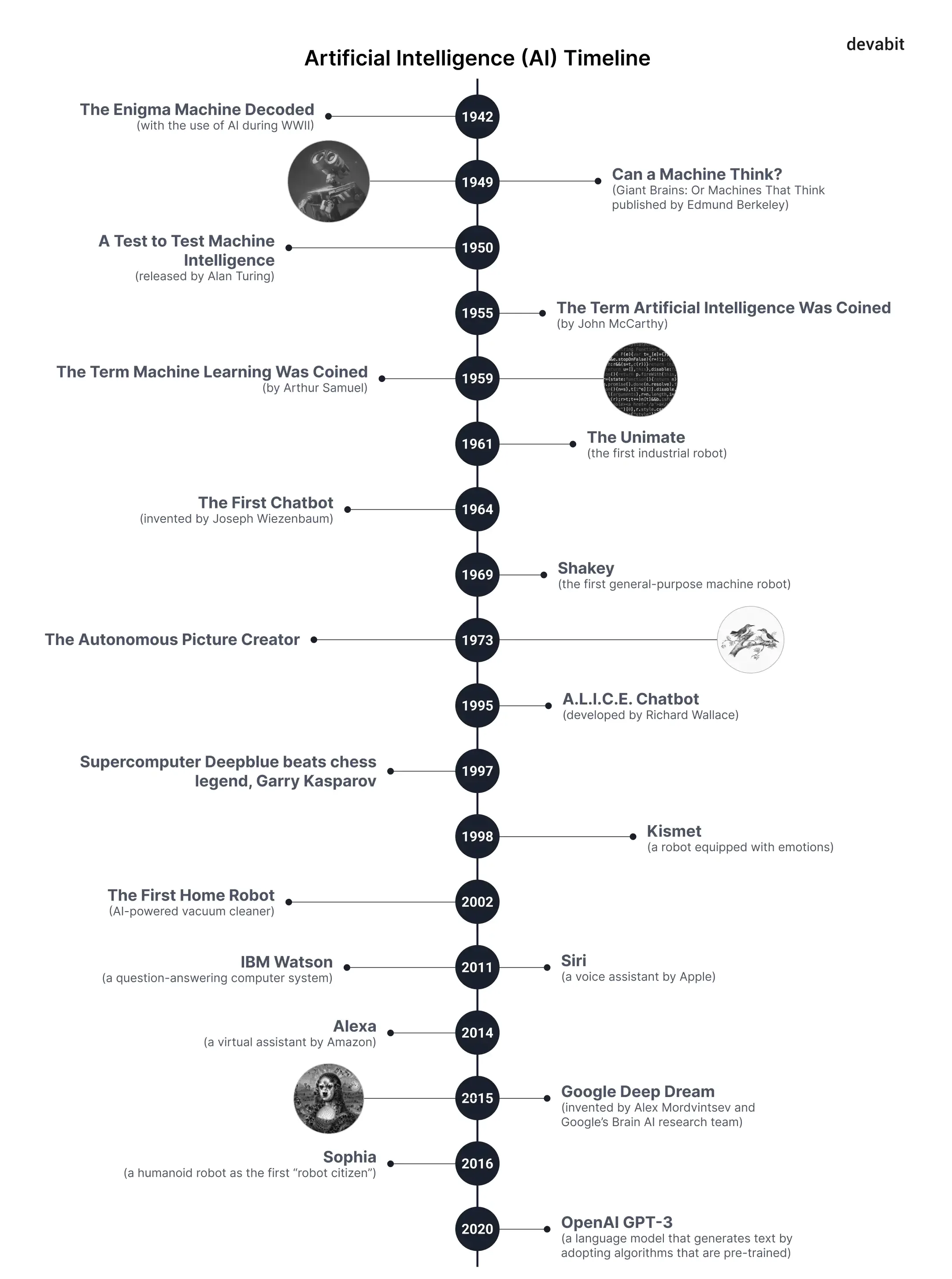 Wrapping Up or How Top Trends in Technology Influence Our Lives
With so many technological advancements happening right now, it is hard to keep up. But we are here to help. In today's article revealing top trends in technology for 2022 and beyond, we introduced XR, 3D printing, and AI. Extended reality (XR) has been one of the biggest buzzwords in technology since its inception. It was first introduced as a concept of virtual reality by Jaron Lanier in 1989. Although VR headsets were initially bulky and expensive, today, they are much more affordable and portable, which provides a lot of opportunities for businesses. At the same time, 3D printing is an emerging technology that allows people to make objects using a computer model. This process involves creating a three-dimensional object layer by layer, with each layer being printed onto a flat surface. As 3D printers become cheaper and easier to use, they will likely replace traditional manufacturing methods. Last but not least, artificial intelligence (AI) has been making headlines lately because of its ability to perform tasks that were once thought only humans could do. From self-driving cars to facial recognition software, AI is becoming more human-like every day.
The world is changing at an incredible pace, and there are new technologies being developed every day. Check out our next article to find out the last portion of the top trends in technology that will shape the future of business, science, and society.
Top Trends In Technology:
5G Biomedical Technology
Quantum Computing
Smart Clothing
Liked the article?
You will like our email too
Get the latest news from the devabit blog.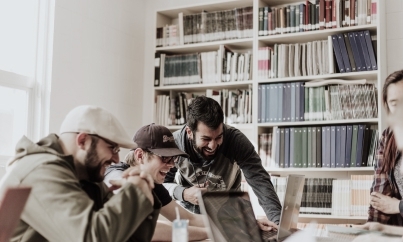 CONNECT WITH US WE'RE READY
TO TALK OPPORTUNITIES
THANK YOU! WE RECEIVED YOUR MESSAGE.
Sorry
something went wrong
One of our consultancy experts will get in touch with you shortly.
Please visit our portfolio to know more about us and the solutions we provide.