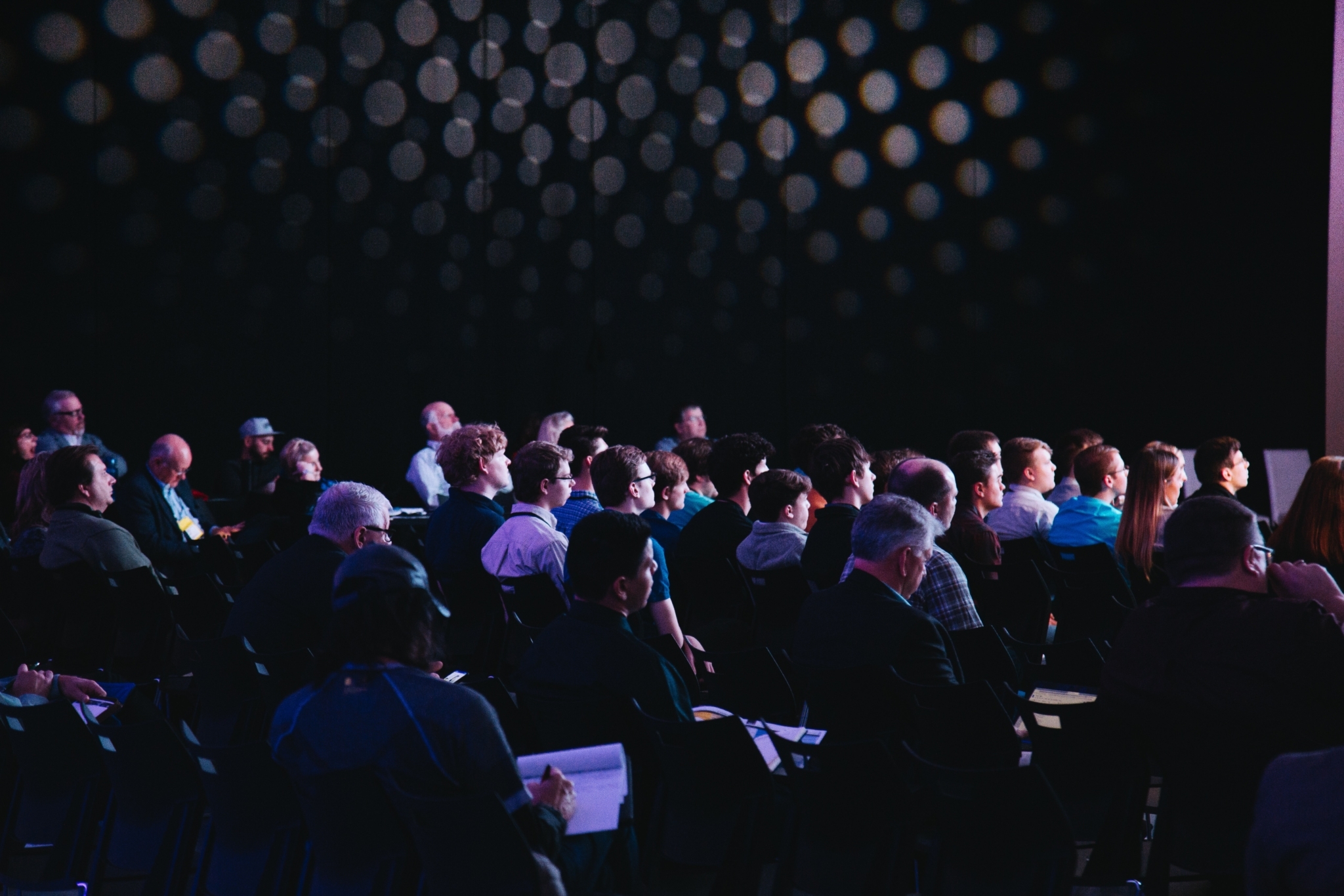 Year in Review: What Happened in Tech during 2019
As we reflect on the events that made up 2019, we dive deeper into the moments that shaped the tech world. Let's take a glance at what happened in the past 12 months and bring some analysis of the 2019 year in tech.
1. Technology sector makes up a huge part of the economy.
In 2019, Information Technology companies stood for the most significant share of S&P 500, a market index measuring health of the US companies and economy at large. Take into account that such enterprises as Facebook, Twitter, Netflix and Google were put into newly established category 'Communication services' along with Verizon and AT&T. Together, these two sectors represent over one-third of the index.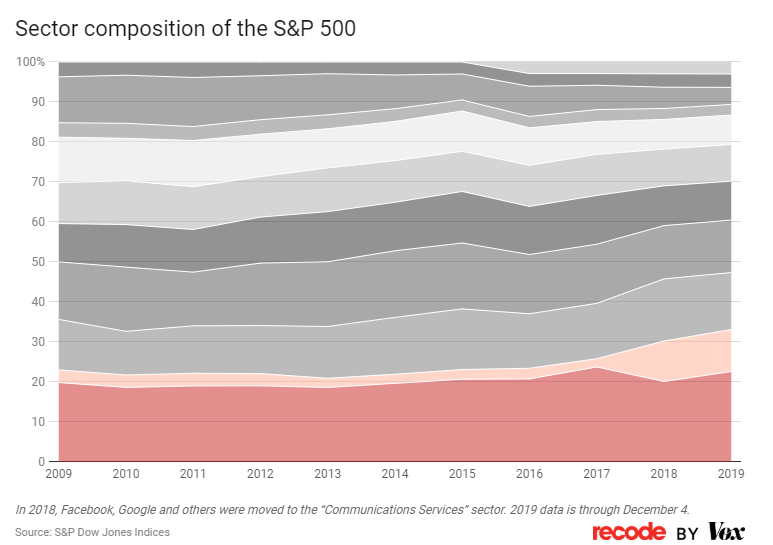 2. TikTok caused a social media storm.
The popularity of the Chinese social network boomed whereas most of the other popular networks like Snapchat and Twitter plateaued. It turned out to be a cultural sensation and a special way of self-expression for many youngsters. The app does not publish user numbers, however, we know that:
its mother company ByteDance has a total of over one billion active users across its apps (TokTok, Toutiao, Neihan Duanzi, TopBuzz, Gogokid, etc.) monthly.
Leaked data says TikTok has over 30 million users in the US solely, each of whom spends around 46 minutes in the app daily.
App measurement company SensorTower states there were 70 million downloads of the app in November, 5 million higher than a year ago.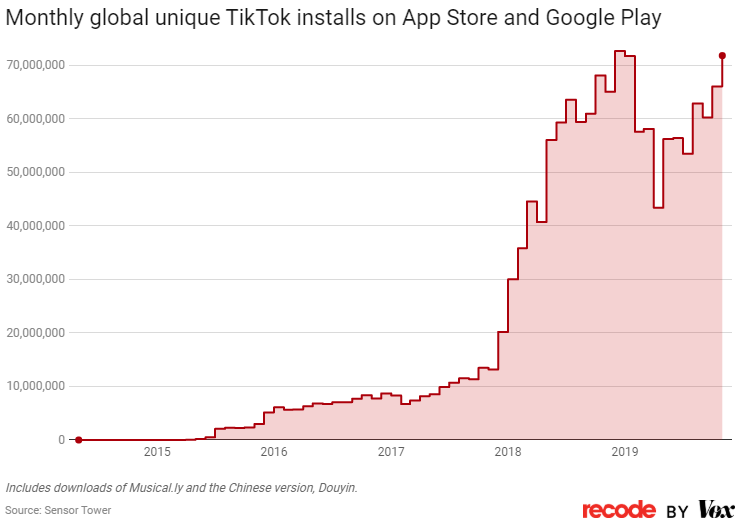 3. Strict policy around digital advertisements.
Ever since Trump's 2016 victory on presidential elections, we've been wondering whether technologies can indeed change people's minds. Nobody expected the problem this big to be solved quickly, however, we've seen only a few actions taken lately by social media.
Ahead of 2020 US election year, all eyes are again on Facebook and Twitter. It has been calculated that digital ads will cost politicians about $3 billion in the upcoming year, almost one-third of the general campaign spendings.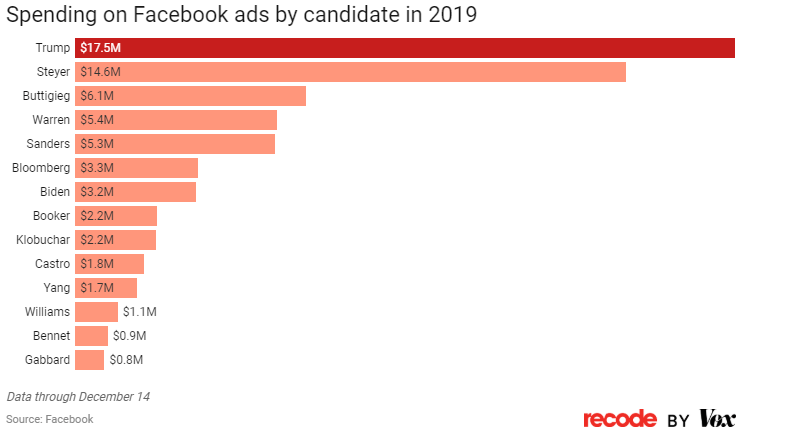 Twitter's CEO Jack Dorsey announced banning any political ads on the platform, starting from November 2019. Google, for example, limited politicians' ability to micro-target potential voters. In the meantime, Facebook remains the largest platform for digital campaigns, however, failing to build significant ad policy changes.
4. VR boom.
Lately, VR/AR technologies have been taking off, the growth over the years is fantastic. Predictable tracking, measuring and rendering upgrades, 3D object detection, improved gesture recognition, and more natural controls are the requirements companies will be looking to outsource in order to make the product more convenient for its end user.
The global augmented reality market was valued at around $3.33 billion in 2015. It is expected to reach approximately $133.78 billion in 2021, growing at a CAGR of slightly above 85.2% between 2016 and 2021.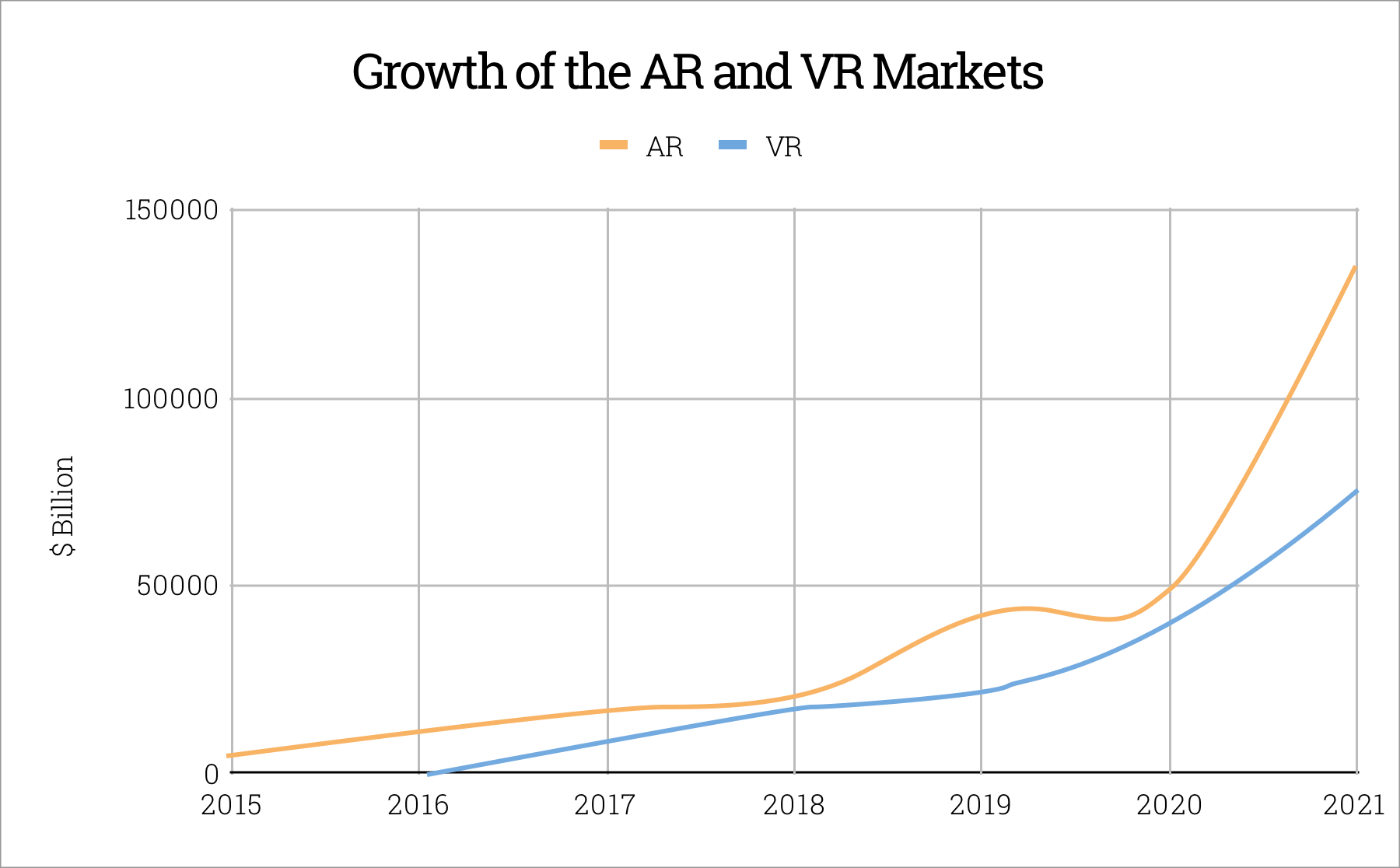 In 2019, VR innovations especially influenced medicine. Thus, researchers developed an integrated skin VR system able to receive commands and simulate vibration touches. Other industries, shaped much by VR innovations, are games and entertainment.
The Facebook-owned Oculus announced the release of Oculus Link that can be plugged into a gaming PC to play Rift games. Nintendo has also released a VR Switch accessory.
5. The most anticipated 2019 IPOs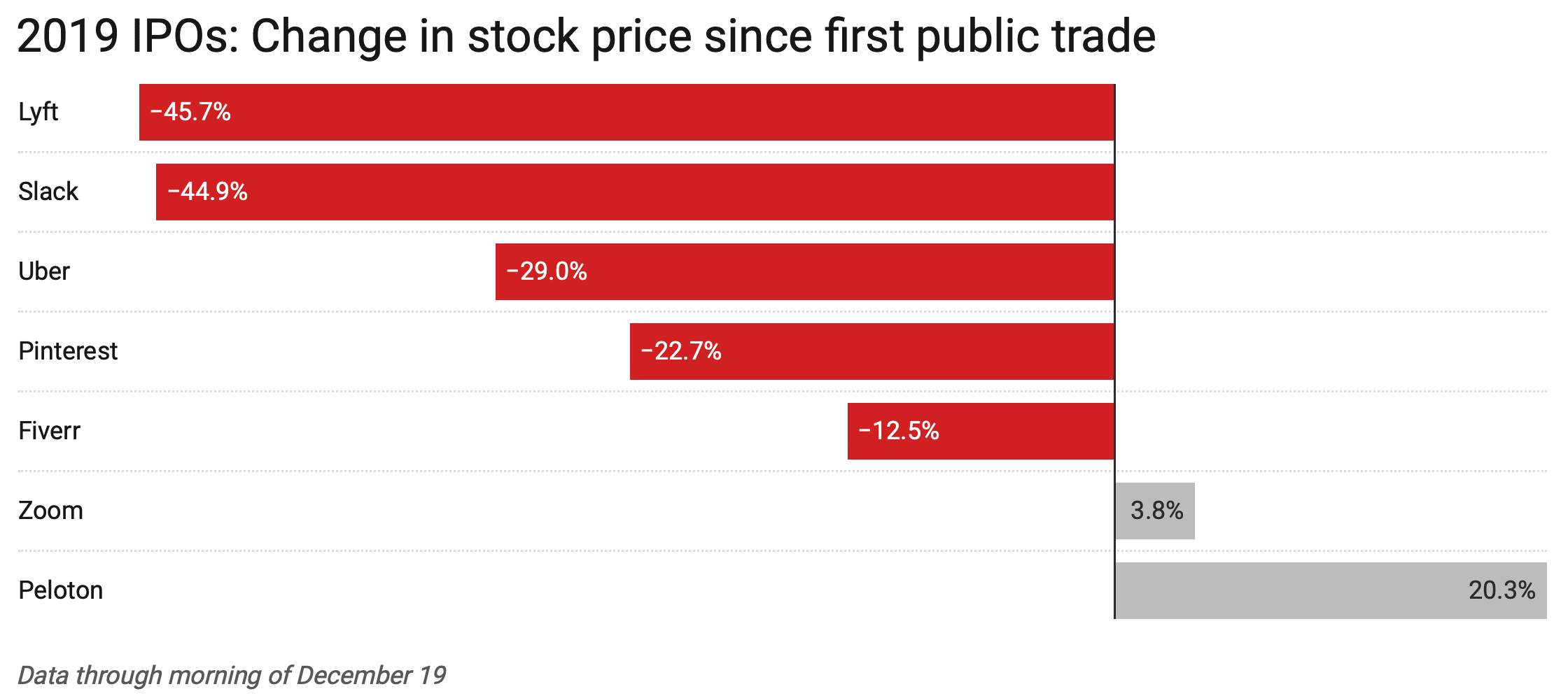 Several tech companies had their initial public offerings (IPO) in 2019, but most of them are struggling. Only Zoom (up 3.8%) and Peloton (20.3%) are tracked to trade above their opening prices. In the meantime, Pinterest, Fiverr, Uber, Slack, and Lyft are all down.
Coworking company WeWork had been one of the most anticipated 2019 IPOs. Unfortunately, due to the misconduct of co-founder and CEO Adam Neumann, it never happened. Internal turmoil, poor corporate governance, and unproven financials all forced the company to later cancel its IPO. Neumann was forced to resign.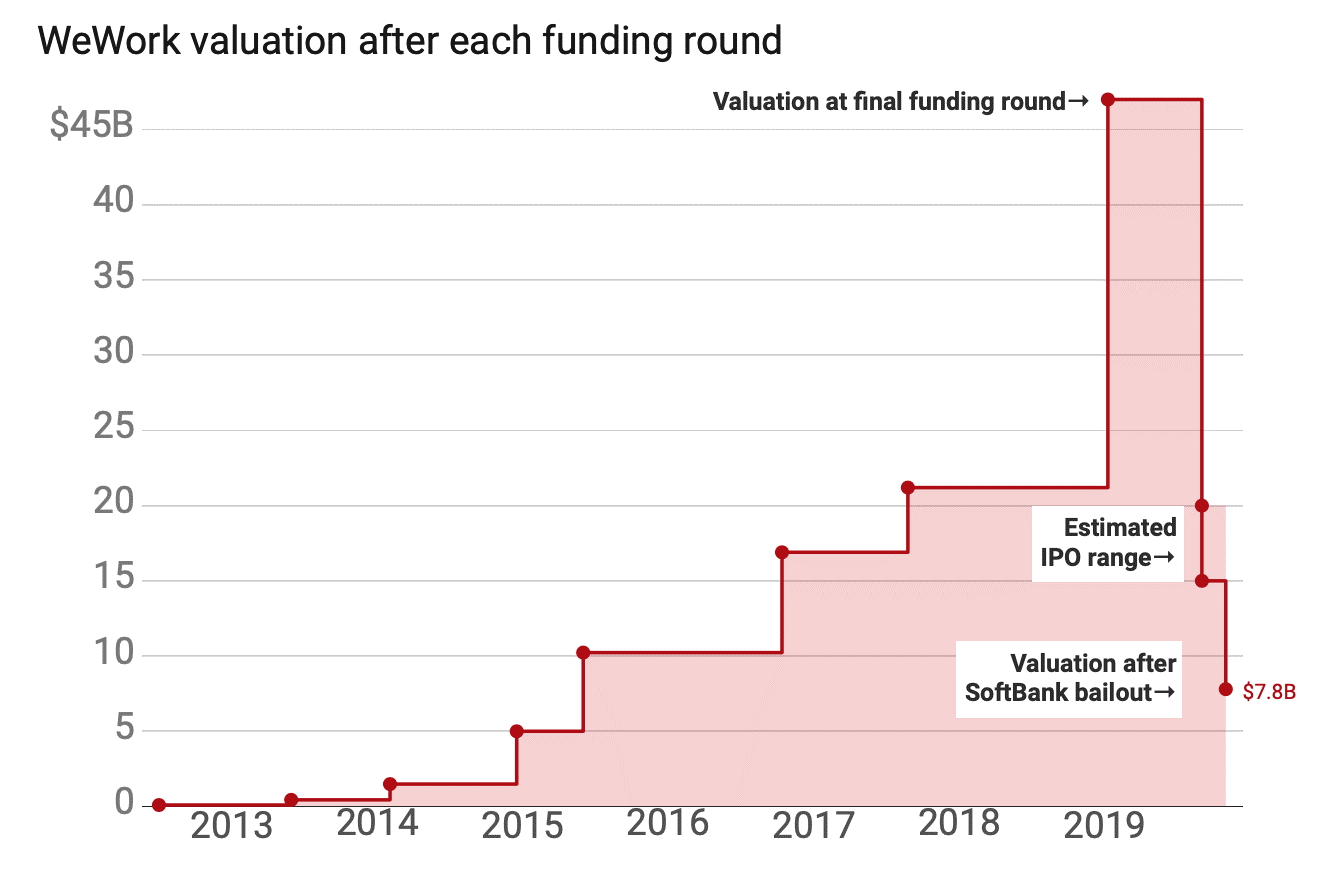 The company's largest investor, SoftBank, bailed it out and ushered in leadership and financial changes. However, the startup's value plummeted from a high of $47 billion to $7.8 billion, with its future still uncertain.
6. Tech is having its antitrust moment.
Media monitor Meltwater tracked news containing "technology" and "antitrust" for the period of 2015-2019 and found out a rocket-growing tendency. Thus, the amount of antitrust coverage in the tech field has risen more than 200 percent. Additionally, digital analytics company Parse.ly saw about three times the viewership of stories about US antitrust law among its network in 2019 than it did in 2018.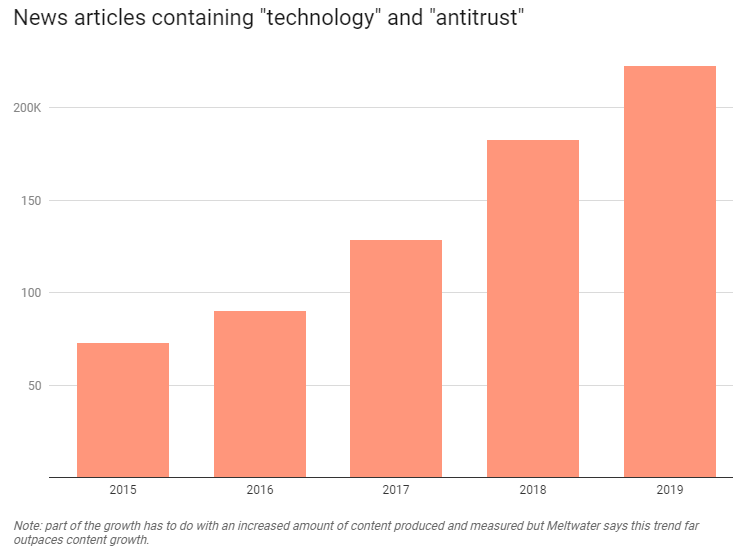 2019 could be a year to change the limitless freedom of tech companies. US federal and state lawmakers have opened antitrust investigations into Facebook, Apple, Google, and Amazon. Talking about the latter, dominance is real. Nearly four in 10 e-commerce dollars spent in the US go to Amazon. The online retailer's presence has been felt by everyone, and over 200 firms have cited Amazon as a "risk factor" in their 10K filings in 2019.
Furthermore, Vox noted the rise of such Twitter hashtags as #DeleteUber, #DeleteInstagram, and #NotechforICE, #DeleteFacebook with the latter mentioned over 120 thousand times.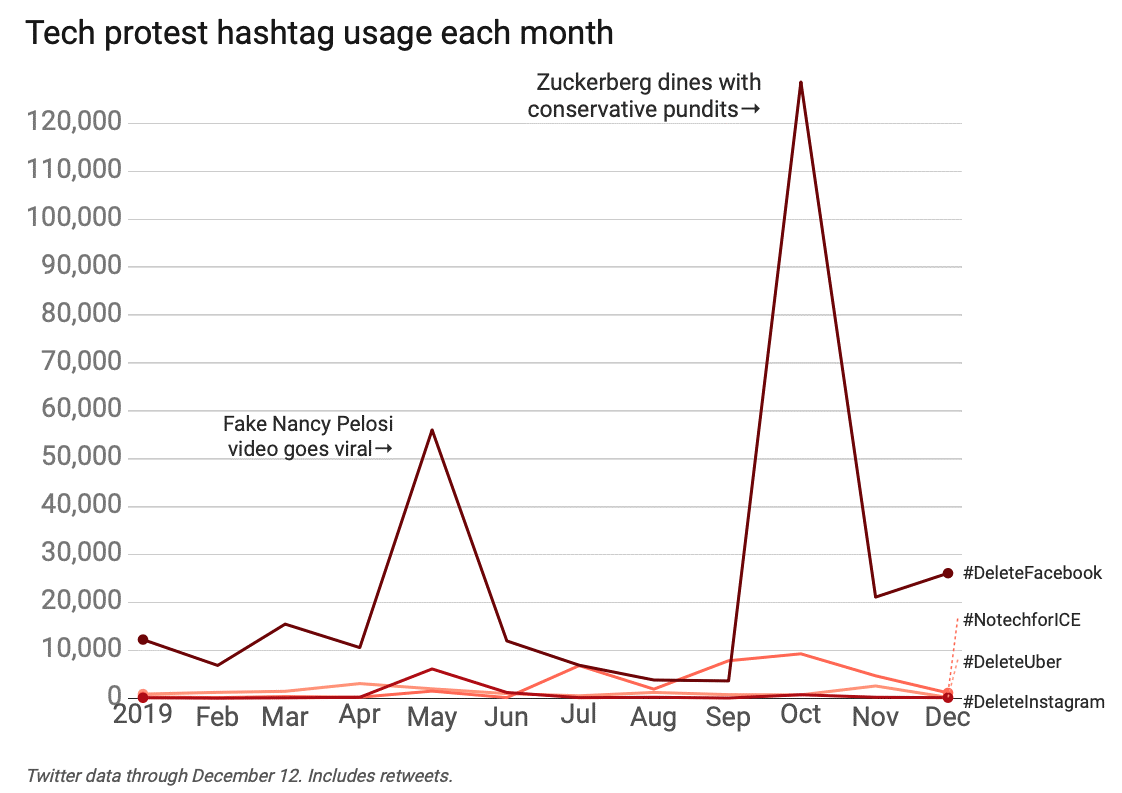 We should not forget about the trend of folding phones as well as the buzz around Tesla's Cybertruck during 2019. You can read more in our recent article: TESLA'S CYBERTRUCK AND 3 MORE TECHNOLOGY FAILURES OF 2019.
What will 2020 bring us?
2020 will be the year to welcome many tech innovations and fails. Read our overview of eight major trends awaiting: AI, cloud, blockchain and more. In the meantime, if you are searching for the right outsourcing vendor, contact us and we will immediately provide you with a tailored business consultancy. Thanks to the agile approach, we deliver every stage of development, from investigation to post-delivery support, quickly and effectively.
Recent Publications
Don't miss out! Click here to stay in touch - Contact us
Liked the article?
You will like our email too
Get the latest news from the devabit blog.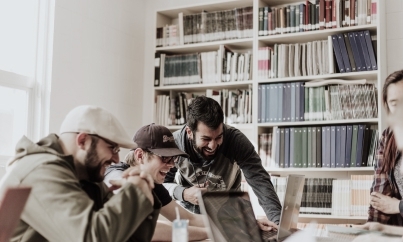 CONNECT WITH US WE'RE READY
TO TALK OPPORTUNITIES
THANK YOU! WE RECEIVED YOUR MESSAGE.
Sorry
something went wrong
One of our consultancy experts will get in touch with you shortly.
Please visit our portfolio to know more about us and the solutions we provide.