SaaS Outsourcing? An Ideal Solution If You Do It Smart
SaaS, which stands for software as a service, is a cloud computing model that allows users to access software applications over the Internet instead of installing them on their computers. In recent years, SaaS outsourcing has become an increasingly popular way for businesses to cut costs by using web-based services rather than buying and maintaining in-house software. However, many entrepreneurs are still hesitating about whether they should incorporate this trendy technology or not. All in all, what is the best way to move under the cloud? Well, the answer is pretty simple — SaaS outsourcing.
As always, devabit, your trusted SaaS outsourcing partner, will join you on this research path and provide meaningful how-to's, recommendations, challenges-to-overcome, benefits, costs, and more about SaaS outsourcing. Moreover, at devabit, you have the opportunity to hire all types of IT specialists for web or mobile development, UI/UX or 3D design. Our Android and iOS developers can assist you in building the unique mobile applications, web programmers help with constructing a website and 3D and UI/UX designers create outstanding designs. So, now, let us tell you more about SaaS outsourcing service, its main benefits, examples, and costs.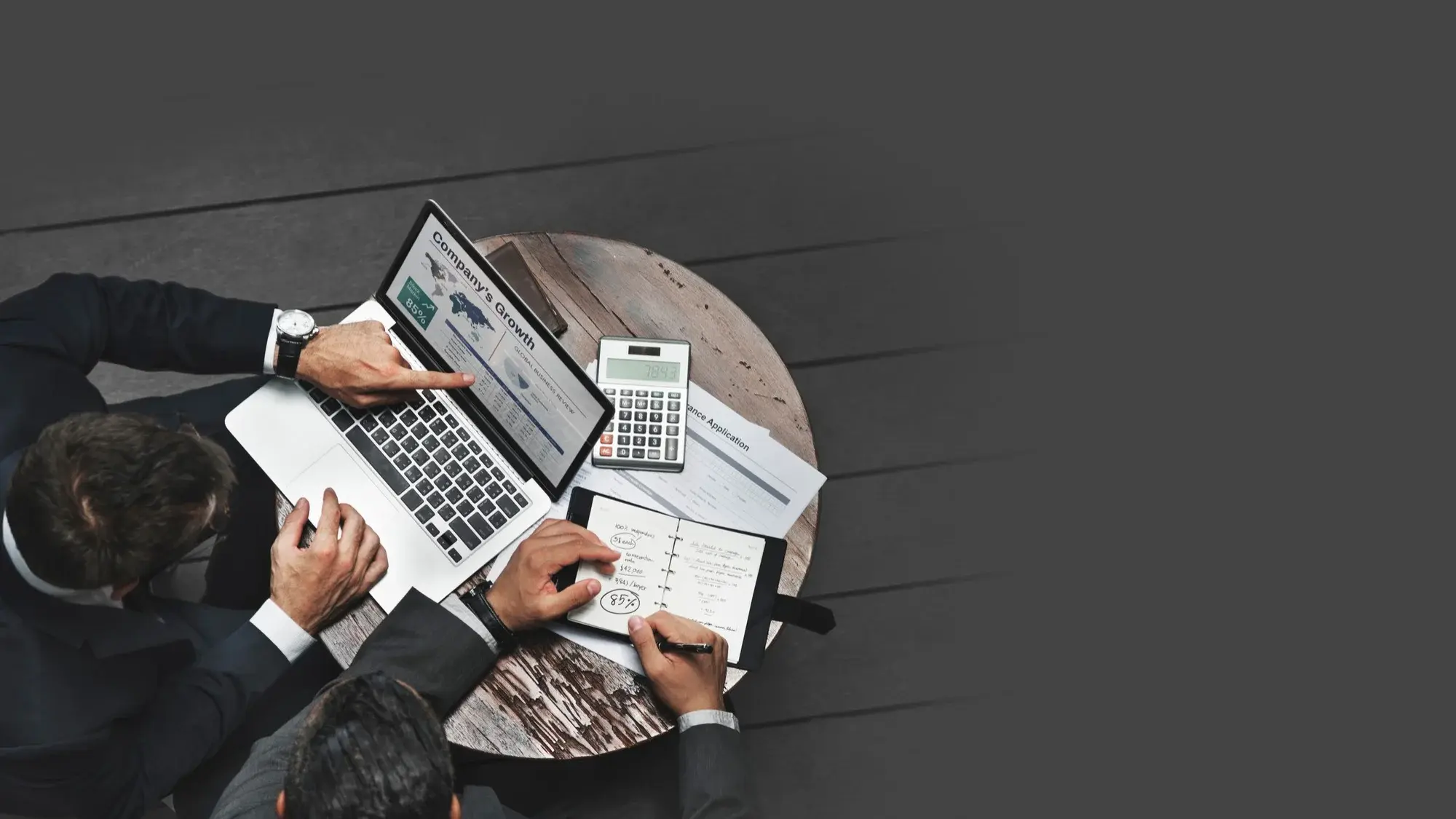 What Is SaaS Outsourcing and Why Is It So Effective?
SaaS is a subscription-based software licensing model. The user accesses the service through a browser or API. At the same time, the service provider is fully responsible for its support. Simply put, the SaaS model is when the client works with a ready-made solution online, pays for access, and gets the result as quickly as possible.
A famous example of a SaaS is Google Docs, a free document management service. No media, drivers, or installations. Create a Google account, follow the link and work with texts, tables, and presentations right in your browser. Moreover, other colleagues can work on documents at the same time as you. Even on a business trip, you can log into your account from any device and continue printing the desired document. In this case, you only need to save changes to the settings. The rest of the data is saved automatically.
SaaS Outsourcing Statistics: Numbers Speak Louder than Words
According to Gartner, 99% of businesses use at least one SaaS company like Salesforce, Microsoft, and Zoom on a daily basis. Hence, estimated to reach 208 billion U.S. dollars by 2023, SaaS solutions are definitely gaining momentum.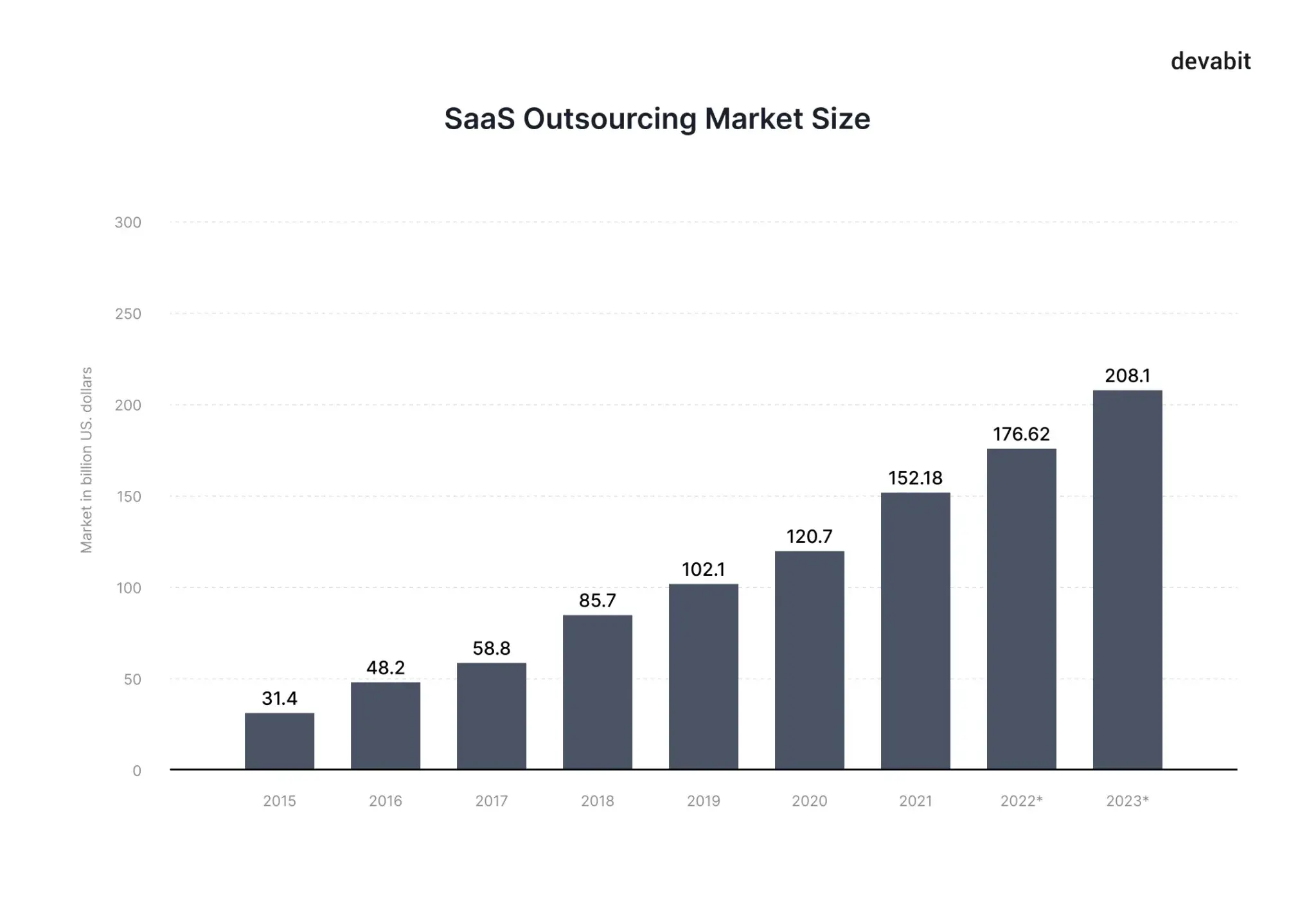 The Benefits of SaaS Outsourcing
The benefits of SaaS outsourcing include cost savings, increased productivity, and improved customer service. For example, if you use a third-party vendor to manage the development process, you will not have to pay for expensive IT staff to maintain the project. And finally, you can improve customer service by gaining access to a larger pool of qualified technical support personnel. As we have already sorted out, there are many benefits of using SaaS outsourcing services. Here we gathered some fundamental reasons why businesses should consider SaaS outsourcing:
SaaS Outsourcing Helps Reduce Costs
By eliminating the need to purchase expensive software licenses, SaaS allows companies to save money. In addition, by reducing the number of users who need to be licensed, companies can also save money on hardware and bandwidth expenses. For these reasons, many startups turn to SaaS. Yet, there is an option to save even more money. Hiring a whole in-house team of developers can become an absolute nightmare (think at least of costly equipment, paid vacations, etc.). Fortunately, SaaS outsourcing enables companies cut costs by providing end-to-end services at fixed (significantly cheaper!) hourly rates.
SaaS Outsourcing Assists In Increasing Efficiency
Since SaaS outsourcing services eliminate the need to manage development activities, companies can spend more time focusing on growing valuable parts of their business. This means they can significantly improve productivity without sacrificing the quality of the SaaS solution. Furthermore, SaaS outsourcing ensures you will get the finished project within the given timeline. That is because the deadline and expected deliverables are always listed in the contract, for instance, SLA (service-level agreement).
SaaS Outsourcing Ensures Scalability
In the 21st-century world, it is extremely important to deploy new product features as fast as possible. Otherwise, you will simply lose your position in the competitive market. When you choose SaaS outsourcing, you entrust product development to the hands of an experienced and dedicated team. Accordingly, you win better chances of implementing timely features, which means you can meet market demands quicker than your competitors.
SaaS Outsourcing Helps Save Time
On average, hiring a skilled SaaS developer takes from several weeks to several months. To develop a turn-key solution, you will need to hire a whole team of SaaS developers, so you can multiply the above-mentioned period by the number of developers you require. It sounds like it will take forever to develop a high-performing SaaS solution. Sure, it will. Still, you can skip these time-consuming processes and enjoy the time efficiency provided by SaaS outsourcing.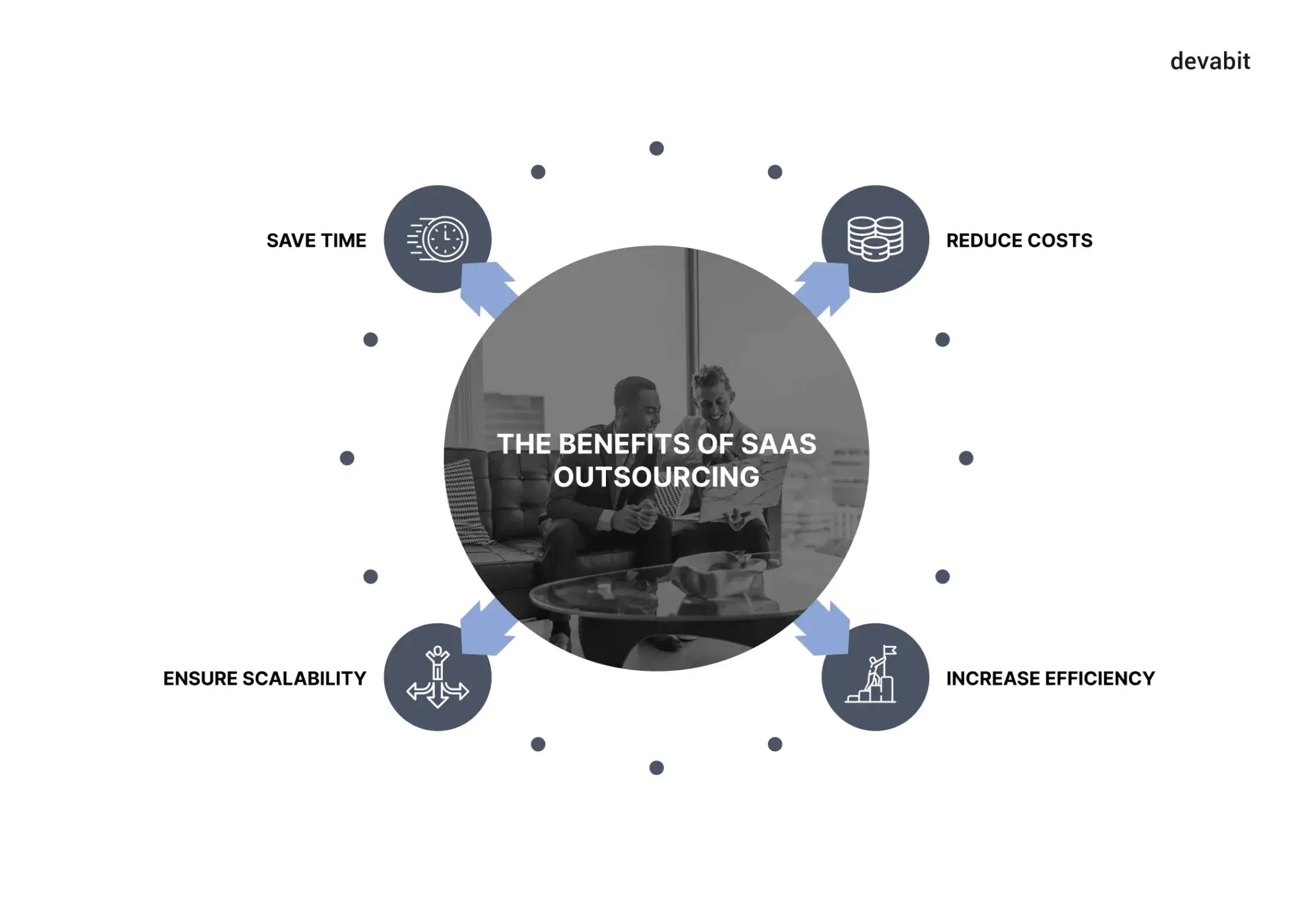 Get Ready for SaaS Outsourcing
Choosing a SaaS outsourcing solution that works for you requires careful consideration. To help you make the right decision, here are some things to keep in mind when preparing for SaaS outsourcing:
What Do You Need?
Before selecting any SaaS outsourcing provider, understand what you need to determine whether the service meets your needs. If you do not fully understand what you need, you may end up with a solution that does not fit your business.
Will the SaaS Solution Meet Your Requirements?
Make sure that the solution will meet your business needs. It should address your current challenges as well as future ones.
Is the SaaS Outsourcing Solution Cost-Effective?
Determine whether the cost of the solution is reasonable compared to other options available.
Will the SSolution Provide Value?
Ensure that the solution provides value by helping you achieve your long-term business goals.
Once you have determined what you need, it is time to select a SaaS outsourcing provider. When choosing a SaaS outsourcing vendor, there are several things to consider. First, find one that has a strong reputation among other customers. Second, look for a company that offers various services, such as email marketing, website design, and customer support. Third, ask yourself if the vendor is willing to work with you on a trial basis before committing to long-term contracts. In general, there are several considerations to take into account when selecting a trustworthy SaaS outsourcing provider. Here are some questions to ask yourself before making a final decision:
Evaluate the SaaS Outsourcing Provider's Reputation
Look at how well-known the SaaS outsourcing provider is within your industry. Is the SaaS outsourcing provider well-respected among peers? Are there any favorable/negative reviews?
Consider the SaaS Outsourcing Provider's Experience
Ask SaaS outsourcing providers about their experience in providing similar solutions. For example, do they specialize in the type of solution you require? Are they familiar with your industry?
Choose Your Cooperation Model
Which cooperation models do the SaaS outsourcing vendor provides? What types of management and reporting do they propose? Are there any specific limitations (e.g., location or language barrier, etc.) that may influence your cooperation?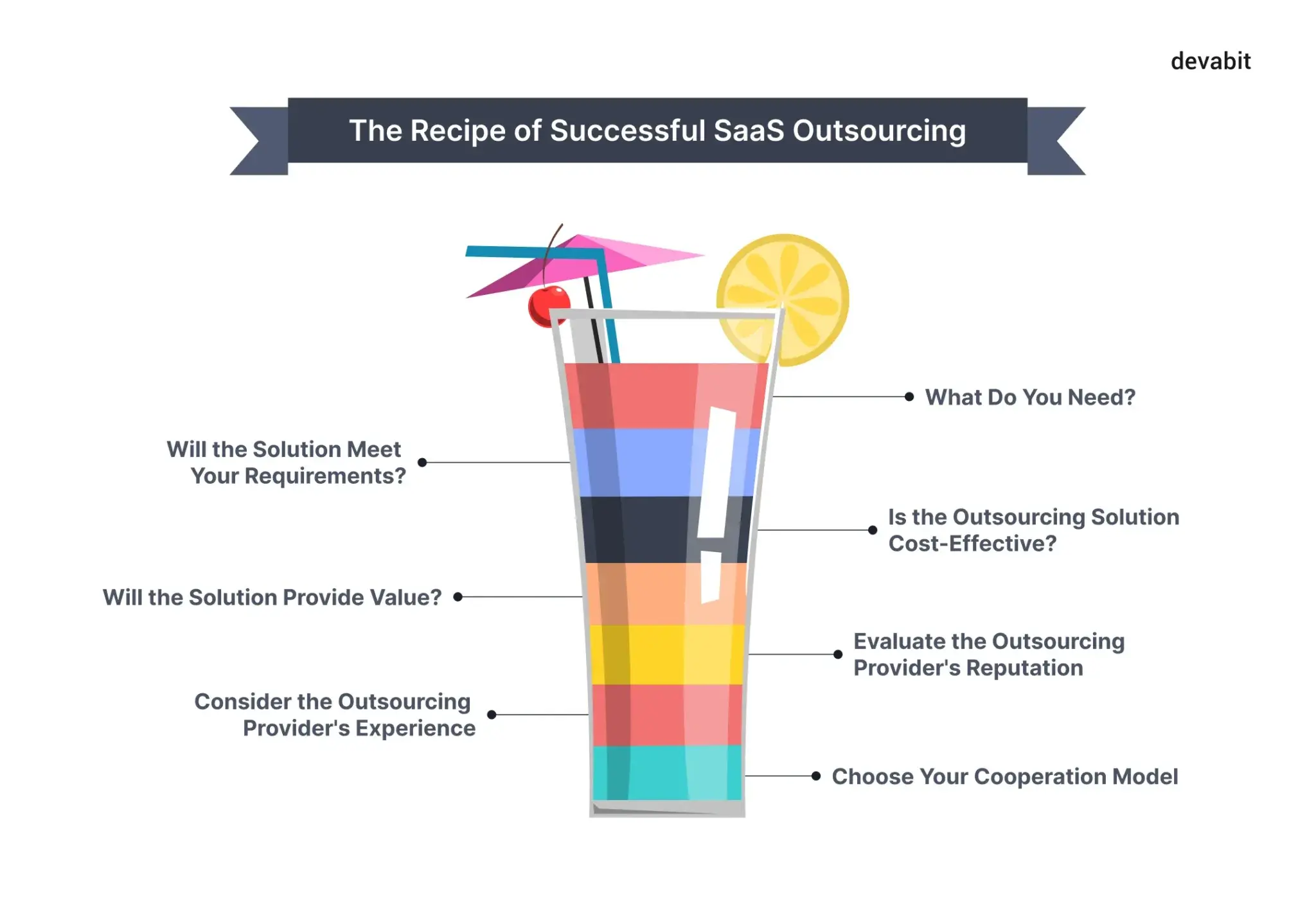 How to Manage Your SaaS Outsourcing Relationship
After you have selected a SaaS outsourcing service provider, it is essential to manage your relationship with them effectively. Does the SaaS outsourcing provider's communicational style fit you? Are there any cultural barriers that may negatively influence your cooperation with the SaaS outsourcing provider? Answering these crucial questions will undeniably help you build a reliable relationship with your SaaS outsourcing provider. At the same time, it is also essential to establish clear communication, provide meaningful feedback, and resolve issues promptly.
Must-Read Note. If you feel that your needs are not being met, let the SaaS outsourcing provider know. Likewise, if you notice problems with the performance or development process, you must tell them immediately.
There are several SaaS outsourcing models, each of which has its advantages and disadvantages. Here are the three most common ones:
Time and material
Dedicated team
Fixed cost
When selecting the right SaaS outsourcing vendor and signing the contract, ensure you know which model fits you best.
1. Time & Material SaaS Outsourcing Model
Within the scope of time and material SaaS outsourcing model, the vendor is responsible for the recruitment and maintenance of specialists, quality project delivery, office facilities & technical tools supply, and management of administrative, HR, and operational issues.
2. Dedicated Team SaaS Outsourcing Model
If you choose to hire a dedicated team, either built from scratch or as an enterprise extension, the team is fully dedicated to your custom project while administrative services remain on the SaaS outsourcing provider.
3. Fixed-Cost SaaS Outsourcing Model
A fixed-cost SaaS outsourcing model means you pay an upfront fee for the entire project. This type of contract is usually used by larger companies with extensive budgets. On the contrary, the hourly rate works well for smaller companies because it allows them to scale up or down based on how much work they need to do.
Real SaaS Outsourcing Cases Instead of Boring Phrases
Our SaaS outsourcing company designed a unique e-learning & marketing platform for the world's largest beer manufacturer. This exclusive SaaS solution enables users to discover even the slightest shades, flavors, and subtones of the world's #1 malty drink in one multifunctional portal designed. A unique e-learning platform for beer sommeliers? Yes, it is about this SaaS outsourcing project. A powerful market research tool? Yes, it is also about our one-of-a-kind complex solution for Carlsberg. Hence, we not only managed to fulfill multiple clients' goals but also introduced visually pleasing and easy-to-navigate designs that complement the functionality of this SaaS outsourcing solution.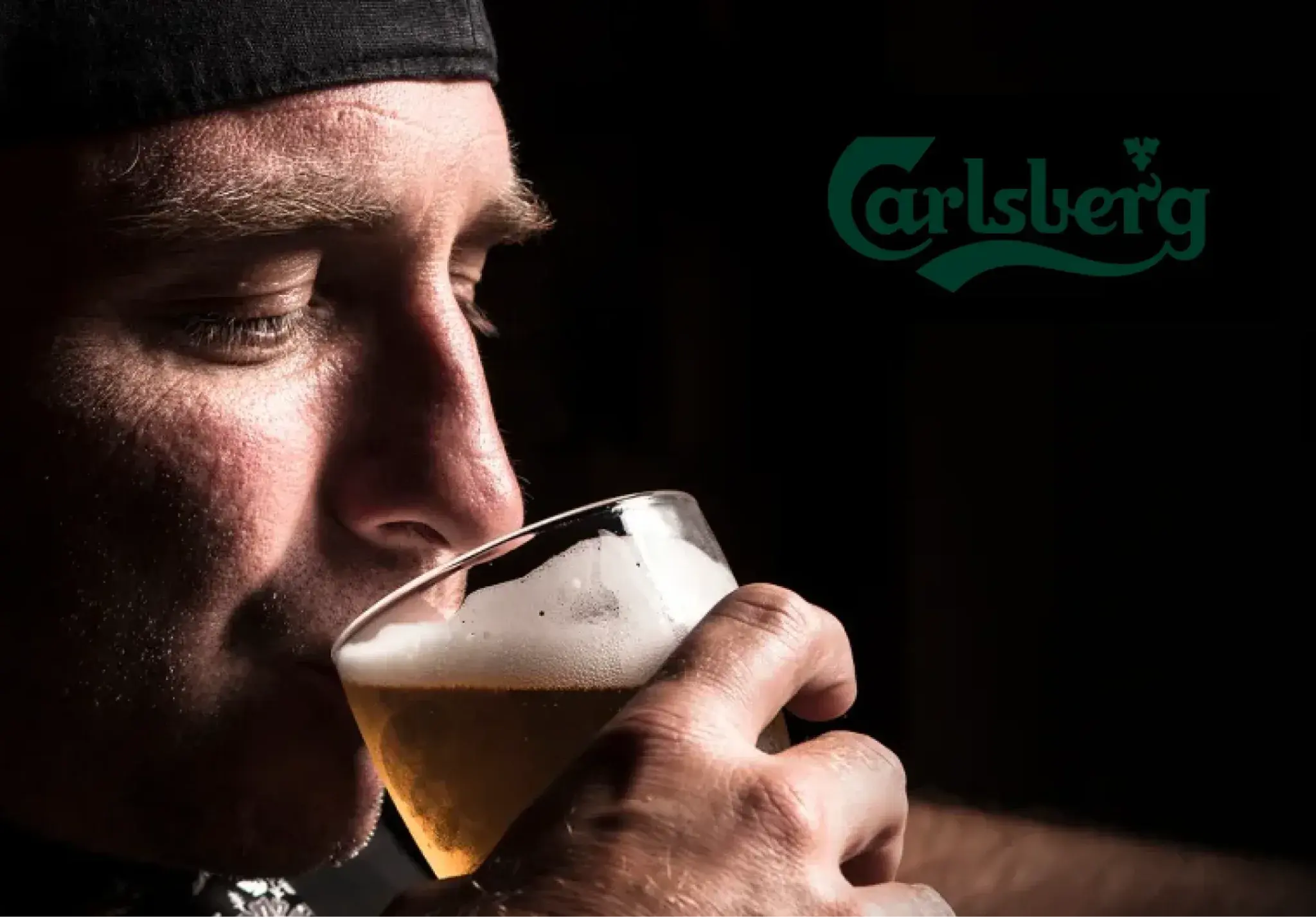 Having the best of real-life communication and business surveying combined, our client decided not to just let the numbers speak. With short video reviews, their corporate users can get more concise insights and candid opinions on how the respondents feel and react. Leveraging the advantages of the product discovery approach, our SaaS outsourcing company managed to rethink and significantly improve an inline video surveying tool. As a result, this SaaS platform can now be used for multiple purposes, including marketing, HR, and research. After all, our skilled team reshaped a SaaS platform with robust UI/UX design and development tools to provide users with an unforgettable video surveying experience.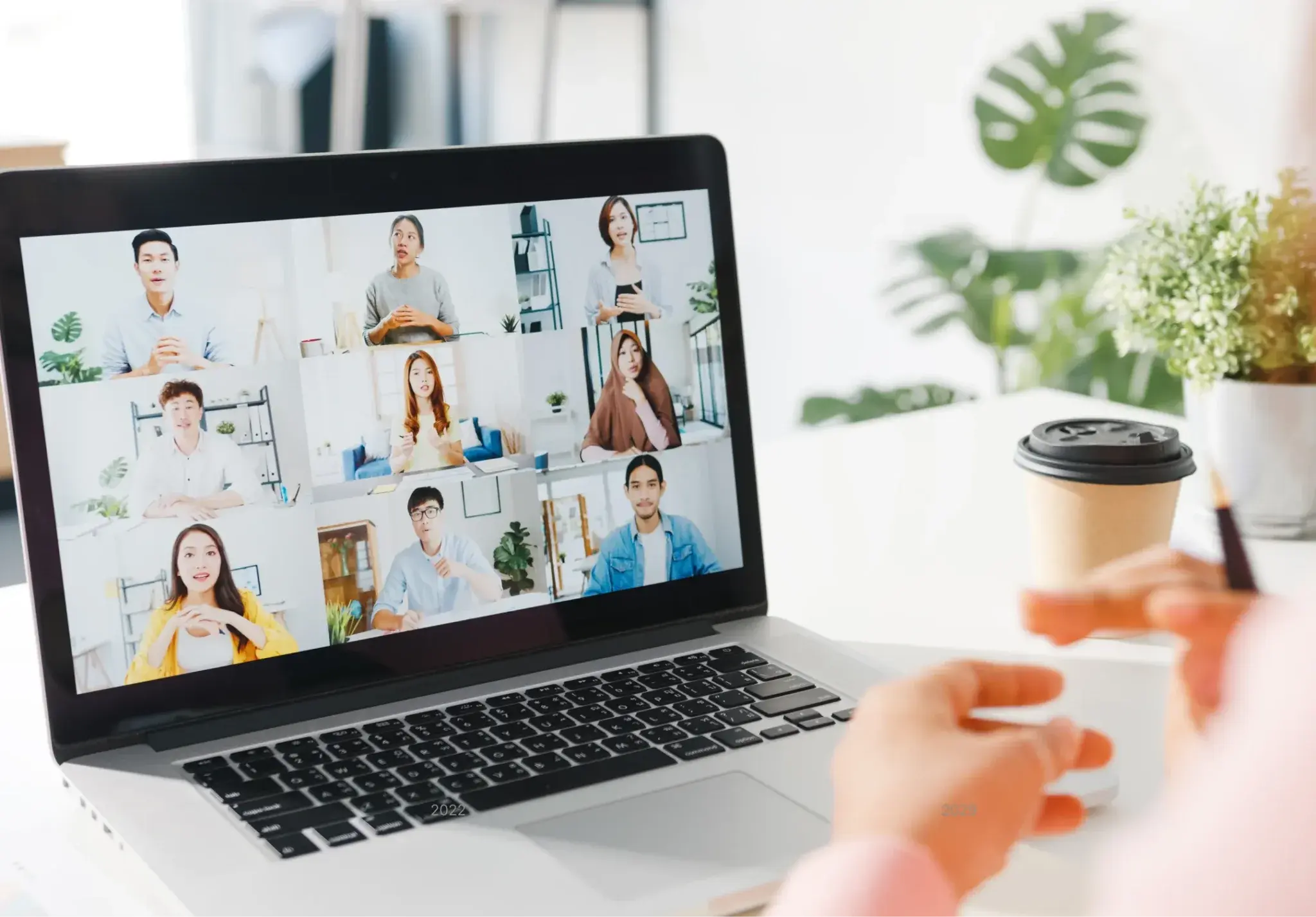 In the state-of-the-art SaaS solution for SquadFusion, our SaaS outsourcing company managed to create one complex cloud-based platform that covers a wide range of different aspects and functions but is still easy to maintain for the end-user. SquadFusion combines a robust sports management platform with a rich team experience. Running an amateur sports club, league, or team has always required a lot of work. Thus, our SaaS outsourcing company provided a user-friendly cloud-based platform that allows users to create customizable club websites. It is also possible to schedule events, collect payments, make integrated reports and announcements and register personal accounts.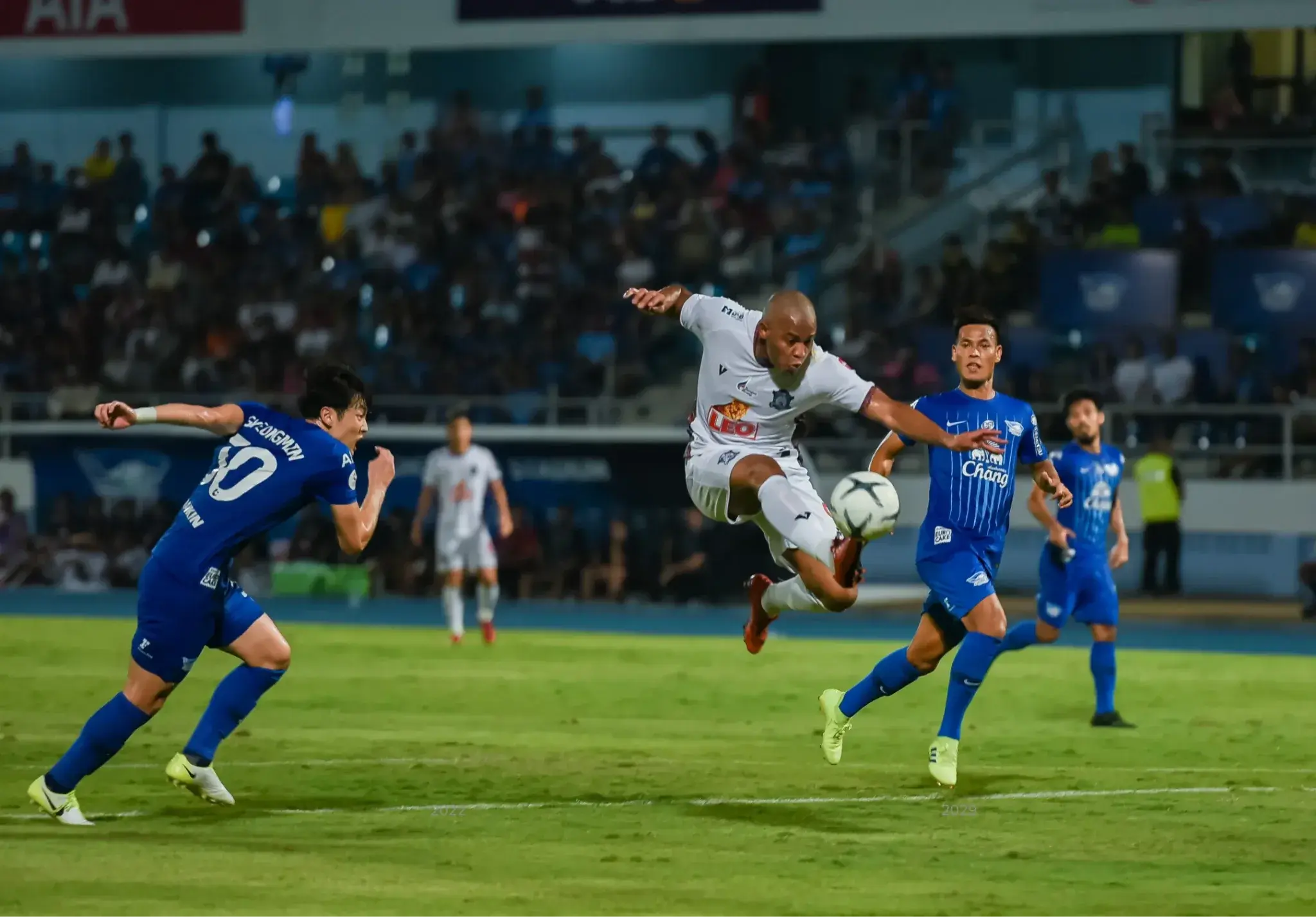 Choose Our SaaS Outsourcing Company and Get...
Client-Centric Approach
Our team will work closely with you to understand your exact needs and then match them up with the appropriate service providers. Just contact us here.
Well-Established Communication
You will receive a quote within 24 hours. Our team of experienced developers will work with you to understand your requirements and provide a detailed quote. We offer flexible pricing options so you can choose the right solution for your budget.
Reliable Partnership
Our SaaS outsourcing company has been providing quality services since 2015. We have worked with clients across the globe and have developed a reputation for delivering high-quality SaaS solutions at competitive prices.
Final Verdict on SaaS Outsourcing
SaaS outsourcing has become increasingly popular in recent years. Businesses that need custom cloud-based solutions often turn to third-party SaaS outsourcing providers instead of hiring internal staff. Therefore, there is no doubt that SaaS outsourcing is a perfect option utilized by multiple industry-leading companies.
The devabit team has many years of experience working in the IT industry and assisting entrepreneurs in developing successful businesses with the help of SaaS outsourcing. Let us become your reliable SaaS outsourcing partner in the competitive IT world. At devabit, you can hire specialists of all IT fields including Android and iOS programmers, web, React.js and Node.js developers, 3D and UI/UX designers, and many more.
By working with us, you'll gain access to a range of benefits, including personalized support and guidance, in-depth knowledge of the latest SaaS solutions, and a commitment to your long-term success. Do not miss the opportunity to transform your retail business and achieve success in the modern digital landscape — contact us and book a consultation right now!
Don't miss out! Click here to stay in touch.
Liked the article?
You will like our email too
Get the latest news from the devabit blog.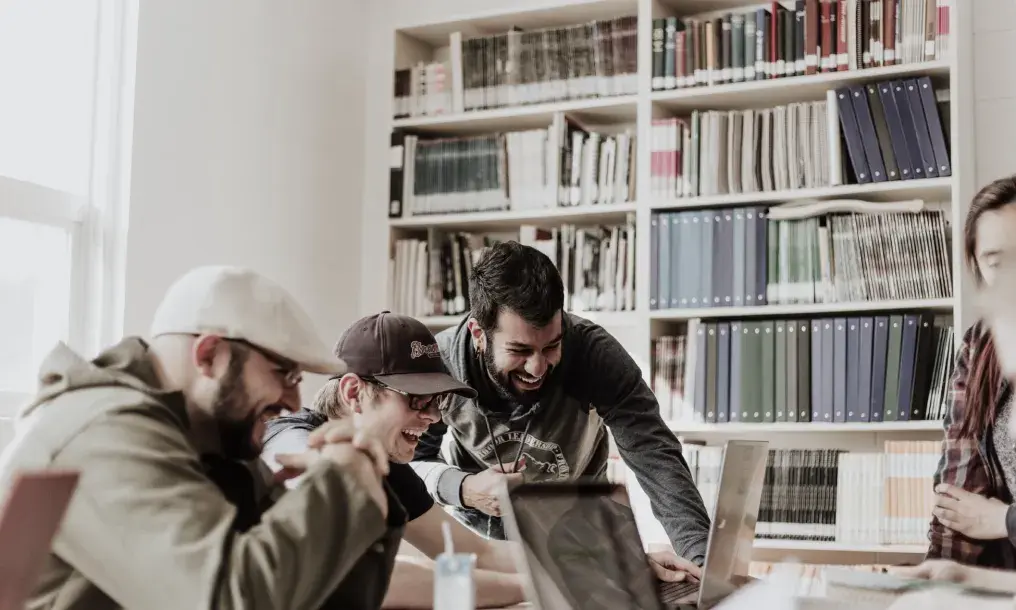 CONNECT WITH US WE'RE READY
TO TALK OPPORTUNITIES
THANK YOU! WE RECEIVED YOUR MESSAGE.
Sorry
something went wrong
One of our consultancy experts will get in touch with you shortly.
Please visit our portfolio to know more about us and the solutions we provide.