R&D Project for Tiffany & Co: Revolutionizing the Representation of Diamond 3D Models
The exclusive universe of precious gems, smooth forms, and glowy sparkles. The birthplace of legendary style, glamorous design, and bold artistry. The apogee of all girlish dreams. This is how the iconic jewelry house Tiffany & Co. is perceived by the modern audience. Like a mellow-aged wine, this unique hearth of expert craftsmanship gains even more elegance and taste over the years. Yet, modernity dictates its own digital rules.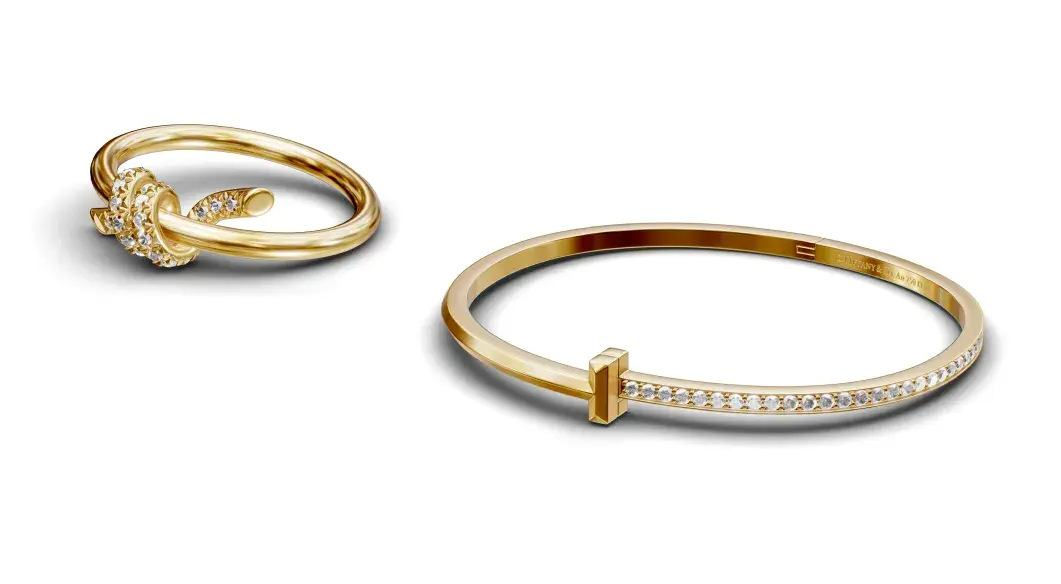 So how can Tiffany save its epochal heritage under the pressure of mass-market trends and globalization? Although we were not commissioned to solve this overwhelming challenge, the devabit team decided to introduce the internal R&D project developed for our own sake and to show what Tiffany's outstanding products could look like — Tiffany 3D model of T1 Narrow Diamond Hinged Bangle and Tiffany 3D model of Knot Ring in Yellow Gold with Diamonds. Read on to explore how we build an out-of-the-box 3D model of diamond structure designed to solve Tiffany's business challenges.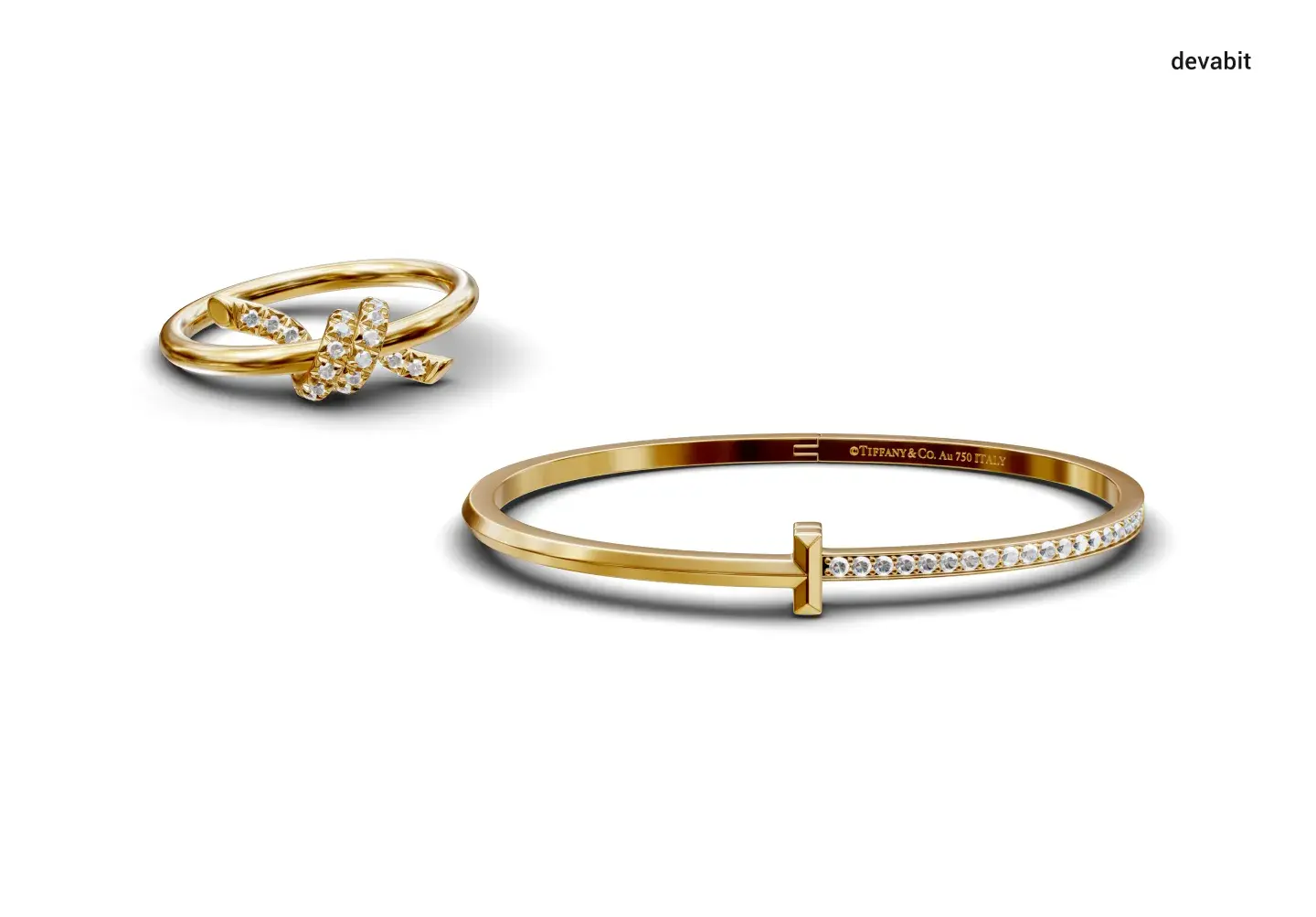 Legendary Jewelry Houses in the Age of Online Presence
The Sharp Shift in Customers' Preferences
While more than 263 million American consumers prefer online shopping, physical stores are inevitably transforming into an old-fashion tradition instead of an efficient marketing tool. In the light of this rapidly emerging tendency, Tiffany & Co. and its competitors like Cartier, Chow Tai Fook, Shamballa, and Bvlgari are fighting for the buyers' attention in the highly demanding online ecosystem. Flat jewelry photoshoots? Spamming advertising campaigns? Discounts announcements? Although these standard online promotion strategies may work for ordinary online shops, luxury brands require something more elegant and exclusive.

The Struggles of Artistic Vision
Jewelry Photoshoots as an Outdated Method of Product Representation
If a potential customer does not like how the jewelry photo looks, that may kill their interest in your company. This is an undeniable fact. While the average human attention span consists of just 8.25 seconds, the first impression is the retailer's single "win or lose" chance. Even though jewelry photoshoots are pretty popular among market-leading jewelry houses, there are several reasons why this type of jewelry visualization does not work for modern buyers:
If customers do not resemble the model, they might feel that the jewelry differs from their style.
In the age of global pandemics, jewelry shown on a live human model may be disturbing.
Photos are typically flat and one-sided, so potential buyers do not have the ability to perceive the product in the right way.
Indeed, jewelry photoshoots are efficient when it comes to engaging famous influencers. Still, the output of such marketing campaigns does not always justify their extremely high price.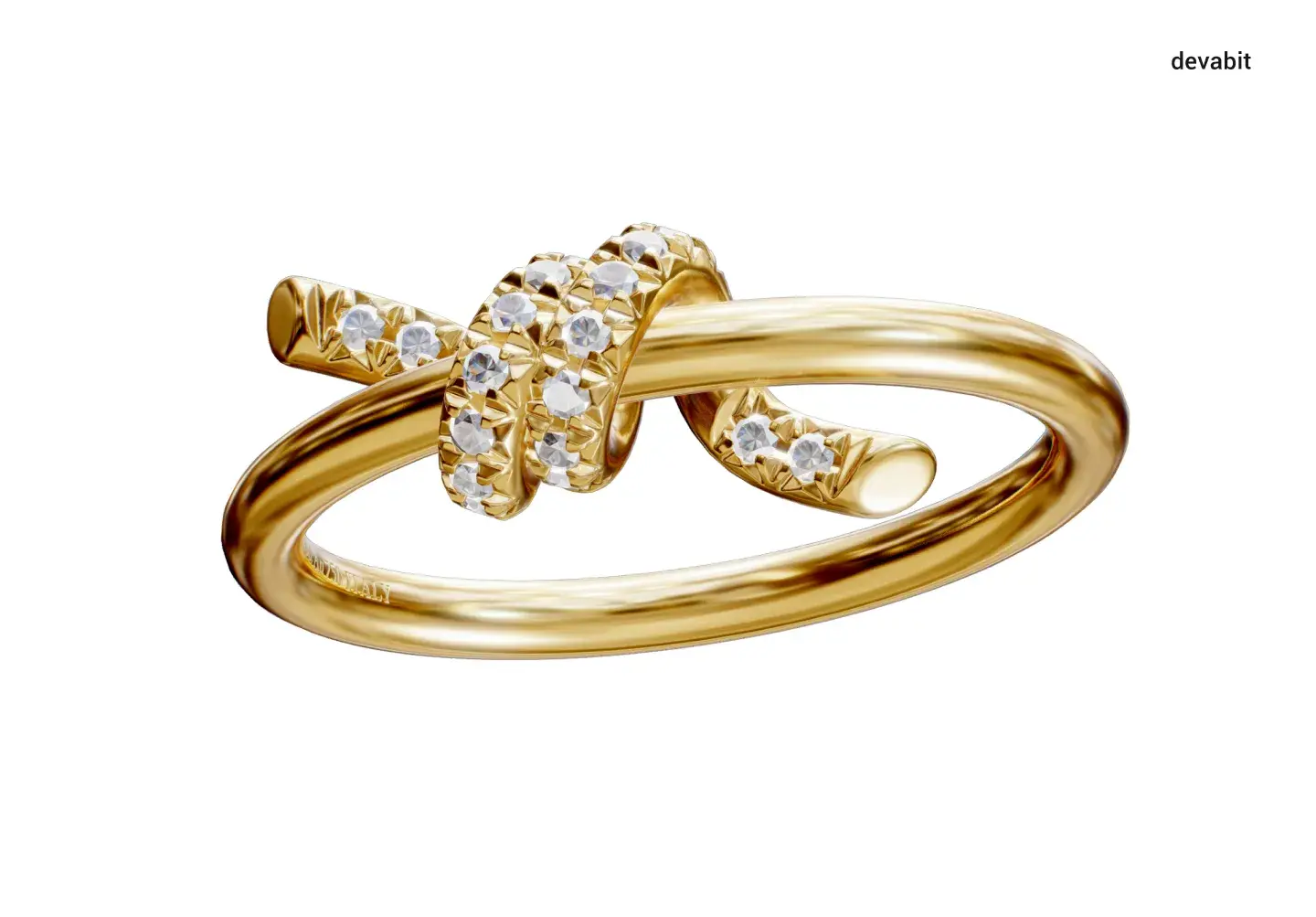 Why is 3D modeling a Life-Saving Option for Luxury Jewelry Houses?
A decade ago, the sophistication of the design and production process made 3D models of jewelry an extremely expensive privilege. Nevertheless, with the emergence of various digital tools, 3D modeling has become a real buzzword in the world of luxury jewelry brands. Inspired by innovations like Metaverse, augmented reality (AR), and customizable fashion, more and more manufacturers turn to 3D technologies. In fact, 3D models of jewelry offer a multitude of advantages for both sellers and buyers, and here are just some of them:
Jewelry houses get a chance to show products that are yet being developed.
3D models of jewelry eliminate the need for costly product photoshoots.
3D models can be easily transformed and quickly presented so that manufacturers can update the design within a minimum time span.
Highly realistic 3D models create an illusion of offline shopping: buyers can explore the bracelet or ring from different angles, just like in real life.
The mesh of AR and 3D technologies enables buyers to try on jewelry online.
However, 3D modeling is not as easy as you might think. When it comes to precious materials like diamonds and other valuable gemstones, standard 3D modeling techniques are inefficient. All in all, how can Tiffany boost business efficiency without sacrificing the quality of 3D models? Our team has found the solution.
Devabit's R&D Solution: A Quote by an Expert
Andriy Kovaliov, an outstanding 3D modeling artist and creative thinker, shares his vision concerning the Tiffany 3D model of T1 Narrow Diamond Hinged Bangle and Tiffany 3D model of Knot Ring in Yellow Gold with Diamonds.
Exploring the Diamonds' Core
Shining with all the rainbow colors, it seems like true diamonds are glowing from the inside. It is all about the reflection: it creates the inimitable light these stones are so admired for. At the same time, the gem's white light is split into multiple component colors. In physics, this phenomenon is called dispersion.
Static 3D Models of Diamonds
In computer graphics, the dispersion can be recreated due to resource-intensive calculations. This method is convenient when it comes to reproducing realistic images of diamonds in static pictures or videos. A few hours of 3D jewelry rendering on a powerful computer and voilà — it is impossible to distinguish your virtual diamonds from real ones!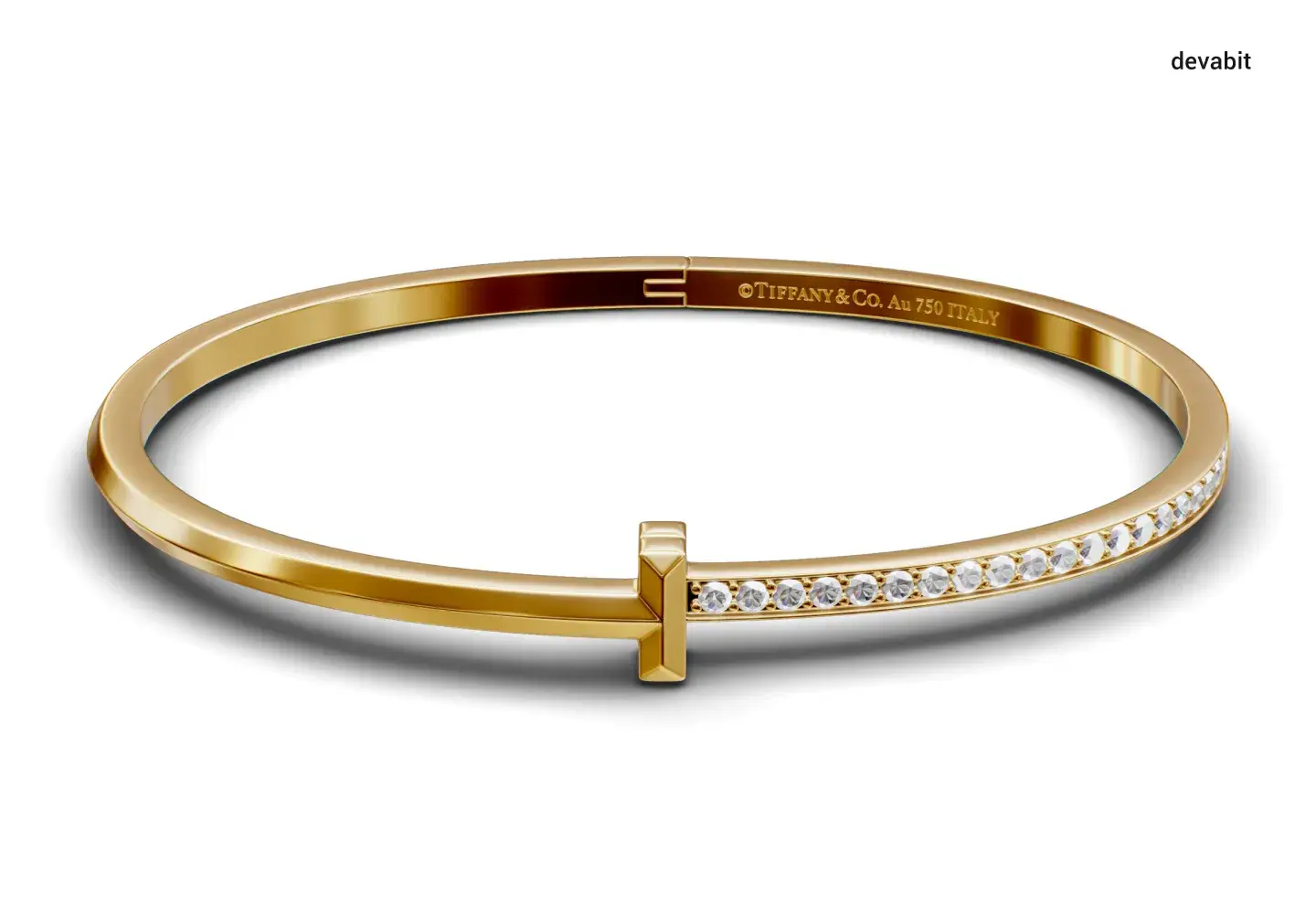 Interactive 3D Models of Diamonds
If jewelry needs to be shown interactively, for instance, in a real-time AR app or video game, calculating the refraction of light and dispersion for each diamond separately (please note that there can be quite a lot of them even in a small piece of jewelry) with a reasonable frame rate per second is a challenging and time-consuming task.
Consider the Potential Threats
In most cases, static renderings or videos are used on web resources. It is possible to create bracelet configurators from many beads, employing thousands of pre-prepared images precisely matched to each other. Yet, this approach has several limitations, including the large size of image files. Additionally, the picture cannot be rotated or zoomed in to see the details. To incorporate this approach in AR applications, it is necessary to create a separate, maximally simplified 3D model, which will not look as good as static images.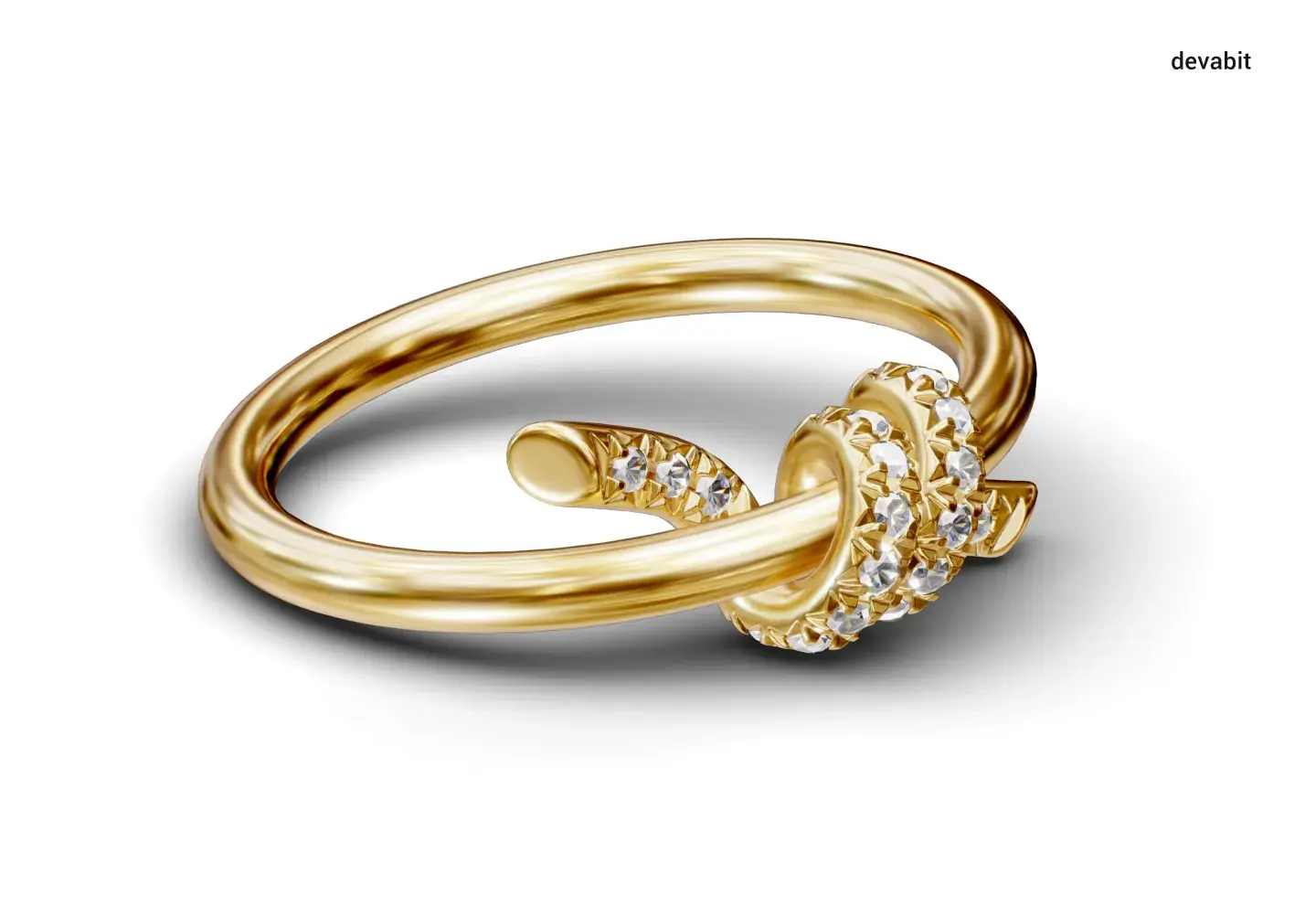 Interactiveness or Quality?
If a diamond 3D pattern is rendered in real-time, it requires a compromise: unfortunately, you need to sacrifice quality to ensure a smooth frame rate. Furthermore, since it is currently impossible to use Ray Tracing algorithms to calculate the reflection and refraction of light in a web browser or AR application, diamonds look completely implausible.
Do Not Worry — I Have a Solution
At devabit, we managed to come up with an efficient way to simulate honest reflection-refraction and dispersion in diamonds using only the basic rendering capabilities of the Sketchfab gallery and standard PBR Roughness-metallic textures. Since this method does not require any special calculations, it is suitable for displaying a large number of diamonds simultaneously, regardless of the complex shape of the jewelry and the metal surface. As a result, diamonds look pretty realistic and, most importantly, render smoothly even on mobile devices (in a Sketchfab app) and browsers.

To Create Real-Time 3D Models, We Use Standard Physically Based Rendering (PBR) Workflow: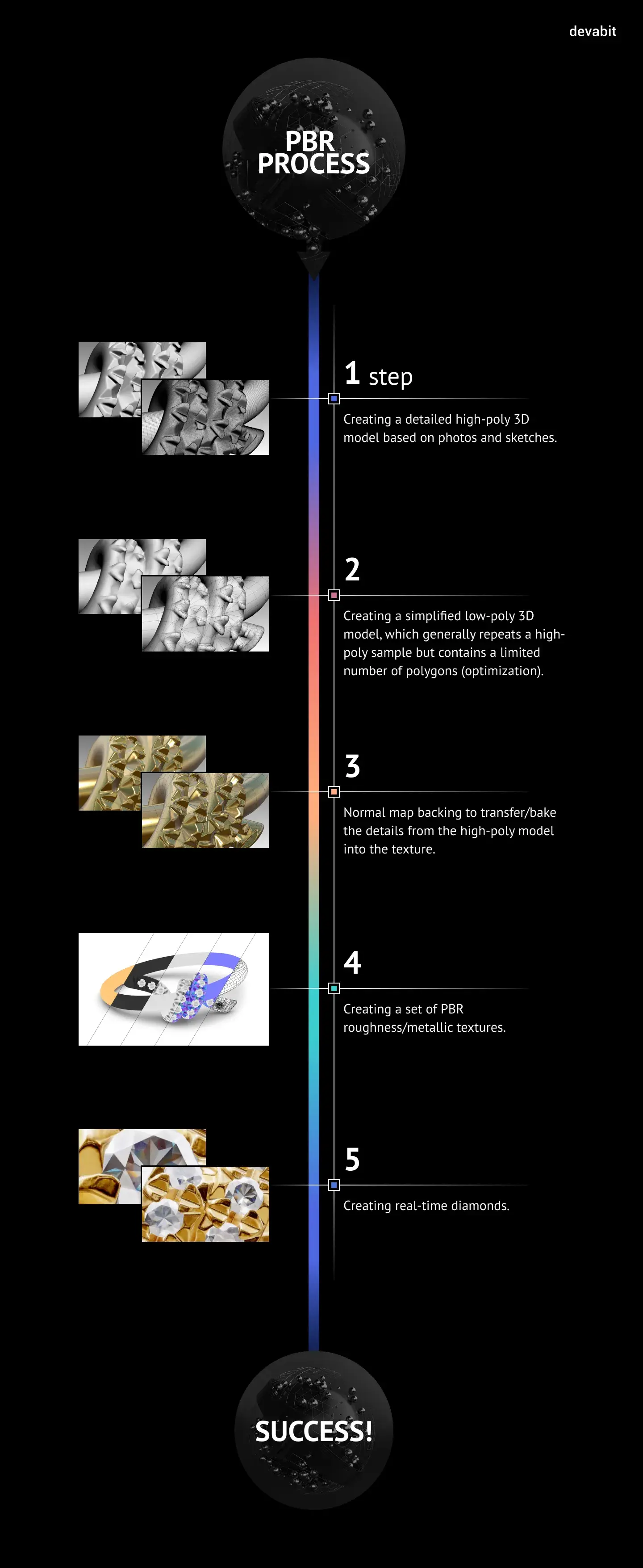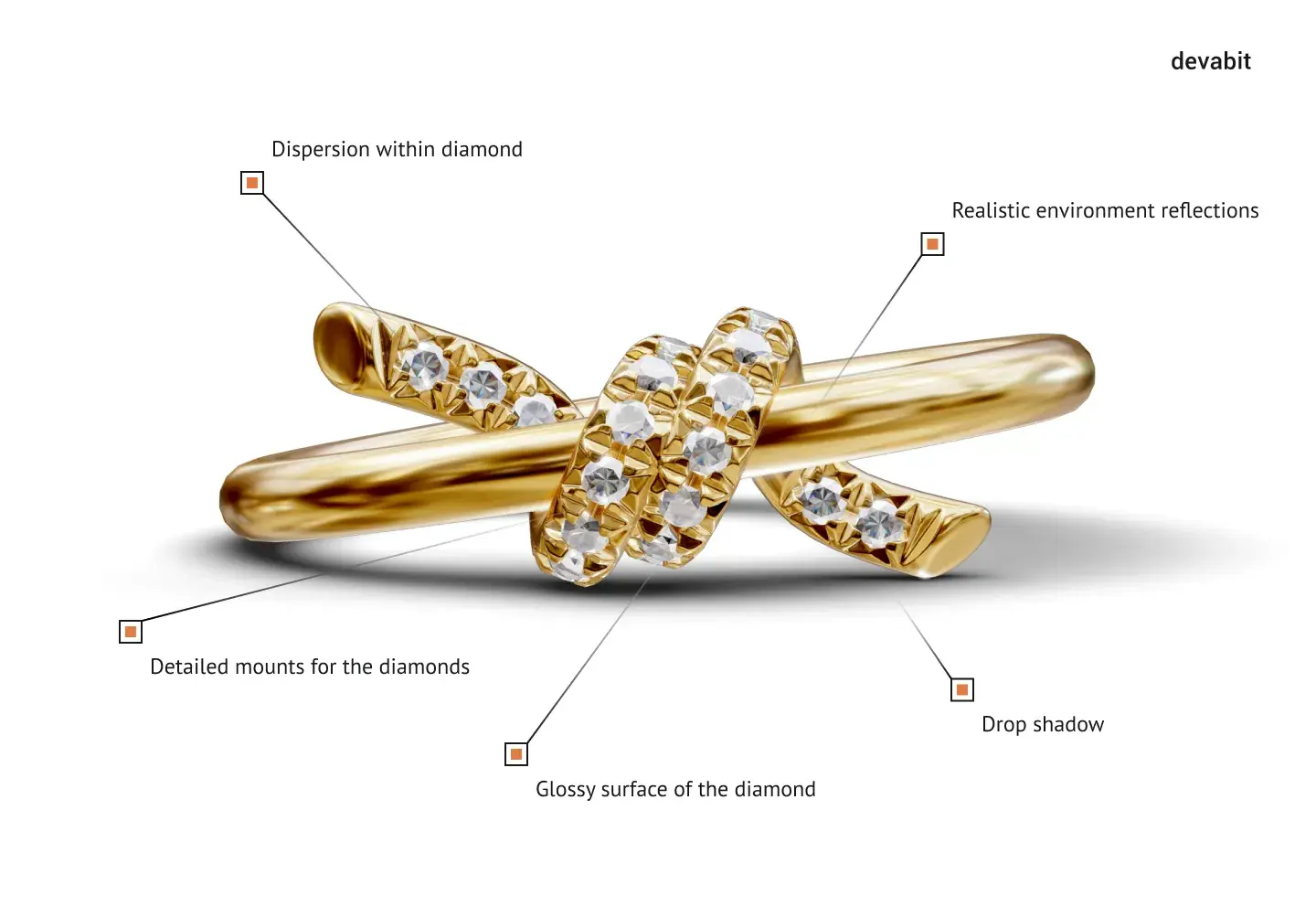 Customizable 3D Models of Jewelry as a Roadmap to Success
Unveil the Endless Benefits of Customizable Jewelry
While we have already resolved the most challenging part of creating a highly realistic 3D model of diamond structure, here comes another crucial issue — the business perspective. Fortunately, devabit, your reliable 3D modeling partner, has a solution. Leveraging best-in-class industry approaches, our expert team is capable of creating stunning customizable 3D models. Possessing a multitude of benefits, customizable 3D models of jewelry enable manufacturers to create a bracelet utilizing different beads designs or even adjust designs to users' preferences.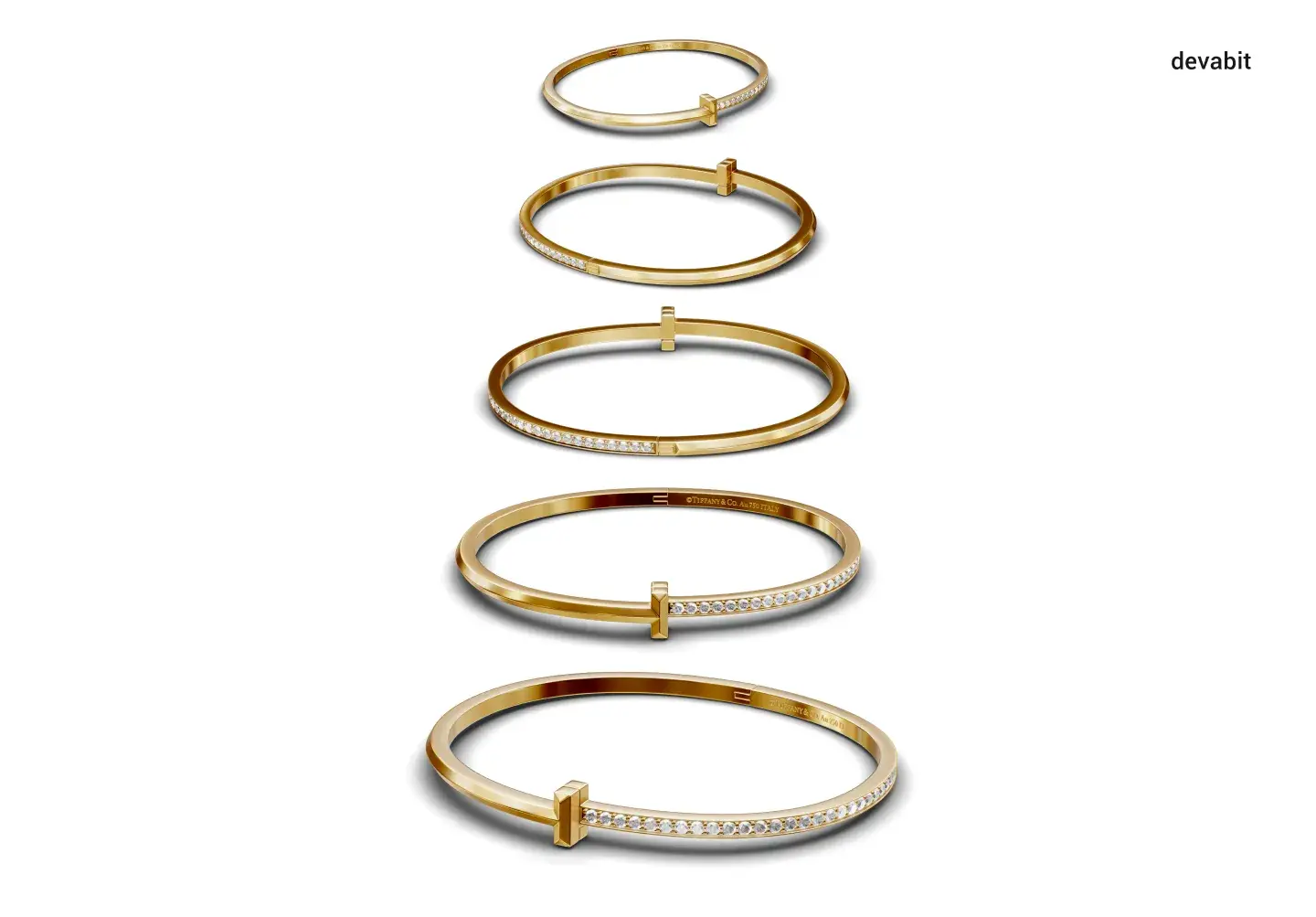 There Are Two Types of 3D Customizers for Jewelry:
1.
Pre-Rendered Representations
The bead image is superimposed on the bracelet image in a certain way, considering the depth of the scene (beads must overlap each other, the so-called parallax). This type typically requires a specially designed 3D scene to render the beads in their positions.
Advantages:
Excellent image quality. Small load on the graphics processor of a computer or device (static illustrations are in PNG format). Much simpler modeling process, as there is no need to accomplish optimization.
Disadvantages:
Only fixed camera angles (the bracelet cannot be rotated in the configurator window, it is impossible to convey the shine of metals or diamonds). A very large number of image files are needed. This requires a stable Internet connection to download sources to the configurator. It takes a lot of time to prepare (render) all the images.
2.
Real 3D Model
3D models with material textures are loaded directly into the drive. It is basically a game engine, like in a computer game. Everything is rendered in real time, and the user has full control over the perspective. Users gain the ability to freely rotate the bracelet, zoom in and out of the camera, etc.
Advantages:
Interactivity: the user has full control over the virtual camera. Models and textures take up less space on the server. A totally different (more immersive) experience compared to static illustrations.
Disadvantages:
The complexity of development. Optimization of 3D models is required. It is not easy to achieve photorealism. High load on the graphic system of a computer or device (not every device can handle visualization).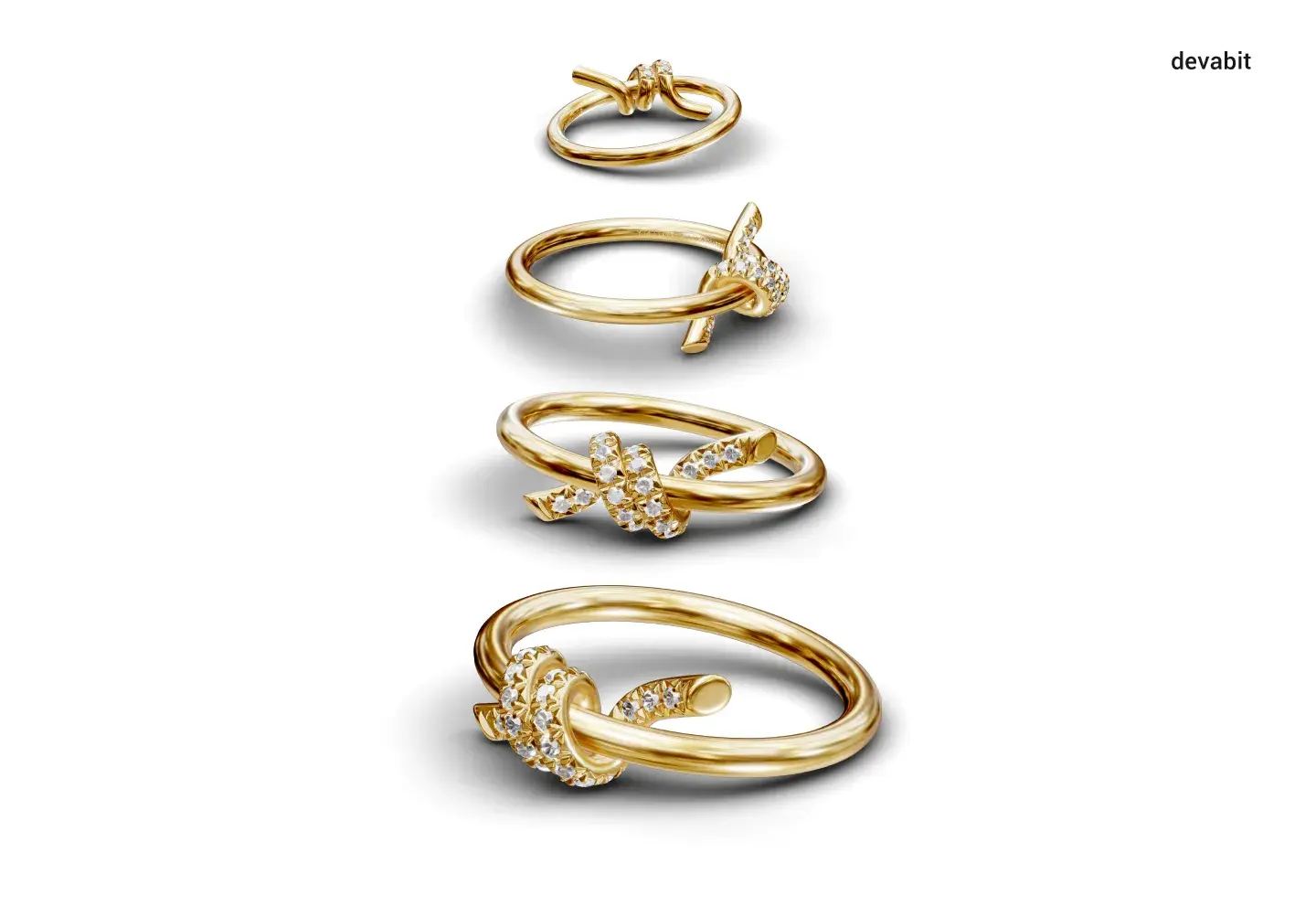 How We Did It: Real-Time Customizer for a Premium Jewelry Brand
devabit team presented an innovative idea of automation. It allowed producing impressive amounts of 3D renders with only one bead model inputted. Introducing 3D models as a powerful tool for online presence enhancement, we stepped further and designed a digital bracelet customizer. Being an integrated ERP and CRM system, it allows creating fully-customized bracelets in an easy and efficient manner. In the configurator, users can choose the type and size of the braided bracelet and add beads according to their taste.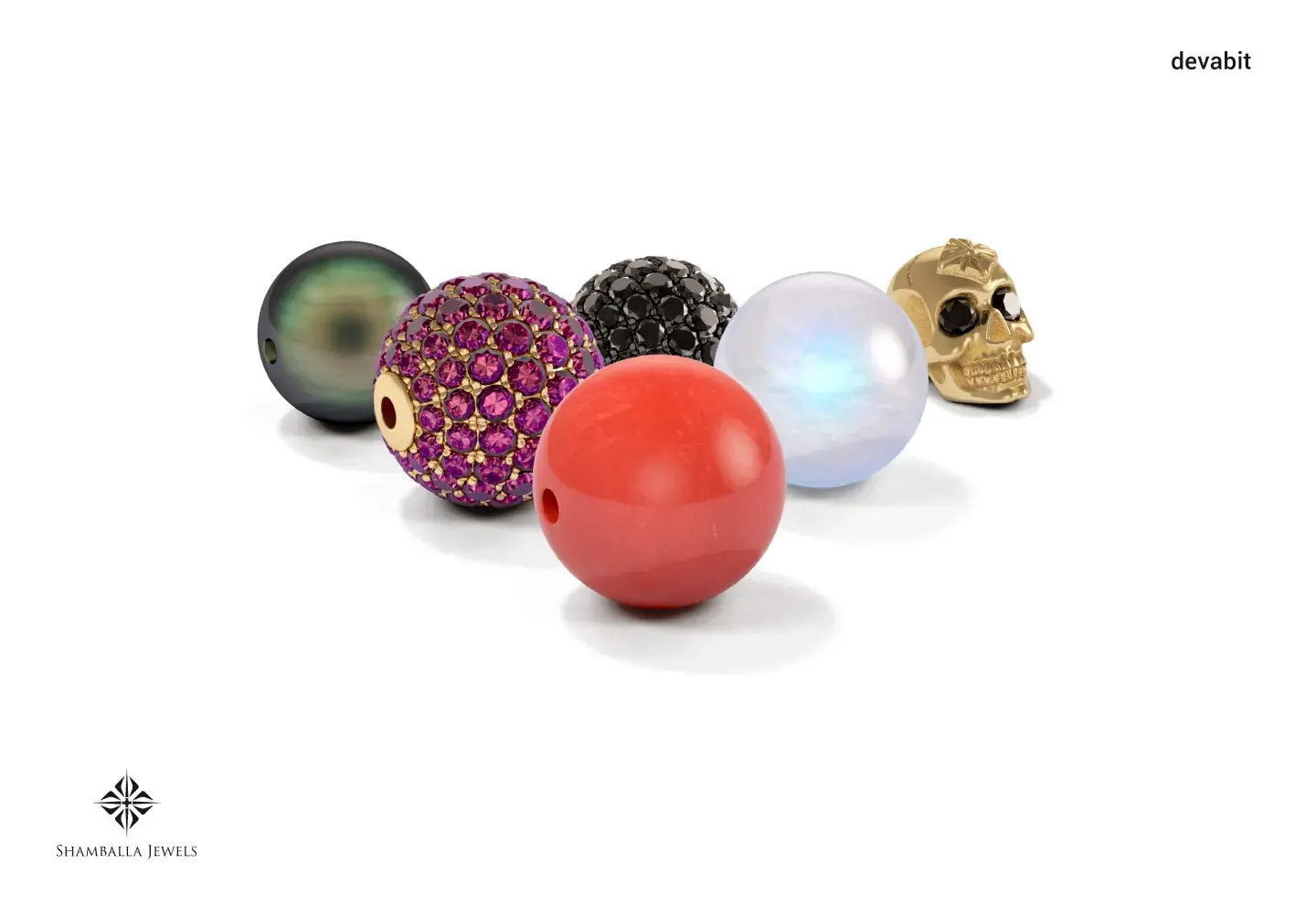 What is more, the configurator immediately calculates the final price of the bracelet. The Shambhala configurator works with pre-rendered images and allows you to view the bracelet from four fixed sides. It gives a designer and client freedom to express their creativity without limits. Ultimately, with an online bracelet customizer delivered by devabit, Shamballa can design highly personalized accessories while saving both time and money.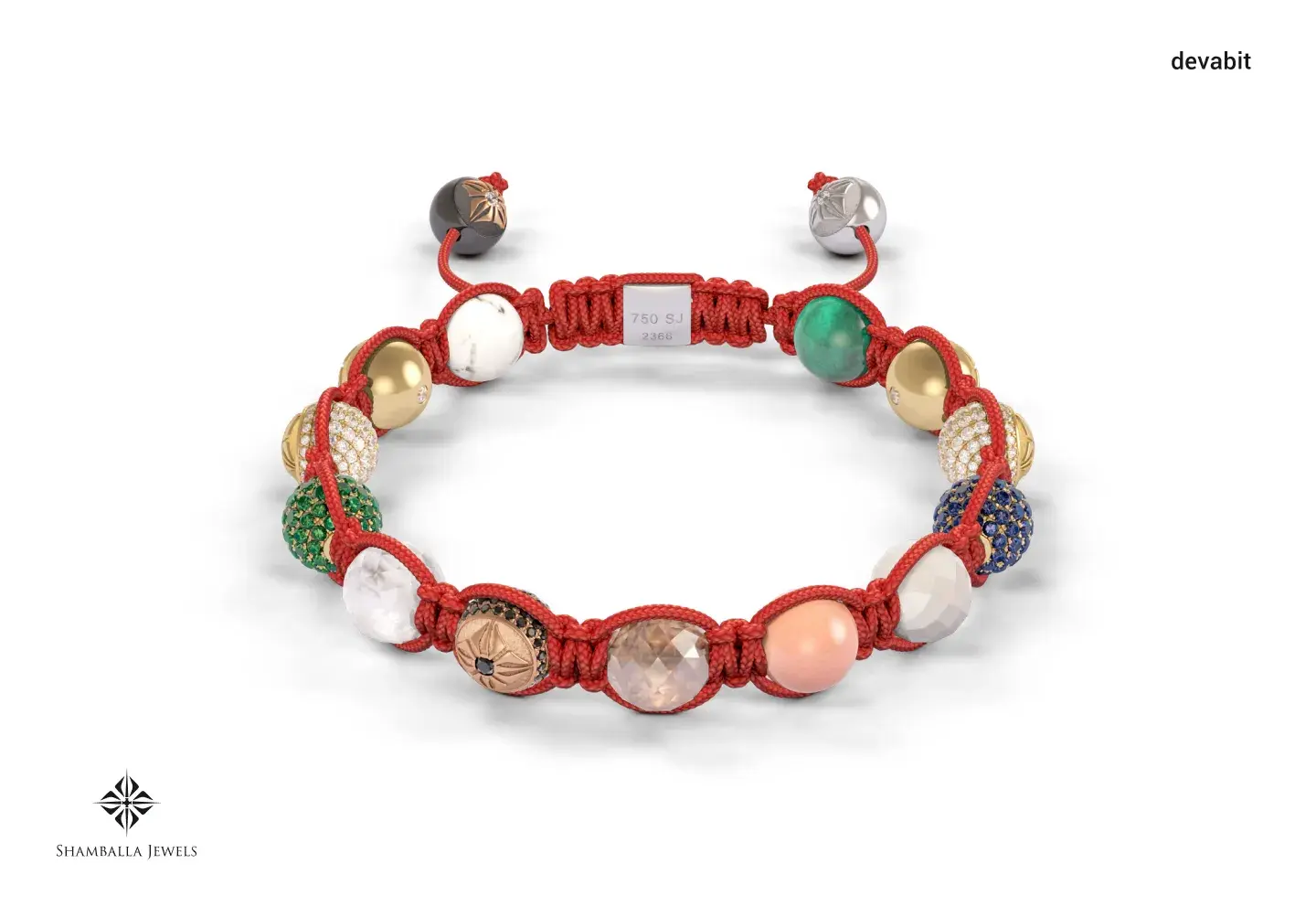 Final Verdict
Diamonds are a girl's best friend. Likewise, 3D models of diamonds are a jewelry house's best friend. Although this is a bit customized Marilyn Monroe's quote, it is undeniably accurate in the 21st-century world. Inspired by the latest technology innovations, multiple luxury jewelry manufacturers are turning to 3D modeling to gain a competitive advantage. Bearing this in mind, devabit presented a unique R&D project — Tiffany 3D model of T1 Narrow Diamond Hinged Bangle and Tiffany 3D model of Knot Ring in Yellow Gold with Diamonds.
The mesh of highly realistic representations of diamonds and best-in-class jewelry customizers — here is what makes us stand out among the competitors. Did you get inspired by our Tiffany 3D models? Then, do not waste your time on useless hesitations. Just drop us a line below, and let us breathe new digital life into your state-of-the-art jewelry.
Don't miss out! Click here to stay in touch.
Liked the article?
You will like our email too
Get the latest news from the devabit blog.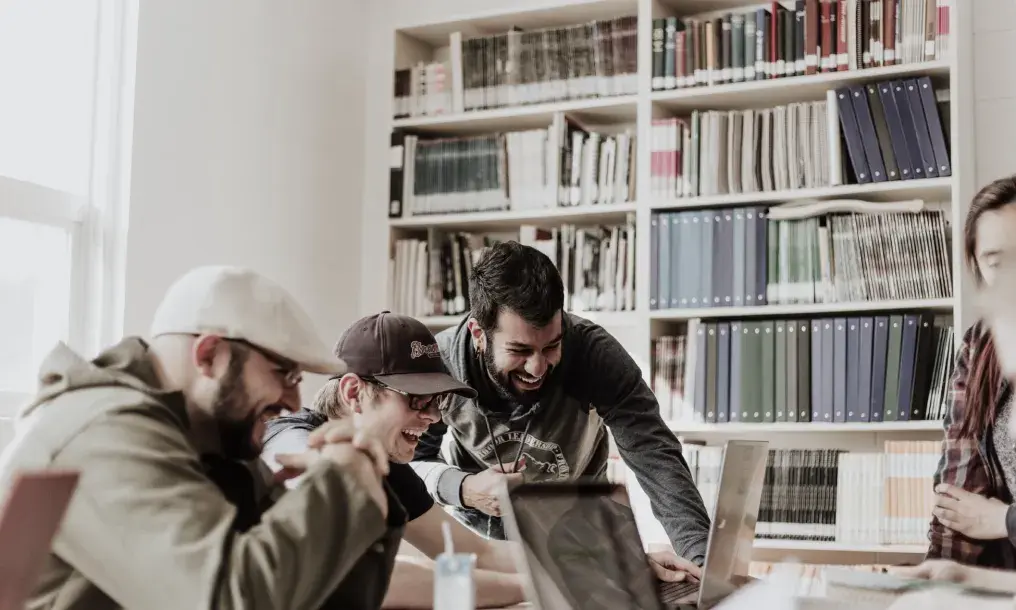 CONNECT WITH US WE'RE READY
TO TALK OPPORTUNITIES
THANK YOU! WE RECEIVED YOUR MESSAGE.
Sorry
something went wrong
One of our consultancy experts will get in touch with you shortly.
Please visit our portfolio to know more about us and the solutions we provide.