How to Create A Music Streaming App: A Step by Step Guide
Streaming is everywhere. Not only did it change the type and volume of media we consume, but also brought brand-new business models to the market. Still, there is much space for another great music streaming app. However, one must have a step-by-step plan and a professional development team to create a music streaming app.
With this article, we've made a halfway for you. (We can make another halfway too. Read the article till the end.)
1. What are the chances my music streaming app will become popular?
2. How can I make money with my music streaming app?
3. Where can I hire a professional development team to create a music streaming app?
4. What platform and tech stack to choose to create a music streaming app?
5. Which features are a must to create a music streaming app?
6. How to build a music library?
BONUS: A final checklist before your music streaming app release
Our core aim is to give you a general overview of what app development looks like and to suggest possible options and solutions at each stage.
1. What are the chances to create a music streaming app that will become popular?
Short answer: high if you investigate the music streaming market thoroughly.
Explained: Undoubtedly, the demand for unlimited high-quality music is skyrocketing, and streaming services are taking the most advantage of it. For starters, learn the key characteristics of market players: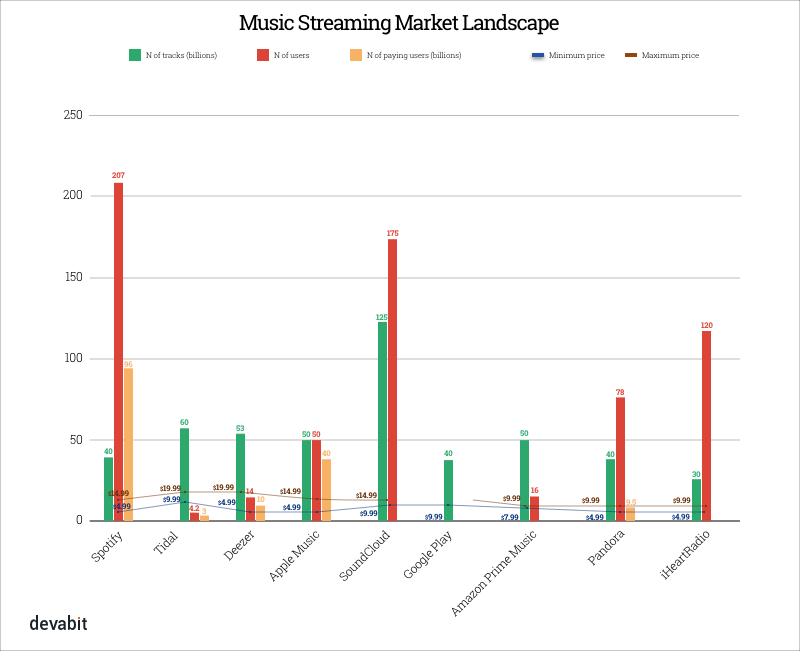 You shouldn't get scared, though. The peak of music streaming usage is yet to come. Statista reported 200 million listeners in 2019 compared to 65 million in 2015. Thus, to win the market, create a music streaming app with a unique feature that solves hidden listeners' struggles.

2. How can I make money with music streaming app?
Short answer: build a revenue flow and a business model.
Explained: Just like any other business idea, you need solid initial investments to create a music streaming app. A well-planned business model will minimize the risks and ensure long-lasting sustainable results.
Start with the type of application:
Music Library - on-demand interactive streaming service with a server-based music library
Cloud Storage - an app that lets users store and stream their own recordings
Theme Radio Station - non-interactive music streaming service arranged by a certain theme
The most efficient ways of music streaming app monetization:
In-app adds
Premium features
User charges
Artist charges
Ticketing services
Karaoke live-streaming
Single song or album purchase option
You can integrate these ideas into one of the following business models:
Freemium: core functions are free, and premium features are purchased
Premium: works best for niche products, paid-only access
Subscription-based: a fixed fee that is automatically charged on a regular basis
The most profitable market solutions often combine different models. For instance, Spotify requires a subscription before using the app (premium). Pandora works within a rather freemium model: a user has to subscribe for ad-free unlimited listening.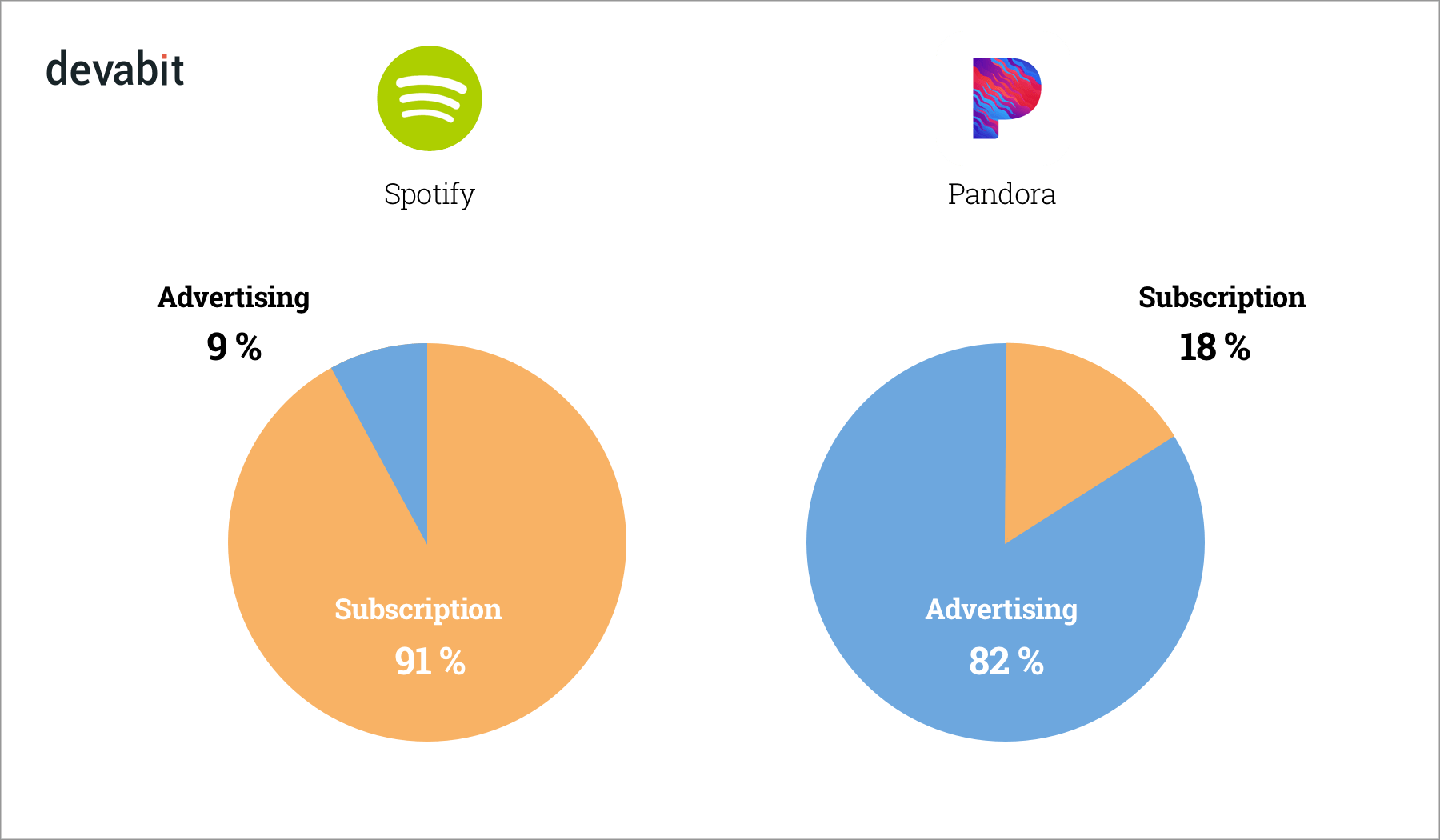 3. Where can I hire a professional app development team to create a music streaming app?
Short answer: outsource to Ukraine.
Explained: Obviously, app development requires advanced technical skills and hundreds of man-hours. There are many benefits of in-house teams. However, the costs usually appear unfairly high.
Being a Ukrainian software development company, we got a knack for the international outsourcing market. We believe that one of the best solutions is to hire a professional outsourcing partner. This is the ultimate way to save costs without losing quality.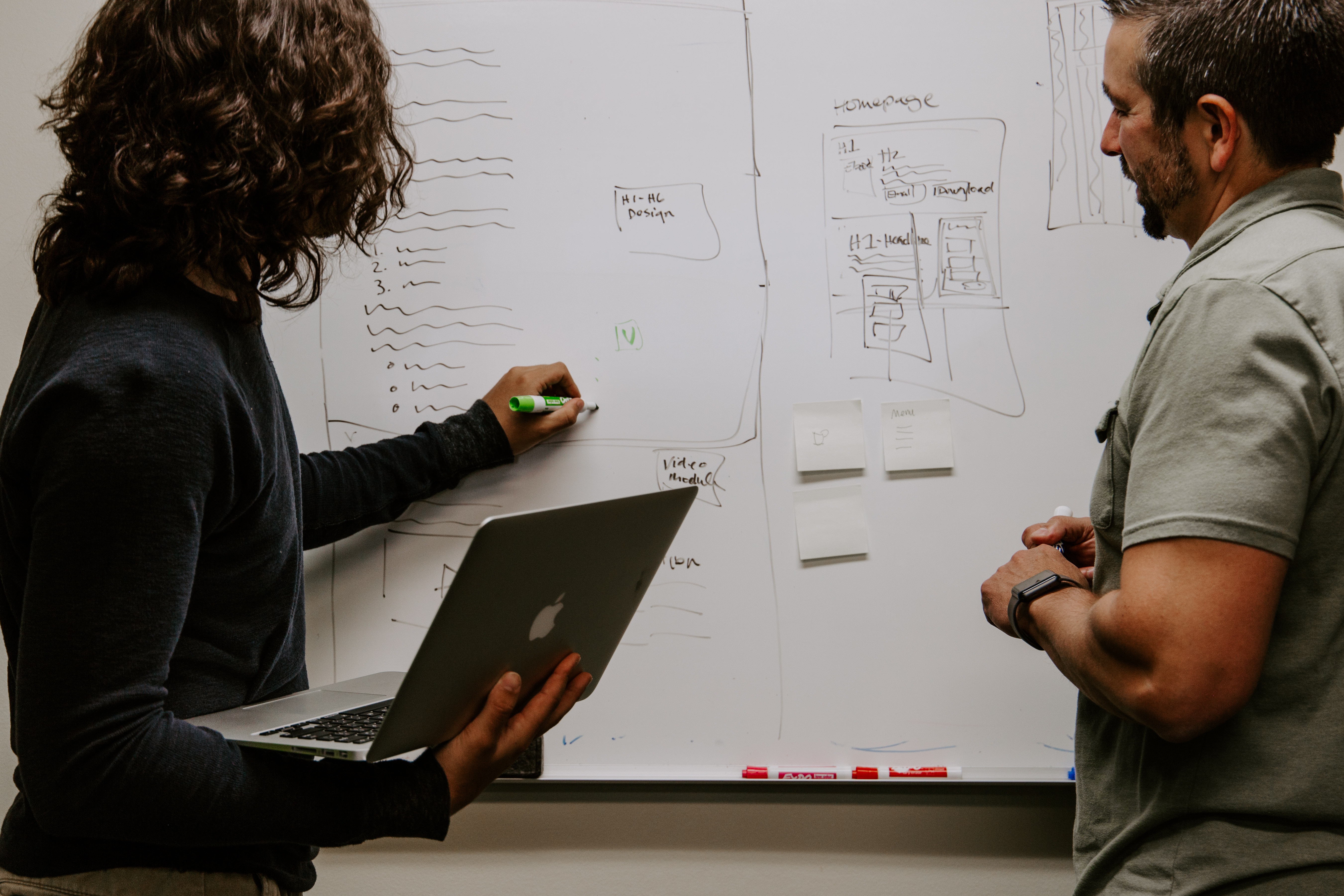 Talking about our assistance, devabit is a sophisticated software development partner. We are trusted by global brands like Virgin Mobile, TetraPak, Carlsberg, and Y-Combinator-backed start-ups. Our core competency lies in the field of:
Our professional outsourcing team will assist you with the platform and tech stack choice and calculate costs and timing for various features development and deployment. Afterward, we will ensure your music streaming app is developed flawlessly.

4. What platform and tech stack should you choose to create a music streaming app?
Short answer: start with a mobile app: native iOS/Android or cross-platform.
Explained: A limited start budget narrows down the platform choice. In this case, we recommend developing a mobile application instead of a web version. According to the Music Consumer Insight Report, 75 percent of consumers primarily use smartphones to listen to music.
Here are the possible solutions for the mobile app development of a music streaming service:
Native iOS/Android app. The market is almost equally distributed between both iOS and Android apps. You can choose to either develop a native app for both platforms or start with one. Native apps secure you for perfect interaction with different operating systems. Usually, they are written in Swift for iOS and in Kotlin or Java for Android.
Cross-platform app. Solutions such as React Native allow to keep the time-money balance and to run on both iOS and Android with similar effectiveness.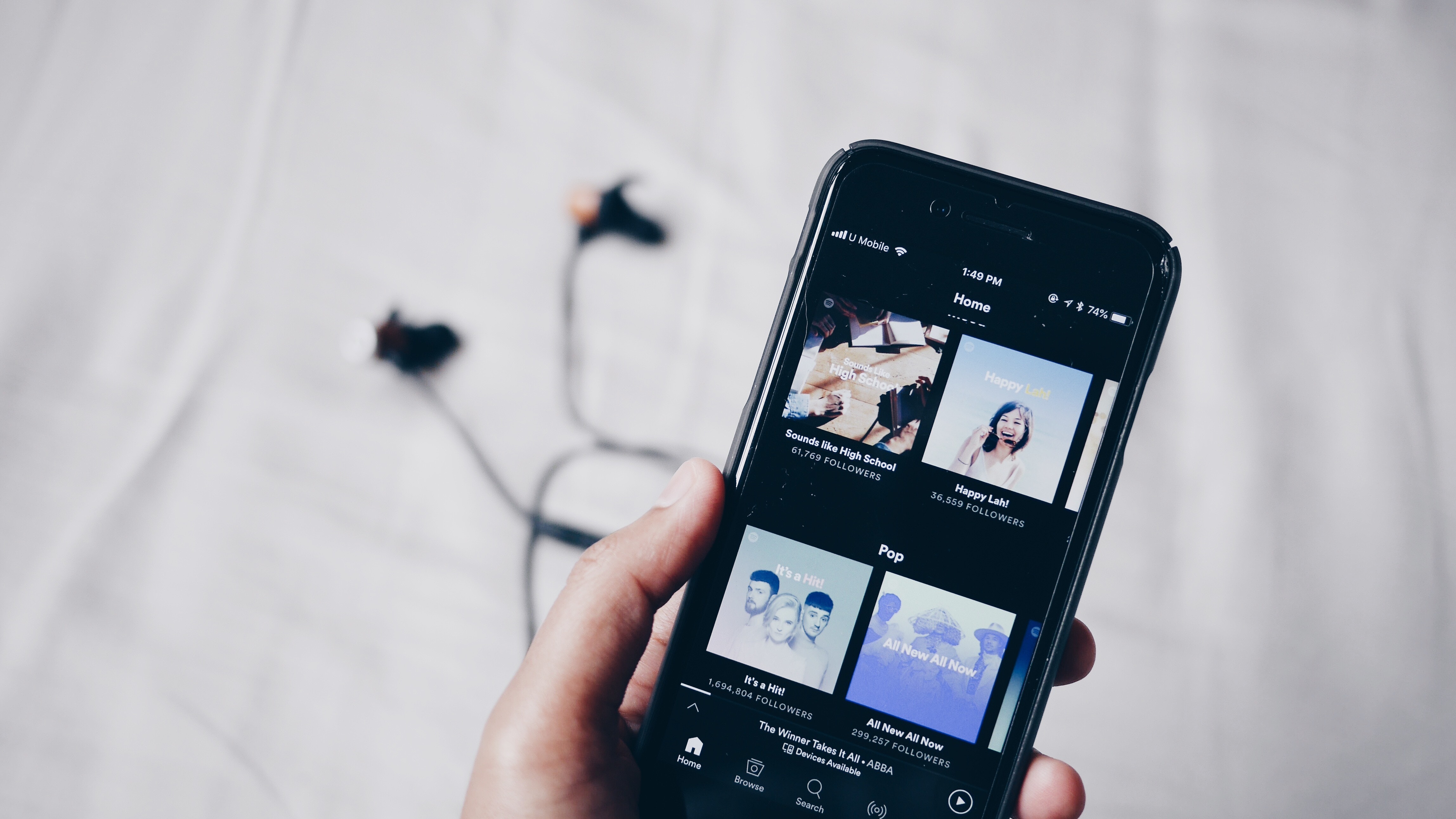 Technically, a music streaming app can work with almost any back-end solution. We suggest you choose one of the following technologies:
Ruby on Rails (allows to make an MVP faster)
Java
Python
PHP (used primarily for server-side logic)
Otherwise, you can focus on the time-to-market indicator and start with ready-made components like Spotify's SDK.
Remember that an omnichannel online presence allows for reaching a broader audience.

5. Which features are a must to create a music streaming app?
Short answer: a good music streaming service cannot live without:
Registration & Login
Social media integration
Search & Navigation
Music Categorization
Recommendations & Collections
Music Player
Push Notifications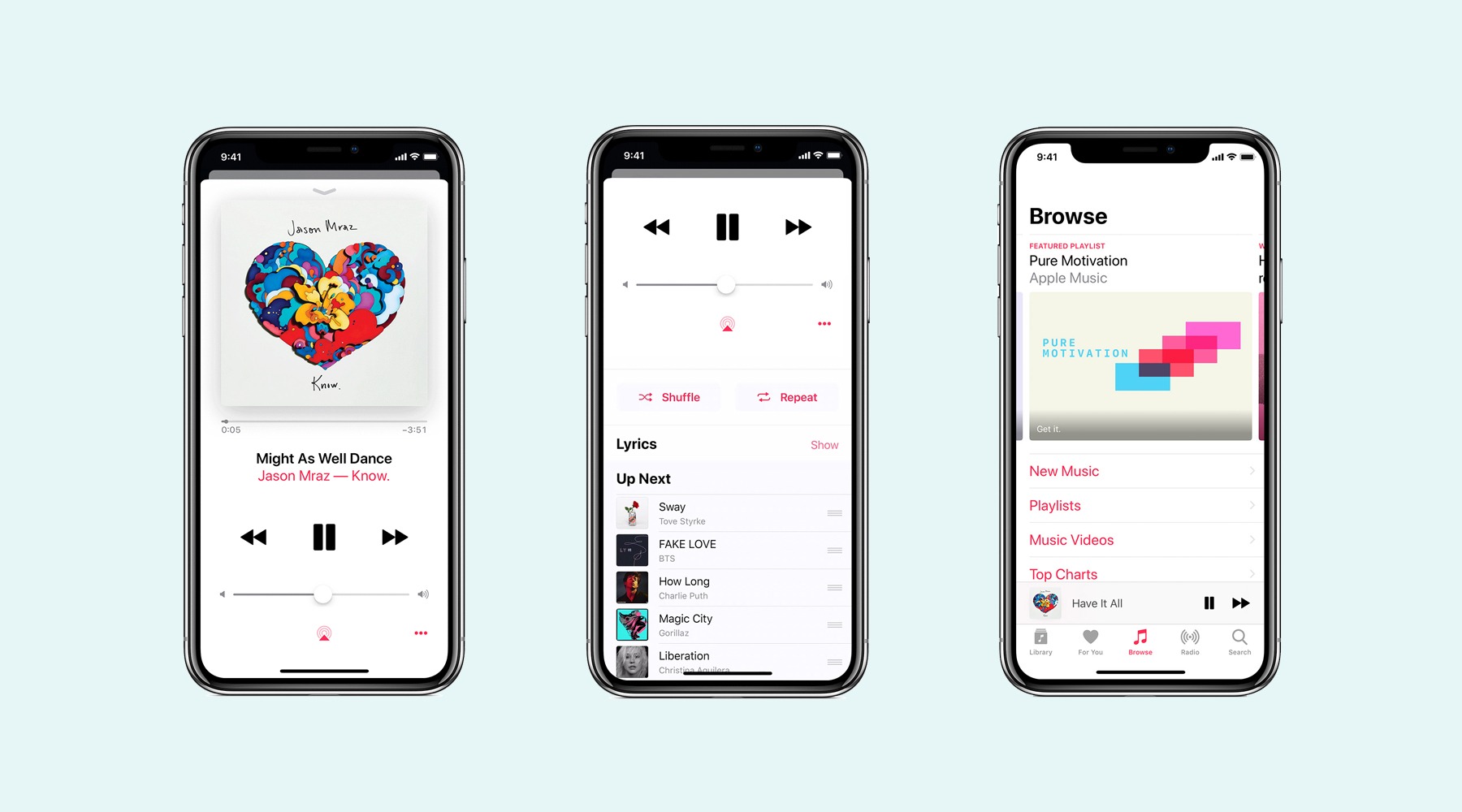 Explained: The streaming industry holds strong potential and some space for experiments. However, it also requires thorough research of your target users: their lifestyle and everyday preferences. Based on these conclusions, you will be able to modify your future app.
Extra features to make you stand out from the crowd:
Downloading and offline access
Pre-save option
Social sharing
Lyrics
Voice commands
Private mode
Newsfeed
Events calendar
6. How to build a music library for a music streaming app?
Short answer: mind licensing, data storage, protocol, and audio format.
Explained: A user who can't find a certain song should become your new nightmare. There is probably nothing more disappointing. On the other hand, correct legal and tech implementation will let you avoid any issues with the music library.
Music Licensing. Avoid pirate music at any price. Music license is issued by specialized companies of certain entities. Besides, content distribution requires paying royalties to the music rights owners. For example, Spotify retains around 30% of the revenue and spreads the rest for royalties.
Data Storage. Amazon S3 (AWS) is the most common backend solution which supports streaming. However, any other cloud service with a Content Delivery Network (CDN) will work. Otherwise, use third-party APIs (i.e., Spotify or SoundCloud catalogs) or a self-hosted server with a readable directory.
Streaming. Pay extra attention to your protocol. Spotify, for example, uses TCP protocol because of its features for congestion control and lost packets resending.
Supported Audio Formats and Music Quality. Keep in mind that audio formats affect music quality. Users won't tolerate low quality. For example, Tidal uses FLAC, ALAC, and AAC. Pandora supports only AAC, while Spotify - only Vorbis.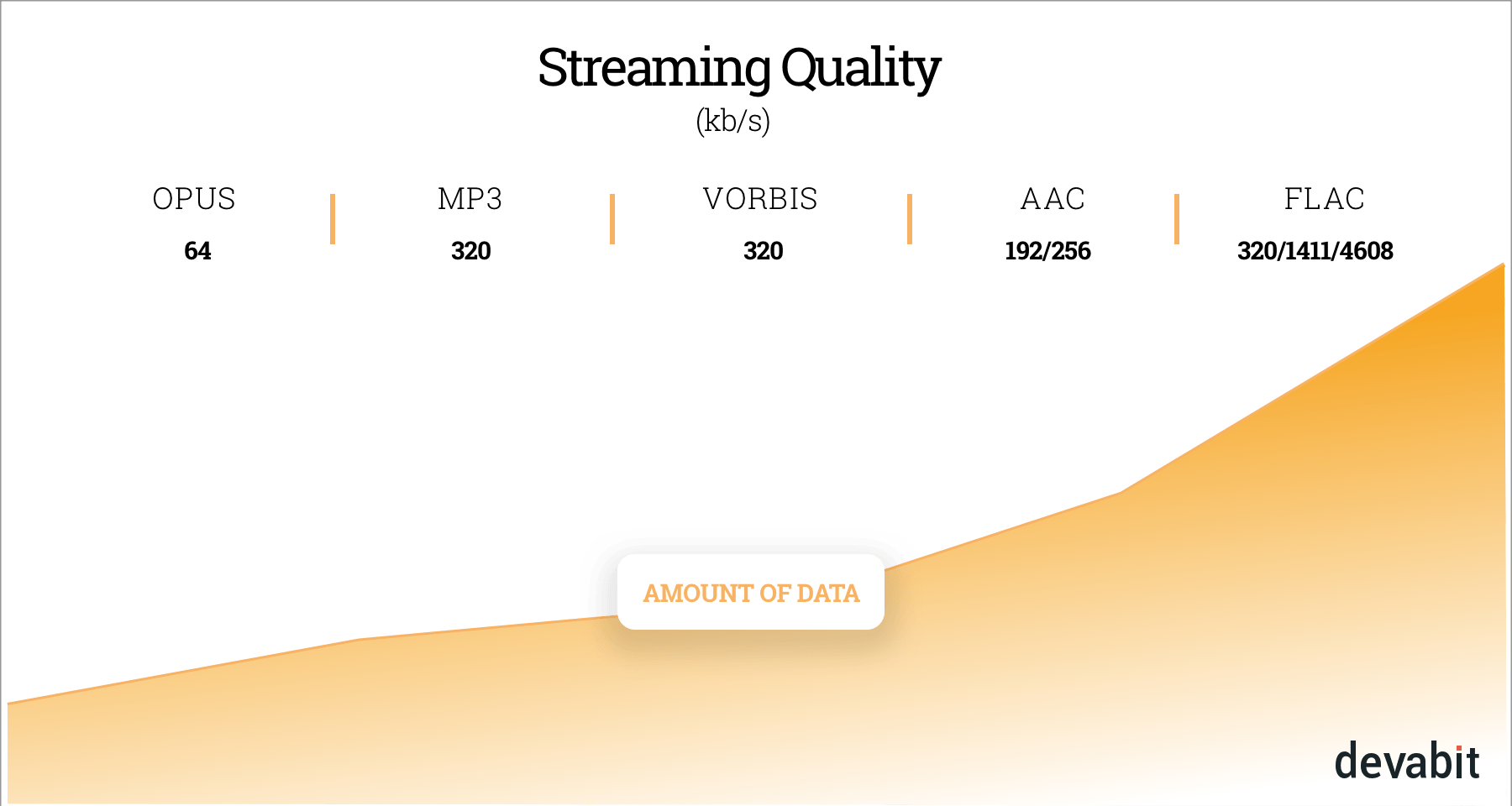 BONUS: A FINAL CHECKLIST ON HOW TO CREATE A MUSIC STREAMING APP

Undoubtedly, to create a music streaming app, you require tons of effort and costs, along with advanced technical skills and a well-functioning business model.
Here is a final checklist of steps to be completed in order to create a music streaming app:
1. Market Investigation: study the demand, rivalry, and forecasts
2. Business model: build a business plan and decide how to gain revenue
3. Music library: learn and solve the upcoming legal obstacles, licenses, and royalties
4. Professional development team: they will narrow down the necessary technical specifications
5. Prototype: a clickable demo allows us to fix major issues and get a general understanding of the 6. future product. At devabit, we recommend not skipping this stage to create a music streaming app with best-in-class features.
7. UI/UX design
8. MVP Development: this stage allows us to evaluate the market response. You might want to present the app with basic features to the market to see whether the general idea is relevant at all.
9. Testing
10. Release and support
Whether you have a great idea to create a music streaming app or you are looking for a trusted software development partner, devabit team will be glad to assist you. Get custom quotes and a consultancy through our contact form.
Liked the article?
You will like our email too
Get the latest news from the devabit blog.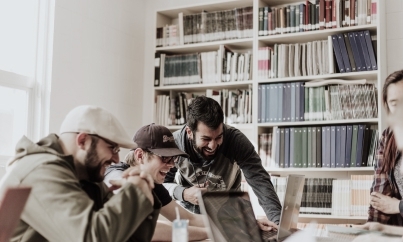 CONNECT WITH US WE'RE READY
TO TALK OPPORTUNITIES
THANK YOU! WE RECEIVED YOUR MESSAGE.
Sorry
something went wrong
One of our consultancy experts will get in touch with you shortly.
Please visit our portfolio to know more about us and the solutions we provide.