European Tech Frontier: Mobile App Development Poland
In the modern technology-driven world, it is hard to imagine our lives without smartphones. From fitness and cooking apps to music streaming platforms and AR furniture applications, such a mind-blowing variety of mobile solutions definitely impacts all areas of human existence. By way of illustration, the average smartphone owner uses 10 apps daily and 30 apps monthly. Although the popularity of mobile apps may seem a little threatening, as mobile app usage usurps more time than it should, this tendency is very promising for business owners. With consumers downloading 255 billion mobile apps to their connected devices in 2022, it has never been a better time to create your own mobile solution. At the same time, the area of mobile app development Poland has also been growing in recent years, making this country an attractive destination for businesses looking for skilled and talented iOS and Android developers. Considering all of the above, we have created a comprehensive guide on how to hire Polish developers. From exploring the benefits of hiring Polish developers to identifying essential strategies to find and evaluate potential candidates, we provide all the necessary resources to ensure you will find a top-notch mobile app developers Poland in 2023.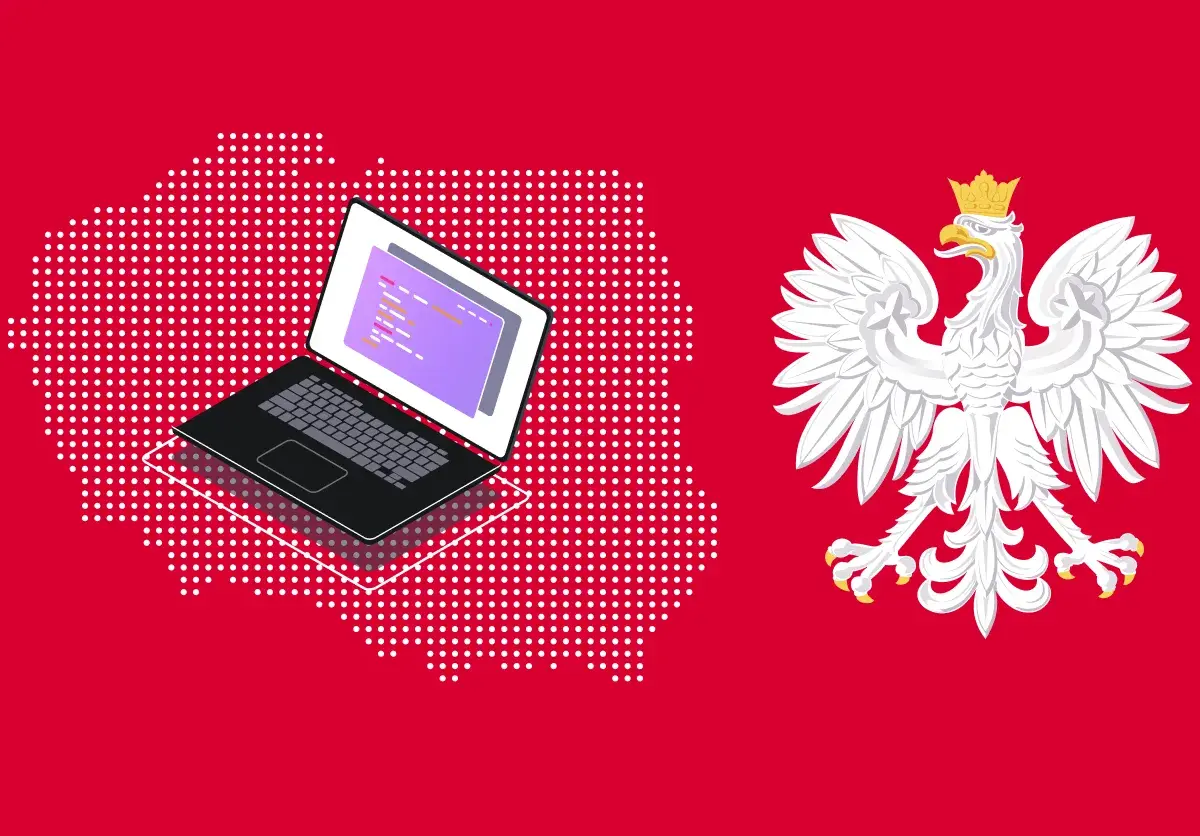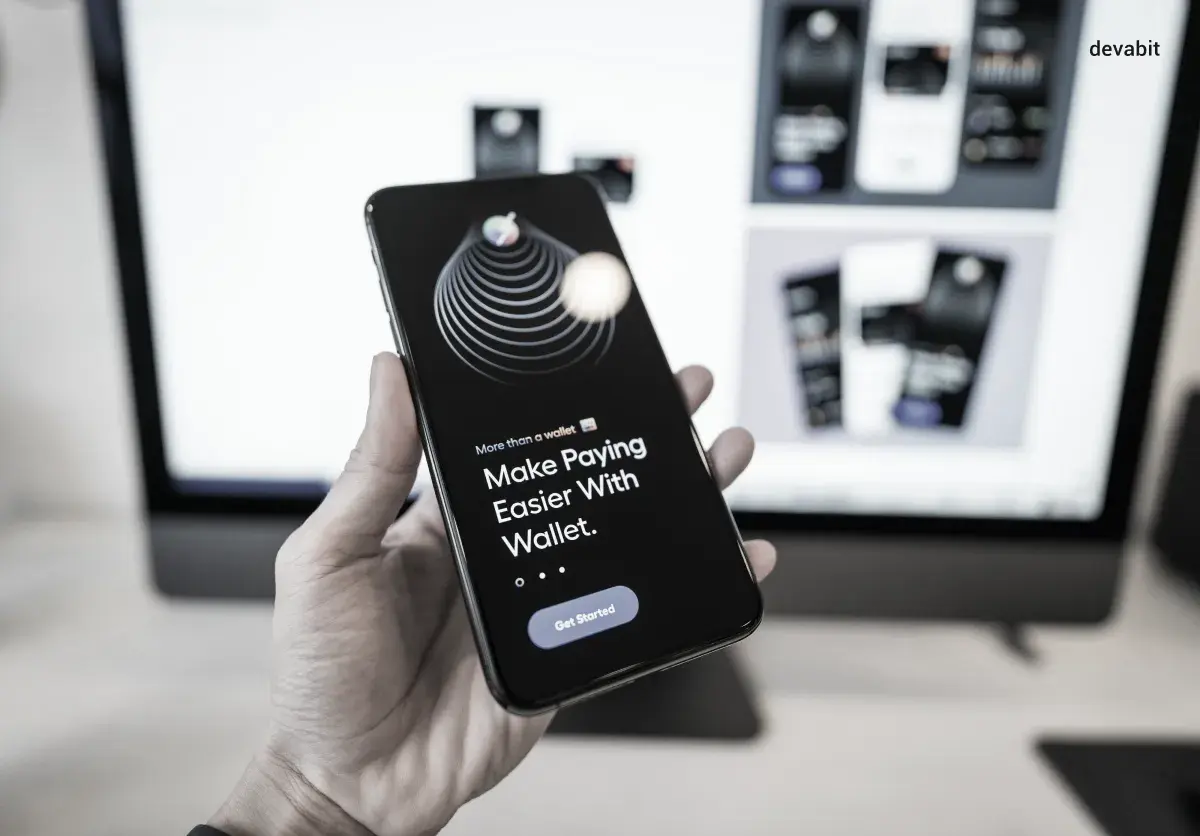 Mobile App Development Poland: Market Overview

The Battle Between Free and Paid Apps & The Growing Popularity of Games
In the rapidly evolving world of mobile app development Poland, a significant revenue surge is anticipated, with projections exceeding 613 billion US dollars by 2025. Among all categories, mobile games are expected to dominate the revenue share, reflecting their immense popularity. Looking back at 2020, gaming and video content claimed the lion's share of the mobile content market. Most apps in the major app stores are still free to download, representing an indispensable part of the smartphone experience. However, there has been a remarkable shift in consumer behavior, with users showing an increasing appetite for premium services and paid apps. The global consumer spending on apps continues to grow, as we saw in Q2 2021, when Android customers spent an average of US5.31 per handset. Notably, the average amount spent on a mobile device per share in the last quarter of 2020 was US$10.6.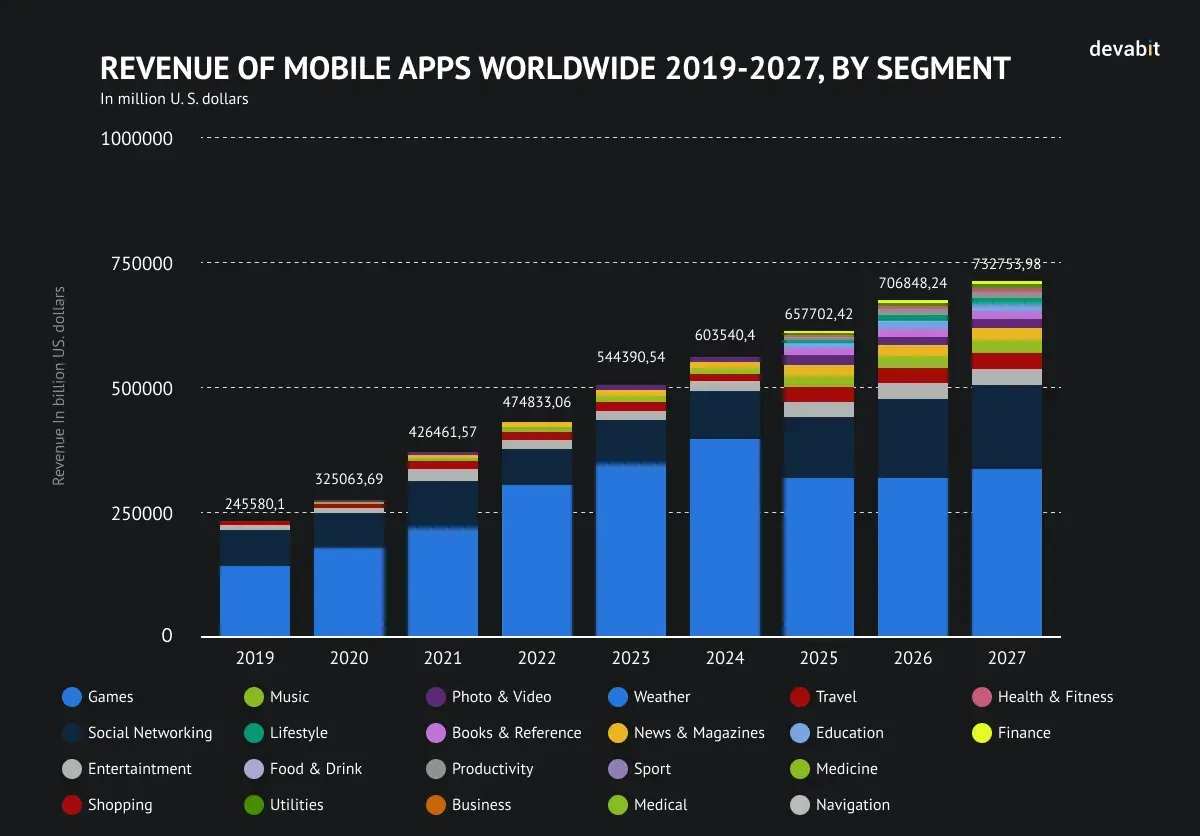 Mobile App Development Poland Talent Pool
Located in the heart of Europe, Poland is a significant player in the global mobile app development market. The Polish IT industry, especially when it comes to mobile development services, is undergoing continuous development, and innovative trends are arising year after year, making this country one of the most incredibly growing markets in the modern technology landscape. Notably, the IT community in Poland occupies nearly a quarter of the entire European developer population. With more than 500K tech specialists and 1000+ software development providers in the region, Poland is recognized as one of the largest tech talent pools in Eastern Europe. Concerning the specialization of Polish developers, it is spread relatively equally. Still, as you can see in the picture below, the percentage of mobile developers is a bit higher, so hiring Polish developers is an excellent way to fulfill your mobile development needs in 2023.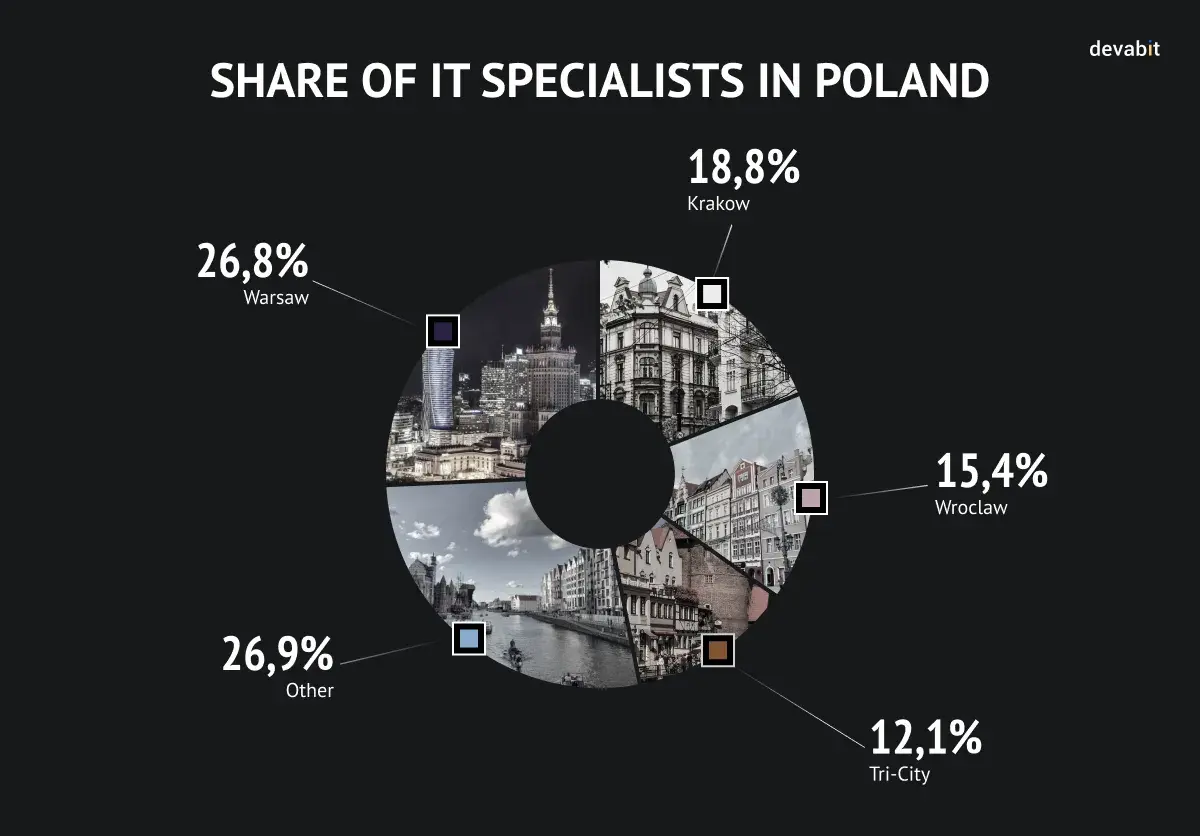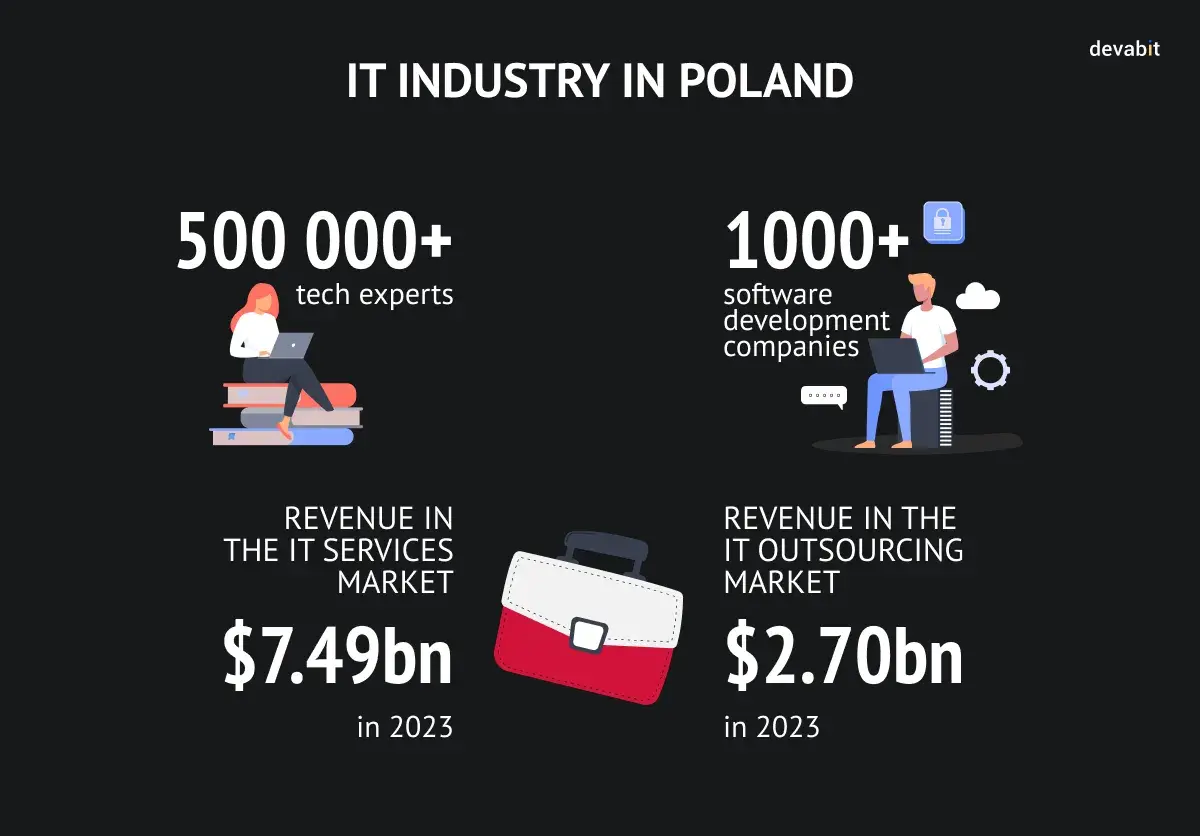 Mobile App Development Poland: Why Hiring Polish Developers Is a Great Idea in 2023?
In case you are still here, you have probably considered hiring Polish developers for your next mobile development project. Yet, we have several exclusive reasons to prove that mobile app development Poland can be a perfect option for your business. Ready, set... Let us crush it together!
1. Outstanding Culture
Surprisingly but yes: this aspect truly matters when it comes to building long-term business relationships. Widely known for its highly educated workforce, mobile app development Poland is definitely worth your attention if you are looking for talented, reliable, and well-organized iOS and Android developers. Based on the latest findings from the EF English Proficiency Index, Poland holds the 11th position among the 35 European countries assessed. Additionally, it is proudly ranked 13 out of 111 countries evaluated worldwide. This remarkable achievement underlines the promising potential of Polish developers, making them an ideal match for Western IT companies seeking top-notch talent. Exceptional attention to detail, backend web services knowledge, creativity, brainstorming, organization skills, multitasking, problem-solving skills, willingness to learn, and deadline-driven approach — here are just a few qualities associated with Polish developers. Summing up, if you dream about a team of skilled, polite, and communicative mobile developers, consider mobile app development Poland to turn your dream into reality right now.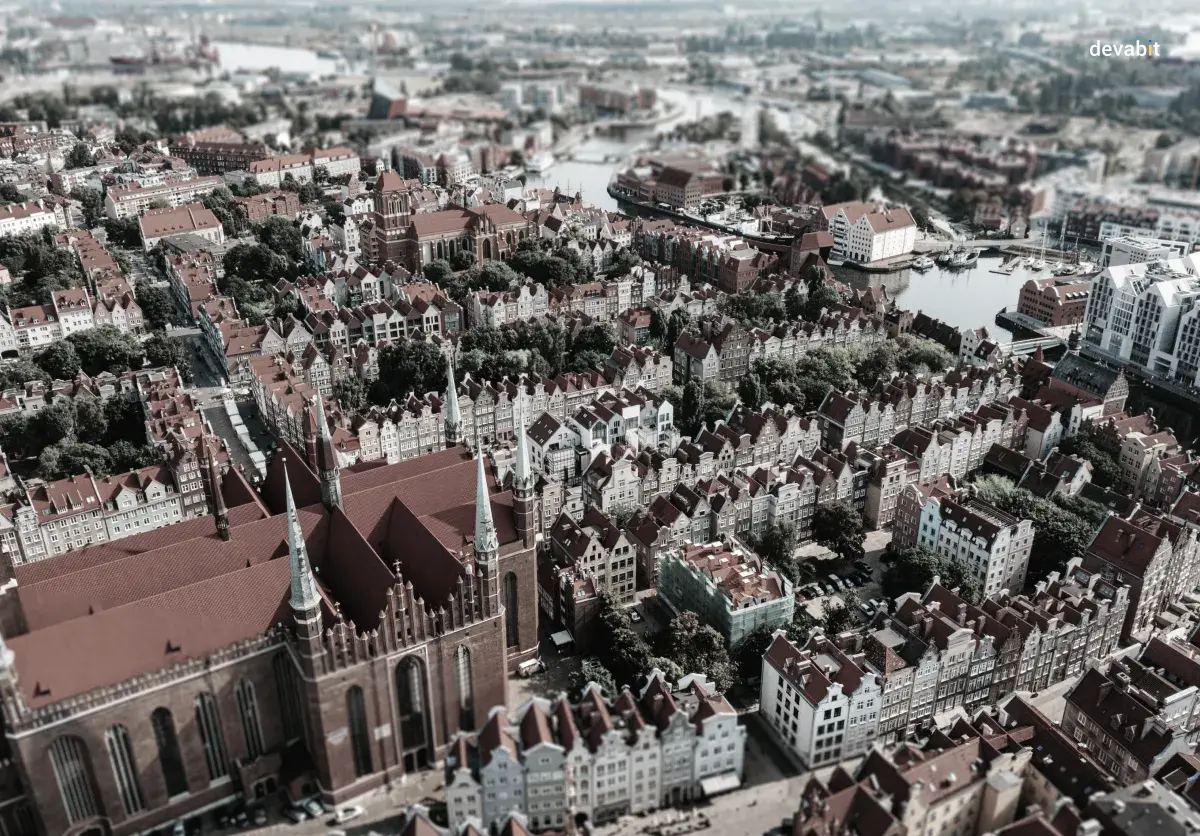 2. Robust Technology Hubs
In a nutshell, Poland hosts seven major IT hubs, employing an impressive nearly 80% of the country's IT experts. Strategically located in Warsaw, Kraków, Wrocław, and Tri-City (includes Gdansk, Gdynia, and Sopot), these centers are generally popular with foreign companies seeking to outsource mobile app development Poland. With highly skilled talents who graduated from top technical universities and a good balance of price and quality, mobile app development Poland offers both financial appeal and a vast talent pool. Warsaw, the country's geographical and business capital, is a vibrant city with an impressive 163,000 IT professionals and more than 330 software development providers. Thanks to its business-friendly infrastructure and ambiance, Kraków, Poland's second-largest IT hub, is an attractive place for hiring Polish developers. Hosting approximately 114,000 software developers and 260 offices, this city has become a promising destination for foreign tech giants like Cisco, UBS, and Motorola. Wrocław is another major industrial center in Poland, with over 93,500 programmers in place. Due to a special focus on AI, Big Data, IoT, and FinTech, Wrocław boasts a well-established commercial infrastructure and rich technology ecosystem. The Tri-City proudly hosts more than 73,500 coders and has earned the prestigious title of being the second most attractive workplace, according to managers. Overall, the region represents an impressive annual job growth rate of 12.6%.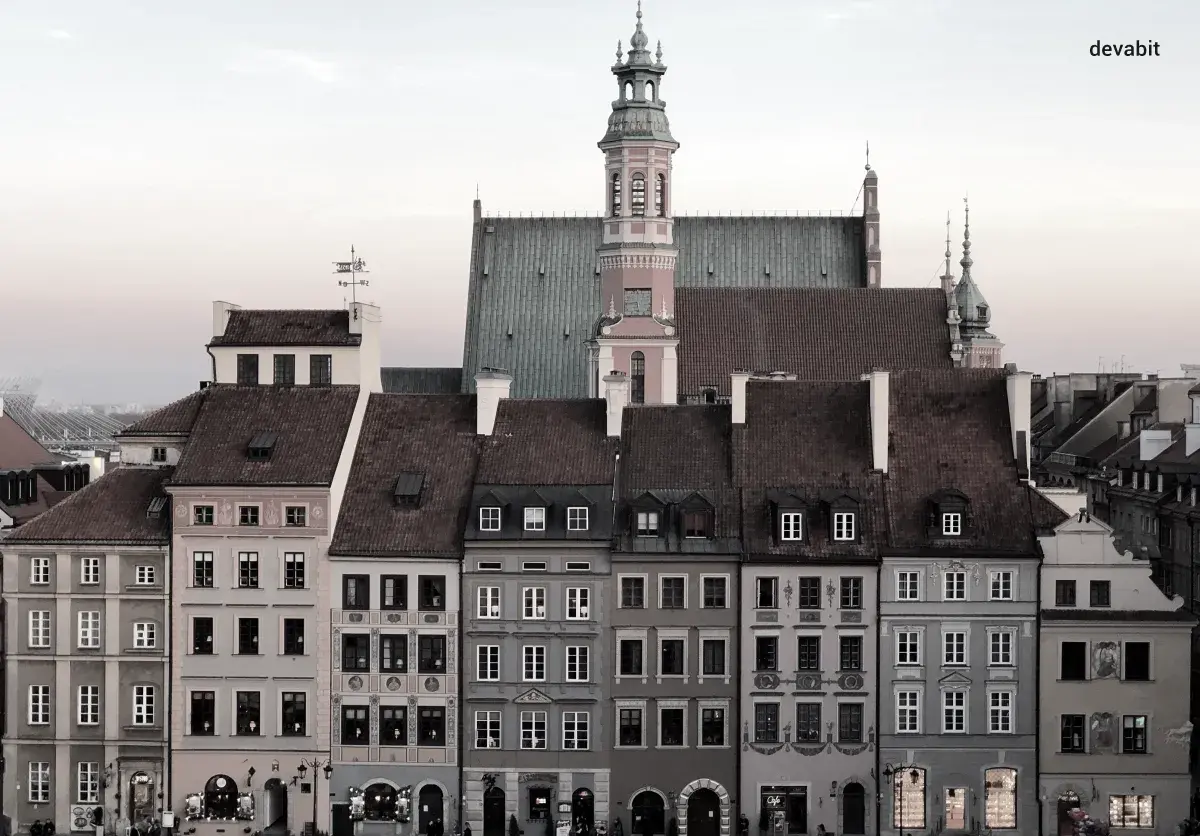 3. Stable Economy & Political Stability
Dating back to the struggle for independence, the Polish economy has undergone multiple crises and transformations. Yet, such a multifaceted history behind modern Poland has established the country as one of the most politically and economically stable destinations in the Eastern European region. As of 2023, the country is in the top 10 European countries with the biggest Gross Domestic Product (GDP). As a European Union (EU) member, mobile app development Poland offers secure and reliable technology partnerships. Complying with the EU regulatory structure and General Data Protection Regulation (GDPR), iOS and Android Polish developers deliver law-abiding mobile solutions to FinTech and healthcare organizations worldwide. Despite russian aggression in Ukraine, which shares borders with Poland, Poland remains a safe place for IT businesses. During the first months of the russian invasion, 50 Ukrainian IT companies relocated to Poland, and more than 20 companies plan to open an office there, making a significant contribution to the growth and expansion of mobile app development Poland.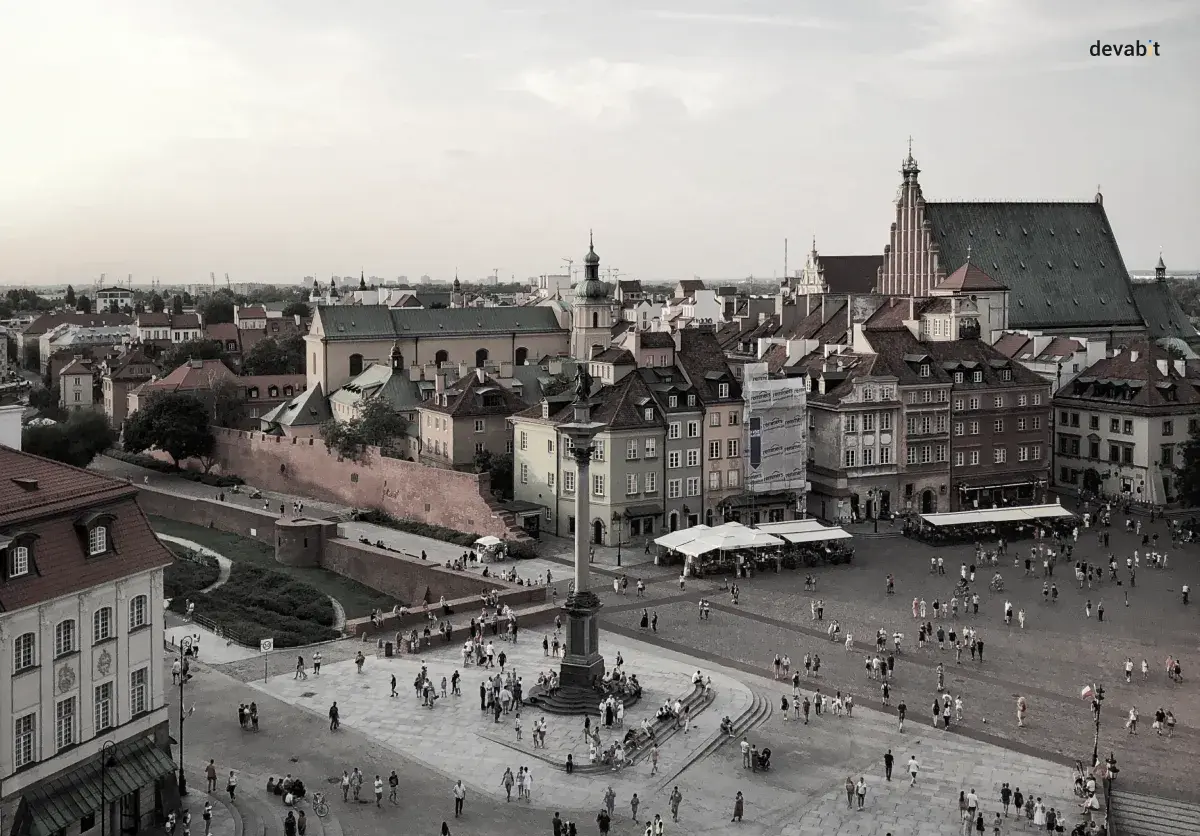 Mobile App Development Poland: A Step-by-Step Guide on How to Hire Polish Developers
Here we go. It is time to reveal the secret of successful outsourcing to Poland. Ssssh, just do not tell anybody, and be the first to acquire unique business insights prepared by the devabit team.
1. Research Inside & Out

Well, when it comes to research, everything is pretty straightforward. But how about inside & out? Let us sort things out. The 'inside' part of the research refers to assessing your project requirements. For instance, do you want to develop an iOS, Android, or hybrid mobile application? What are your budget limitations? Do you have any preferences concerning the timeframe? Are there any other specificities worth your attention? By answering these critical questions, you can gain an excellent direction for the 'out' part of your research. Thus, the 'out' research means assessing the Polish IT market, mobile development providers, their rates, and everything in between. At this point, make sure the app development company Poland you consider correlates with your pre-defined requirements.
Looking for mobile app developers in Poland?
2. Choose the Cooperation Model
Depending on the cooperation model you select, the price for hiring Polish developers may vary significantly. For example, devabit offers several IT cooperation models, including Dedicated Teams, Time & Material, and Fixed Cost. Over and above that, we also deliver team extension and staff augmentation services. With such an extensive number of options, our clients can easily choose the type of cooperation that suits them best. In case you still have any doubts concerning the cooperation model you need, our skilled consultancy experts will help you make the right decision in a blink of an eye.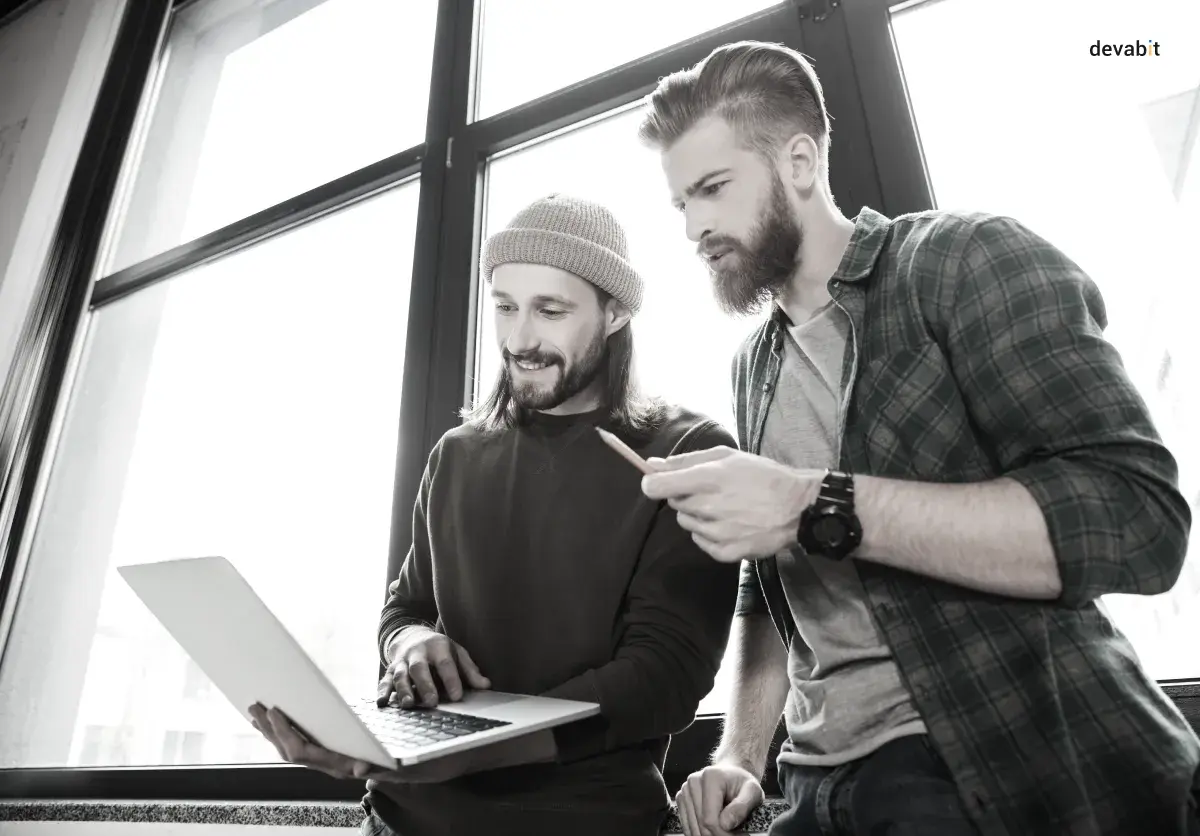 3. Get in Touch with Top Options
Hopefully, you have had an opportunity to create a list of the most suitable companies related to 'mobile app development Poland' during the first 'Research Inside & Out' phase. If not, it would be a good idea to create it now. Bearing in mind your potential requirements, preferences, and cooperation models, it is time to get in touch with the first companies from the list. Thanks to the thorough research you conducted earlier, it typically takes less than 5 tries to find your perfect match. However, please note that this rule does not work for complex requests, rare industries, or inadequate budget expectations.
4. Meet the Candidates
Hooray! As soon as you have found your precious gem in a pile of stones (here, we mean your perfect mobile app development provider in the world of endless options), you can proceed to interview the candidates. The vendor will typically provide you with CVs of the most suitable Polish developers, while you can conduct the final interviews to build your dream team. Before jumping straight into cooperation, it is also essential to ensure all legal agreements are in place.
5. Witness a Miracle
Even though the word 'miracle' may sound slightly out of context, we believe Polish developers create true miracles by developing cutting-edge mobile applications. In the hands of talented Polish developers, code turns into high-performing features, while flat app designs transform into intuitive navigation and clickable buttons. Hence, with a team of skilled Polish developers by your side, you can enjoy these miracles and focus on growing your valuable business instead of worrying about the performance of your mobile solution.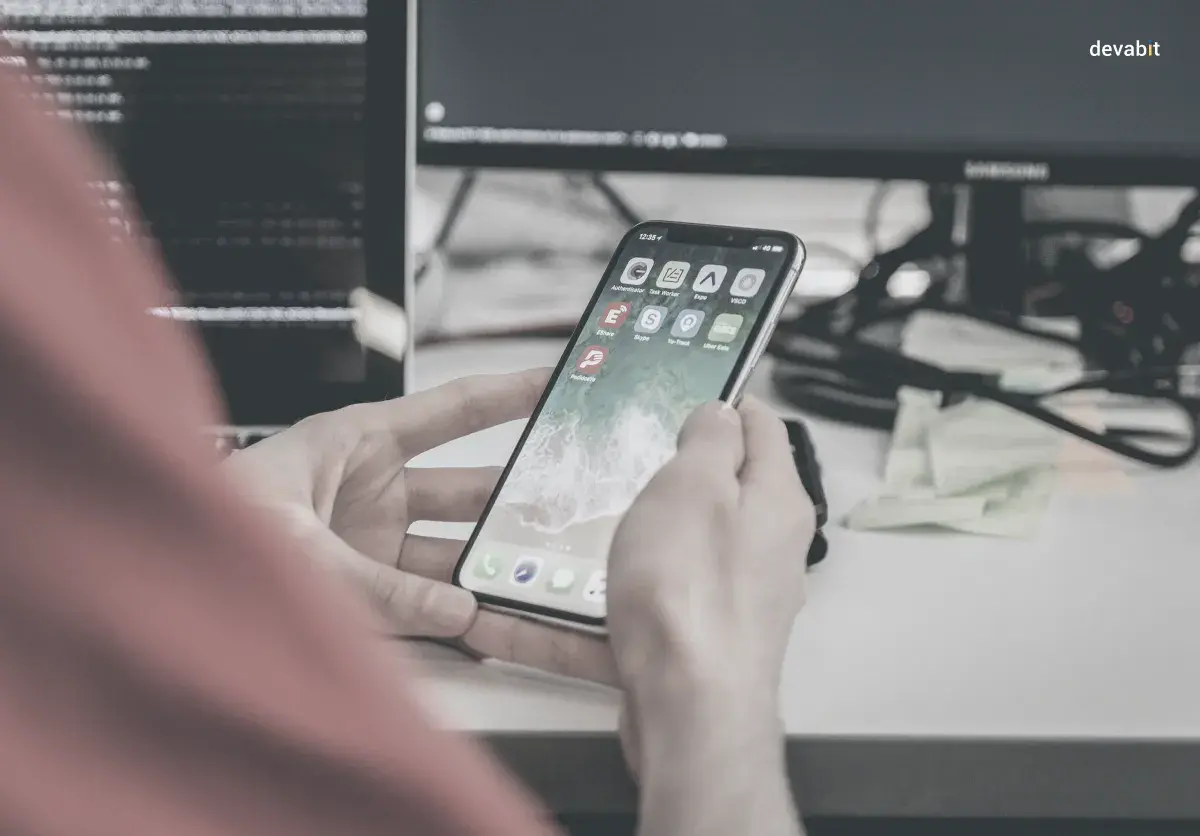 Mobile App Development Poland: Relevant Aspects to Consider While Hiring Polish Developers
Below we have gathered several crucial factors related to mobile app development Poland. By considering these aspects, you can avoid failure, hire best-in-class Polish developers, and enjoy great mobile apps at a reasonable price:
Consider the price difference. Unlike mobile app developers in the US, working with Polish developers is significantly cheaper (typically, twice cheaper!). However, do not look for the most inexpensive options since such cooperation may result in poor-quality outcomes.
Always ask for the portfolio or check it on the vendor's website. All in all, it is better to choose Polish developers with an experience in your unique industry.
Make a deal in the very beginning: discuss the price and the scope of delivered services at the onset of project creation to avoid hidden costs.
Scalability matters, especially when it comes to rapidly growing startups that launch a new product. Hence, consider your growth strategy and discuss it with the potential mobile app development vendor to seamlessly scale your team in the future.
Successful cooperation is more than just business and money. When it comes to mobile app development Poland, pay attention to communication style, cultural differences, and other crucial aspects that matter to you.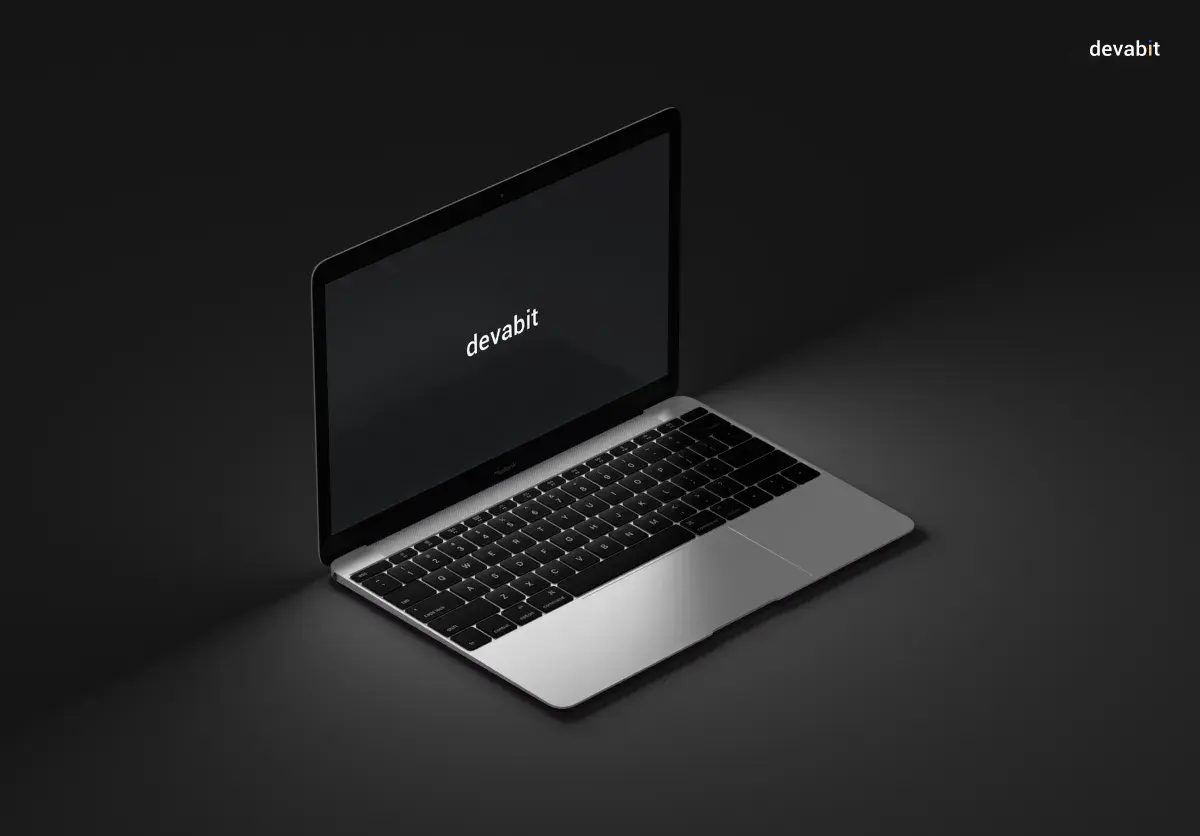 Mobile App Development Poland: Final Thoughts
After all is said and done, mobile app development Poland is a great way to cut costs while accessing high-quality solutions. Yet, hiring Polish developers can be either a nightmare or an enjoyable experience depending on the strategy you choose. Hopefully, our comprehensive guide on mobile app development Poland will provide you with all the needed resources and information to make the right decision. In any case, we are here to help. If you are looking for skilled iOS or Android developers in Eastern Europe, contact us right now and let us build your dream team together. Your next market-leading mobile app is just in one click, so what are you waiting for?
Don't miss out! Click here to stay in touch.
Liked the article?
You will like our email too
Get the latest news from the devabit blog.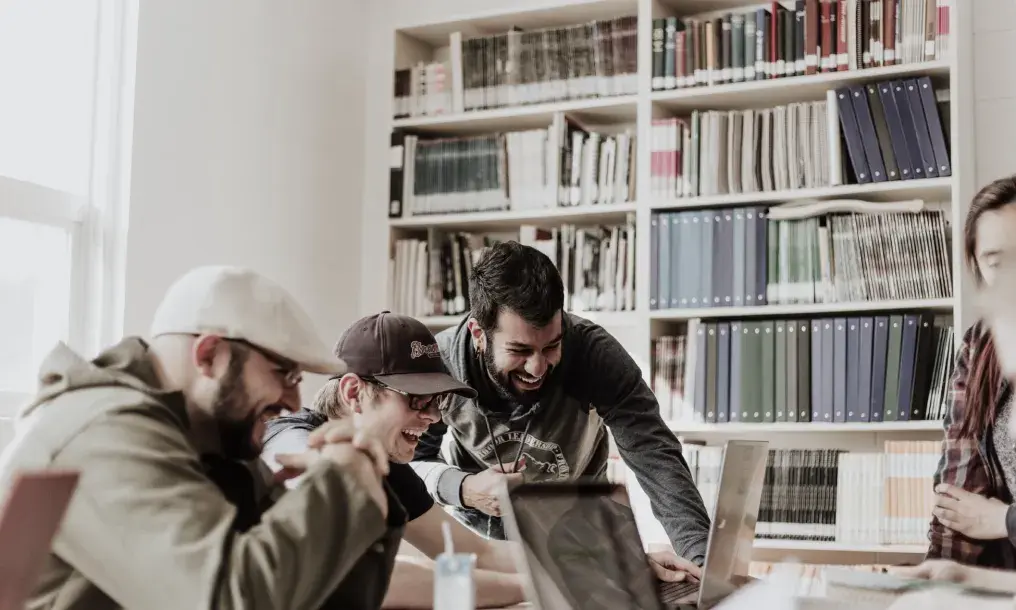 CONNECT WITH US WE'RE READY
TO TALK OPPORTUNITIES
THANK YOU! WE RECEIVED YOUR MESSAGE.
Sorry
something went wrong
One of our consultancy experts will get in touch with you shortly.
Please visit our portfolio to know more about us and the solutions we provide.