It Is Time to Expand Your E-learning Platform Development Options
"Being a student is easy. Learning requires actual work." This famous quote by William Crawford, an American politician and judge, perfectly describes the timeless struggles of all learners, whether they were trying to gnaw granite science centuries ago or today, in 2023. In fact, the history of education is truly impressive. Dating back to ancient civilizations, it has undergone many changes, ranging from primitive drawings on stones to high-tech e-books. Yet, in this article, we put an emphasis on one of the latest and most promising trends in education — e-learning platform development.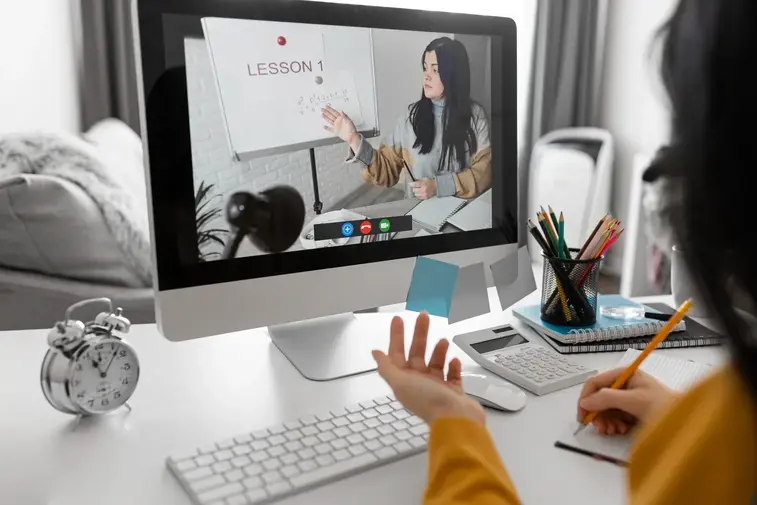 While some organizations are still hesitating concerning online education, others already enjoy the endless benefits it provides, so the choice is only up to you. Being a trusted e-learning platform development provider, we sorted all things out to help you decide whether e-learning platform development is worth it or not, which possibilities it offers, and what aspects you should consider while planning your own e-learning solution. Does it sound interesting to you? Then, stay with us, read on, and let us shed light on this awe-inspiring innovation.
E-learning Platform Development: A Global Trend or a Necessary Measure?
Actually, it does not matter because e-learning platform development is already deeply rooted in modern society. Nowadays, e-learning platform development is so popular that it is even impossible to imagine the day of an ordinary student without any online courses, video tutorials, or virtual quizzes. Everything goes online, and so does education. Still, in the following paragraphs, we listed the most influential catalysts of e-learning platform development.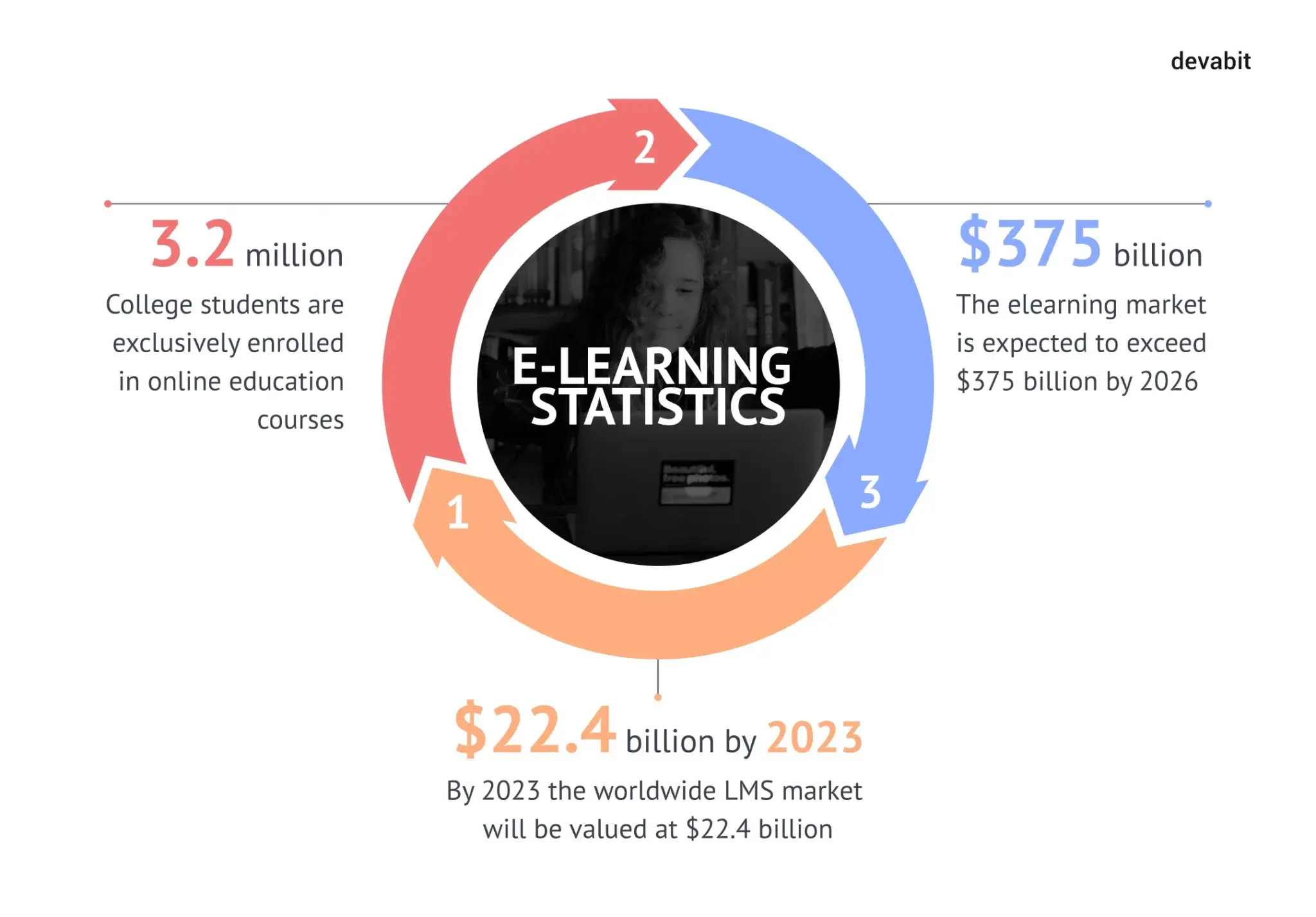 COVID-19
Yes, it is pretty obvious. The global pandemic has dramatically changed all aspects of human existence, so education was not an exception. The spontaneous closure of educational organizations prompted the authorities to propose adopting alternatives to traditional education practices in emergencies to guarantee that students are not left without education and to prevent this dangerous disease from spreading. In this regard, educational institutions have turned to a life-saving online option — e-learning platform development.
As reported by Thrive My Way, 97% of college students have switched to e-learning because of the coronavirus. At the same time, 85% of students stated that the online experience was better than traditional education methods. The whole point is that with the ability to learn at their own pace and no requirements concerning reference to a particular place, the e-learning platform development resulted in significantly higher satisfaction rates.
Global Digitalization
While technology innovations are evolving at a rapid pace, the last decades have originated the actual breakthrough in global digitalization, especially when it comes to such socially meaningful niches as healthcare, media, and education. However, it is essential to note that digitalization is a complex and time-consuming process that may last for decades, which is why the current historical period still has great potential.
According to World Economic Forum, global digitalization symbolizes a silver bullet for the 2030 Sustainable Development Goals (SDGs). Besides, digitalization is something enterprises and governments of all types can rally around. Providing a wide array of economic, social, and environmental benefits, the growing popularity of e-learning platform development services is an essential branch of global digitalization in terms of modern education.
Enhanced Accessibility
The modern world is definitely a world of opportunities. Regardless of race, language, nationality, age, disability, or other characteristics, all learners are treated equally today. Everyone has the right to get a high-quality education, which is why the trend of enhanced accessibility is one of the key priorities for educational institutions.
The Centers for Disease Control and Prevention (CDC) emphasize that 26% or 1 in 4 adults in the United States have some type of disability, for instance, cognition, mobility, hearing, vision, or learning impairment. Fortunately, e-learning platform development is a great tool that helps deliver education to everyone and everywhere, destroying all possible health, social, geographical and national boundaries.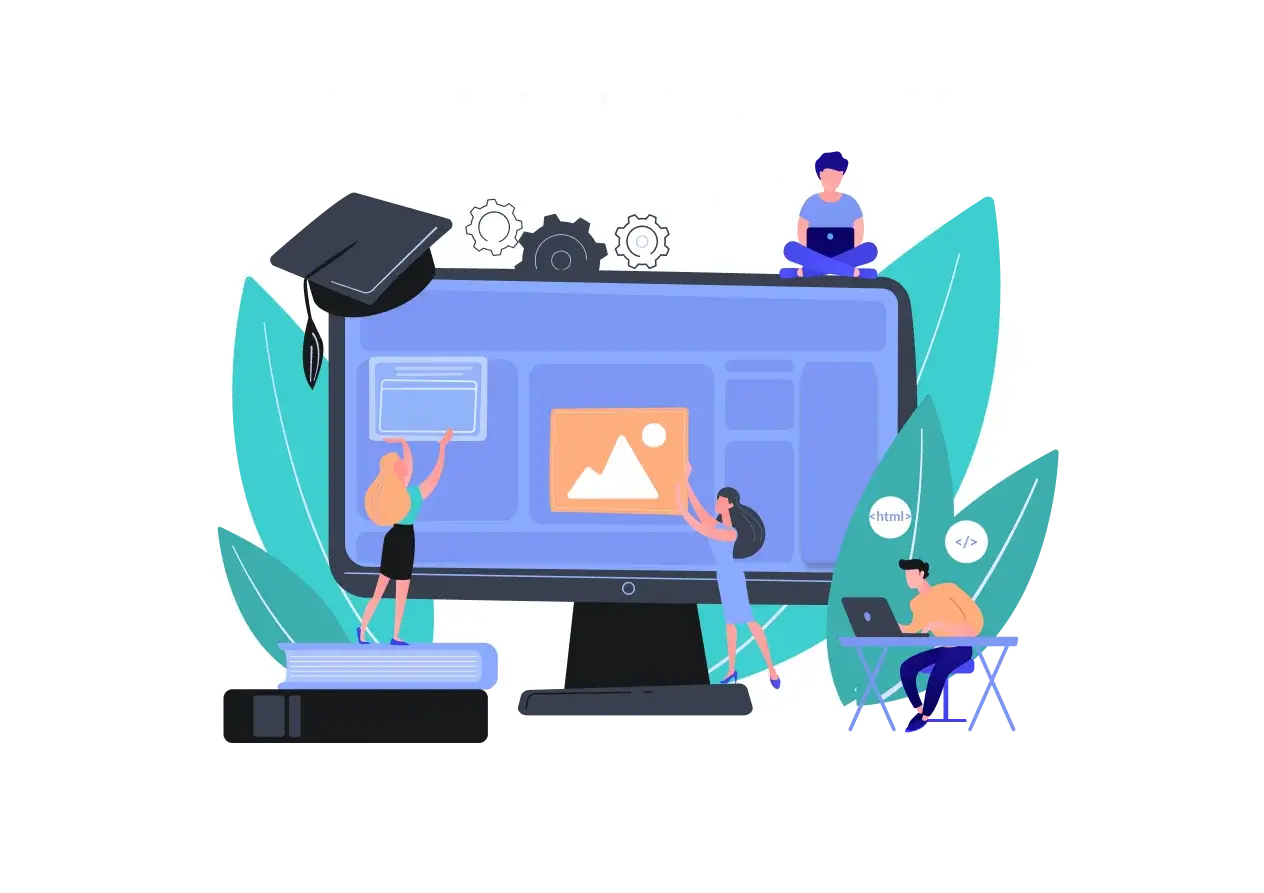 Learning Management System, E-learning Platform Development, and Everything in Between
Notably, the domain of online learning, mostly known as e-learning platform development, has gained mind-blowing popularity in recent years. Constantly looking for engaging, fun, and interactive learning experiences, more and more organization are turning to e-learning platform development. Since we have already identified the three fundamental reasons for the emergence of e-learning platform development, it is time to explain this concept in detail while exploring its multiple specificities and subcategories.
E-learning Platform Development: What Is It All About?
In a nutshell, e-learning platform development may be described as the process of creating specific online services designed to provide teachers, learners, and other people involved in educational activities with accessible informational resources, including text, video, and audio materials. Even though the concept of e-learning platform development is typically guided by formalized learning practices, it can be provided only through electronic devices, including computers, mobile phones, or tablets.
What Are the Types of E-learning Platforms?
The type of e-learning platform development services you are going to choose is something you should decide on at the onset of the project. Backed by years of experience in delivering state-of-the-art e-learning platform development services, we definitely have the needed knowledge and expertise to provide you with a complete list of e-learning solutions that might benefit your organization:
1. Massive Open Online Courses (MOOCs)
MOOCs are massive open online courses. These courses usually provide free-based options to anyone who wants to take them. They are also known as "massive" because they are typically designed to involve thousands of participants. Providing unrestricted and no-admission access to vast amounts of educational content, MOOCs engage various sorts of users, regardless of their age, location, occupation, skills, and preferences.
Examples:
Udemy;
Coursera;
edX;
Canvas Network;
Khan Academy;
Best fit for:
large educational institutions (universities, colleges, etc.);
organizations aimed at delivering free educational programs online;
Benefits:
suitable for engaging a large audience;
a perfect option for promoting multi-profile courses;
enables users to self-organize their participation according to specific educational goals, prior knowledge, and aptitudes;
2. Learning Management Systems (LMSs)
As one of the most popular types of e-learning platform development services, the creation of LMSs is a widespread request in the modern digital market. In addition to next-gen development and deployment of educational content, this secure storage of your academic information allows automating a wide range of educational activities, including enrollment, reporting, documentation, assessment, and management.
Examples:
Google Classroom;
Talent LMS;
Zoom LMS;
iSpring Learn;
Blackboard Learn;
Best fit for:
all sorts of educational organizations;
companies that require computerized training or onboarding processes;
Benefits:
a consolidated approach to learning;
vast abilities in terms of technical features implementation;
suitable for both educational and non-educational institutions;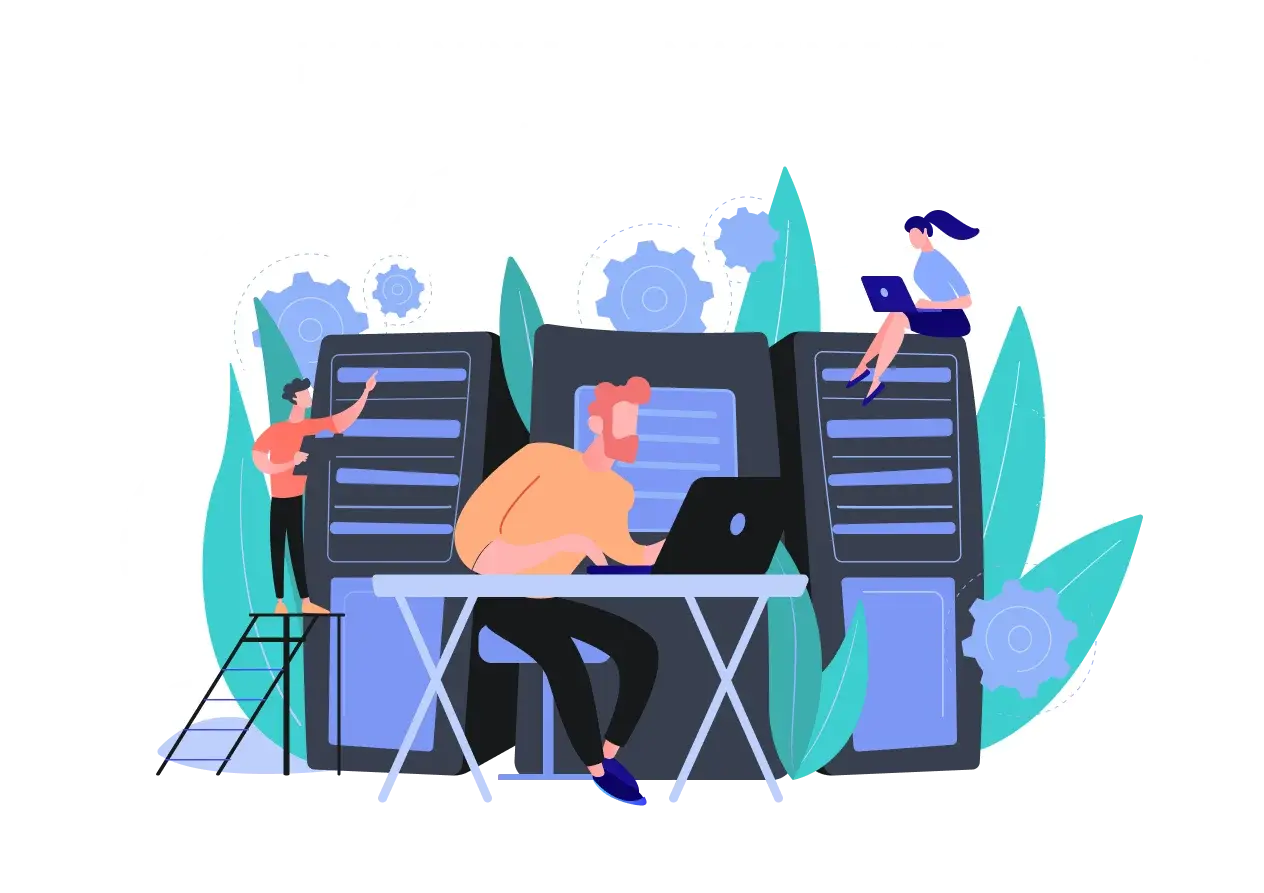 3. Learning Experience Platforms (LXPs)
Being a relatively new option in the market, LXP is a more user-friendly version of LMS. In contrast to LMS, which is typically based on learning management, LXP puts the learning experience in the first place. Combining learning data from different sources, this AI-powered platform delivers personalized recommendations across various digital touchpoints, for example, desktop apps, mobile learning apps, etc. More than that, the system is usually equipped with powerful analytical tools which allow users to track the quality and effect of the education.
Examples:
LinkedIn Learning;
360Learning;
Docebo;
Cornerstone Learning;
Bridge;
Best fit for:
all sorts of educational organizations;
companies that require computerized corporate training platforms;
Benefits:
provides a flexible and customizable learning experience;
user-centric features;
suitable for both educational and non-educational institutions;
4. Custom E-Learning Platforms
In case your outstanding e-learning platform development idea does not fit any of the options mentioned earlier, it is always possible to create a custom LMS, LXP, or MOOC-based solution adjusted to your unique preferences. Luckily, you are at the right place and at the right time. With our cutting-edge e-learning development company, you can easily implement your idea from scratch regardless of its type and complexity. Just contact us right now, we are always happy to hear from you.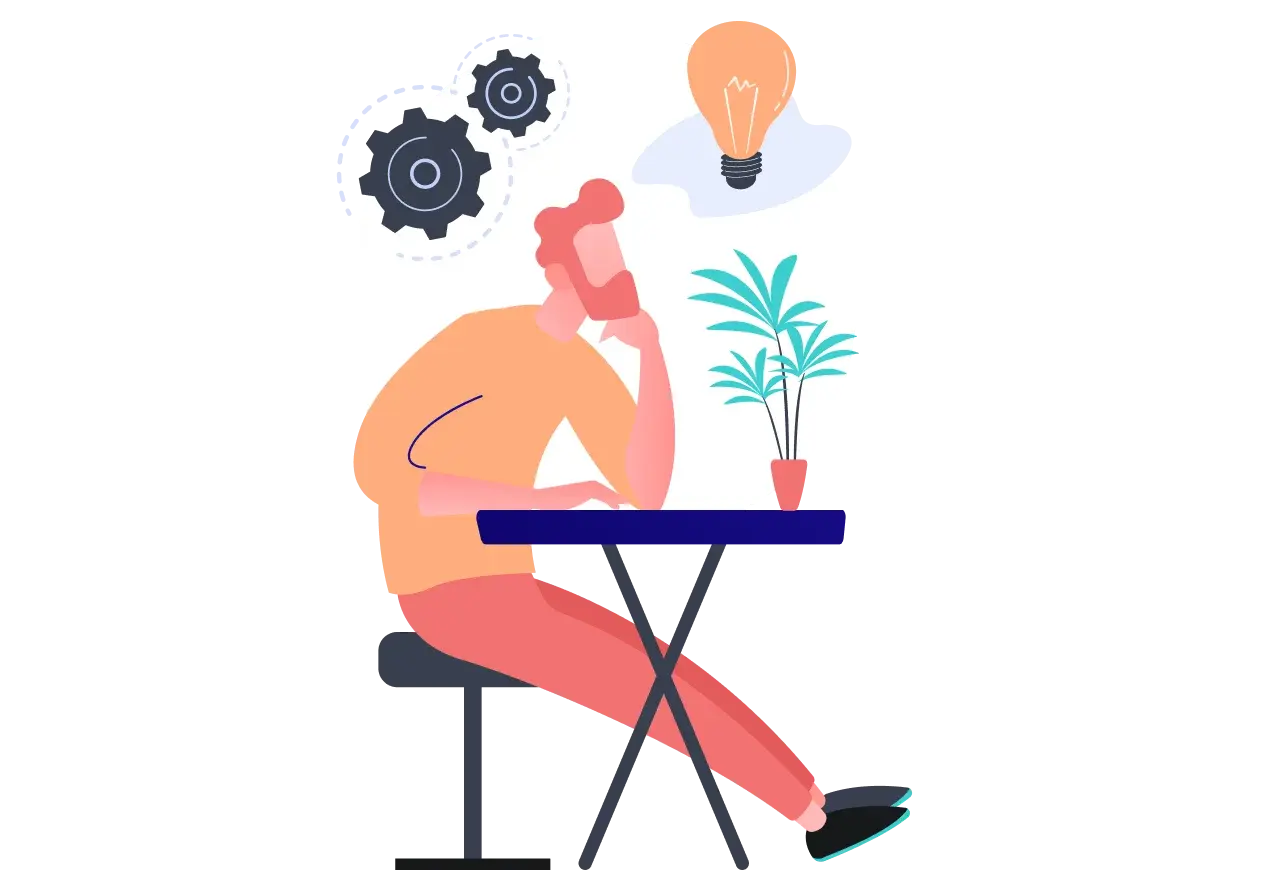 devabit Recommends: A Few Essential Features of Successful E-learning Platform Development
Here we are, at the onset of your next market-leading solution! Hopefully, you have already managed to decide on the type of e-learning platform that suits you best, so it is time to choose the features. There is no doubt that intuitive and engaging functionality is half the battle. Working with many clients from diversified industry verticals, we collected several tips on how to make your e-learning platform stand out in the market.
Do Not Pass On Gamification
It is not a secret that learning is usually perceived as a complex and time-consuming process. But what is stopping you from transforming it into something entertaining? With the power of modern technologies (and devabit's e-learning platform development services, of course:), it is even easier than you might think. Refrain from setting boundaries on your imagination: brainstorm, create, and ideate while our team takes care of the technical part of the project. All in all, what can be better than learning from playing?
More, More, and Even More Immersion
Although online education is quite immersive itself, it is possible to make it even more interactive and engaging. Yes, we are talking about enhancing e-learning platform development with immersive technologies like virtual and augmented reality (VR/AR). Providing users with unforgettable (this feature is extremely important in education) life-like experiences, immersive technologies enable users to gain practical knowledge and form unique associations based on different organs of perception. See our VR/AR projects via the link.
Here Visual Component Truly Matters
Being fed up with traditional education methods, modern learners are not ready to waste tons of time on flat texts or boring content. As always, devabit has the right solution. When you pick e-learning platform development as your roadmap to success, it is also essential to pay extra attention to the visual components of your system. For instance, it is always a good idea to include fun video tutorials. Combined with proper UI/UX design, these engaging elements will definitely impress your users. See how we did it via the link.
Looking for a reliable e-learning platform development partner for your next market-leading project?
E-learning Platform Development: Real Cases Instead of Boring Phrases
Working with worldwide-known brands always requires out-of-the-box creativity. Fortunately, we perfectly coped with this exciting challenge. Leveraging best-in-class industry practices, we delivered a complex SaaS-based e-learning solution for Carlsberg that serves as an e-learning platform for beer sommeliers as well as a powerful market research tool.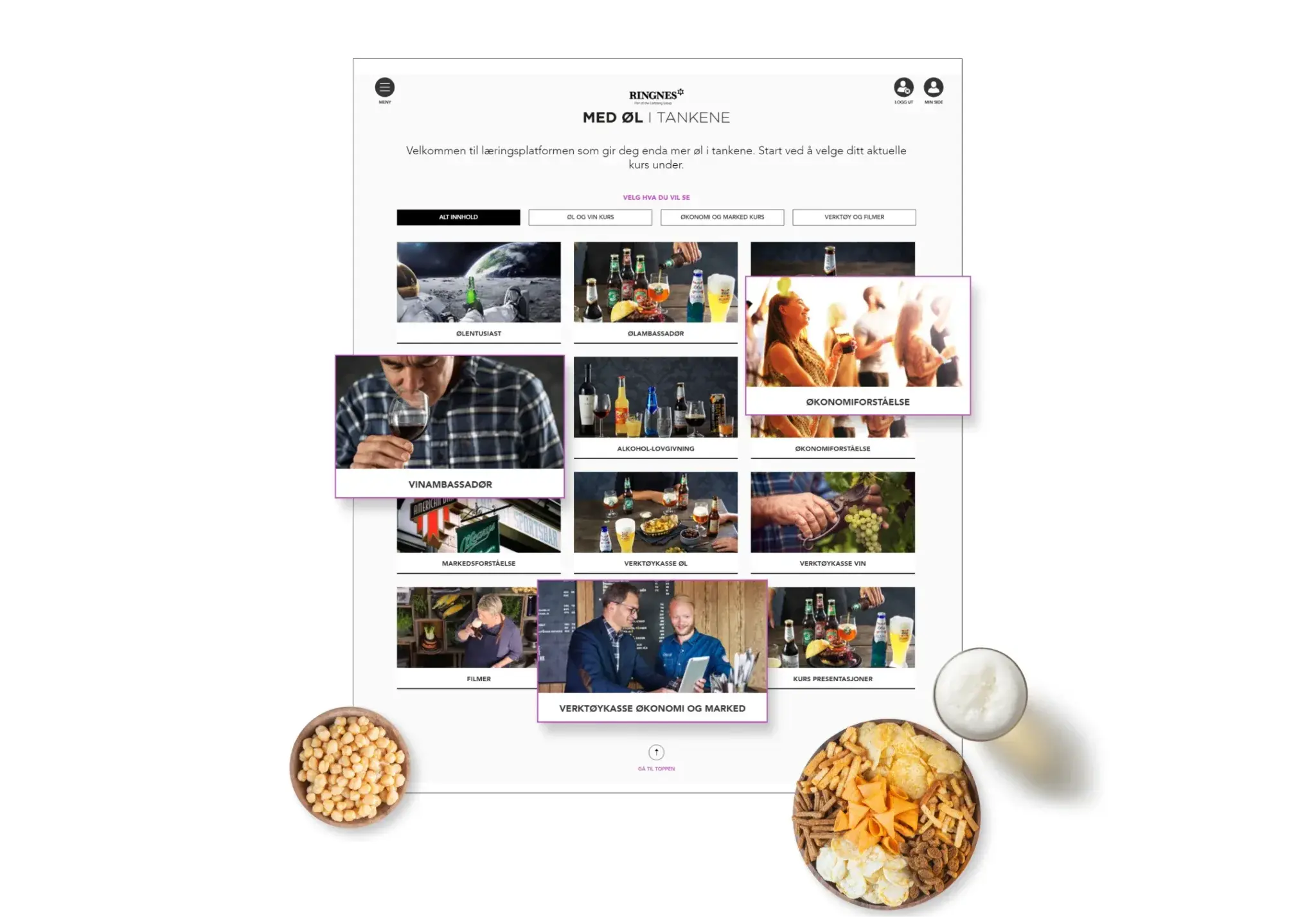 Enriched with multiple functions, the platform contains various beer courses (video + text materials) and interactive quizzes as a formative assessment of the material. What is more, the market research part enables the administration of beer-tasting sessions across the globe to gather essential data on whether a particular beer breed is liked in a particular area.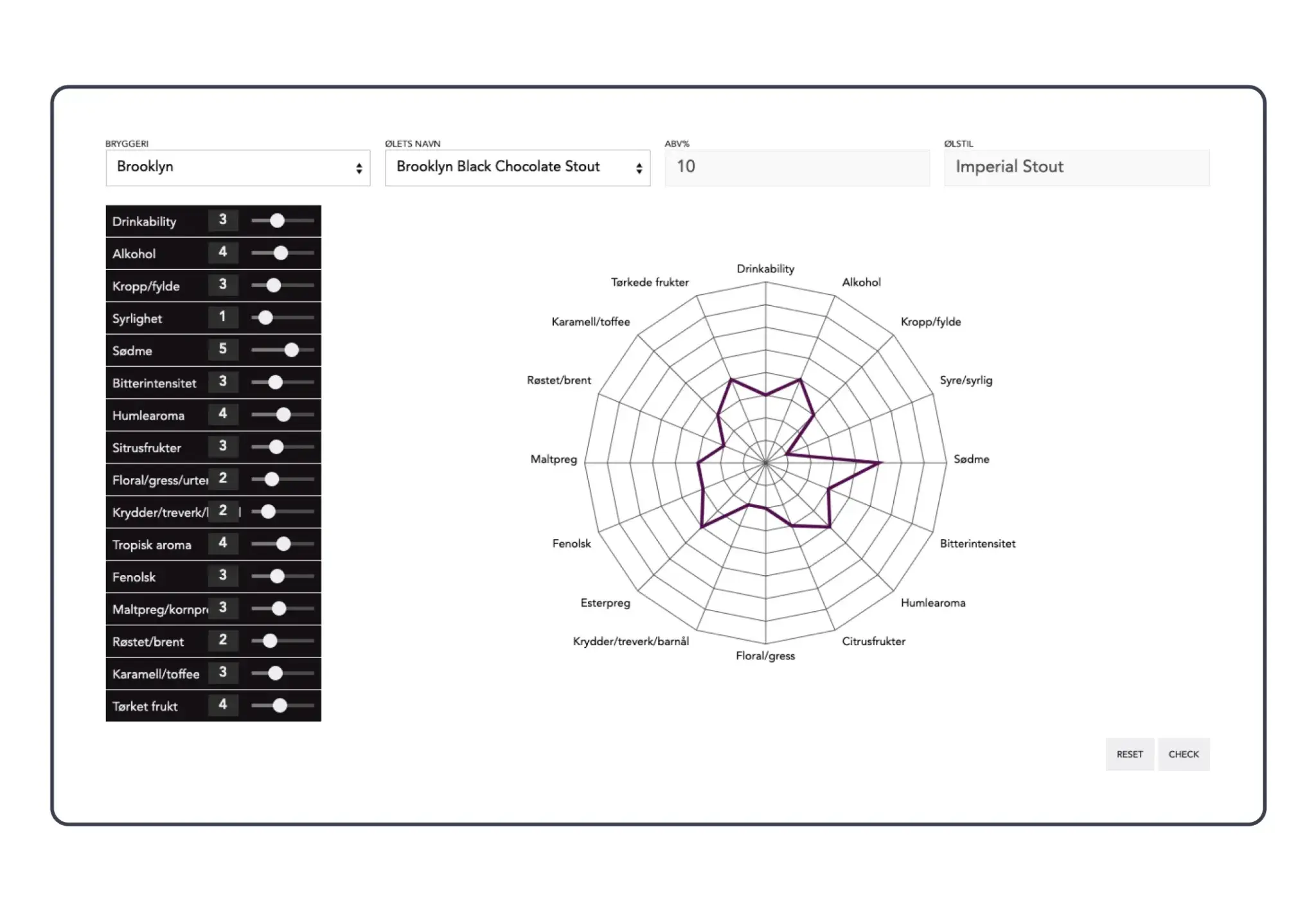 Steezy is an LA-based e-learning platform for dancers. Striving to become a universal study tool for a dance community with new moves from world-known professionals, the client requested our team to create a one-of-kind e-learning platform that will efficiently resolve the inability of personal contact between the learner and tutor. At the same time, it was necessary to ensure a complete and realistic experience.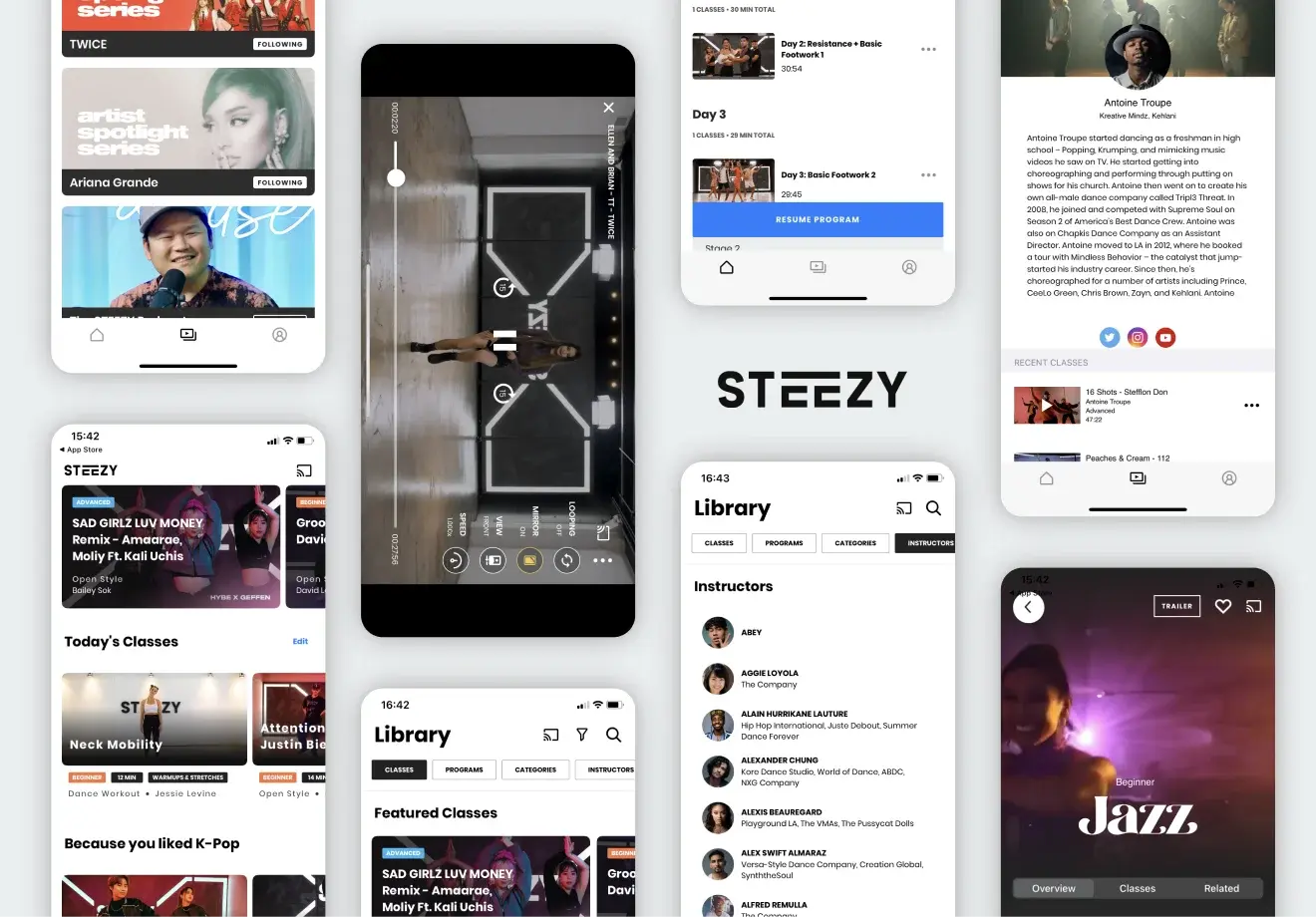 To meet all these objectives, our creative professionals came up with an extraordinary solution: we provided lessons with a 360° view. Hence, this option allows dancers to see every single detail both in front and back. Moreover, we also enabled the service with an online community space where users can get feedback and track their progress.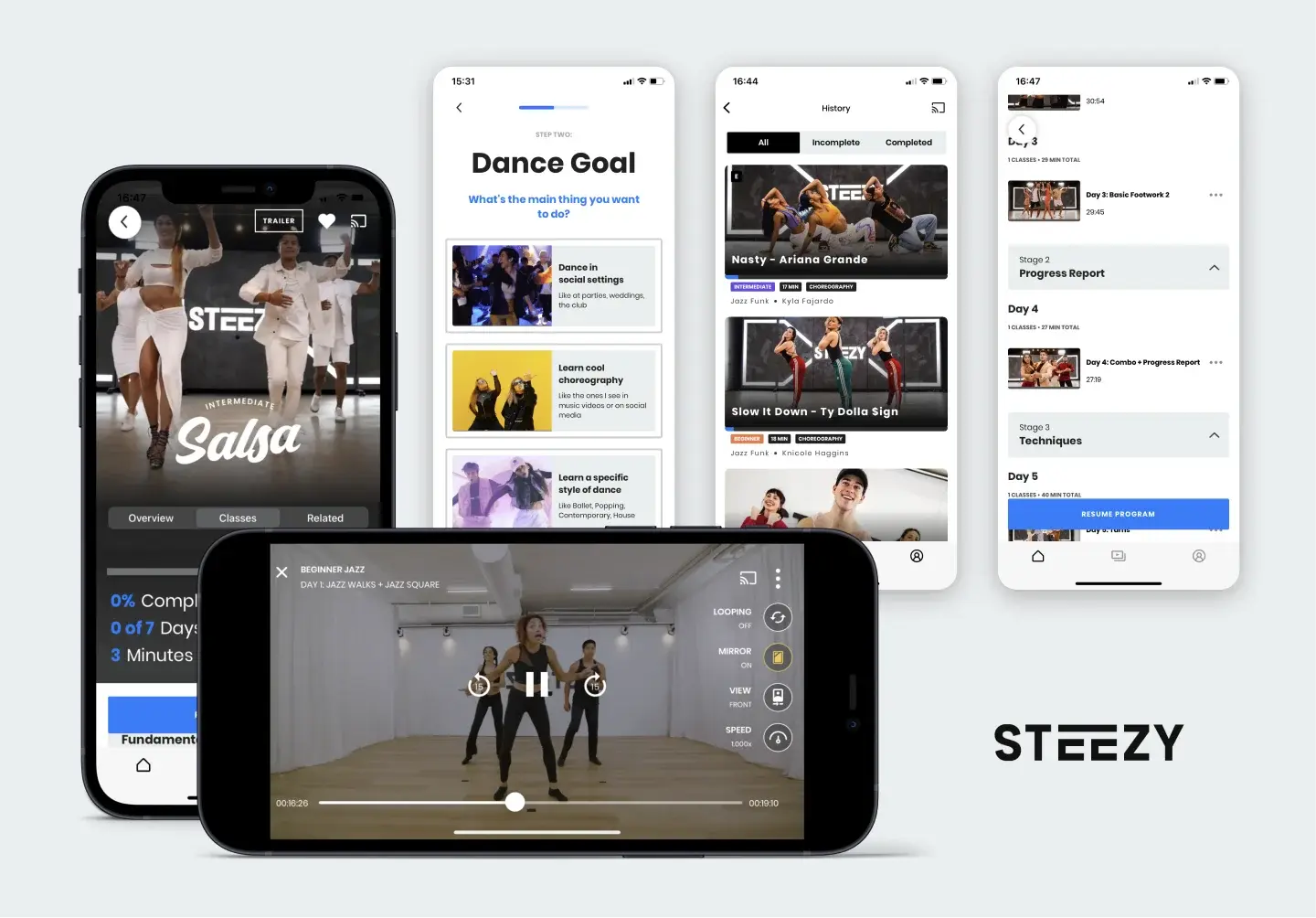 Final Verdict on E-learning Platform Development
We hope that by this point, you have a fundamental understanding of why e-learning platform development is a great way to meet all your educational needs. Nevertheless, it is essential to emphasize that each idea is unique and therefore requires custom approaches.
Whether you want to build a dance learning platform, a tutoring web solution, an onboarding tool for companies, or something entirely new — there is no better time to start. Our consultancy experts will treat all your ideas with respect and creativity, so do not hesitate to contact us right now.
Don't miss out! Click here to stay in touch.
Liked the article?
You will like our email too
Get the latest news from the devabit blog.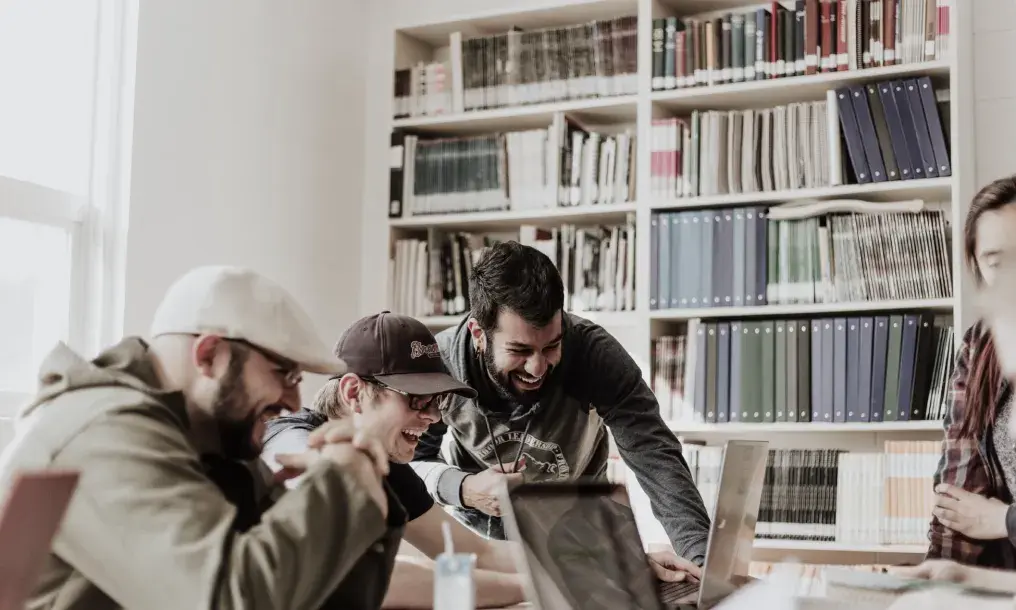 CONNECT WITH US WE'RE READY
TO TALK OPPORTUNITIES
THANK YOU! WE RECEIVED YOUR MESSAGE.
Sorry
something went wrong
One of our consultancy experts will get in touch with you shortly.
Please visit our portfolio to know more about us and the solutions we provide.