5 Myths Debunked or Why It Is Easier to Succeed With Custom Software Outsourcing Than You Might Think
Custom software outsourcing is a great option when you need a specific piece of software that is unavailable in the marketplace. Outsourcing allows you to focus on other aspects of your business without having to worry about the details of software development. Yet, what is the key to successful software development? In this article, we are going to dispel some popular myths about custom software outsourcing in order to prove that delegating your development needs to an expert team is a great way to boost your business. Ready, set... Let us crush these myths together!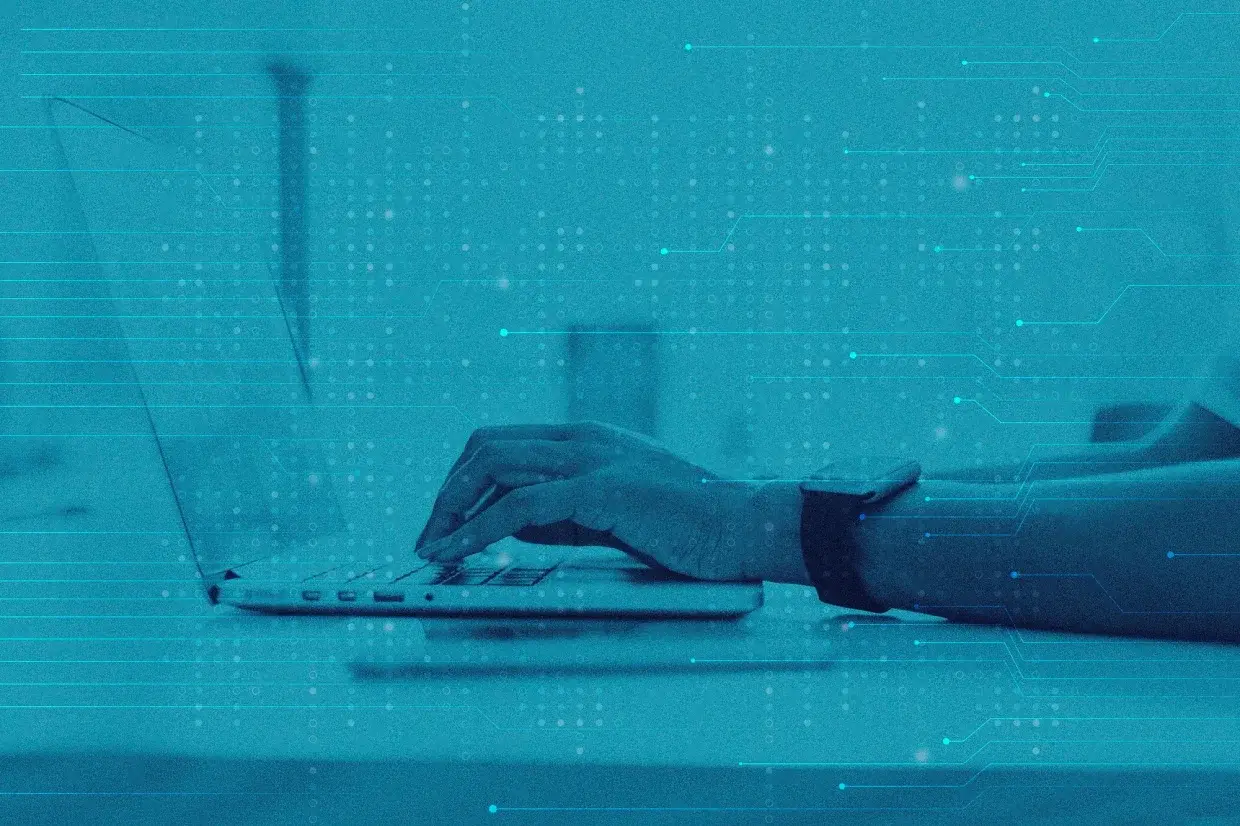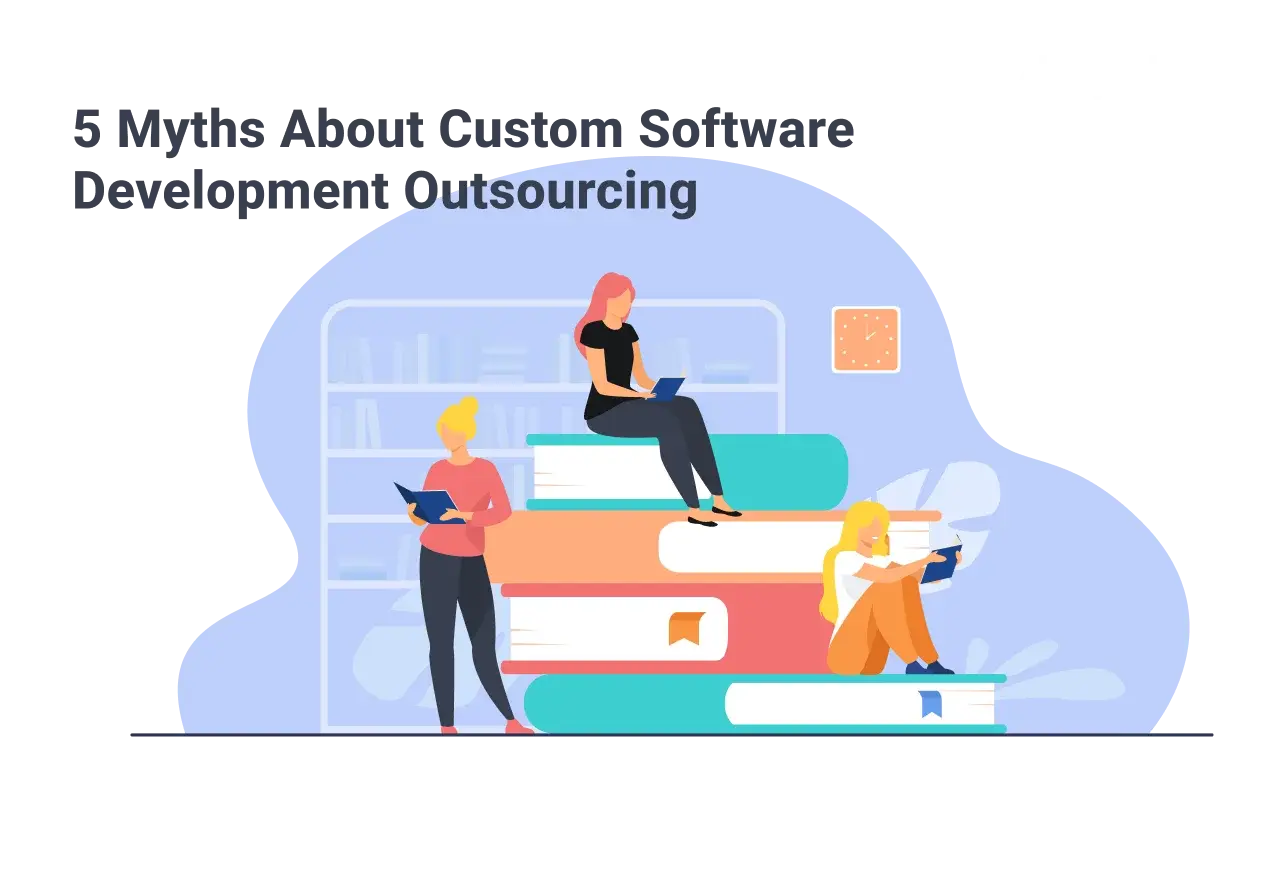 1. Small Businesses and Startups Should Not Consider Custom Software Outsourcing
Outsourcing custom software development is typically associated with large companies that cannot efficiently manage their services. Well, in some cases, this perception is accurate as big enterprises definitely require help with their diversified processes. However, it is essential to remember that custom software outsourcing does not always work this way. Jack Thornburg, VP of Organic Growth at a famous online marketplace, claims that "to keep up with the constantly evolving landscape in nearly every industry, many small businesses take the burden of specific 'behind-the-scenes' functions and processes off their plate so they can focus on what they do best."
At the same time, custom software outsourcing is an inseparable part of growth: with more time to develop their business, small and medium-sized entities (SMEs) are more likely to reach new heights. Another crucial factor that affected the popularity of custom software outsourcing is the global COVID-19 pandemic. While the international crisis, lack of qualified resources, and inability to hire an in-house team negatively influence the modern business environment, outsourcing custom software development services has become a life-saving chance for both large enterprises and SMEs.
Custom Software Outsourcing: SMEs Statistics
Here again, numbers speak louder than words. Below, you can see how, why, and when small businesses turn to custom software outsourcing.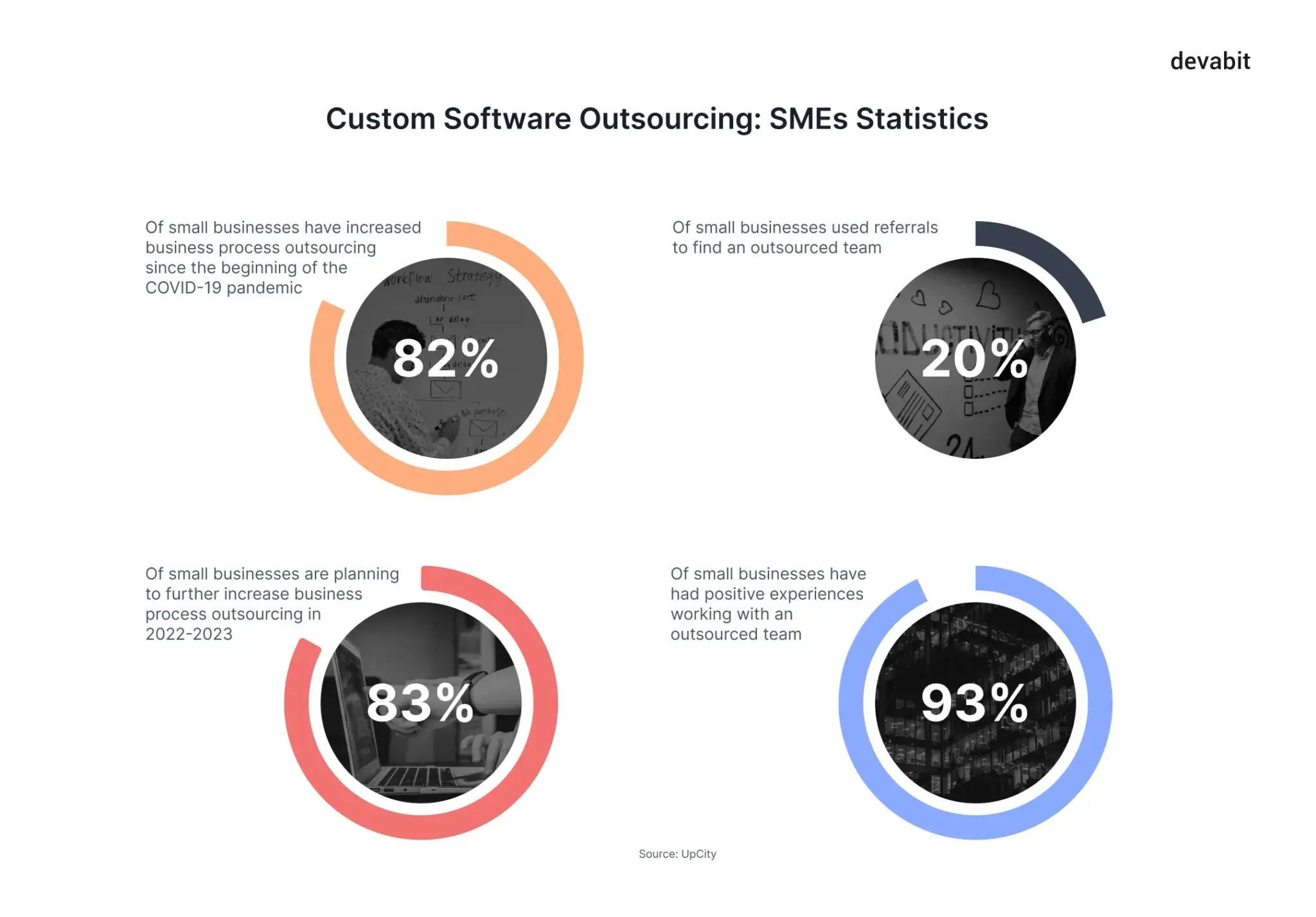 2. Custom Software Outsourcing Means Less Control Over the Development Process
This controversial statement is both true and false simultaneously. On the one hand, businesses that choose custom software outsourcing truly have less control over the development process. On the other hand, it does not necessarily mean zero control over the result. In fact, everything depends on the custom software outsourcing vendor you choose. Skilled providers always offer various cooperation models (for instance, dedicated team, time & material, or fixed cost) with appropriate expectation management and detailed documentation.
To avoid misunderstanding, it is essential to discuss mutual expectations at the onset of the project. Set realistic goals in line with the vendor's capabilities while also ensuring project requirements are consistent with the vision and operational approaches of both parties. Yet, suppose the development process does not meet your expectations and contract. In that case, it will be much easier and cheaper to terminate the cooperation in the early phases instead of sticking with it regardless of the red flags.
Our Custom Software Outsourcing Cooperation Models
Our custom software development company offers a wide range of cooperation models so that everyone can choose an option with the desired level of control over the project.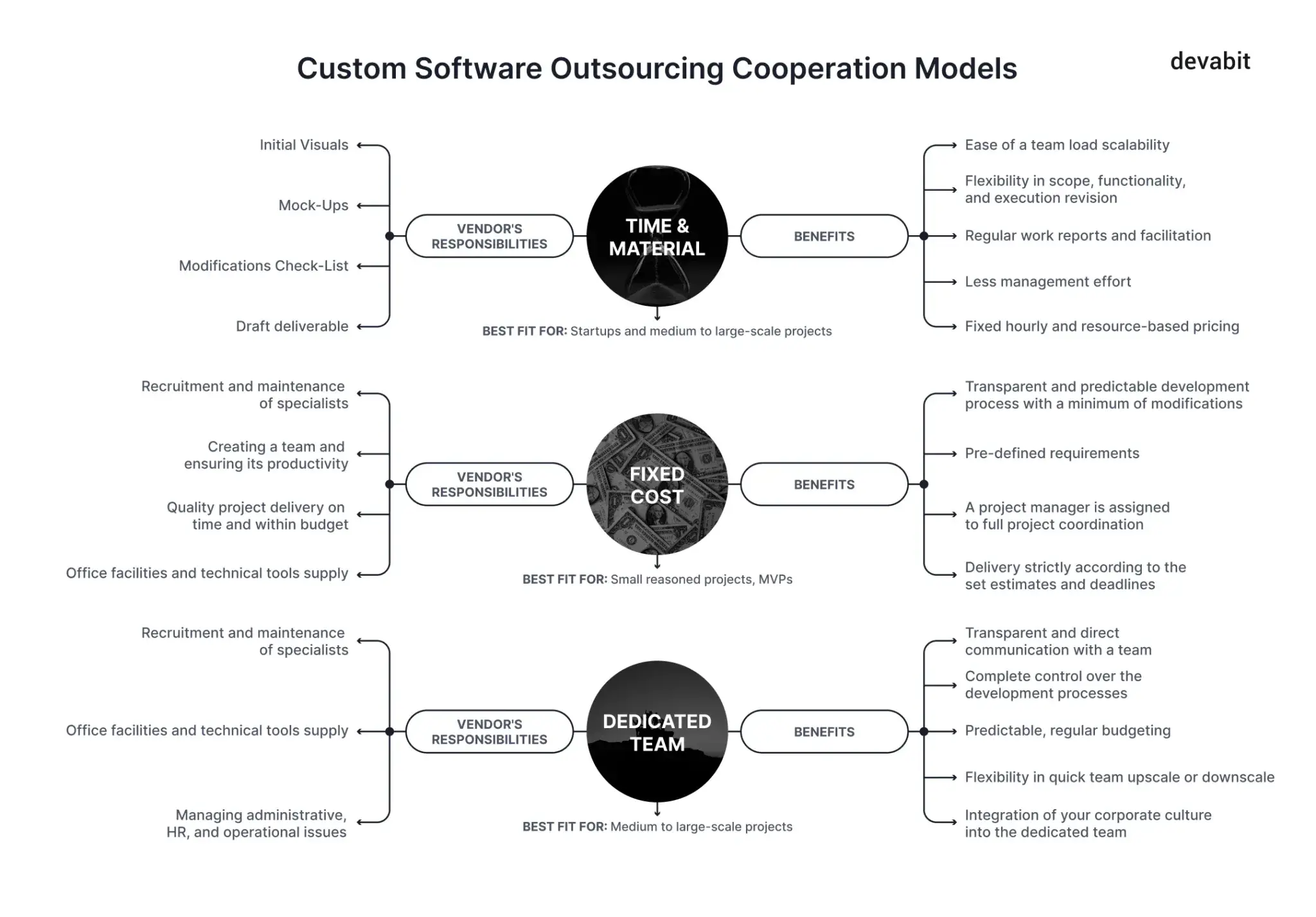 3. Custom Software Outsourcing Poses Risks to Security
In the 21st-century world, security is of utmost importance to businesses. Whether you are working with the private information of your clients or simply want to keep your keys to success in secret, custom software development outsourcing does not seem a perfect option when it comes to security. Fortunately, it is a wrong impression.
Just like the previous myth (lack of control), this tendency is defined only by the trustworthiness of custom software outsourcing vendors. Though some countries like India are often associated with poor security, Eastern European outsourcing destinations, including Ukraine, typically follow strict security policies in order to keep your valuable information safe. Rigidly complying with NDAs and non-disclosure agreements, Ukraine was recognized as the best IT outsourcing destination by British Global Sourcing Association in the past year.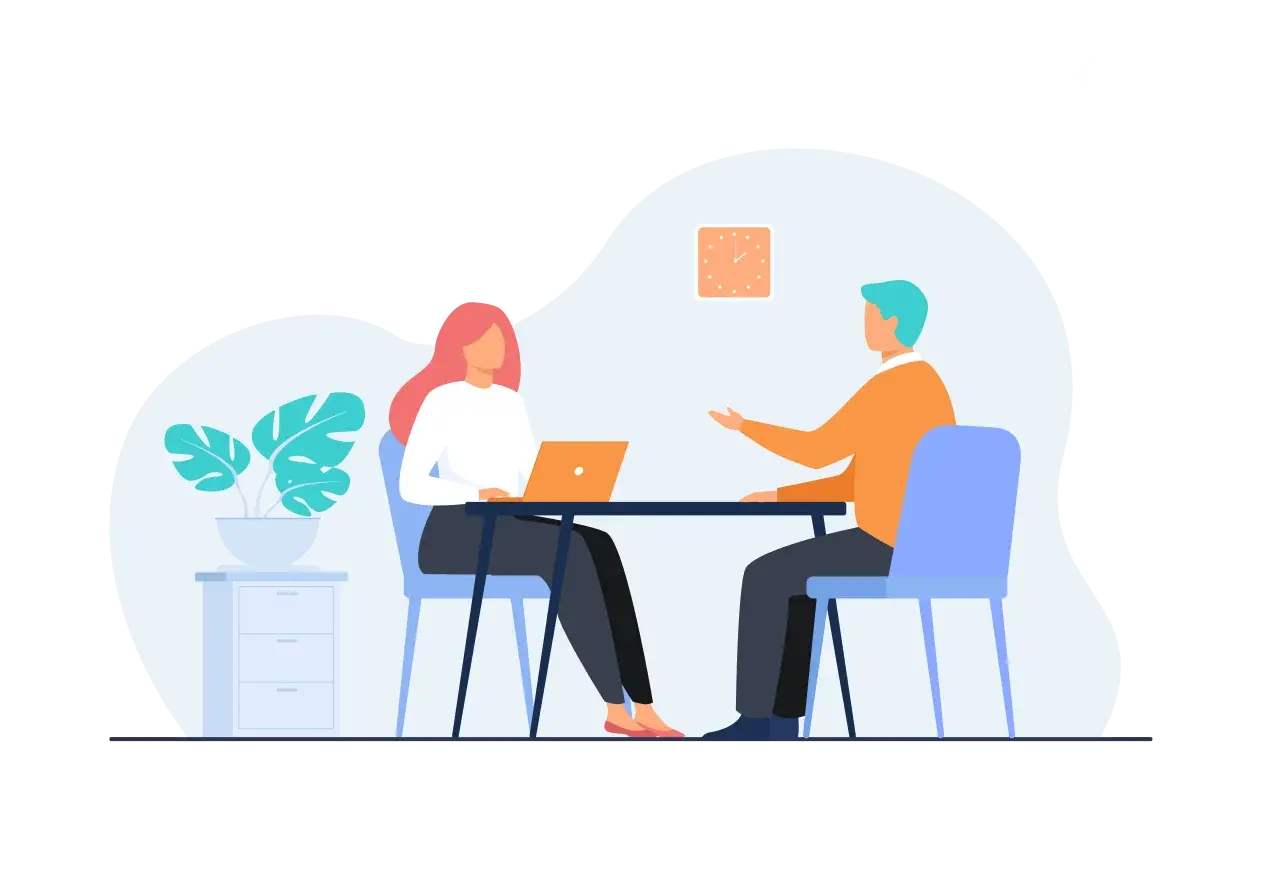 4. Custom Software Outsourcing Is Associated with Low-Quality Outputs
There is no doubt that your company's reputation depends on the quality of the products you sell and the services you deliver. Accordingly, entrusting quality to a custom software outsourcing vendor is a big deal. Yet, even though many companies are afraid to get poor-quality solutions, we can prove that if handled in the right way, custom software development outsourcing can empower your business with best-in-class projects. Let us describe a representative example to dispel all your doubts concerning the quality of outsourced solutions.
Suppose you are a company owner (if you really are, well done:), and you require to build a custom software solution. At first glance, it sounds like a promising perspective. Nonetheless, it turns into an absolute nightmare when it comes to hiring a skilled software development team, and here is why. The typical software development team consists of a project manager, technical lead, full-stack developer/s, UI/UX designer/s, and product tester/s. On average, it takes a long time to hire one expert, which also means you need to make a considerable investment in recruitment. Finally, are there any guarantees that your team will be able to establish a seamless workflow? No, there are no warranties, so the quality of the final solution (and its existence at all) is questionable. Fortunately, the situation with custom software outsourcing is entirely different (see the infographic below).
Custom Software Outsourcing vs. Hiring an In-House Team: Quality Risks Analysis
In the following picture, we compare the custom software outsourcing process with hiring an in-house team of software developers to identify steps that can potentially affect the quality of the output.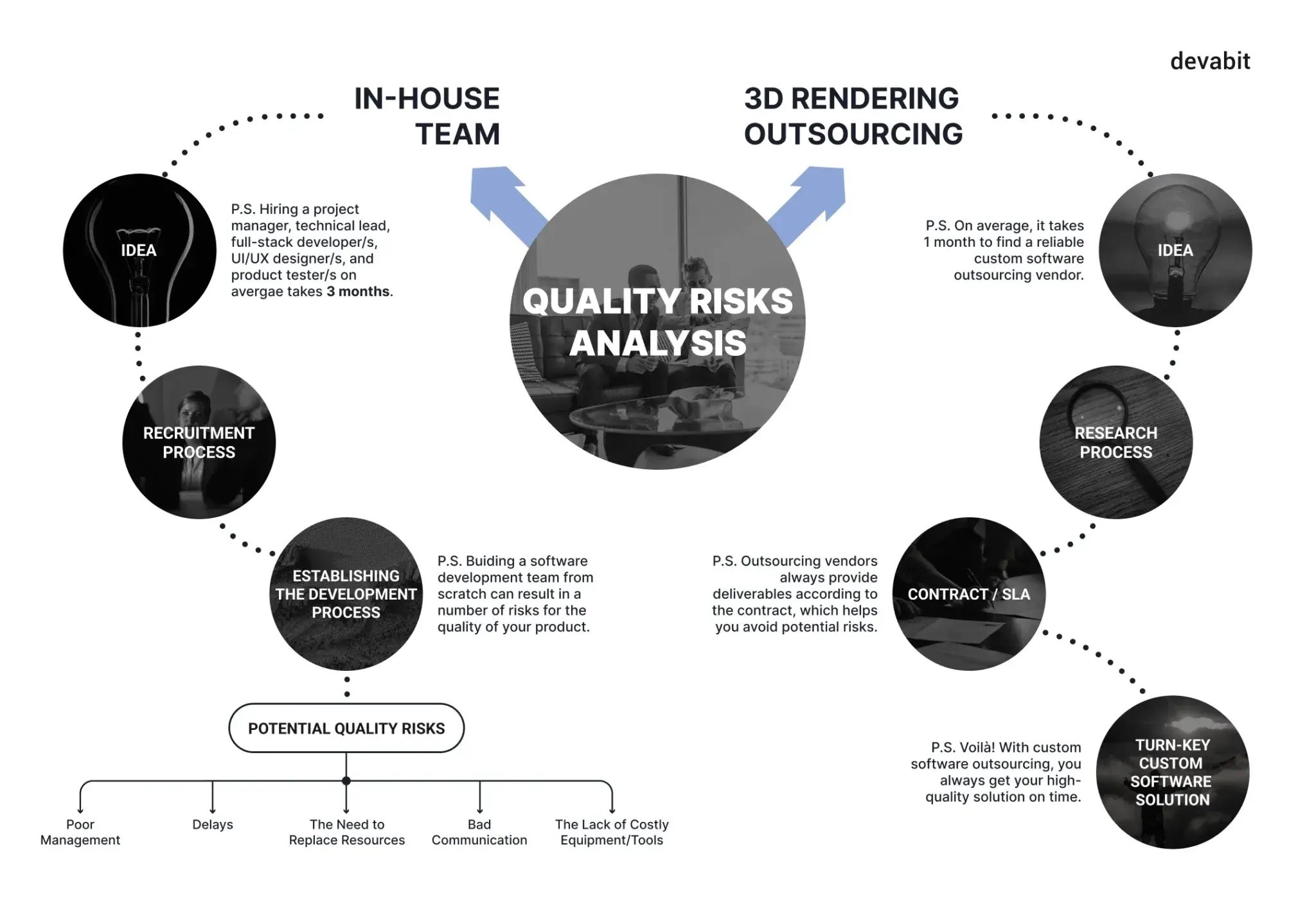 5. Cultural Differences Make Custom Software Outsourcing Impossible
Nowadays, businesses of all sizes and industries are at risk of miscommunication. Nevertheless, it would be wrong to imply that cultural and language difficulties are impossible to avoid when dealing with custom software outsourcing. Unlike most companies that hire in-house experts or freelancers, outsourcing vendors have had decades to establish an efficient communication strategy. Therefore, they can easily ensure that all project stakeholders are on the same wavelength from the first touch to the final deployment.
Furthermore, do not forget about one of the most important ingredients of successful custom software outsourcing — communication framework documentation. This contract regulates such aspects as project management, reporting schedule, communication style, time-tracking tools, etc. By getting things straight at the beginning, companies not only can prevent miscommunication but also are able to increase the chances of successful completion significantly.
All in All, Is Custom Software Outsourcing Only About Cutting Costs?
No, no, and no again. Outsourcing custom software development provides your company with access to unlimited benefits, and cost-efficiency is just one of them. Although custom software development projects are often complex and require specialized skills that only experienced developers possess, outsourcing your project to a third-party vendor that specializes in this type of work will ensure that you receive high-quality results on time and at a reasonable cost. Outsourcing custom software development projects gives you access to an expert team with years of experience developing customized software solutions. This expertise allows you to focus on more strategic aspects of your business while leaving the technical details to experts.
In addition to saving time and money, outsourcing your custom software development projects has many benefits. First of all, you can scale your business quickly because you only hire one company to handle everything. Second, you can focus on other aspects of your business while your developers take care of the coding. Third, you can choose the best developer for your needs. Fourth, you can ensure that your project gets completed on time and within budget. And finally, by choosing a reputable vendor, you will not have to worry about getting stuck with a lousy product.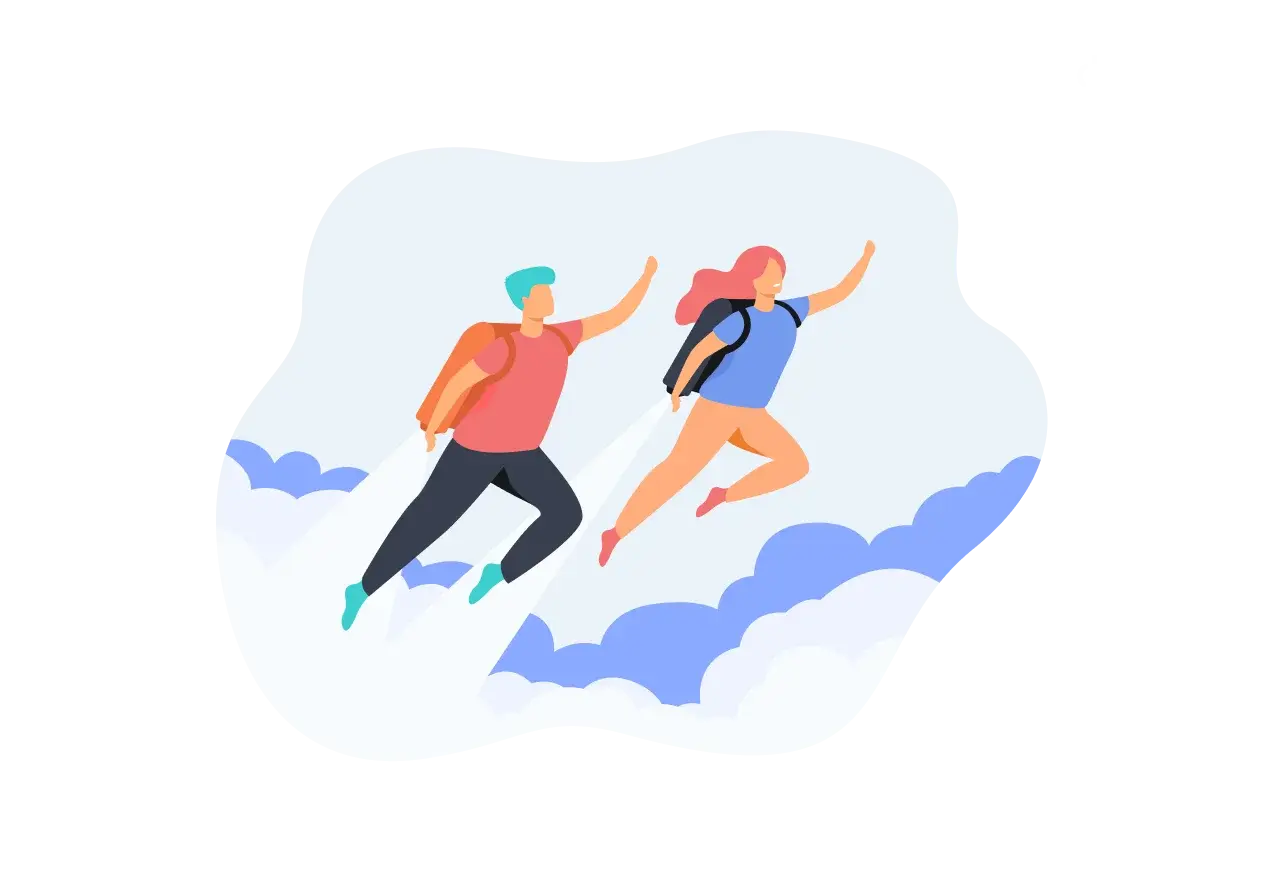 Several Tips on Launching a Successful Custom Software Outsourcing Process
Well, it seems we managed to bust five myths about custom software outsourcing. What is more, we identified that outsourcing custom software development is more than simply saving your budget. Still, our interesting insights do not end there. Read on to gain meaningful pieces of advice on how to establish successful custom software outsourcing from the very beginning.
1. Conduct an Investigation
At first glance, this recommendation may sound a bit weird but do not jump to conclusions. In the world of custom software outsourcing, conducting an investigation means evaluating your potential vendor before the actual communication. To decide whether a custom software outsourcing vendor is worth your attention, consider the following steps:
Use services like Cutch, UpCity, GoodFirms, etc., to get true-to-life ratings and reviews of leading IT outsourcing providers.
Always pay attention to the vendor's portfolio.
Did the vendor work with other companies from your industry? Then, it may be a good match.
2. Form a Clear Project Starter
To launch a successful software development life cycle (SDLC), it is necessary to start with a proper roadmap. Luckily, reliable custom software outsourcing providers like devabit always help to set up a transparent development process by following these crucial steps:
Choose the right technologies that meet the functional needs of your project.
Ensure the development team sets up the process with regard to industry-leading standards and top-notch development practices.
Make sure the team has an efficient disaster recovery plan.
3. Clarify If the Post-Deployment Maintenance Is Present
Since most custom software outsourcing providers offer support and maintenance services, it is essential to discuss the scope of the upgrades they are ready to provide. Hence, these simple steps will help you avoid unexpected expenses in the future:
Clarify whether maintenance services are included in the initial price.
Ask if the provider suggests adjusting product configurations.
If you need to update and scale your solution up as the market tendencies and user requirements transform, discuss the scope of these changes at the onset of project creation.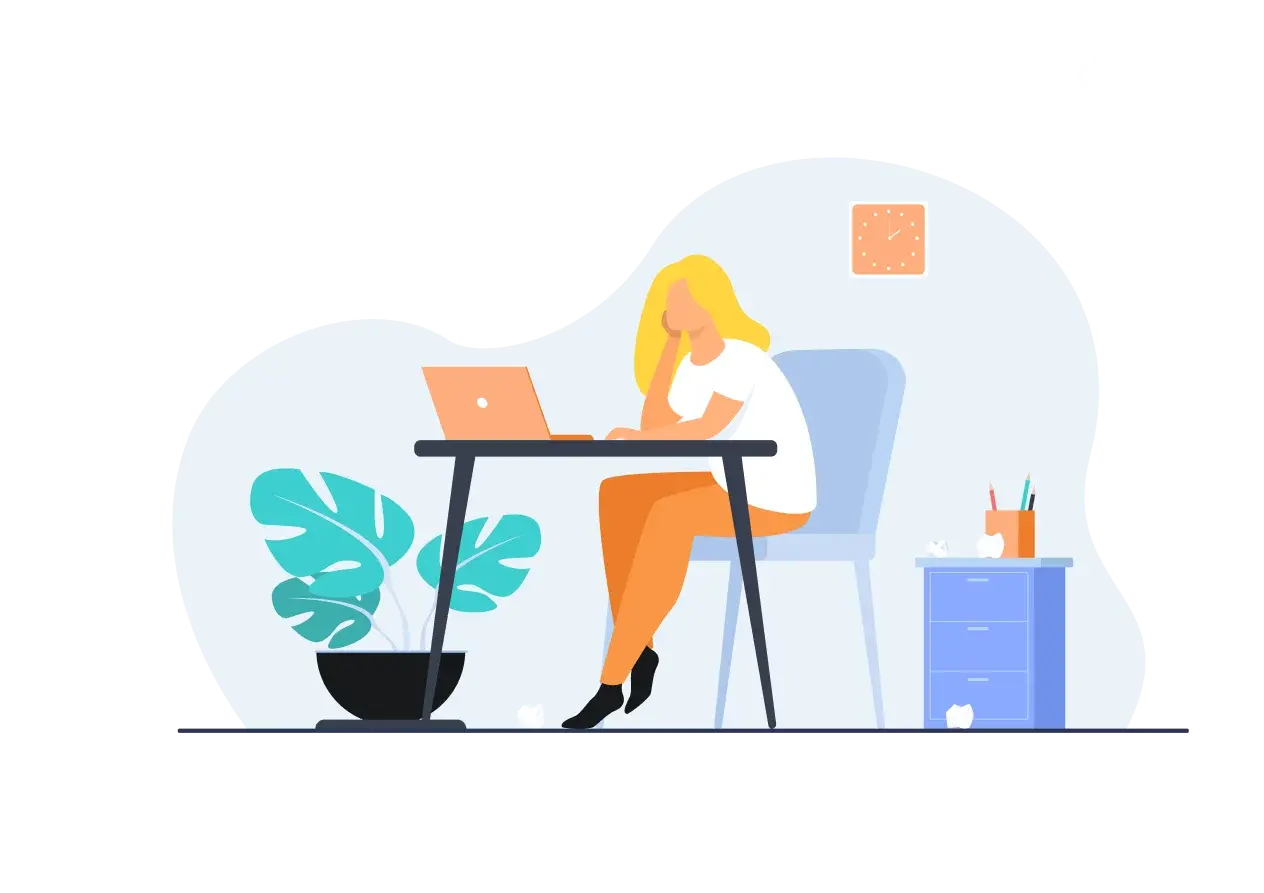 Is Custom Software Outsourcing that Easy?
With such a reliable custom software outsourcing provider like devabit, it is even easier than you may imagine. Despite the widespread yet unrealistic myths concerning the price, quality, or security risks of outsourcing custom software development, this practice remains one of the safest options to get an on-time and on-budget software solution tailored to your unique business requirements.
Are you looking for a trustworthy custom software outsourcing partner? Then, you can skip the "conduct investigation" step because we have already completed it for you. Possessing an extensive portfolio of successfully delivered software development projects, devabit is a great outsourcing vendor, with 97% of clients willing to work with us again. Inspired by your business challenges, we create custom software solutions that rock, so drop us a line below, and do not miss your chance to corner the market in 2023.
Don't miss out! Click here to stay in touch.
Liked the article?
You will like our email too
Get the latest news from the devabit blog.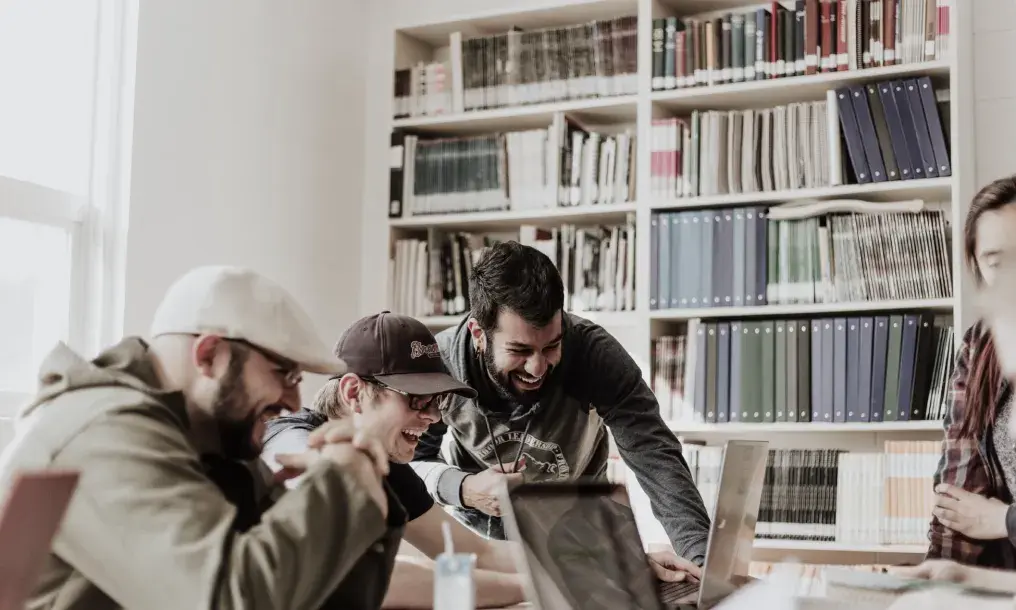 CONNECT WITH US WE'RE READY
TO TALK OPPORTUNITIES
THANK YOU! WE RECEIVED YOUR MESSAGE.
Sorry
something went wrong
One of our consultancy experts will get in touch with you shortly.
Please visit our portfolio to know more about us and the solutions we provide.