Software Development Outsourcing in Eastern Europe: A Comprehensive Overview
Due to the rapidly growing popularity of delegating software development needs to third-party vendors, more and more companies consider IT outsourcing in Eastern Europe as a great option with promising potential. Still, many business owners are puzzled by this controversial choice. With such a wide variety of potential outsourcing destinations, ranging from Poland to Romania, software development outsourcing may turn into a real headache. Fortunately, devabit, your strategic development and outsourcing partner, is here to help. So, what countries offer IT outsourcing in Eastern Europe? What factors should you pay attention to while choosing a reliable outsourcing vendor? Where can you hire dedicated remote developers for your projects? These and many more questions we are going to answer in today's article. Stay with us, and let us explore the process of IT outsourcing in Eastern Europe together.
Top 5 IT Outsourcing Destinations in Eastern Europe
When it comes to IT outsourcing in Eastern Europe, it is considered one of the most popular destinations for a good reason: this region offers an exclusive mesh of highly skilled talents, affordable prices, and cultural compatibility, making it an ideal choice for various businesses worldwide. However, it is essential to understand that not all countries in Eastern Europe offer the same level of expertise and resources. In this section, we will take a look at the top destination in terms of IT outsourcing in Eastern Europe and analyze them from the perspective of price, quality, resources, etc.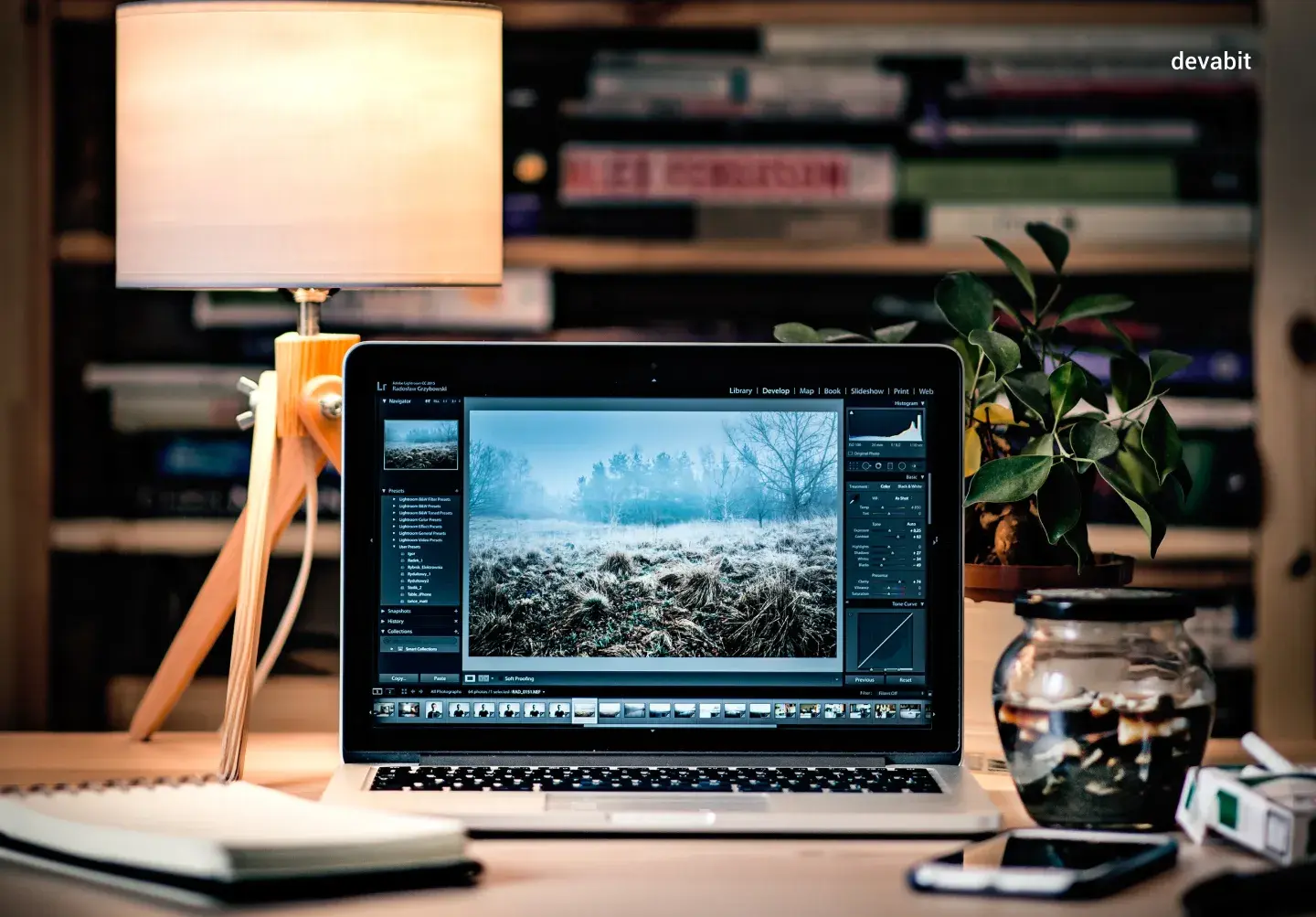 1. Poland
Speaking of software development outsourcing in Eastern Europe, Poland is one of the first countries to come to mind. In addition to a large pool of highly skilled developers, this outsourcing destination also offers competitive prices. Moreover, its location, cultural compatibility with Western Europe, and stable political and economic situation make it an ideal destination for your outsourcing needs. Poland is a strategic gateway between East and West, which means it is also an excellent place for implementing technological innovations in case you consider software development outsourcing in Eastern Europe.
Superpower: Thriving Market as a Guarantee of Success
With more than 400,00 IT experts available on the Polish market, the country has the largest tech talent pool in Central & East Europe. In recent years, Poland has gained recognition as the leader in foreign direct investment, with the IT and tech industry contributing significantly to its success. For instance, multiple Polish megapolis cities like Warsaw, Krakow, Katowice, and Wroclaw have emerged as significant outsourcing hubs, attracting a host of global corporations.
Top IT Outsourcing Companies in Poland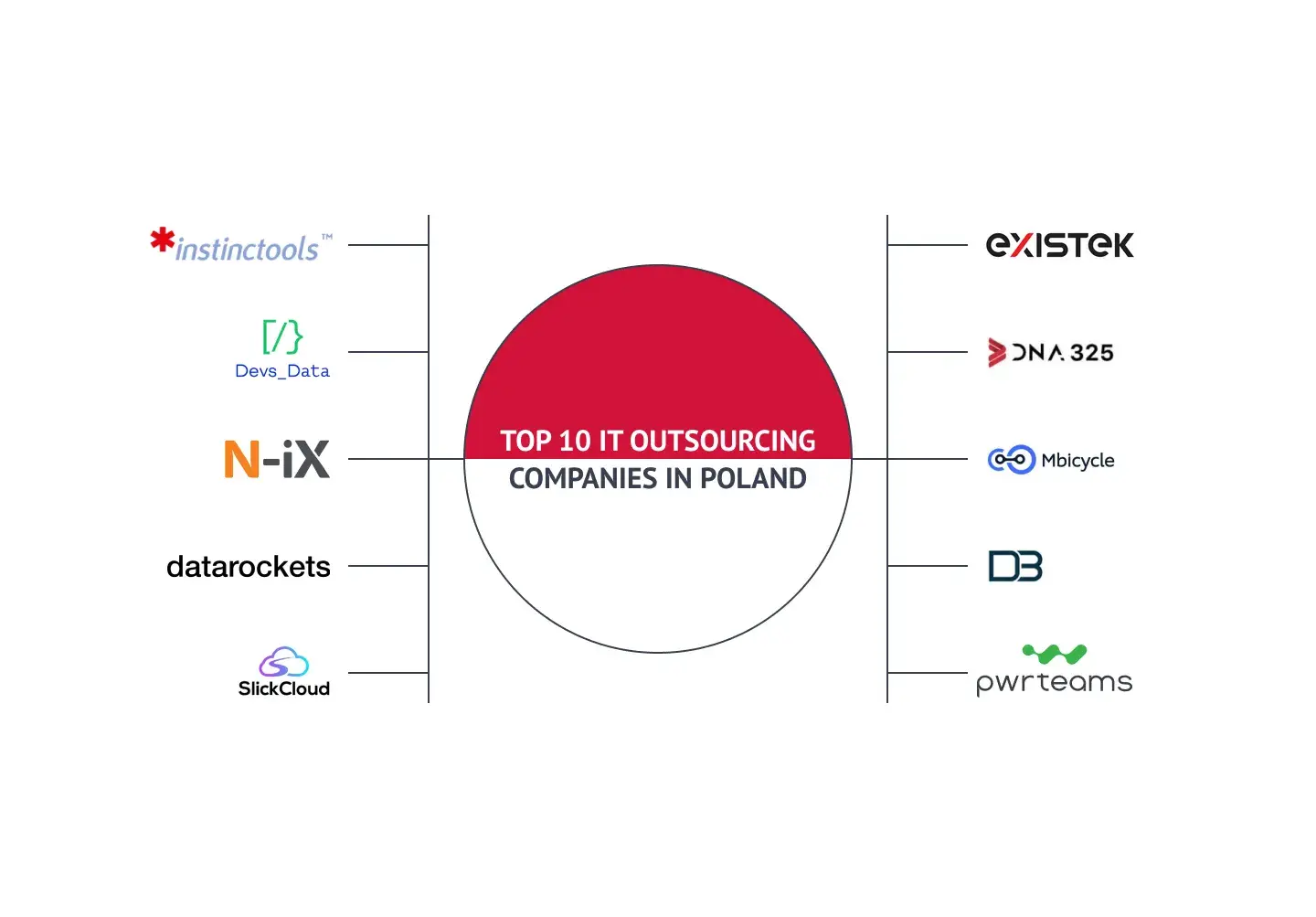 Success Stories
In 2019, Google announced its plans to establish a new cloud computing region in Poland, the first of its kind in Central and Eastern Europe. The decision was motivated by Poland's strategic location, well-developed infrastructure, and thriving technology sector. Similarly, in 2020, Microsoft announced its plans to invest $1 billion in a new data center in Poland, citing its highly skilled workforce and business-friendly environment as fundamental factors in its decision. These major investments demonstrate the growing recognition of Poland as a leading destination for IT outsourcing in Eastern Europe. With such a highly educated workforce, Poland has become a hub for software development, application management, and business process outsourcing (BPO).
Numbers Speak Louder Than Words
Below we have gathered several statistics based on relevant data published by authoritative resources like Statista, Clutch, etc. Relying upon this in-depth research, you will find out why Poland is such a popular destination when it comes to software development outsourcing in Eastern Europe.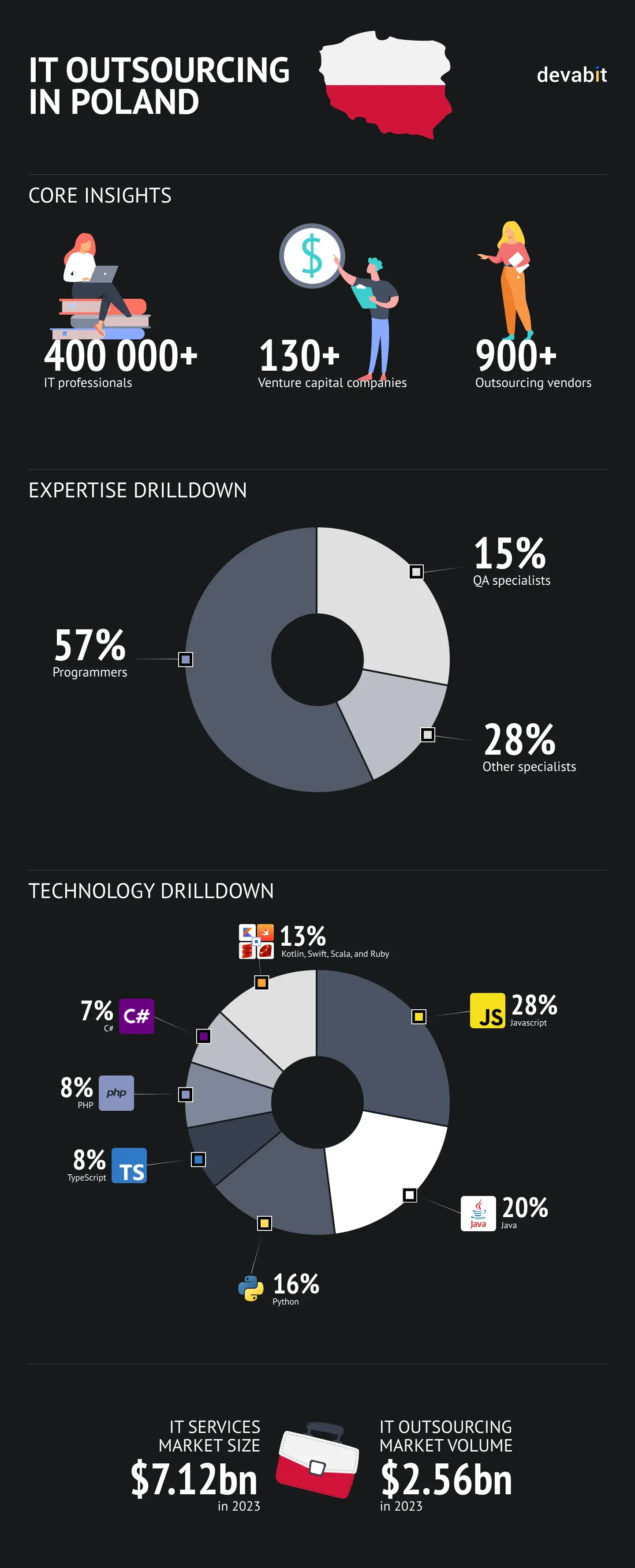 2. Ukraine
Being one of the most popular countries associated with IT outsourcing in Eastern Europe, Ukraine marks not only a geographical center of Europe but also a heart of European technology innovations. Yet, what are the reasons for such mind-blowing popularity of this outsourcing destination? As a matter of fact, value for money is one of the fundamental reasons international companies choose Ukrainian software development services. From next-gen cloud development practices to stunning UI/UX designs, Ukraine serves a full suite of your development needs.
Superpower: Stable IT Environment
Even though russian aggression against Ukraine poses numerous challenges for national businesses, the IT sector remains one of the most stable and rapidly growing industries within the country. Despite difficulties, Ukrainian IT companies continue to function, standing at the forefront of the national economy and delivering cutting-edge solutions to companies worldwide. According to Forbes, the Ukrainian "IT industry is already exceeding the pre-war levels.'' At the same time, the country has a favorable tax regime for IT companies, with a flat tax rate of 5% for software development and IT services. Furthermore, the government has implemented several initiatives to support the development of the IT sector, such as establishing technology parks and business centers.
Top IT Outsourcing Companies in Ukraine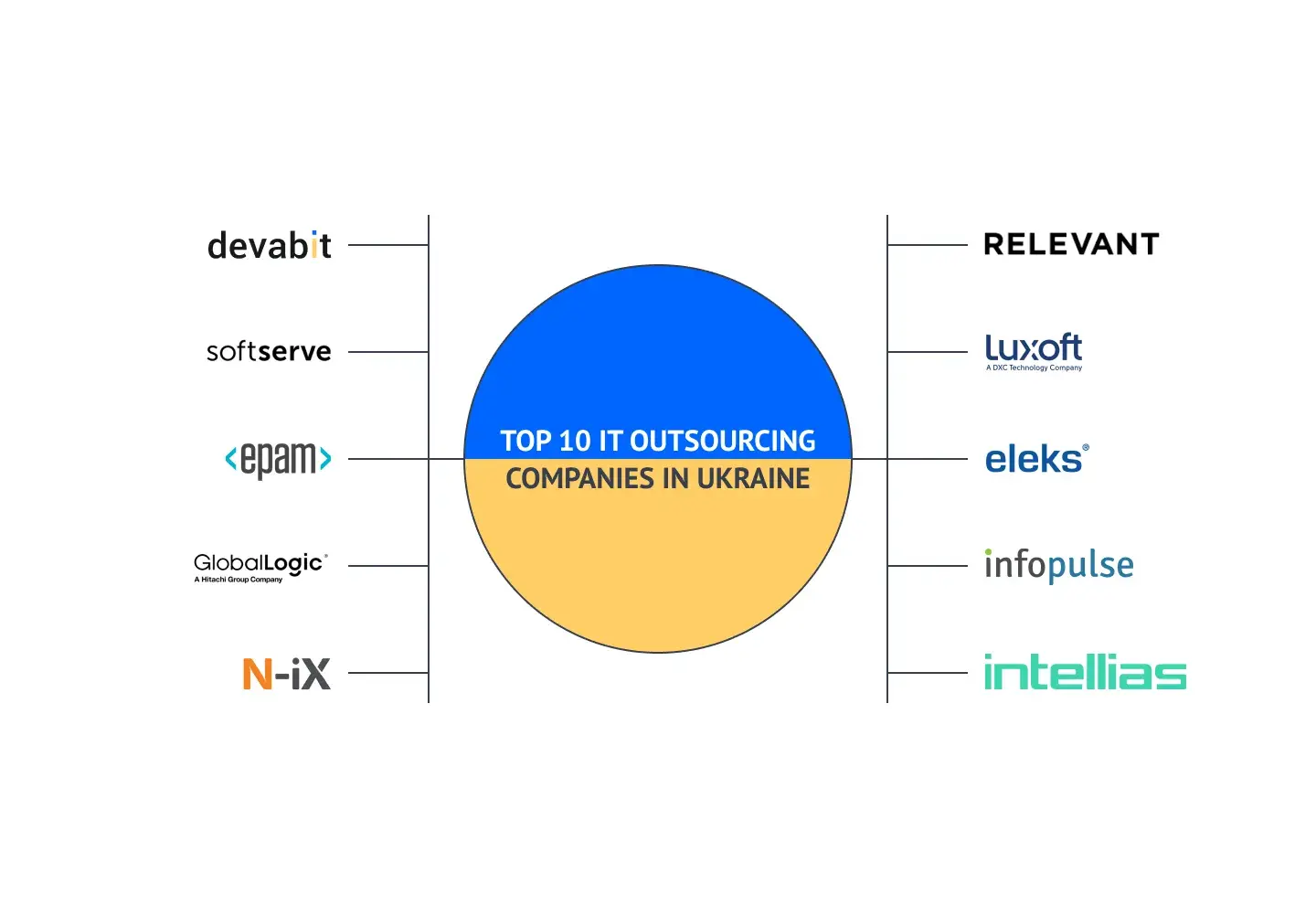 Success Stories
Renowned for its skilled workforce, Ukraine partners with a wide array of industry-leading companies worldwide. For example, devabit, an outsourcing provider with 9 years of hands-on experience in the IT domain, has delivered top-notch solutions for multiple market leaders like Shamballa Jewels, EvenFlowAI, Steezy, Carlsberg, and Pair of Thieves, to mention just a few. At the same time, the Ukrainian government offers a wide range of initiatives aimed at supporting the IT industry. Thus, the IT Ukraine Association provides support and guidance to IT outsourcing companies and works to engage foreign investment in the sector. It also advocates for policies that benefit the industry and helps to improve the quality of education and training for IT professionals in Ukraine.
Numbers Speak Louder Than Words
Do you still have any doubts that Ukraine is one of the best options when it comes to outsourcing in Eastern Europe? Here are some relevant statistics to clear out your doubts.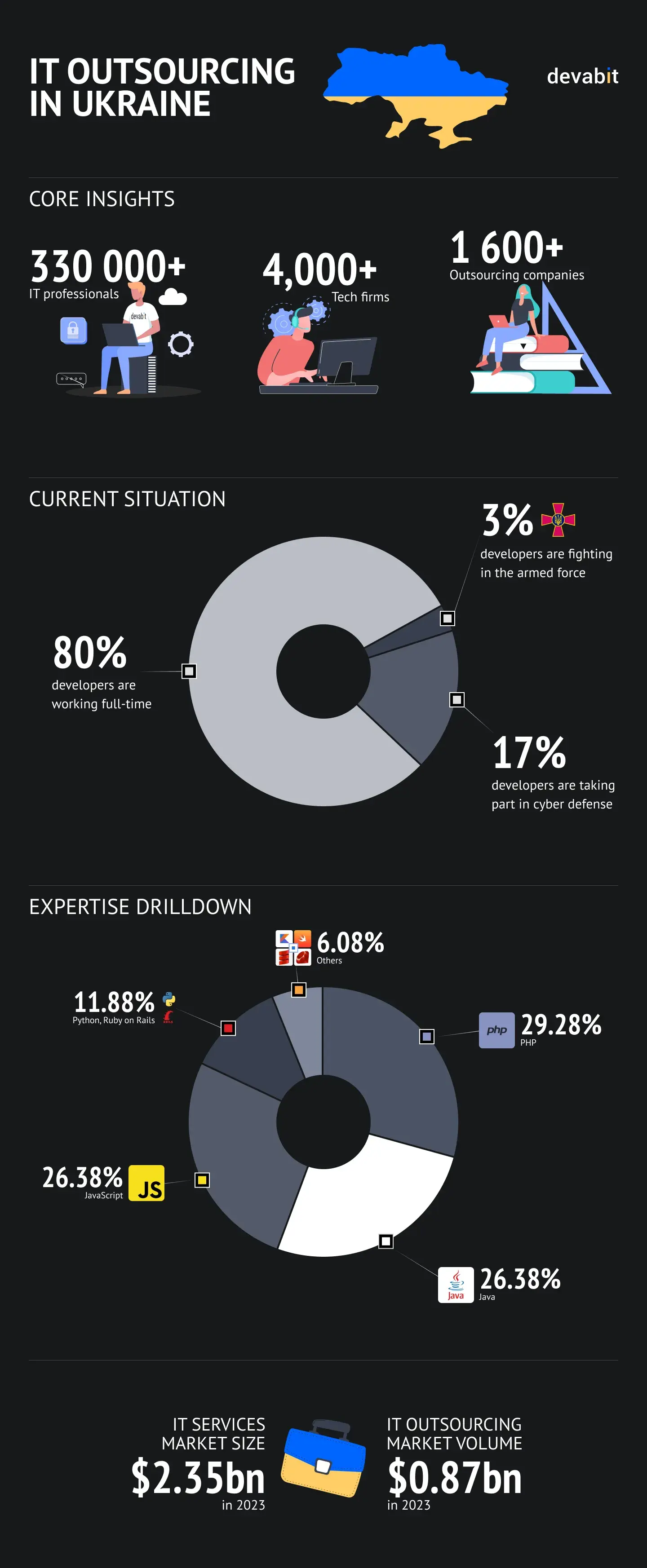 3. Romania
Romania is a rapidly growing destination for IT outsourcing in Eastern Europe, with a strong and dynamic tech industry expanding steadily over the past decade. Romania's IT outsourcing industry is associated with a highly skilled and educated workforce, competitive labor costs, a favorable business environment, and strong government support for the technology sector. As a result, the IT outsourcing industry in Romania is expected to grow in the following years, with an estimated growth rate of more than 10%. Such rapid growth will be driven by increased demand for digital transformation, the rise of remote work, and a sharp focus on cost optimization by businesses.
Superpower: High-Quality IT Services
Renowned for its exceptional quality of software development services, Romania takes third place in our list of the best destinations for IT outsourcing in Eastern Europe. Well, the numbers speak for themselves: with approximately 7000 graduates in the field of computer science, software development companies can rapidly expand their departments by engaging skilled professionals. Furthermore, one of the key strengths of Romanian software developers is their language proficiency, with around 90% having an advanced level of English. Additionally, many developers are proficient in other languages, such as Dutch, German, and Spanish, making them valuable assets for businesses with a global reach.
Top IT Outsourcing Companies in Romania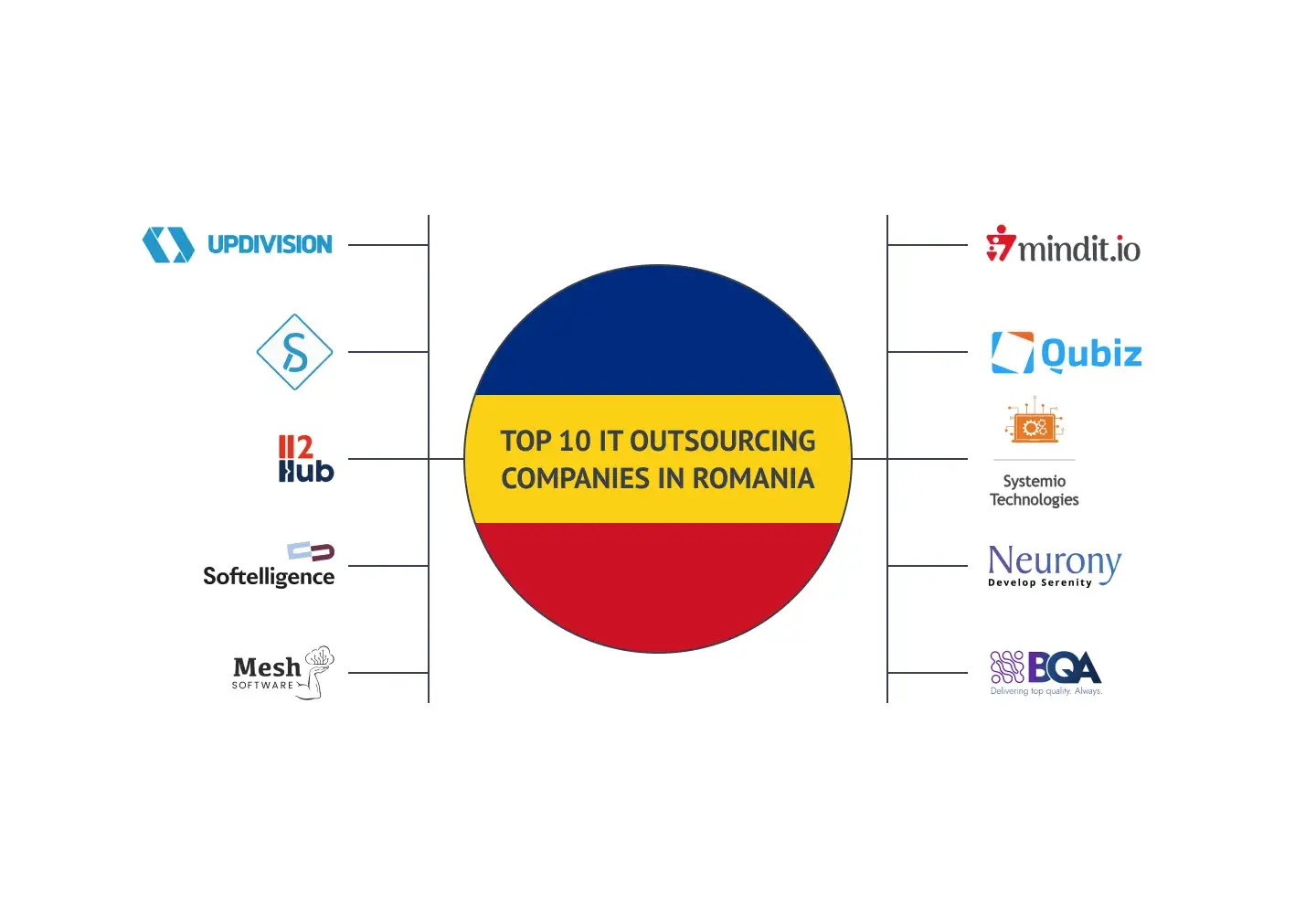 Success Stories
Keeping an eye on emerging technology trends, the Romanian government supports the national IT industry with multiple funding initiatives. By way of illustration, Techcelerator is a Romanian startup accelerator that provides support and funding for early-stage tech startups. This unique program ensures mentorship, networking opportunities, and access to funding for startups working in areas such as AI, cybersecurity, and fintech. Since 2018, Techcelerator has helped to launch over 50 startups in the IT outsourcing domain.
Numbers Speak Louder Than Words
In the following infographic, you will find relevant data concerning the current state of the IT industry in one of the most popular destinations for software development outsourcing in Eastern Europe, Romania.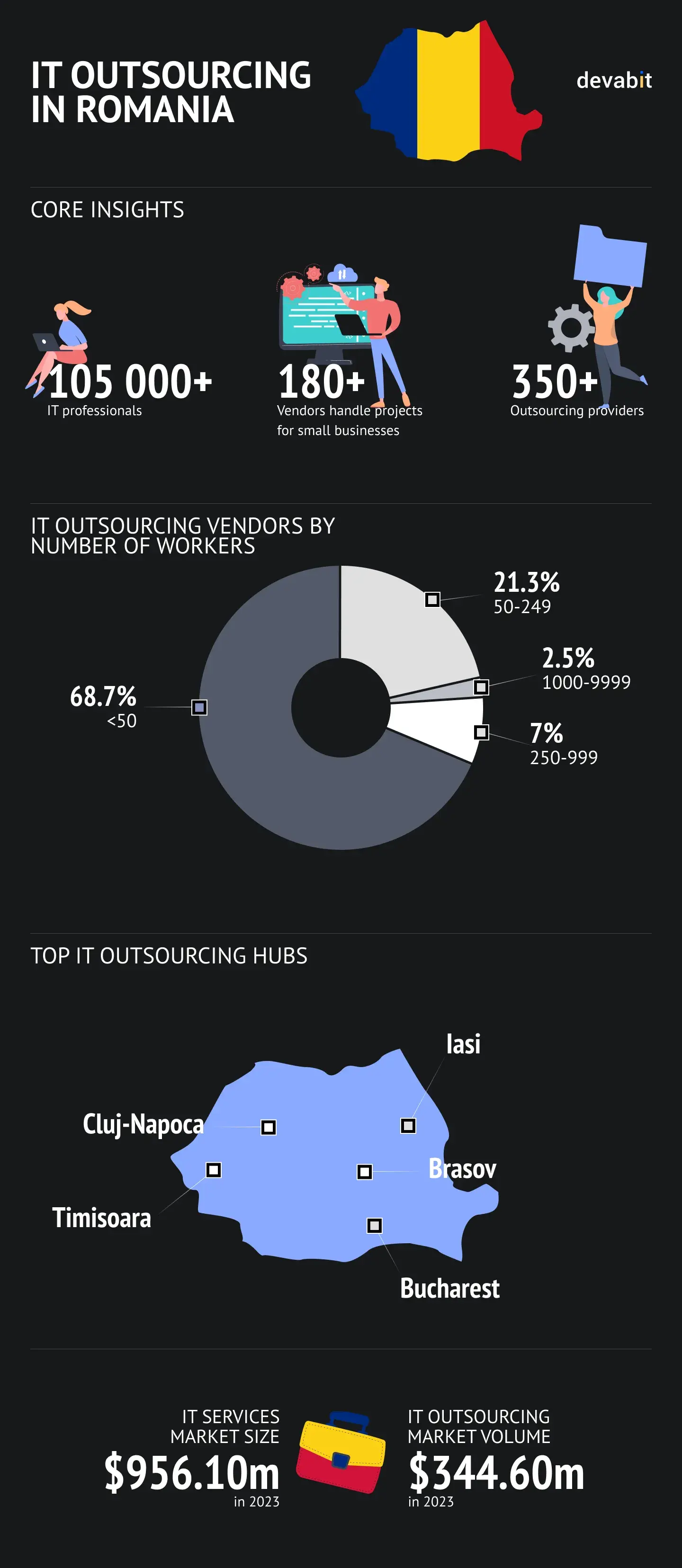 4. Czech Republic
Speaking of software development outsourcing in Eastern Europe, The Czech Republic's IT industry is a significant player in the international technology landscape. With its highly trained workforce and a rich heritage of innovation in engineering and technology, the Czech Republic's IT sector has gained a reputation for its specialization in software development, particularly in business intelligence, cybersecurity, and analytics. Additionally, the Czech Republic provides the most advantageous business atmosphere in the CEE region, which has fueled the growth and emergence of IT firms in the country while also attracting multinational IT leaders to invest in and expand their operations in this country.
Superpower: Added Value
In the Czech Republic, IT outsourcing companies are known for their flexibility, adaptability, and customer-centric approach, which allows them to deliver customized solutions that perfectly meet clients' requirements. All these factors make the Czech Republic a highly attractive destination for companies seeking reliable, high-quality, and cost-effective IT outsourcing in Eastern Europe.
Top IT Outsourcing Companies in the Czech Republic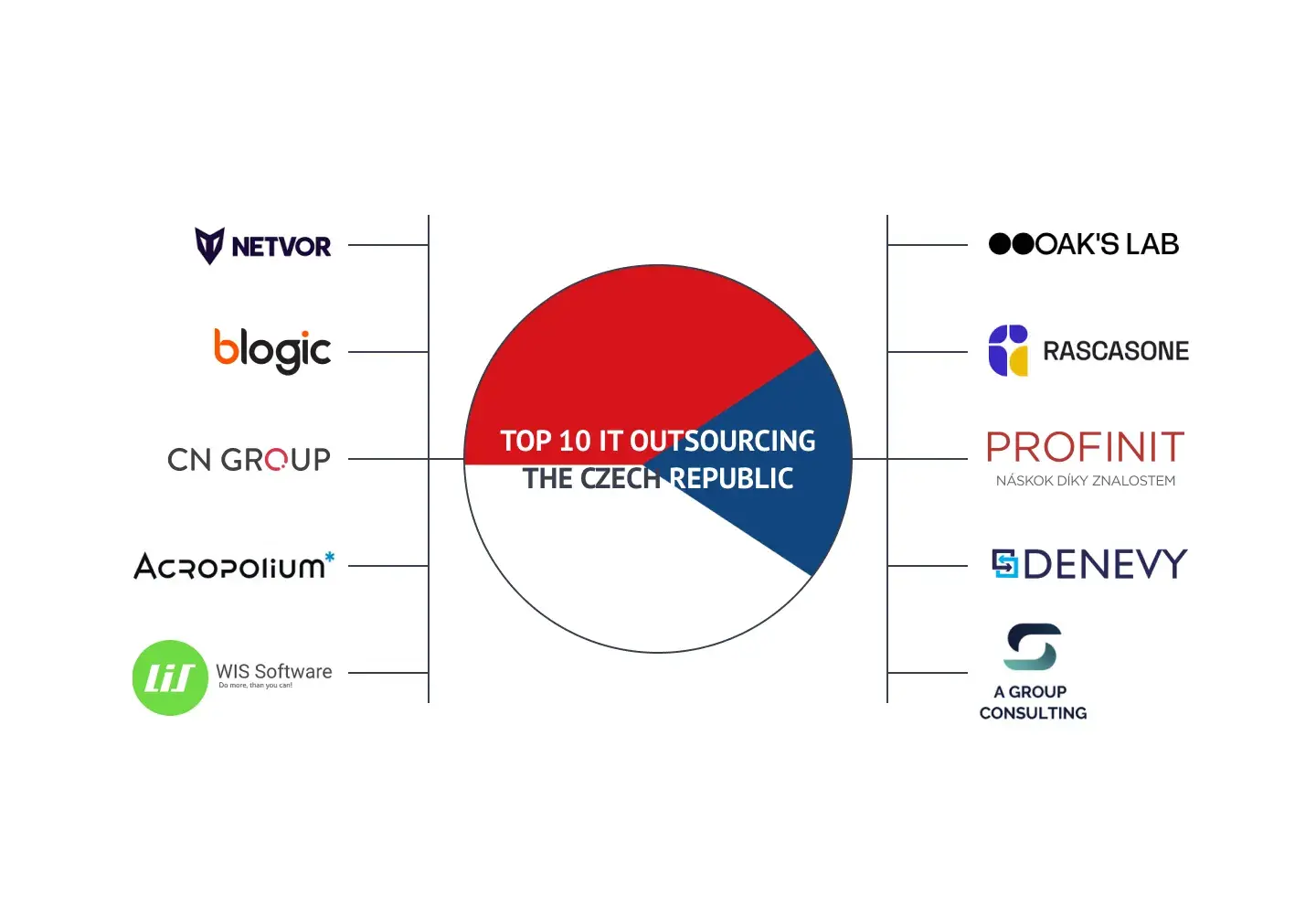 Success Stories
With over 200,000 IT professionals and approximately 30,000 university students specializing in technology-related fields, the country offers the second most specialized workforce in the CEE region after Estonia. Moreover, the Czech Republic ranks as the leading country in the European Union in terms of investment in the ICT sector per GDP, reaching 5% in 2020. As a result, numerous prominent firms, including Amazon, IBM, Oracle, SAP, Microsoft, Honeywell, Red Hat, Cisco, Google, HP, DELL, eBay, Xerox, and Skype, have expanded their operations to the country.
Numbers Speak Louder Than Words
What can be better than a fresh portion of relevant statistics? Check out the infographic below to explore crucial data on IT outsourcing in Eastern Europe.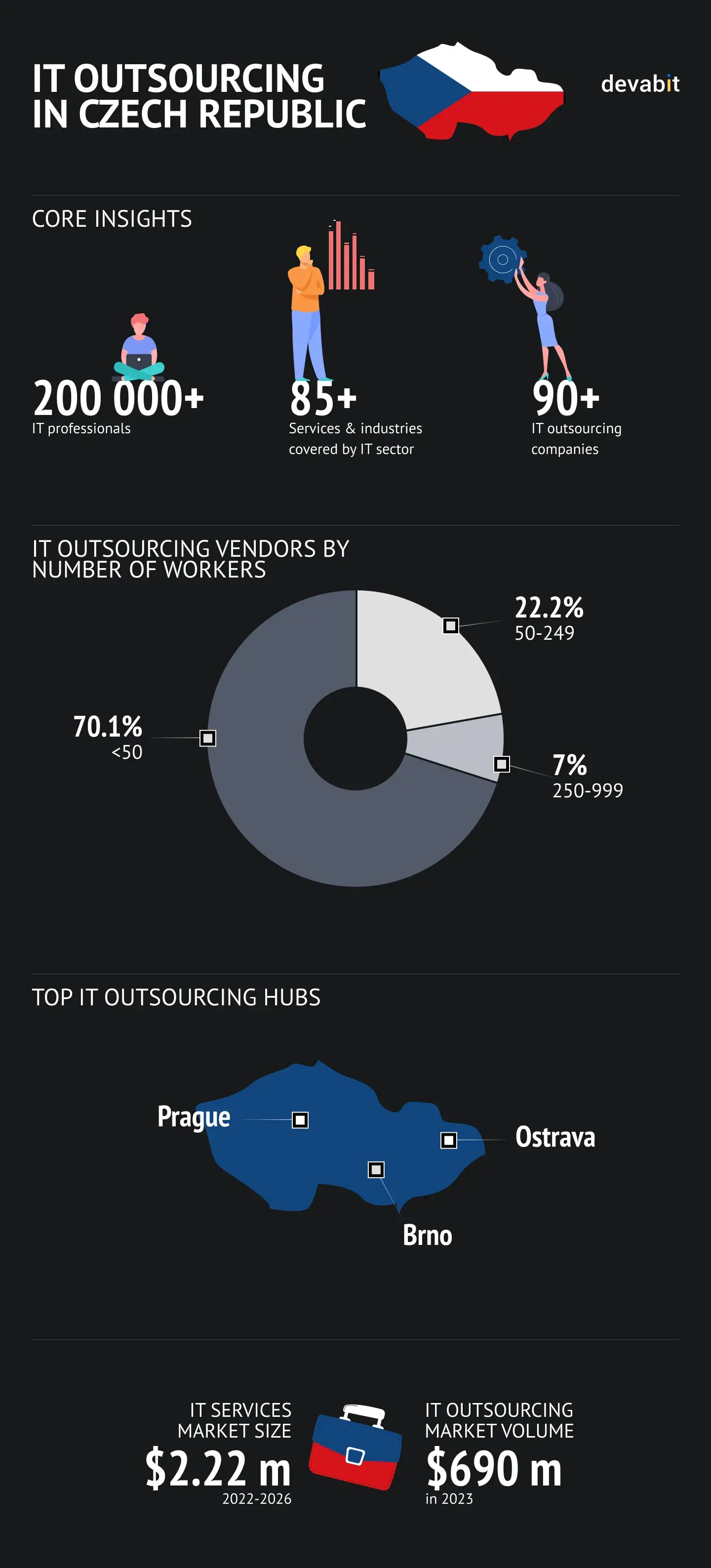 5. Hungary
In terms of outsourcing in Eastern Europe, Hungary is the perfect location. In the world of software development outsourcing, Hungary has established itself as a powerful player, gaining recognition and appreciation from both North America (including the US and Canada) and Western Europe. Additionally, the country has consistently demonstrated impressive returns on investment (ROI) in the IT outsourcing sector, likely due to the fact that Microsoft and Google have all chosen to establish their research and development (R&D) operations in Hungary. The economic and business climate in the country has also earned high marks from Deloitte, which has ranked Hungary as a country with a low-risk environment, making it an attractive option for potential investors.
Superpower: Low Staff Attrition Rates
Needless to say, the attrition rate is a crucial factor you should pay attention to while outsourcing in Eastern Europe. Briefly stated, a low attrition rate demonstrates that staff tends to stick around longer in one company. On the contrary, a high attrition rate indicates that employees frequently leave or are replaced. Since even a single team member leaving during an ongoing project can cause many troubles and disrupt the workflow, a low attrition rate is an inseparable element of successful output. According to Trading Economics, the 2022 employee attrition rate in Hungary was 22.7%. What does it mean for your business? In a nutshell, it implies that most Hungary outsourcing providers tend to retain their workforce, while employee satisfaction rates are high.
Top IT Outsourcing Companies in Hungary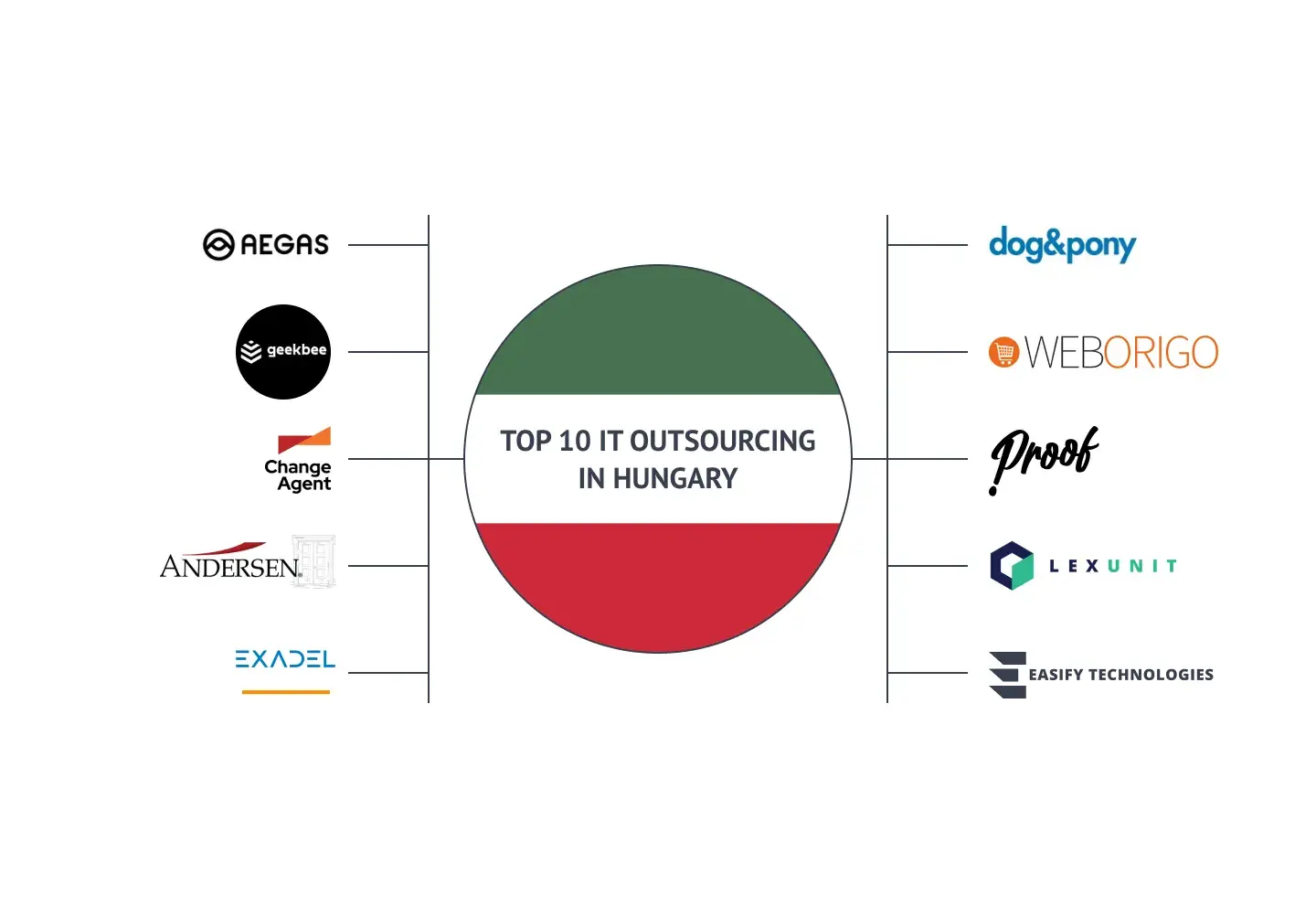 Success Stories
The Hungarian government has launched several initiatives to support IT startups, including the National Startup Program, which provides funding and mentoring to young outsourcing vendors. There are also several technology parks, including Graphisoft Park in Budapest, which has become a significant hub for the tech industry. Another exciting initiative is the Bridge Budapest program, which promotes regional entrepreneurship and innovation. These and many other fascinating startups and programs have helped to establish Hungary as a leader in the IT outsourcing in Eastern Europe and have attracted significant investment and attention from around the world.
Numbers Speak Louder Than Words
Are you curious about IT outsourcing in Eastern Europe? Then, check out the infographic below to discover some fascinating statistical insights about this rapidly growing IT sector in Hungary. Whether you are a business owner, investor, or an interested observer, this infographic will provide valuable business information. So what are you waiting for? Dive in and explore the world of IT outsourcing in Eastern Europe!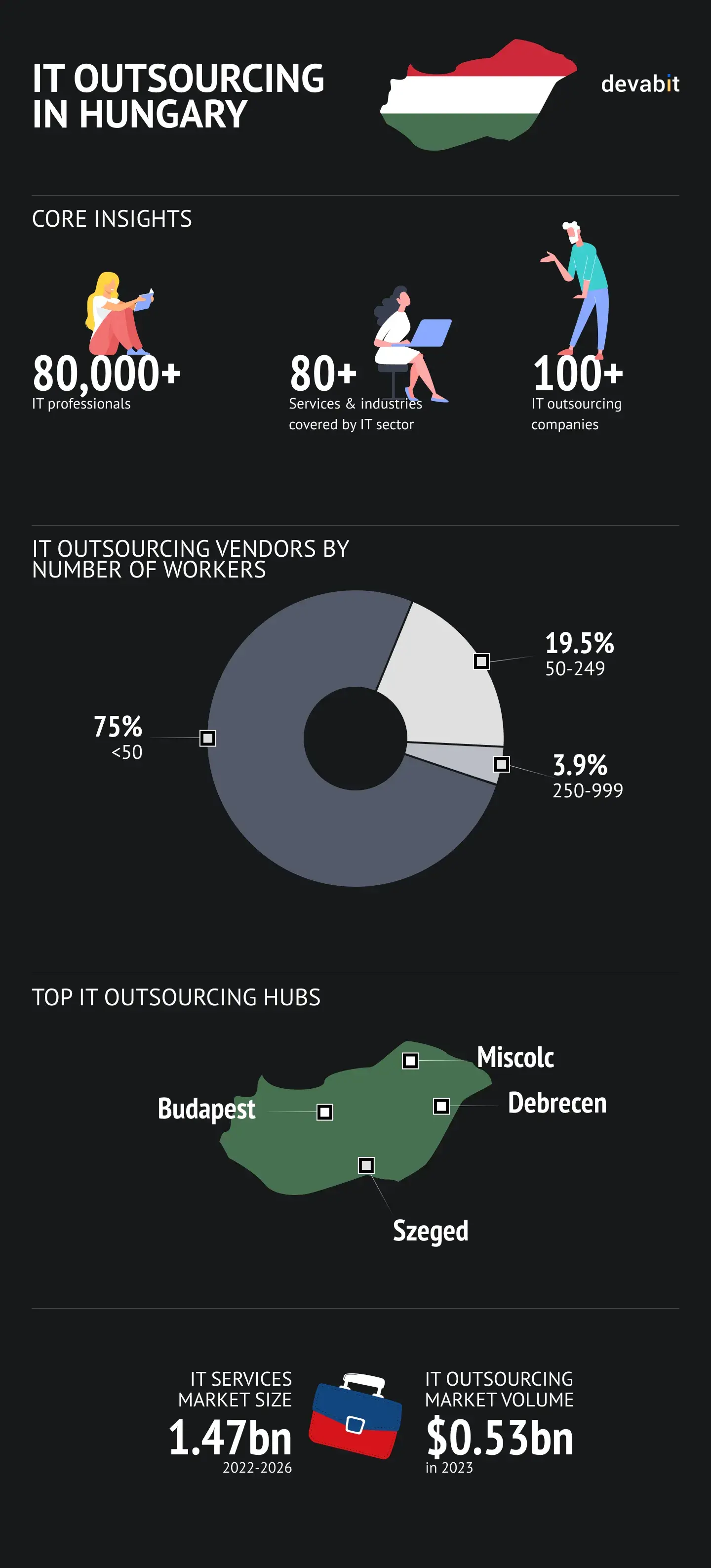 Looking for a reliable outsourcing provider in Eastern Europe?
A Step-by-Step Guide to Software Development Outsourcing in Eastern Europe
Outsourcing in Eastern Europe can be a daunting task or an enjoyable experience, depending on your strategy. In the following paragraphs, we will describe a step-by-step guide on how to succeed with software development outsourcing in Eastern Europe while saving time and effort. Read on to get exclusive business insights gathered by a software development provider with more than 15 years of hands-on experience in diversified industry verticals.
1. Outline Your Goals
What type of software solution do you want to develop? Maybe you need to hire a team of Android or iOS developers to build a cutting-edge mobile app? Are you planning to develop a stunning eCommerce website, so you want to hire Vue.js and Node.js programmers? In any case, you should clearly identify your business requirements before plunging into the actual research. At the same time, take a close look at your budget limitations, time frames, etc.
2. Keep an Eye on Modern Trends
Instead of choosing this or that solution for your business, it would be a good idea to ensure that you invest in state-of-the-art technology. Spend some time exploring trendy software development innovations to get the most out of the solution you want to develop. By way of illustration, some of the popular current trends include cloud development, AI-driven software development, progressive web apps, mobile-first development, and VR solutions. Additionally, it is essential to find out which software development languages and platforms are in fashion. In this way, you will not only choose a software development vendor with the right expertise but will also get a more competitive end product.
3. Choose Your Outsourcing Destination
Here the first part of this article will be helpful. If you have already decided that outsourcing in Eastern Europe is your option, analyze the top 5 outsourcing European destinations and choose the country that perfectly suits you from the perspective of price, location, expertise, etc. For instance, if the value for money is of utmost importance to you, Ukraine can be a great choice since it offers next-gen development services at a reasonable price.
4. Find an Outsourcing Provider
At this point, use search engines, review websites, and online ratings like Clutch or Crunchbase. Then, inspect the credentials, portfolios, expertise, reviews, past references, and other possible aspects that can provide relevant information about each company related to software development outsourcing in Eastern Europe. At the same time, feel free to get in touch with their previous customers to gain real-life insights concerning their experience.
5. First Touch Matters
When it comes to software development outsourcing in Eastern Europe, finding a trustworthy outsourcing vendor is half of the success. Yet, remember: although the first impression may be deceptive, it frequently tells a lot about the way outsourcing provider communicates with their clients. Are there any communication barriers? Is it challenging to find common ground? All in all, are there any cultural differences that may negatively affect your cooperation? Pay close attention to these crucial aspects during the first discussion.
5. Negotiate Terms
Once you have selected an outsourcing partner, it is time to negotiate the terms of the project and sign a contract. In fact, this legal agreement should clearly define the project's scope, timelines, milestones, deliverables, and payment terms. Moreover, it should also include provisions for intellectual property rights and confidentiality. During this stage, it is also essential to choose your cooperation model.
6. Development Phase
Once the contract is signed, here comes the most interesting part of outsourcing in Eastern Europe — coding. This step also involves setting up communication channels, providing access to project management tools, and monitoring progress. The outsourcing partner should provide regular status updates and progress reports to ensure the project is on track.
7. Maintenance & Support
Whether you turn to outsourcing in Eastern Europe because you are looking for long-term cooperation or just one-project assistance, maintenance and support services must be an inseparable part of a successful outsourcing process.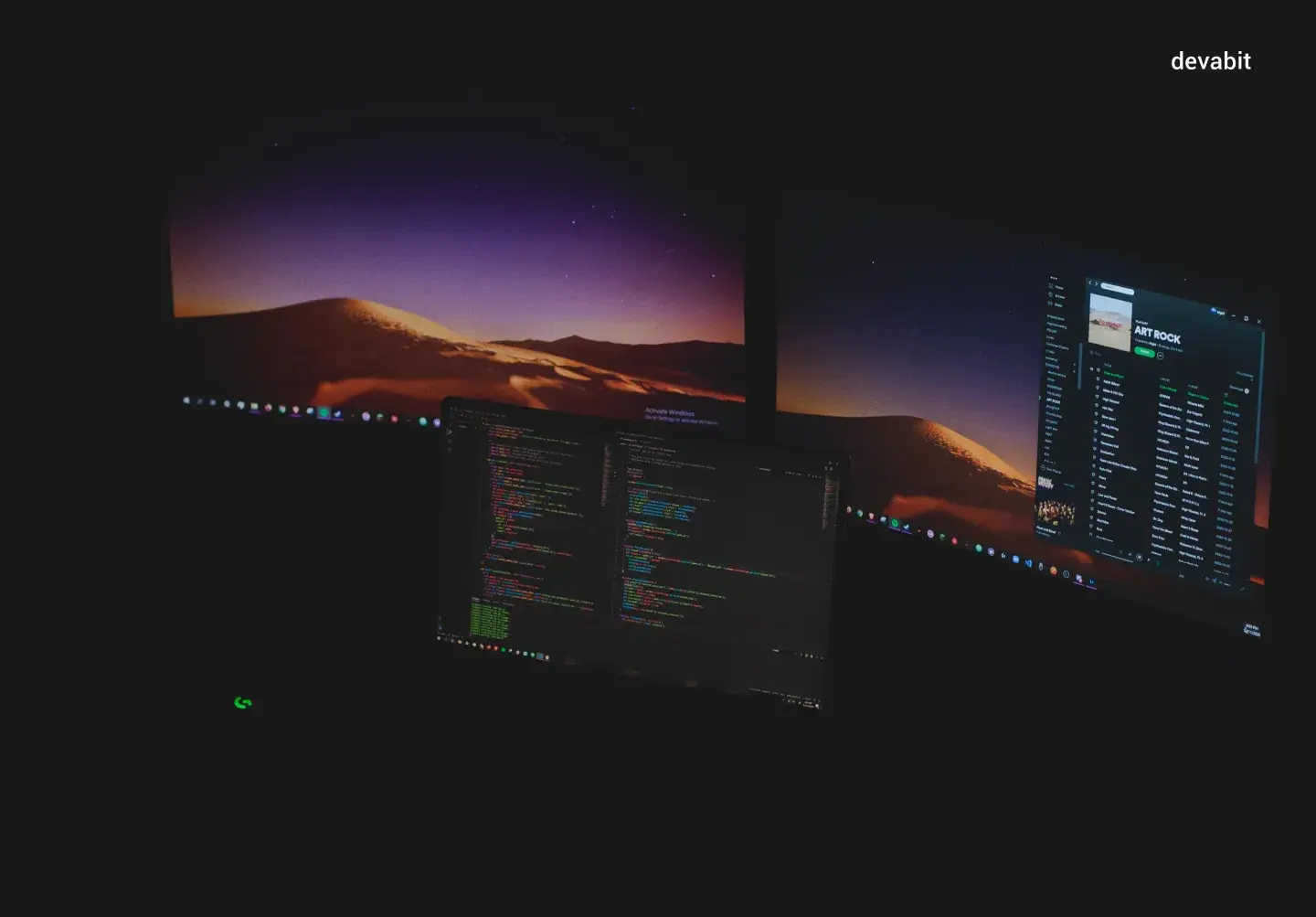 Software Development Outsourcing in Eastern Europe is Easy with devabit
If you have read this far, software development outsourcing in Eastern Europe definitely refers to your area of interest. Thus, in case you are looking for a reliable outsourcing partner, our company is an excellent choice, and here is why. Our team has long-term experience in software development outsourcing, with a proven track record of delivering quality solutions to our clients worldwide. Additionally, we possess in-depth knowledge of a wide array of programming languages and technologies, ranging from Node.js programming to UI/UX design. At devabit, we also prioritize communication and transparency.
We understand that every client has unique software development needs, and we work closely with our clients to deliver tailored solutions that meet their requirements. Additionally, our team follows a streamlined outsourcing process that ensures the timely delivery of high-quality software development solutions while maintaining full transparency throughout the project's lifecycle.
Wrapping up, if you were thinking about outsourcing in Eastern Europe, partnering with our company for your software development outsourcing needs can help you gain a competitive advantage in your industry by reducing costs and increasing efficiency. Our team of professionals is committed to providing you with reliable and quality software development services that meet your needs and exceed your expectations. Contact us right now to take the first step to IT outsourcing in Eastern Europe.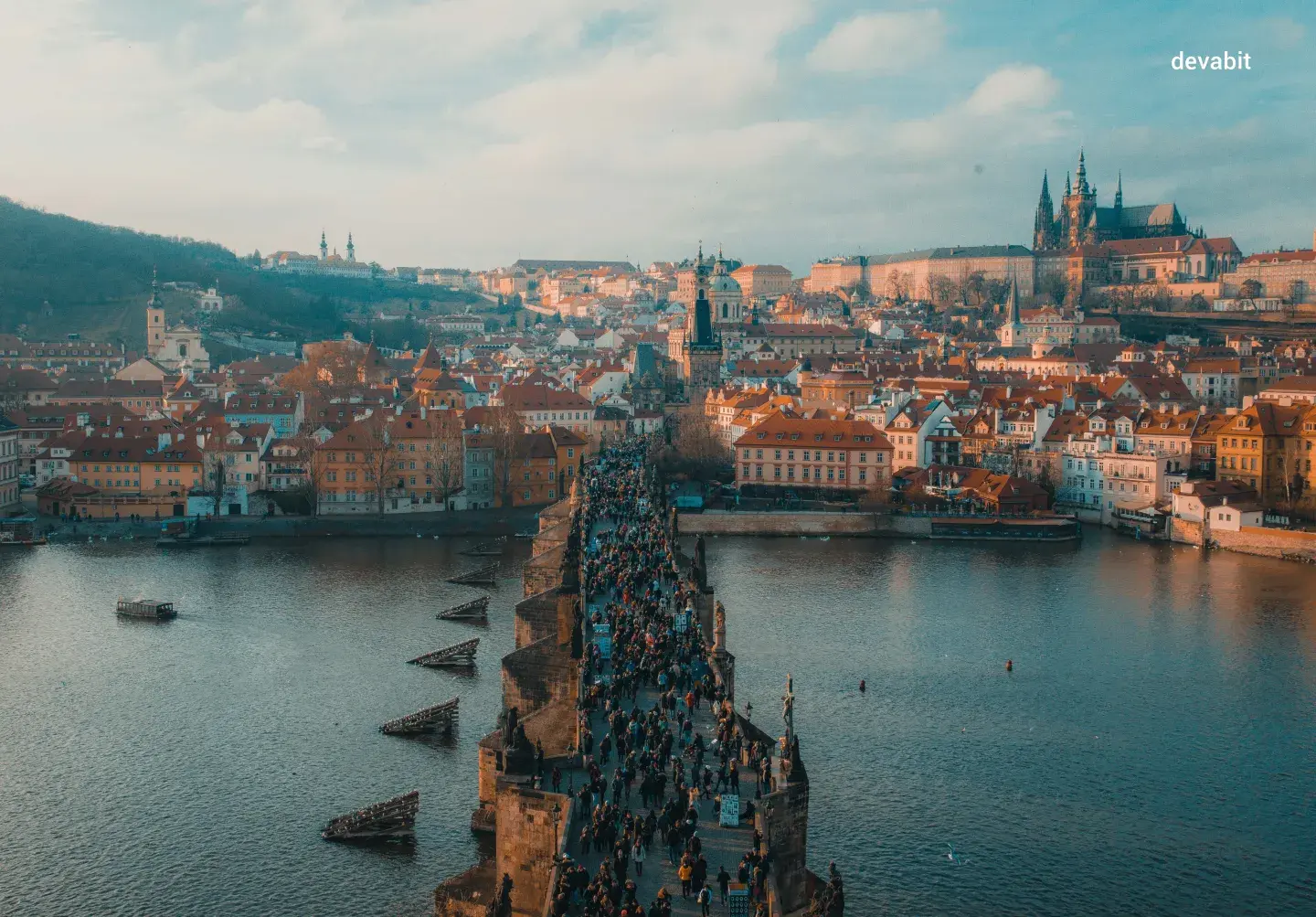 Final Verdict on Outsourcing in Eastern Europe
Ultimately, software development outsourcing in Eastern Europe can be a cost-effective and efficient way to get high-quality software development services. By following the steps & tips outlined in this article, you can find a reliable outsourcing partner and reach the desired results. With proper planning and management, IT outsourcing in Eastern Europe can turn into a captivating journey, help your business gain a competitive advantage, and fulfill your software development goals.
Don't miss out! Click here to stay in touch - Contact us
Liked the article?
You will like our email too
Get the latest news from the devabit blog.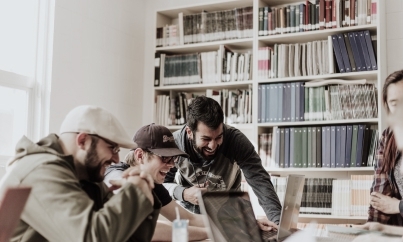 CONNECT WITH US WE'RE READY
TO TALK OPPORTUNITIES
THANK YOU! WE RECEIVED YOUR MESSAGE.
Sorry
something went wrong
One of our consultancy experts will get in touch with you shortly.
Please visit our portfolio to know more about us and the solutions we provide.