The Unique Art of Outsourcing Software Development Services
In such a rapidly evolving digital landscape, maintaining competitiveness in the global market has become a crucial aspect for every business. Constant technological advancements lead to the development of various strategies that organizations employ in order to stay afloat. Outsourcing software development services is such a strategy that has become an integral part of modern business operations, offering lots of opportunities for companies of all sizes.
The industry of outsourcing software development services is constantly getting bigger. Due to this, it becomes harder to find highly skilled programmers, developers, designers, etc. Fortunately, devabit has an ideal solution! By hiring IT specialists at devabit, you find not only the skilled and motivated professionals, but also the best communicators and team players with years of experience in various development industries.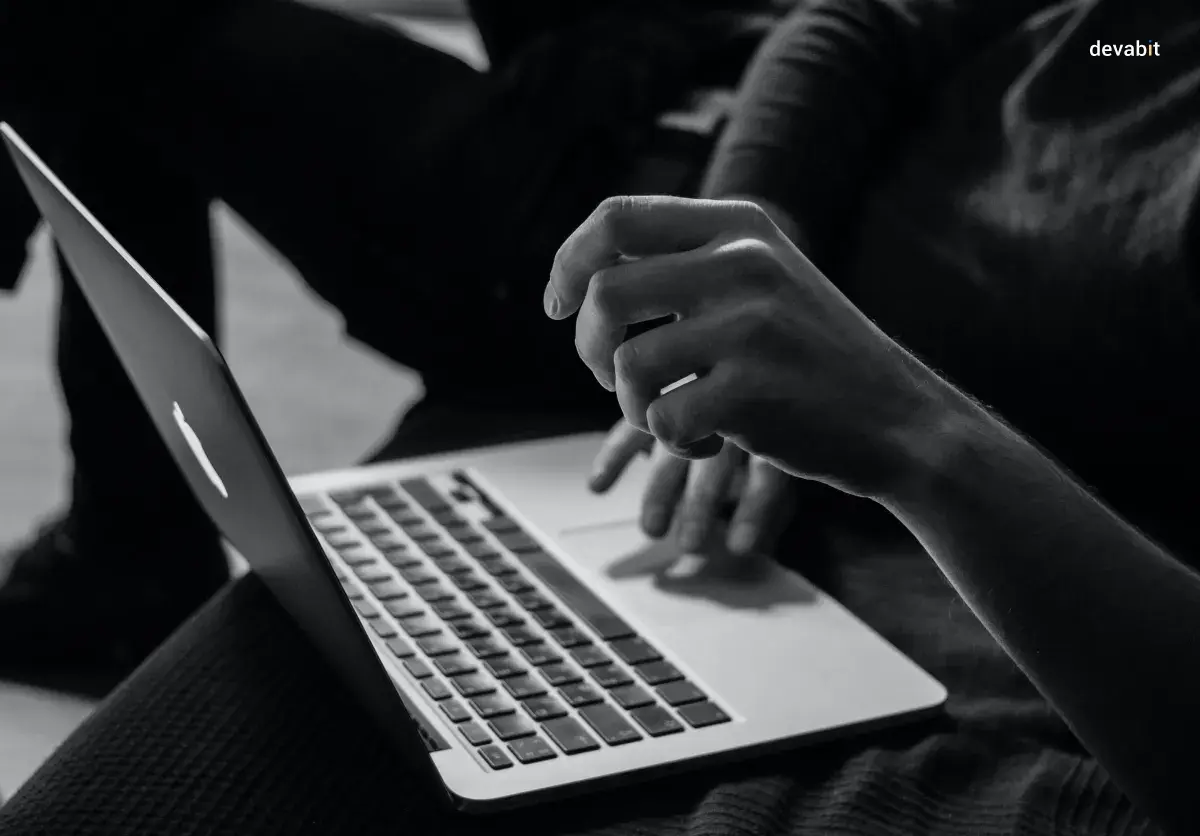 This article explores the basics of outsourcing software development services, the advantages it offers, different cooperation models, the best locations for outsourcing software development, etc. Let us dive into the world of outsourcing software development services and uncover the main strategies and insights that can help you drive your business forward.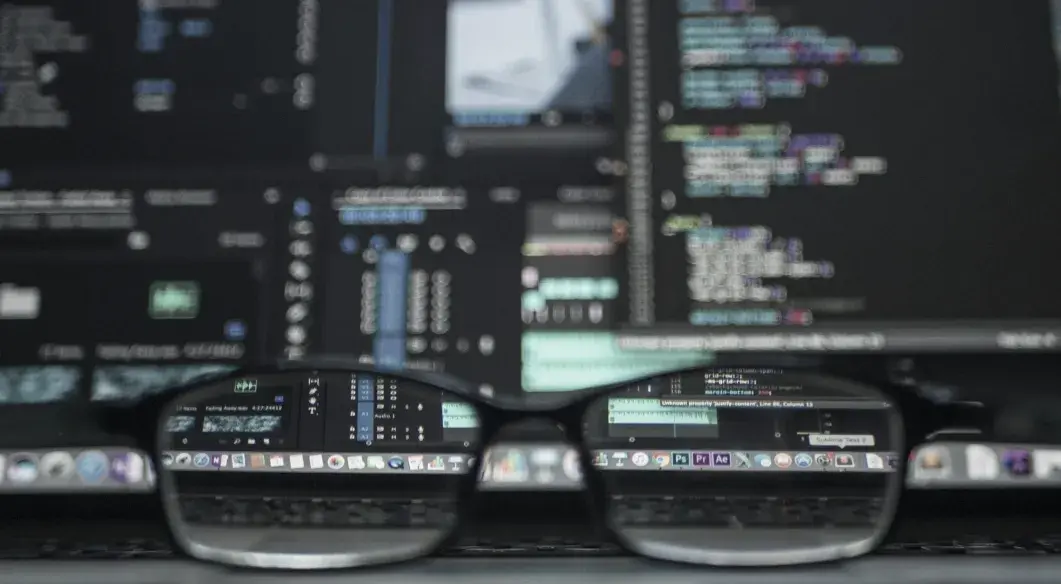 Outsourcing Software Development Services: A General Overview
Outsourcing software development services has changed the overall technological industry, reshaping the way businesses conceptualize, develop, and deploy solutions. Let us show you some statistical data that helps you better understand the peculiarities of the outsourcing software development industry.
The IT Market Size and Growth
It is not a secret that the global IT market is developing extremely fast. Grand View Research claims that the global software consulting market was valued at USD 273.13 billion in 2022 and is expected to grow at a compound annual growth rate (CAGR) of 12.1% from 2023 to 2030.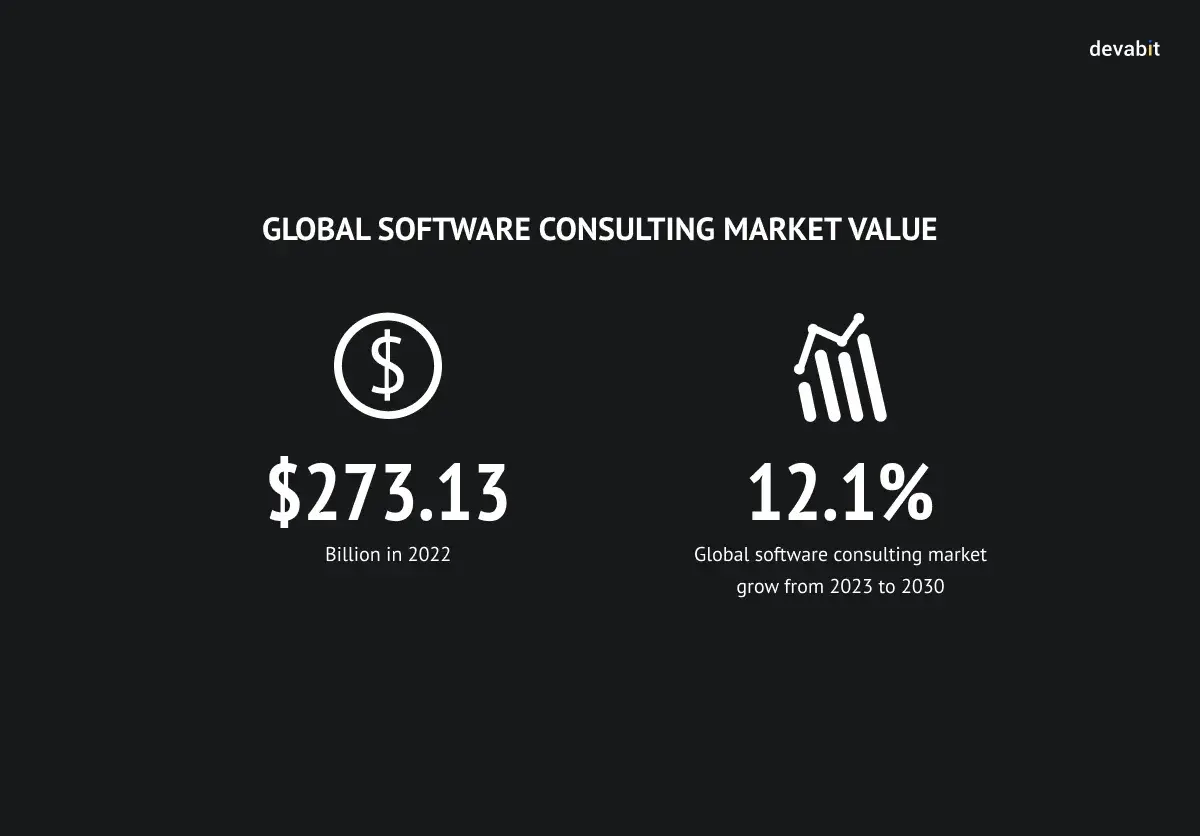 The growing preference for the digitalization of business processes across industries and verticals is driving market growth, primarily for the efficient implementation of software into the IT setup of an enterprise. Further, technological developments in cloud computing and data analytics are increasing the demand for new services and encouraging enterprises to adopt novel and innovative solutions. All in all, the projected growth proves that outsourcing software development services will be a cost-effective and strategic solution in the future.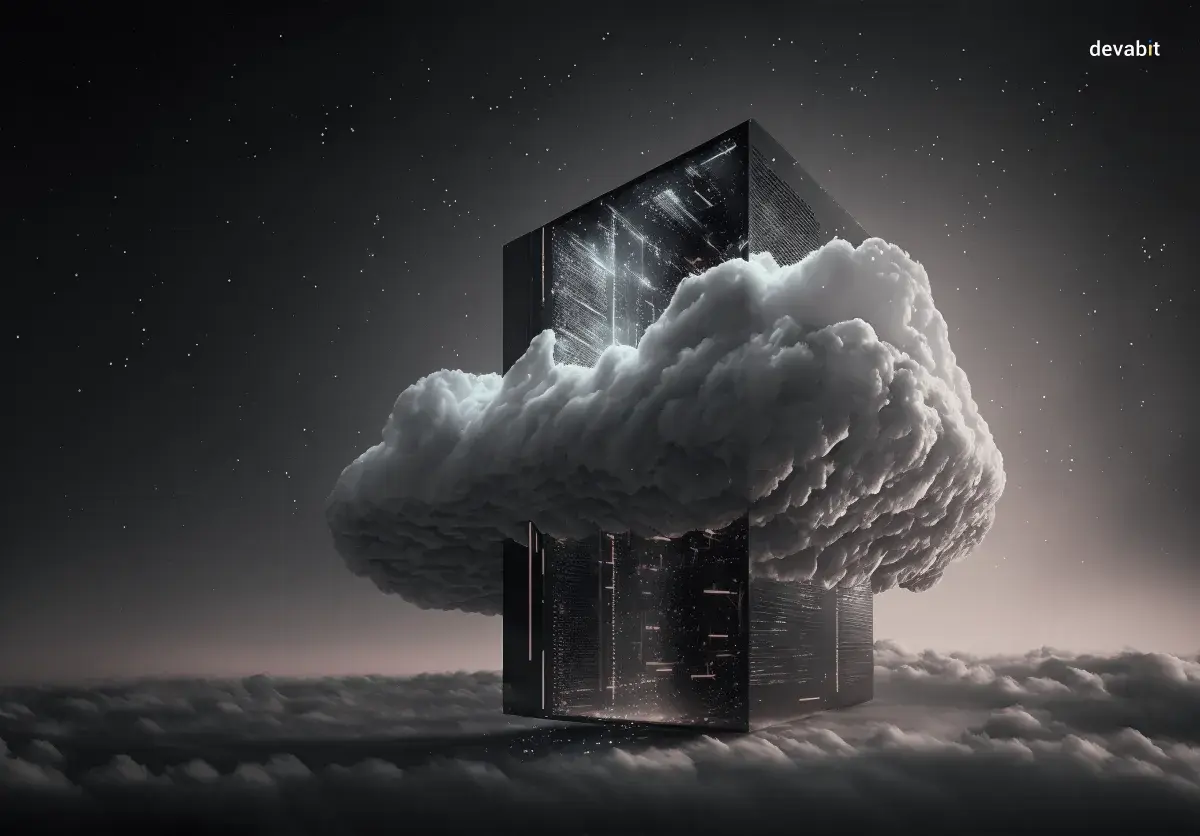 Key Players
Another significant aspect that should be considered when outsourcing software development services is the outsourcing destination. Ukraine has steadily risen as a prominent player in the global outsourcing market. In comparison with India, which takes 50% of the market share, Ukraine provides better quality at relatively low prices. Ukrainian software engineers are renowned for their high level of technical expertise and strong communication skills.
Many Ukrainian developers have years of experience in a wide range of programming languages and technologies, which ensures high-quality services for businesses seeking comprehensive software solutions. Moreover, many Ukrainian cities like Kyiv, Lviv, and Dnipro have emerged as thriving tech hubs and become home to numerous IT companies and startups. In addition, Ukrainian outsourcing companies often maintain long-term partnerships with clients worldwide, providing IT services in various industries, including fintech, e-commerce, healthcare, etc.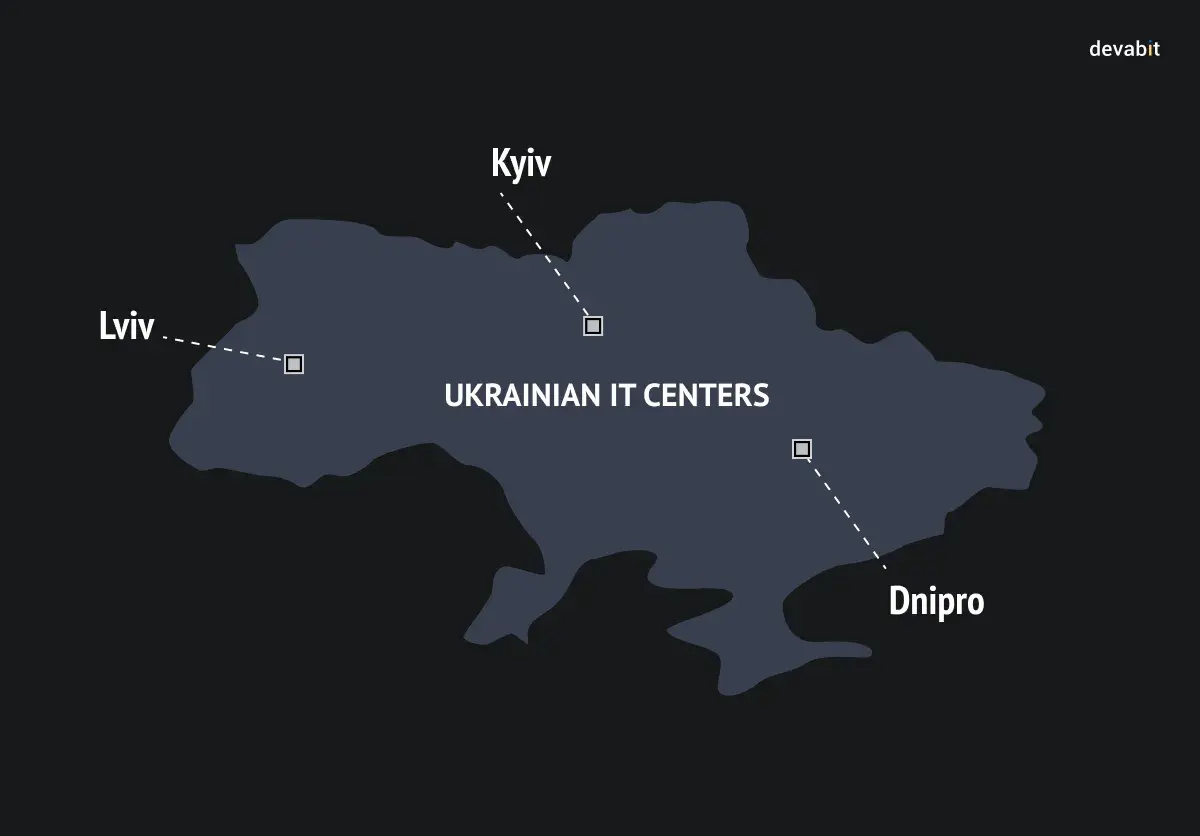 Business Adoption of Outsourcing
Small and medium-sized enterprises (SMEs) are increasingly turning to outsourcing software development services. Deloitte states that 37% of SMEs have reported outsourcing the majority of their software development needs. Considering the fact that most SMEs are operating with limited budgets and resources, outsourcing software development services provides them with a strategic advantage by enabling access to professional development teams without the substantial costs associated with hiring and maintaining in-house talent.
Project Success Rates
According to Deloitte, outsourcing software development services provides a 78% success rate, compared to in-house projects, which have success rates of around 34%. The main reason for the higher success rate in outsourcing software development services is the high experience of outsourcing providers. Outsourcing software development allows businesses to efficiently allocate resources, ensuring that a dedicated team will be focused solely on the outsourced project and effective project management.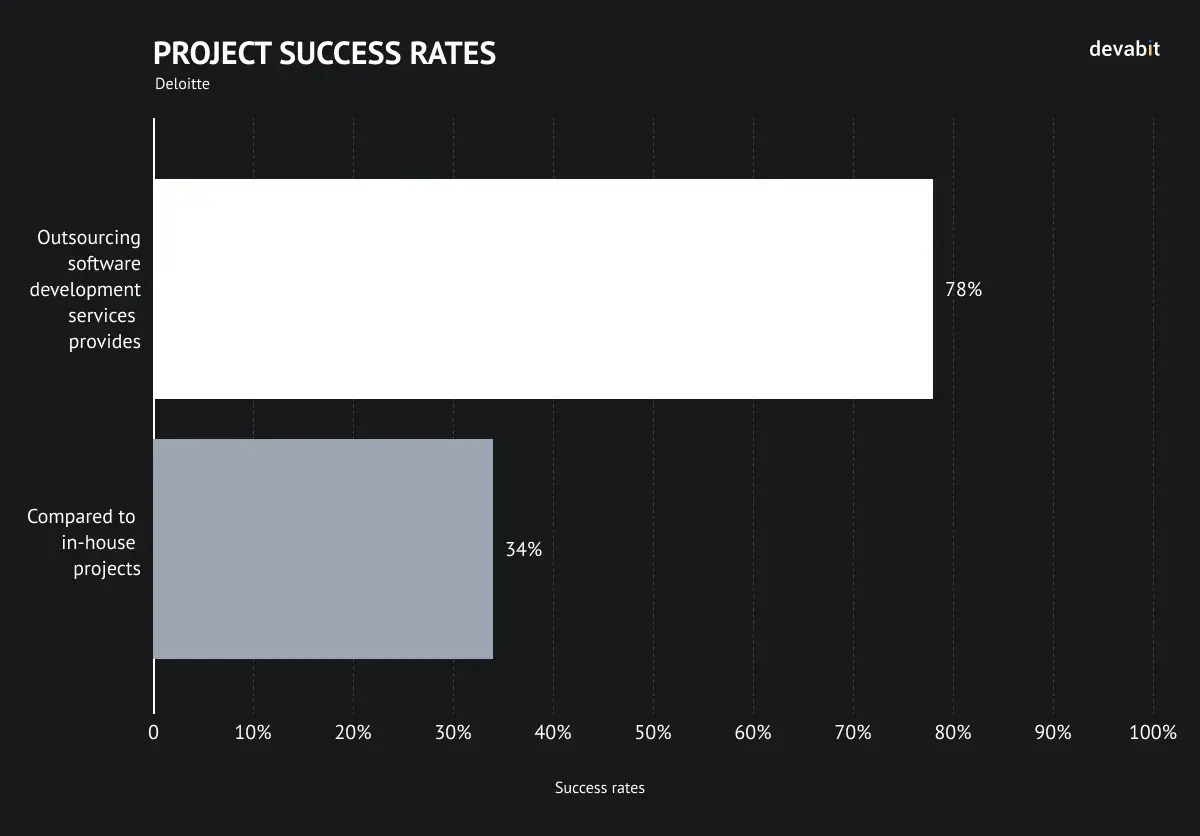 Advantages of Outsourcing Software Development Services
Outsourcing software development services provides lots of benefits to businesses of all sizes and industries. Firstly, outsourcing software development can significantly reduce costs. By tapping into skilled labor markets with low labor costs, companies can save money on salaries, office space, and equipment. Moreover, with outsourcing software development services, businesses can establish fixed project budgets that help manage costs effectively. Such an advantage is especially valuable for startups and small businesses.
Another great advantage of outsourcing software development services is access to a vast pool of specialized talents from around the world. Furthermore, by collaborating with outsourcing providers, you can have access to the latest tools and technologies in software development. At the same time, outsourcing non-core activities gives your in-house team an opportunity to focus on strategic initiatives such as product innovation, marketing, and customer engagement.
When you outsource, your outsourcing partner shares project risks, including technical challenges and delivery timelines. Speedier development and deployment of software solutions can give your business a competitive edge by allowing you to bring products and features to market ahead of competitors.
Looking for outsourcing software development services?
The Full Process of Outsourcing Software Development Services
Outsourcing software development services is a strategic decision that has lots of benefits, from cost savings to a global talent pool. However, it is important to understand the entire process of outsourcing software development services in order to ensure a successful partnership. Let us walk you through the full process of outsourcing software development services.
The Project Vision
Every outsourcing software development process starts with defining your objectives and requirements. This includes identifying your project's scope, goals, budget, timeline, and specific needs. Take time to conduct a comprehensive needs analysis because it will guide your search for the right outsourcing software development partner. Consider factors such as the technology stack, project complexity, and required expertise.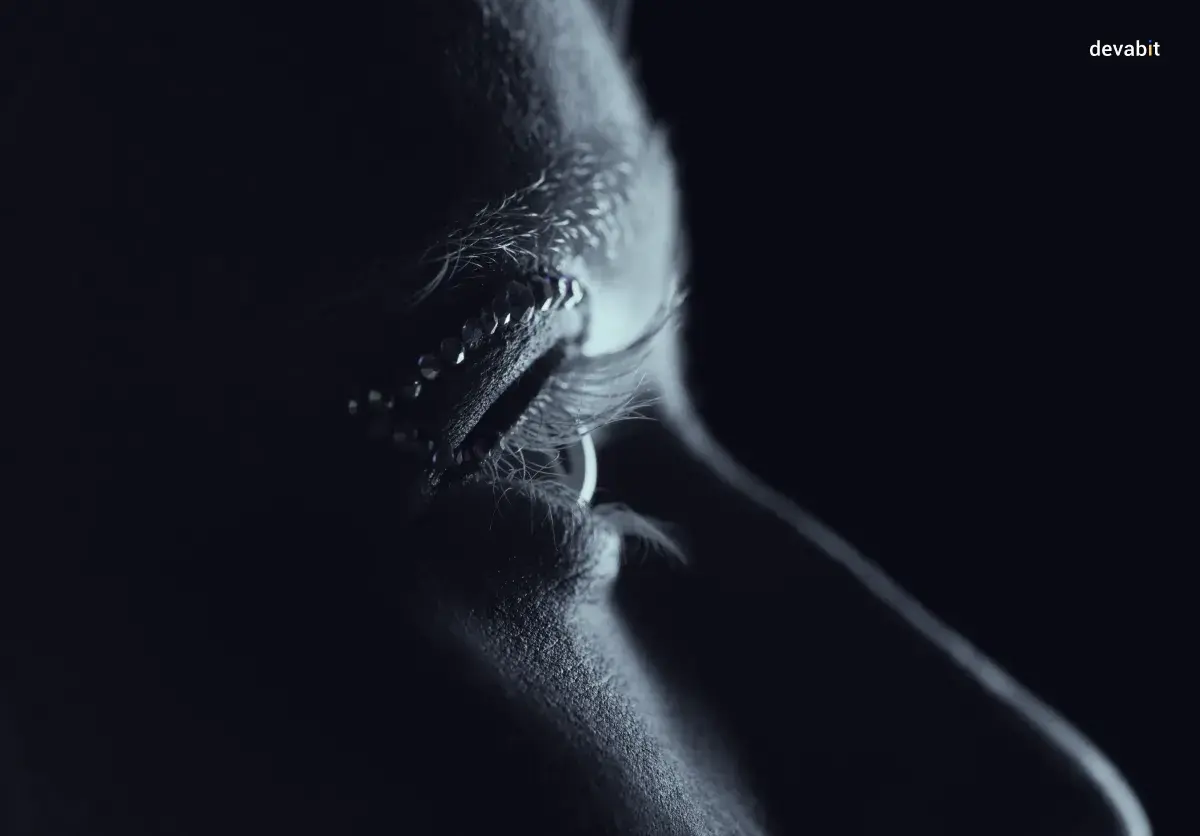 Quest for the Ideal Outsourcing Partner
Choosing the right companion for the outsourcing software development journey is a crucial step that requires thorough research and evaluation of potential candidates. Our advice is to look for outsourcing companies with a proven track record, relevant experience, and a portfolio of successful projects. Also consider factors like the team's experience, cultural fit, and previous client feedback.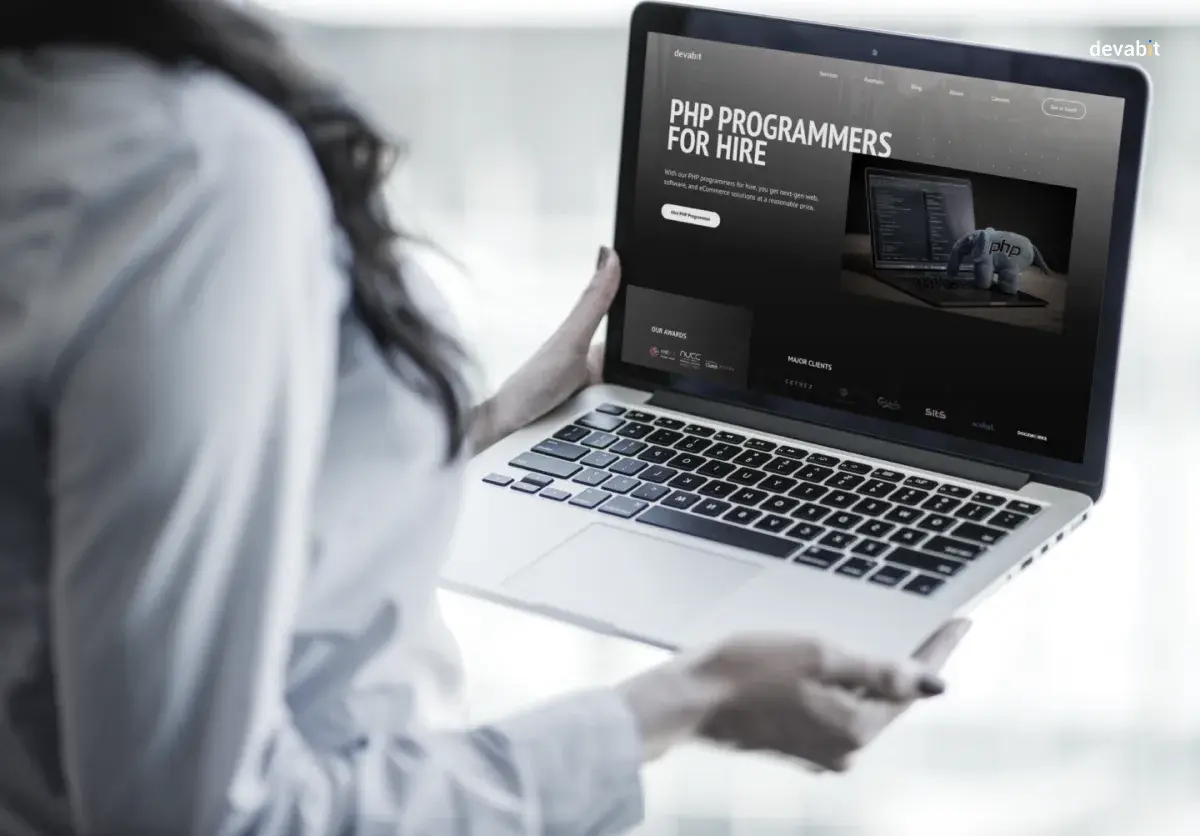 Time for Project Planning
Once you have chosen your outsourcing partner, it is time to begin project planning. The best way is to collaborate with your outsourcing partner in order to create a detailed project plan that includes all development aspects. At the same time, clear and comprehensive documentation will help you avoid misunderstandings later in the process.
Development and Quality Assurance
Now it is time for the most significant part of the project: the development phase. This is where your outsourcing partner's technical expertise comes into play, as they bring your vision to life through coding and software development. Regular communication, progress updates, and quality assurance processes are crucial during this phase.
Testing, Deployment, and Maintenance
Testing and deployment are the last but not the least phases of the outsourcing software development process. Testing helps identify and fix any issues, while ongoing maintenance and support ensure that the software remains secure and up-to-date.
Outsourcing Software Development Services: The Main Cooperation Models
When considering outsourcing software development services, outsourcing providers have several cooperation models to choose from, each tailored to specific business needs and requirements. At devabit, we have two main cooperation models, which we are going to describe in more detail.
The main purpose of hiring dedicated teams is to provide businesses with the opportunity to collaborate with outsourcing providers and assemble a dedicated team of developers, designers, and other IT specialists. This model is ideal for long-term projects that require a team to become intimately familiar with the client's business, goals, and structure. The key advantage of this model is that businesses have full control over their dedicated teams. They can choose an ideal team based on their skills, experience, and particular requirements.
Whether you want to expand your in-house workforce or access specialized technical skills, hiring a dedicated team at devabit will be an ideal solution. At devabit, you can hire a team of iOS and Android programmers, web developers, Ruby, Laravel, or Node.js specialists who will assist you in dealing with business challenges of any type and complexity.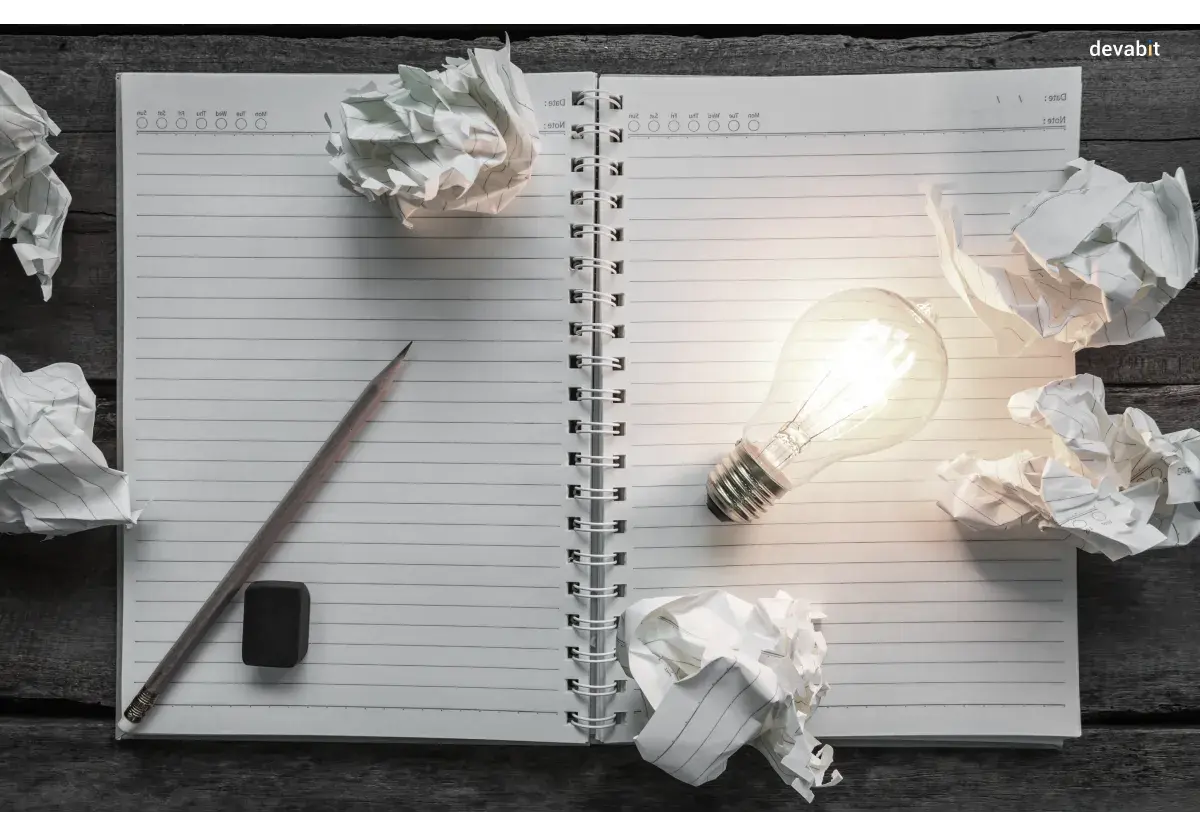 In simple words, the IT staff augmentation model is designed to fill skill gaps within the client's existing team by providing an opportunity to hire specific professionals or teams from an outsourcing provider to complement their in-house staff. This can be especially valuable for short-term or specialized projects. Such flexibility allows a rapid response to changing project needs without the long-term commitment of a dedicated team. IT staff augmentation can significantly reduce project ramp-up times and accelerate project execution.
All in all, IT staff augmentation facilitates knowledge transfer from an outsourcing provider to the internal team. With devabit's IT staff augmentation services, you can expand your team's capacity without the time-intensive and expensive tasks of recruiting and training new personnel. Whether you need to hire PHP programmers or Cloud developers, UI/UX or 3D designers, devabit is always here to provide you with the best solutions.
The Best Location for Outsourcing Software Development Services
It is not a secret that Ukraine has rapidly become a prominent destination for outsourcing software development services. Beyond the common benefits of outsourcing software development services in Ukraine, such as cost efficiency and a skilled workforce, the country brings a unique blend of expertise and innovation to the table. The advantages that we are going to describe below make Ukraine a compelling choice for businesses seeking excellent outsourcing software development services.
Rapidly Growing Startup Culture
With the constant growth of the Ukrainian high-tech industry, which is projected to generate 10 billion USD by 2025, the startup ecosystem cannot stay behind. According to Tech Ukraine statistics, despite the ongoing situation, Ukrainian startups have demonstrated resilience. Entrepreneurs continue to operate their businesses and remain successful even in these dire circumstances.
95% of startups stated that they remain in Ukraine at least partially, while 56% continue their operations exclusively in Ukraine. Such statistics demonstrate that the Ukrainian startup culture attracts more and more entrepreneurs from diverse tech domains. The ability to collaborate with startups is a unique advantage that makes Ukraine a perfect destination for outsourcing software development services.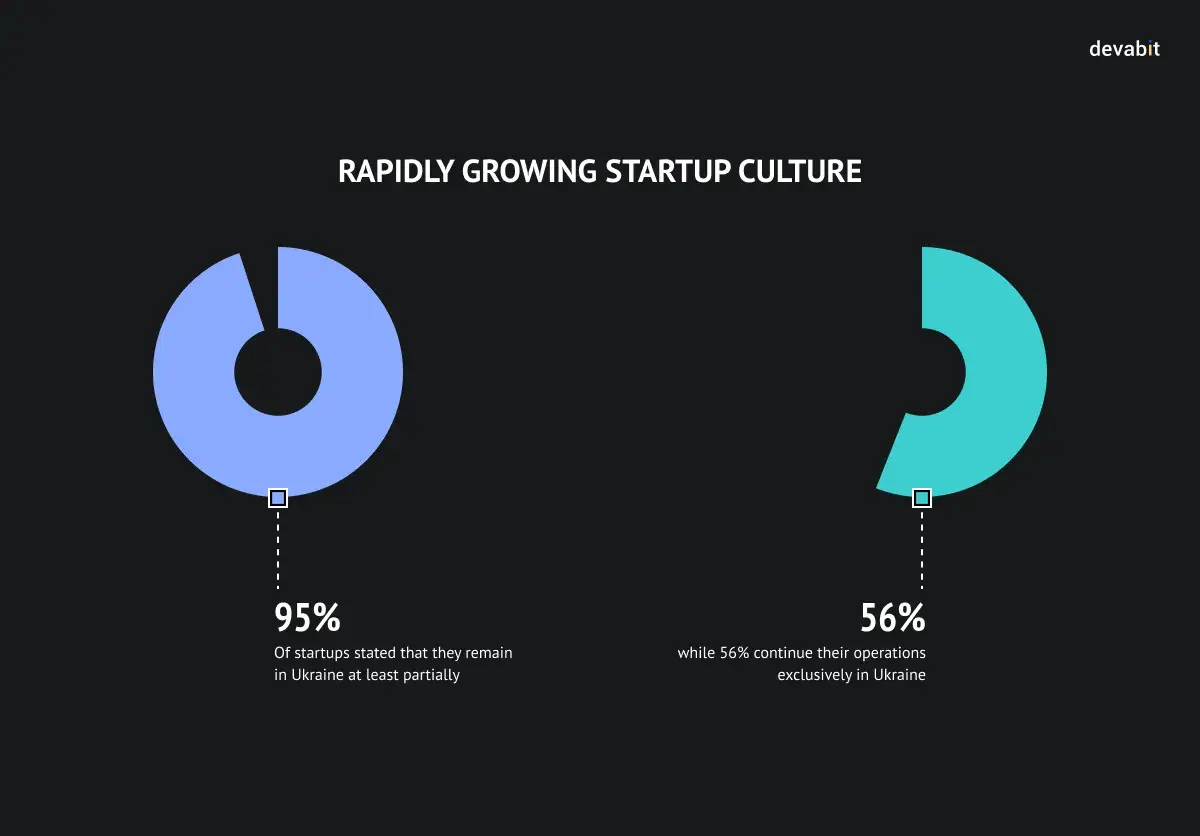 Impressive Talent Retention
As of 2022, Ukraine boasts an impressive software developer turnover rate of around 10%, which is notably lower than the global IT industry average of 20%. Such exceptional talent retention is a reflection of the strong work culture and job satisfaction among software professionals.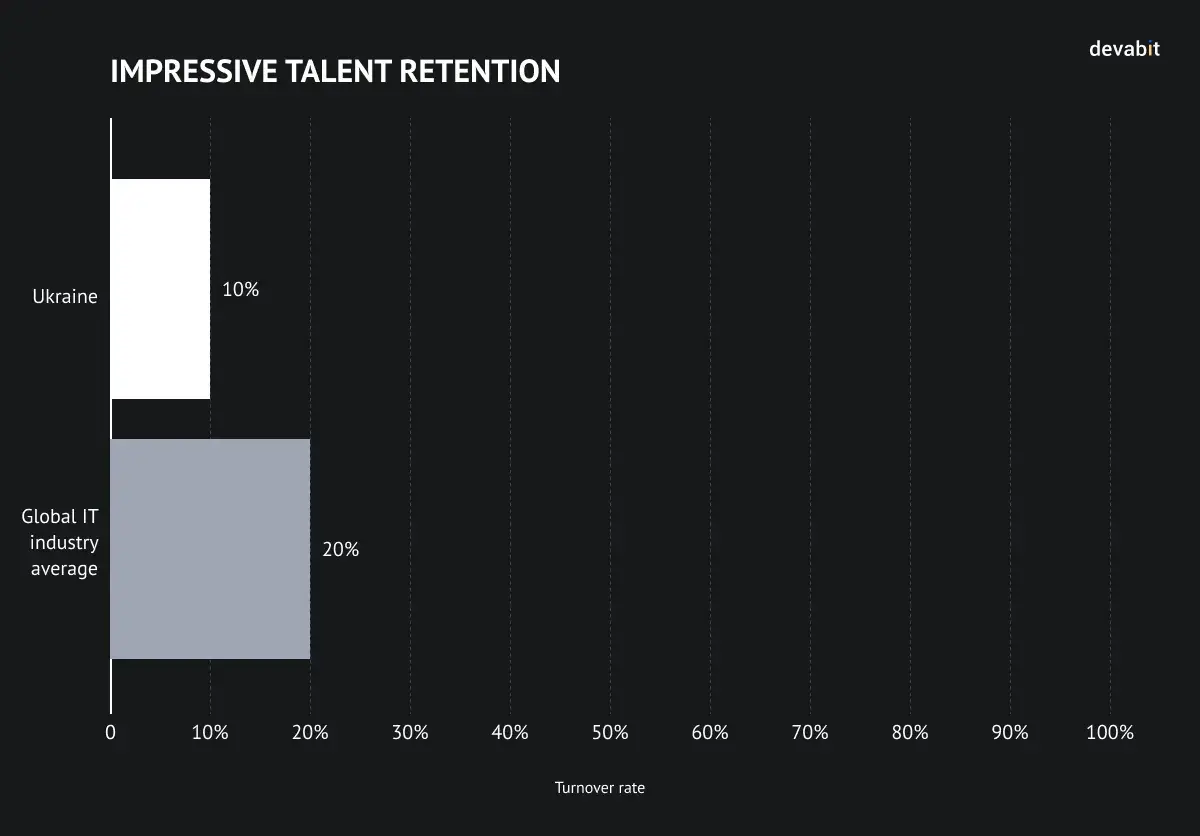 Talking about job satisfaction, Ukrainian software developers often report high job satisfaction due to challenging and interesting work, competitive salaries, and various opportunities for career growth within the industry. Moreover, the Ukrainian providers of outsourcing software development services foster a collaborative and supportive work culture, which encourages professionals to stay and contribute to team success.
Strong Intellectual Property Protection
It is not a secret that Ukraine is constantly improving its intellectual property protection framework, creating a more secure environment for businesses and entrepreneurs. Ukraine has enhanced its legal framework to align with international standards, including adherence to the Agreement on Trade-Related Aspects of Intellectual Property Rights (TRIPS) and the Madrid Protocol. These international agreements bolster IP protection.
Moreover, Ukraine has established specialized IP courts to handle intellectual property cases, offer expedited procedures, and have judges with expertise in IP matters. In addition, the country has increased its efforts to enforce copyright laws, reducing the risk of intellectual property infringement. Due to all these actions, companies can confidently share proprietary technologies and innovations with Ukrainian development teams, knowing that their intellectual property rights will be respected and protected.
Interested in Outsourcing Software Development Services? Choose devabit!
As you can see, outsourcing software development services is a strategic move that holds the key to the success and growth of every business. Choosing the right outsourcing software development provider is a crucial part of the process. At devabit, we are more than just an outsourcing partner; we are your dedicated tech ally. Our commitment to excellence, deep technical expertise, and unwavering dedication to your project's success set us apart.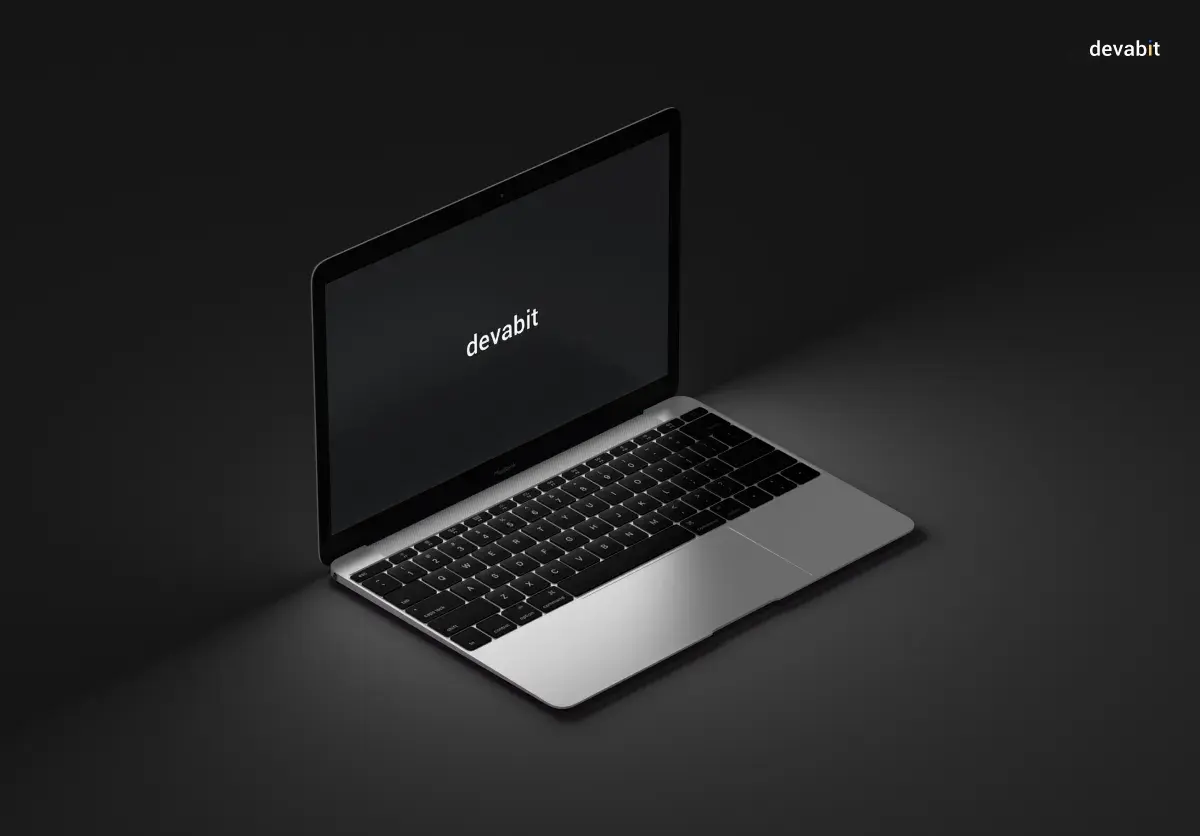 Our talented teams are proficient in different industries and technologies. Whether you are interested in mobile or web development, UI/UX or 3D design, hiring React.js, Node.js, PHP, or Laravel programmers - devabit is always here to assist you. Quality is not just a goal; it is our mantra. At devabit, we always focus on exceeding expectations, ensuring that every process we undertake is a real masterpiece.
Here, we measure our success by your success! It is time to take your business to the next level. Choose devabit as your trusted partner to the world of software development. Contact us today to experience the power of outsourcing software development services with devabit!
Don't miss out! Click here to stay in touch.
Liked the article?
You will like our email too
Get the latest news from the devabit blog.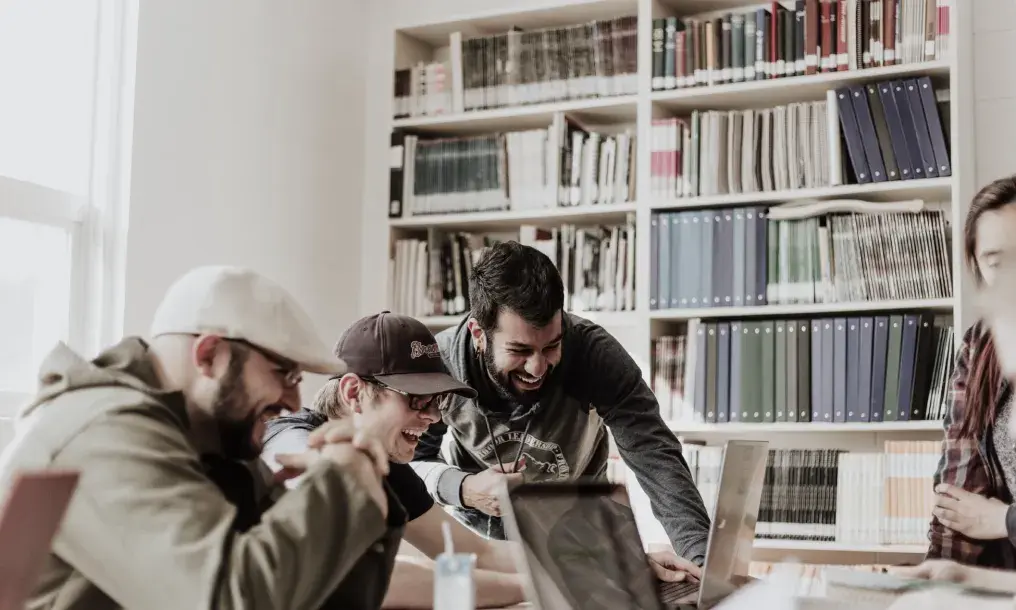 CONNECT WITH US WE'RE READY
TO TALK OPPORTUNITIES
THANK YOU! WE RECEIVED YOUR MESSAGE.
Sorry
something went wrong
One of our consultancy experts will get in touch with you shortly.
Please visit our portfolio to know more about us and the solutions we provide.