Why Companies Are Outsourcing Ukraine: 6 Convincing Reasons
Nowadays, IT outsourcing is becoming extremely popular, both among small startups and large companies. Leading brands and innovative startups all around the world are outsourcing Ukraine. Now, it becomes clear that this country has a lot to offer. Over a hundred companies, including Samsung, IBM, and Oracle, have already placed their R&D offices there, while thousands of others are outsourcing Ukraine remotely to satisfy their IT needs. In Ukraine, you have the opportunity to outsource specialists in any IT industry, such as Mobile and Web Development, 3D and UI/UX Design, Cloud Application, SaaS Development, and much more.
If all the buzz around you makes you feel like you are missing something, here we have gathered the most relevant facts about outsourcing Ukraine. All in all, outsourcing Ukraine has gained a leading position due to its highly skilled workforce, favorable business environment, and competitive pricing models. In this article, we have found out why outsourcing Ukraine is considered the strongest practice at the moment, highlighting its benefits and types of services available. Read on to learn why outsourcing Ukraine may be the key to unlocking your business's full potential. And we bet you will be surprised.

Top 6 Reasons Why Outsourcing Ukraine Is a Great Decision for Your Business
Due to the high popularity of IT outsourcing in recent years, lots of countries have formed strong competition in this industry. Despite this fact, Ukraine keeps its high position in the global IT market and does not lose its competitiveness. Now, let us show you the most significant reasons for outsourcing Ukraine.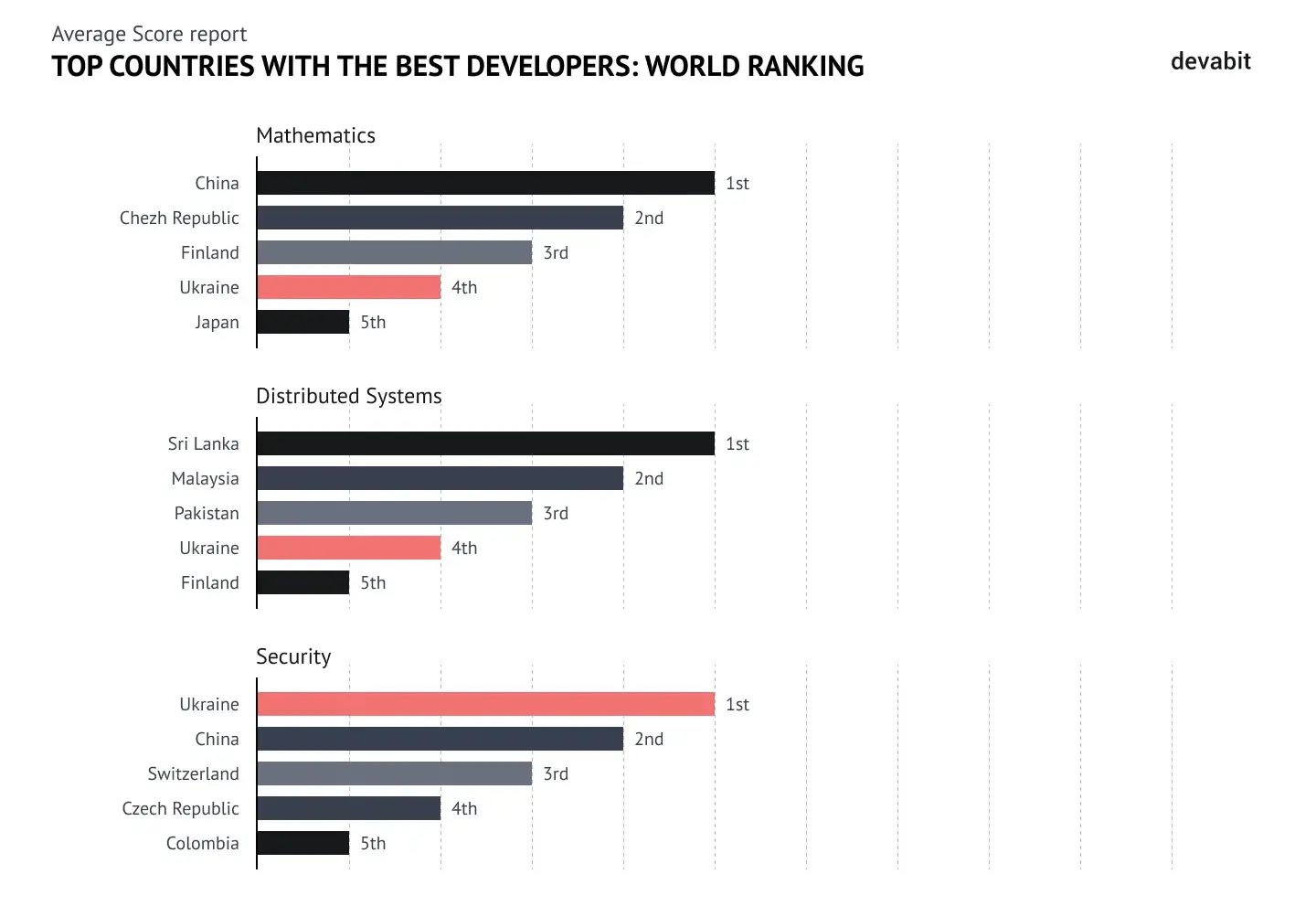 1. Outsourcing Ukraine provides an opportunity to hire more than 160,000 IT professionals with excellent expertise

First of all, the growth of the outsourcing Ukraine industry was quite impressive. According to recent statistics, during the past two years, the Ukrainian IT industry has grown by 24%, with over 252 thousand people currently employed in 2021. Of these IT specialists, over 60% are engaged in outsourcing Ukraine, making it a key player in the global IT outsourcing industry.
Along with positive dynamics in terms of quantitative growth, the quality of the IT services provided is not affected. Despite its relatively low costs compared to other outsourcing destinations, Ukraine is recognized among the TOP-10 entities worldwide with the best programmers, scoring as much as 91.26% in the SkillValue report. This high level of technical expertise is considered to be one of the main reasons why lots of well-known brands and companies choose outsourcing Ukraine for their IT projects.
As of 2022, the country had surpassed the 200,000 mark, with the value of the outsourcing Ukraine IT industry estimated between $6-10 billion, growing by 36% from the last year and considering its strong future growth potential. The main reasons for the wide popularity of outsourcing Ukraine may be the large pool of highly skilled professionals, various IT technologies, and competitive pricing models. Whether you are looking for software development, 3D design, or mobile application development, outsourcing Ukraine services is the best decision you may consider.
2. Outsourcing Ukraine includes all the specialties and technologies you might need
The outsourcing Ukraine industry has quite a diverse range of IT specialists with a wide variety of skill sets. According to the statistics, over half of all Ukrainian IT specialists are developers, covering a range of programming languages and technologies such as Java, Python, Ruby on Rails, JavaScript, and more, while around 14% are QA/QC professionals. The rest stand for top managers, business analysts, sales and marketing managers, designers, and system administrators. With such an ability to choose the suitable IT specialist, it becomes clear why outsourcing Ukraine gains popularity. Businesses can easily find the talent they need to achieve their goals and stay ahead of the competition.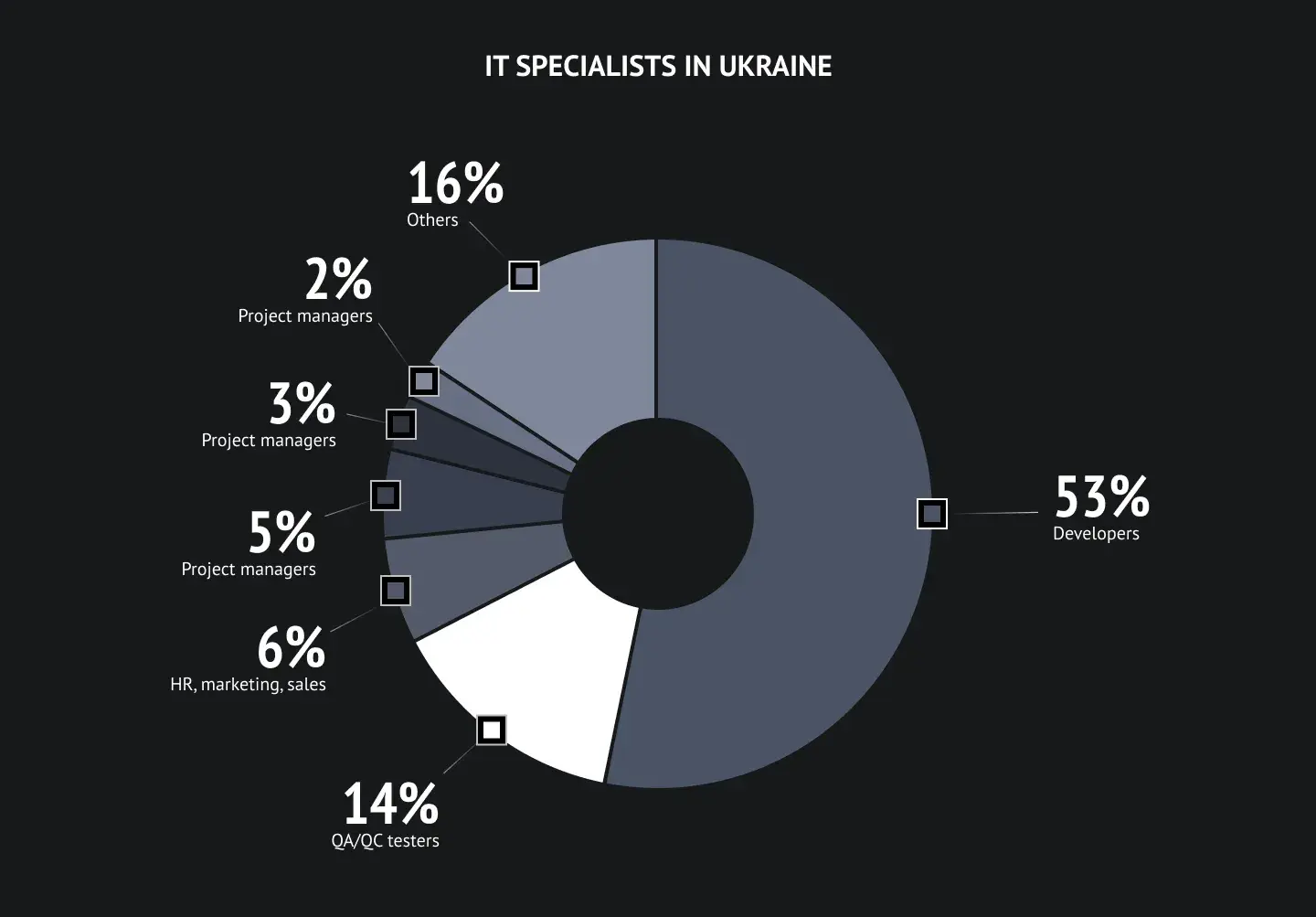 Technologies and programming languages you can choose while outsourcing Ukraine
Outsourcing Ukraine provides an opportunity to choose the best-suited programming languages that will perfectly match the business' requirements. The most common programming languages used by Ukrainian developers are Java, JavaScript, C#, PHP, and Python. These languages are widely spread among different industries and applications, from web development to mobile app development and software engineering. Having Python on the top list means outsourcing Ukraine is geared towards machine learning and data science, some of the most popular technologies of the future.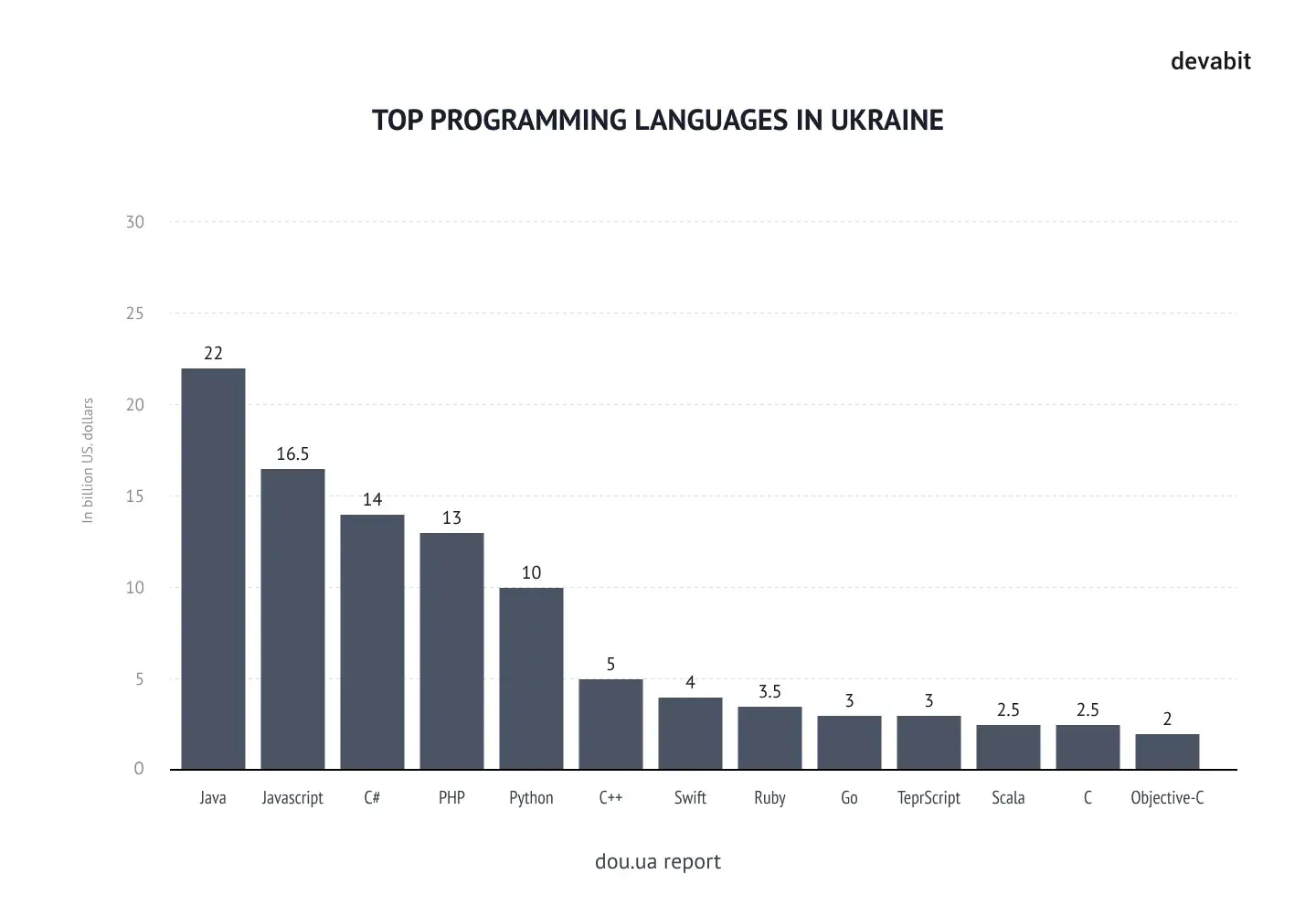 Notably, Ukraine stands out for the number of developers in some technologies when compared worldwide, which makes outsourcing Ukraine even more attractive. Thus, there are more Unity 3D and C++ engineers in Ukraine than anywhere else in the world. Also, Ukraine ranks second worldwide for Scala, Magento, and JavaScript and third for PHP, Node.js, Ruby, ASP.NET, and Python.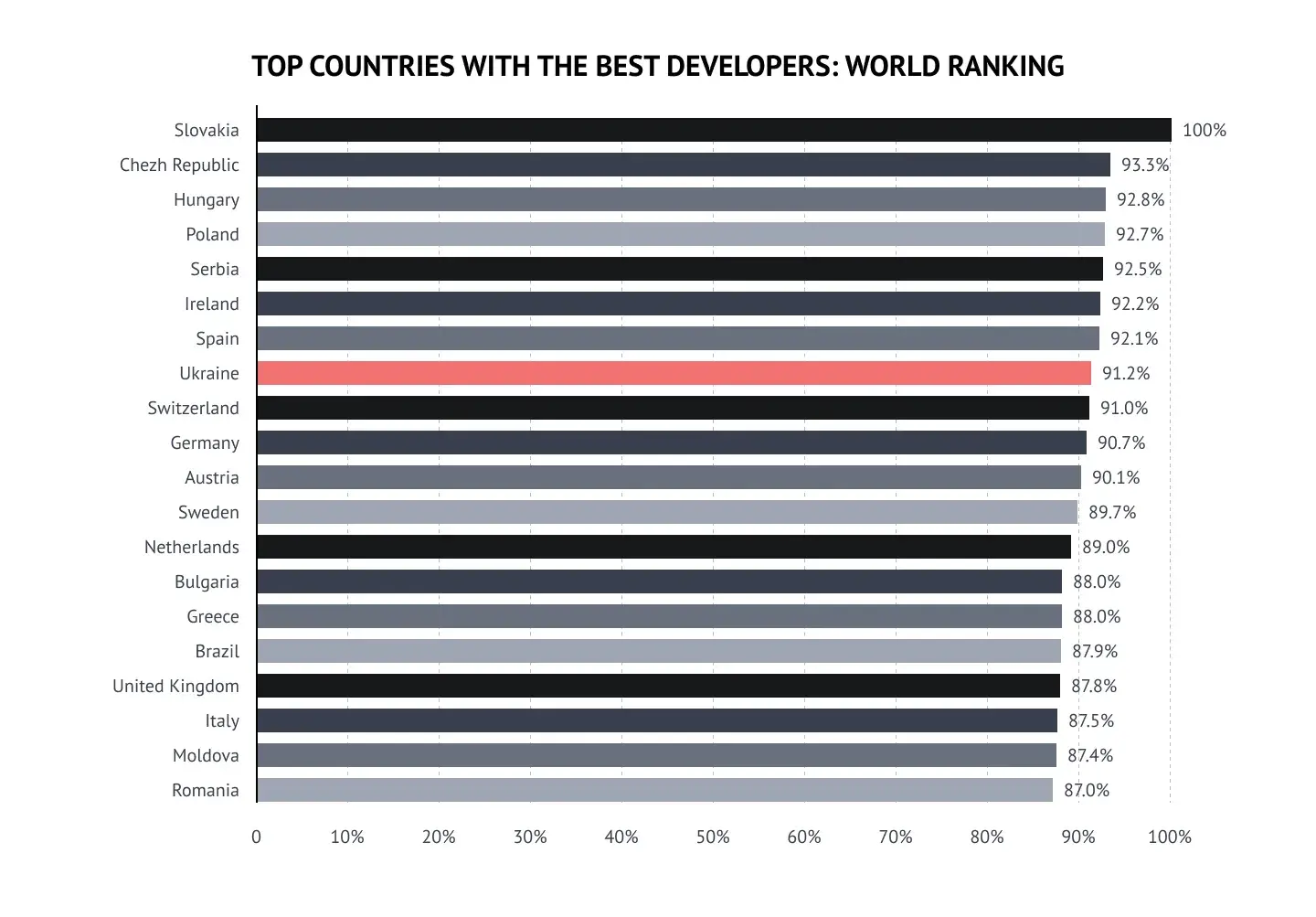 Besides, Ukrainian developers take leading positions in IT expertise when ranked by domain: mathematics, security, and distributed systems. Overall, the diversity of the programming languages that are used by Ukrainian developers makes outsourcing Ukraine quite an attractive option for businesses in different industries. Hire Ukrainian developers and look for yourself.

Want to outsource Ukrainian specialists?
Outsourcing Ukraine: Hire professionals with long-term experience
The high level of experience that you receive while outsourcing Ukraine is another key factor that makes outsourcing Ukraine profitable and a reliable solution. On average, most Ukrainian IT specialists (56%) have approximately 5 years of professional experience. Moreover, almost 20% of Ukrainian software developers have 7+ years of experience, indicating a strong talent pool of Ukrainian specialists. Top managers and system administrators are estimated to be the most experienced among all the IT experts in Ukraine.
Approximately 40% of top managers and system administrators in Ukraine have been working in the industry for more than 10 years on average, providing their clients with the deepest understanding of business processes and operations. Another interesting fact is that the share of junior and senior developers is almost equal in Kyiv, the Ukrainian capital, while in other key IT cities, like Lviv and Kharkiv, there are roughly two juniors per senior. It suggests that businesses outsourcing Ukraine can benefit from a strong pipeline of both junior and senior developers.
3. Outsourcing Ukraine Awards: Top industry recognition in many international rankings
Ukraine has been repeatedly ranked as a top IT outsourcing destination. Outsourcing Ukraine provides a balanced combination of fair rates, outstanding quality, and positive dynamics, making it the most attractive option for businesses looking to outsource their IT needs. Moreover, Ukraine has consistently ranked among the top countries in the world for IT outsourcing.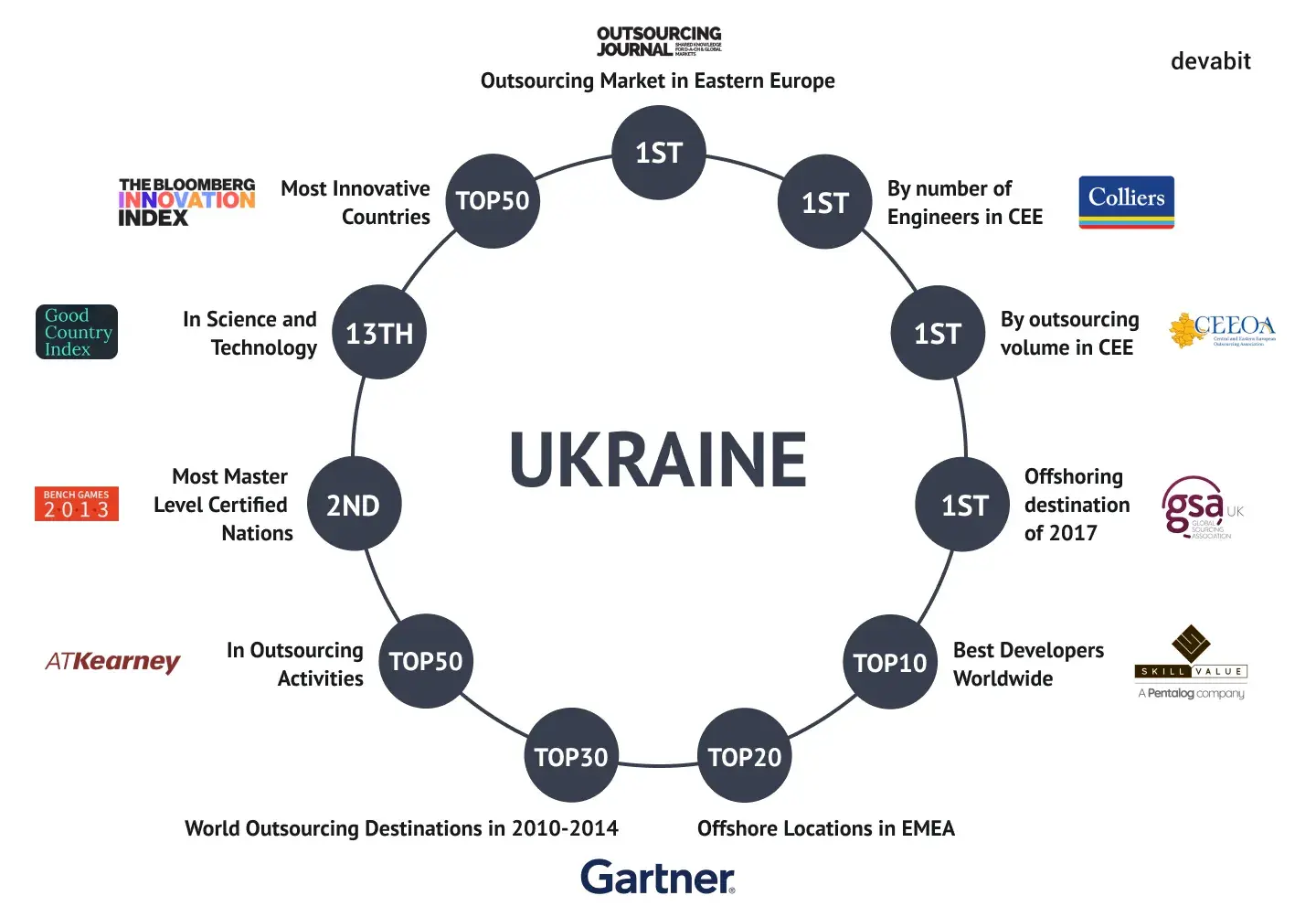 Noticeably, not only outsourcing Ukraine is recognized as a trustworthy entity. Many individual companies have also received different awards in leading listings like Global Outsourcing 100, Software 500, and Clutch for their exceptional services. For instance, devabit was named a top IT services firm in Ukraine by Clutch, one of the most trusted sources of information on software development companies. First of all, it is a testament to the company's commitment to delivering high-quality services to its clients.
Overall, there are more than 1000 software development companies in Ukraine that specialize in a full range of services, including web and mobile development, UI/UX design, quality assurance and testing, 3D technologies, AR/VR, etc. For example, in devabit, we provide all the abovementioned services along with BPO. With such highly skilled professionals and a strong reputation in the industry, outsourcing Ukraine is an ideal decision for modern businesses.

4. Outsourcing Ukraine: cultural proximity to the Western world
It is not a secret that Ukraine is located in Eastern Europe, so it shares lots of cultural similarities with Western countries. Due to this, one of the key advantages of outsourcing Ukraine lies in the country's proximity to Western Europe. IT professionals in Ukraine are often fluent in English and good at communicating with clients from the West. Moreover, Ukraine has almost a similar time zone to Western Europe, with only a few hours difference. Now let us tell you more about this advantage of outsourcing Ukraine.
Outsourcing Ukraine is all about work ethics
Ukrainians are definitely known as a hard-working nation. Ukrainian developers are no exception. They are highly motivated and dedicated to their work. Such enthusiasm for coding translates into a strong culture in modern Ukrainian IT society. Taking their first job in their early student years, local developers achieve a senior level by 30, which often surprises foreign employers. Moreover, almost half of the software engineers admit to coding for fun in their spare time. They are detail-oriented, focused on delivering results, and willing to work closely with the clients to ensure that projects are completed on time and meet needs and requirements.
Despite this fact, Ukraine belongs to a low-context group of cultures, just like most Western countries. This means that facts and figures mean more than personal relationships. Indeed, programmers in Ukraine tend to rely on detailed planning and clear requirements. It means that developers usually do not simply criticize the issue but also suggest improvements and look at the bigger picture.

English proficiency provided by outsourcing Ukraine
Communication might feel slightly too formal for US employers. However, there is no language barrier: around 70–80% of Ukrainian IT specialists have at least an intermediate level of English proficiency. English is widely taught in Ukrainian schools and universities; moreover, many Ukrainian IT specialists also participate in language courses and regularly use English at work. Ukrainian developers can also understand lots of technical terms and industry-specific jargon, which simplifies the process of communication inside the team of engineers and makes Ukraine even more open to external connections.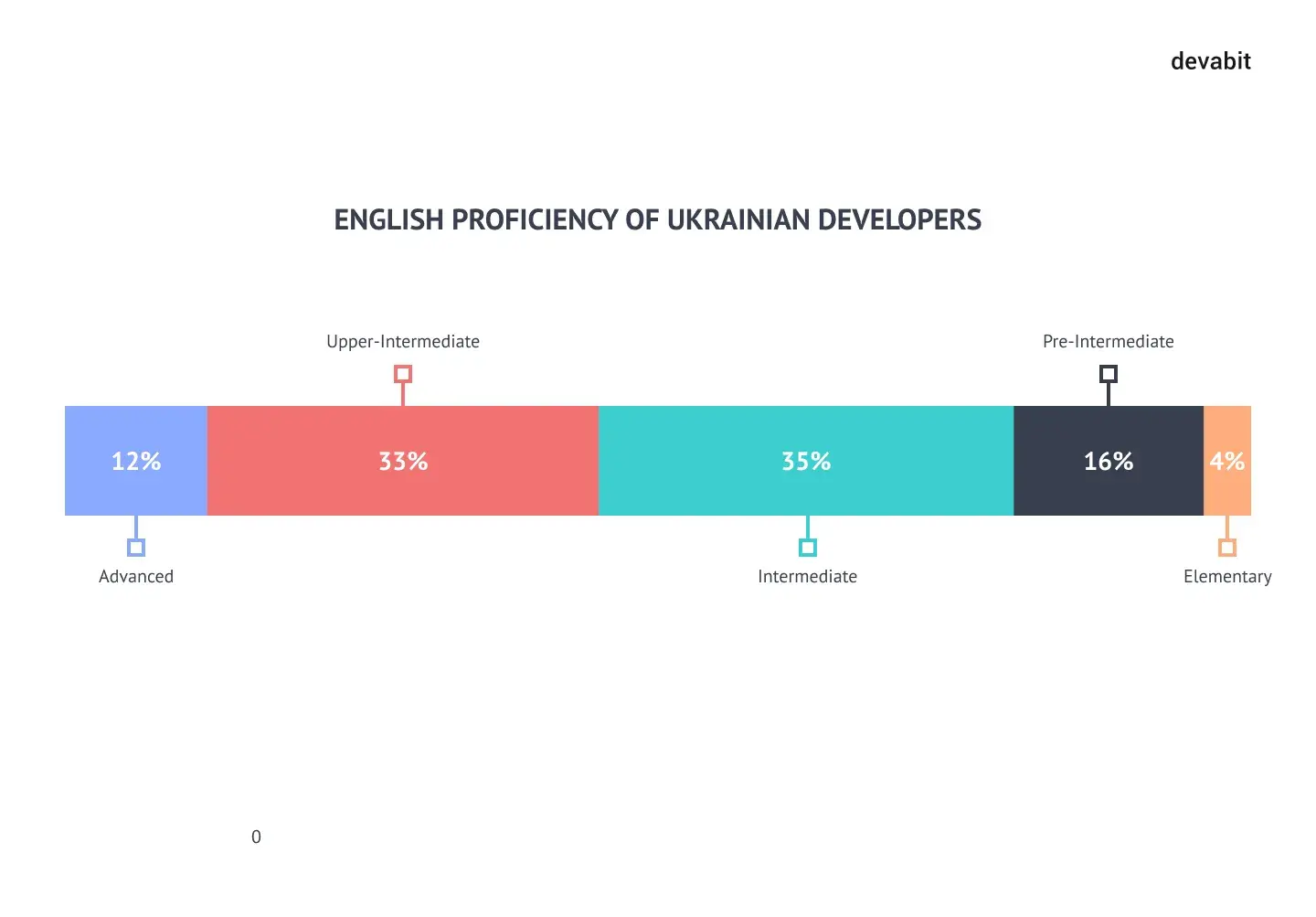 Public holidays are not an issue for outsourcing Ukraine
Of course, the number of public holidays and paid vacation days is an important factor that should be considered while outsourcing Ukraine and other countries. Besides, there are only 11 public holidays in Ukraine. In other Eastern European countries such as the Czech Republic, Poland, Romania, and Hungary, there are at least 13 paid public days off, and even 19 in Bulgaria. The higher number of paid vacations may seriously impact project timelines and deadlines. Meanwhile, in South and Southeast Asia, the population is culturally and ethnically diverse, with each group demanding their own paid vacation and set of holidays and observances.
5. Outsourcing Ukraine: Highly qualified tech professionals at hand
While the Ukrainian population makes up a mere 1% of the world, it also represents 6% of the globally certified professionals in STEM (Science, Technology, Engineering, and Mathematics). In fact, Ukrainians make up 6% of the globally certified STEM workforce, despite their small population size. Another interesting fact is that, despite having just one-seventh of the US population, Ukraine annually produces nearly half as many software engineering graduates.
For Ukrainians, software engineering is among the most lucrative jobs available on the market. While in the US and Western Europe, there isn't as much hype around IT jobs, it is no wonder why the IT industry in Ukraine keeps booming. Almost 90% of high schoolers decide to continue their studies at universities and colleges, and 35% of them go for IT-related majors (64% among IT workers). There are 402 universities in Ukraine, with approximately 40,000 STEM graduates annually, more than in Japan, the Netherlands, Sweden, Norway, or Belgium.
In recent years, Ukraine has been investing a lot of effort in its education system, particularly in STEM fields. Due to this, education is among the top priorities in outsourcing Ukraine, so the country is #1 in the CEE (Central and Eastern Europe) region both by the number of graduates who enter the labor market and by the number of IT experts.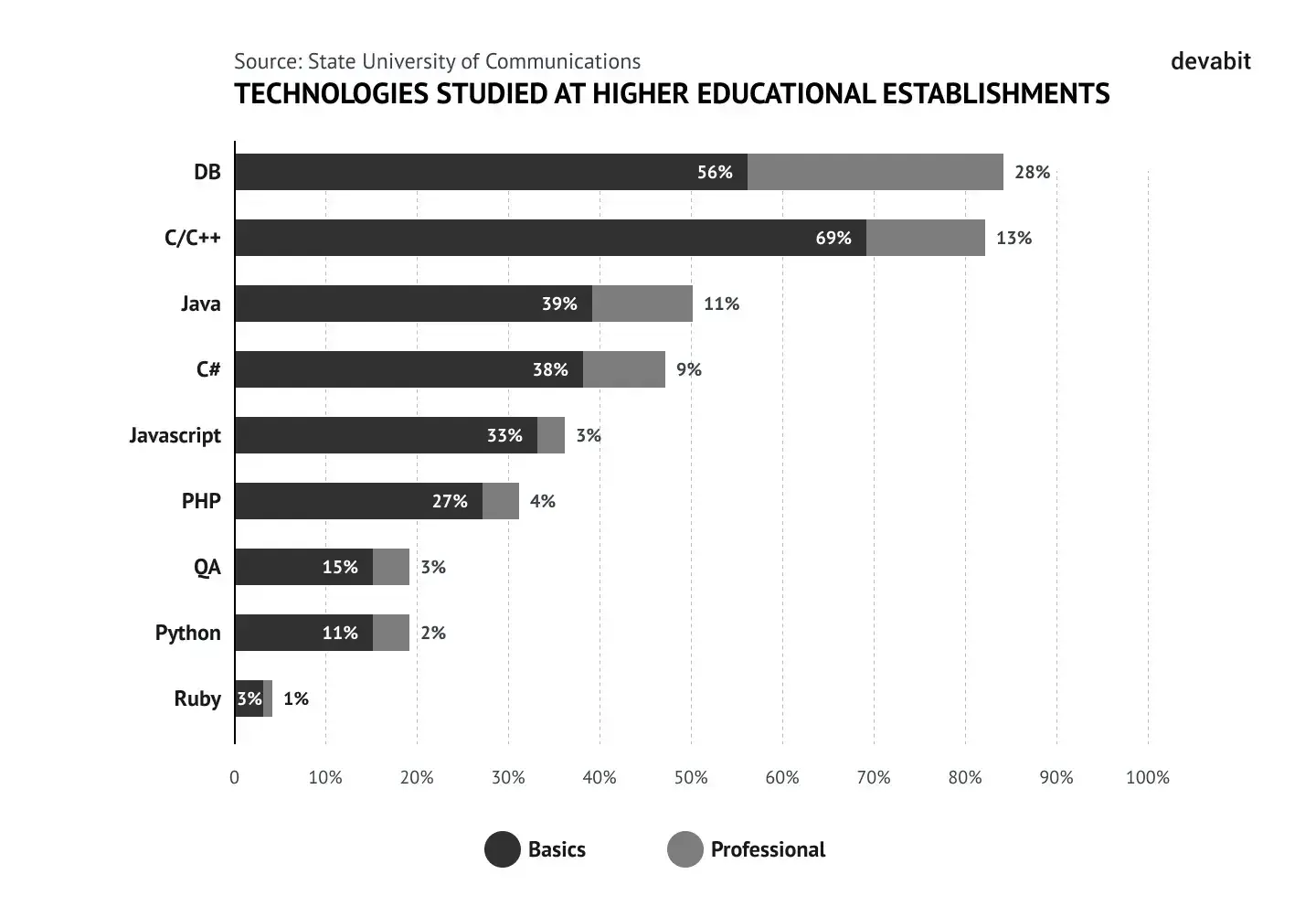 Over the last decade, Ukraine was also in
the top-10 list with the biggest number of certified IT professionals
, getting as high as the 4th position. Moreover, according to the
DOU report
, Ukrainian developers are keen on self-education. 70% of the respondents read professional literature, 60% regularly attend IT events, and 57% take online courses.
In addition to traditional university programs, there are lots of specialized schools and training programs that offer various courses in software development and the IT industry. Overall, the combination of a strong educational system and a deep pool of talent has made outsourcing Ukraine one of the top destinations in the whole world.
6. Outsourcing Ukraine ensures a proven price-quality ratio
The last but not the least advantage to mention about outsourcing Ukraine is the combination of high quality and affordable pricing. According to Gartner, Ukraine ranks first in the CEE region for the best price-quality ratio. Compared to its geographical neighbors, Poland, Belarus, and the Czech Republic, outsourcing Ukraine provides more competitive rates and a larger talent pool in order to match business needs and requirements.
Hourly rates might seem a bit higher than in some regions of South and Southeast Asia. However, cheap work is not something outsourcing Ukrainian developers strive to provide to their clients; high-quality work is. The quality of delivered projects is the finest, while the fair hourly rate is significantly lower compared to other popular outsourcing destinations. This flexibility and willingness to adapt to clients' needs are highly valued by businesses outsourcing Ukraine. Taking into account low rates, deep expertise and industry knowledge, a convenient location, and cultural proximity, it is no surprise anymore why global giants like Apple or Microsoft are already outsourcing Ukraine.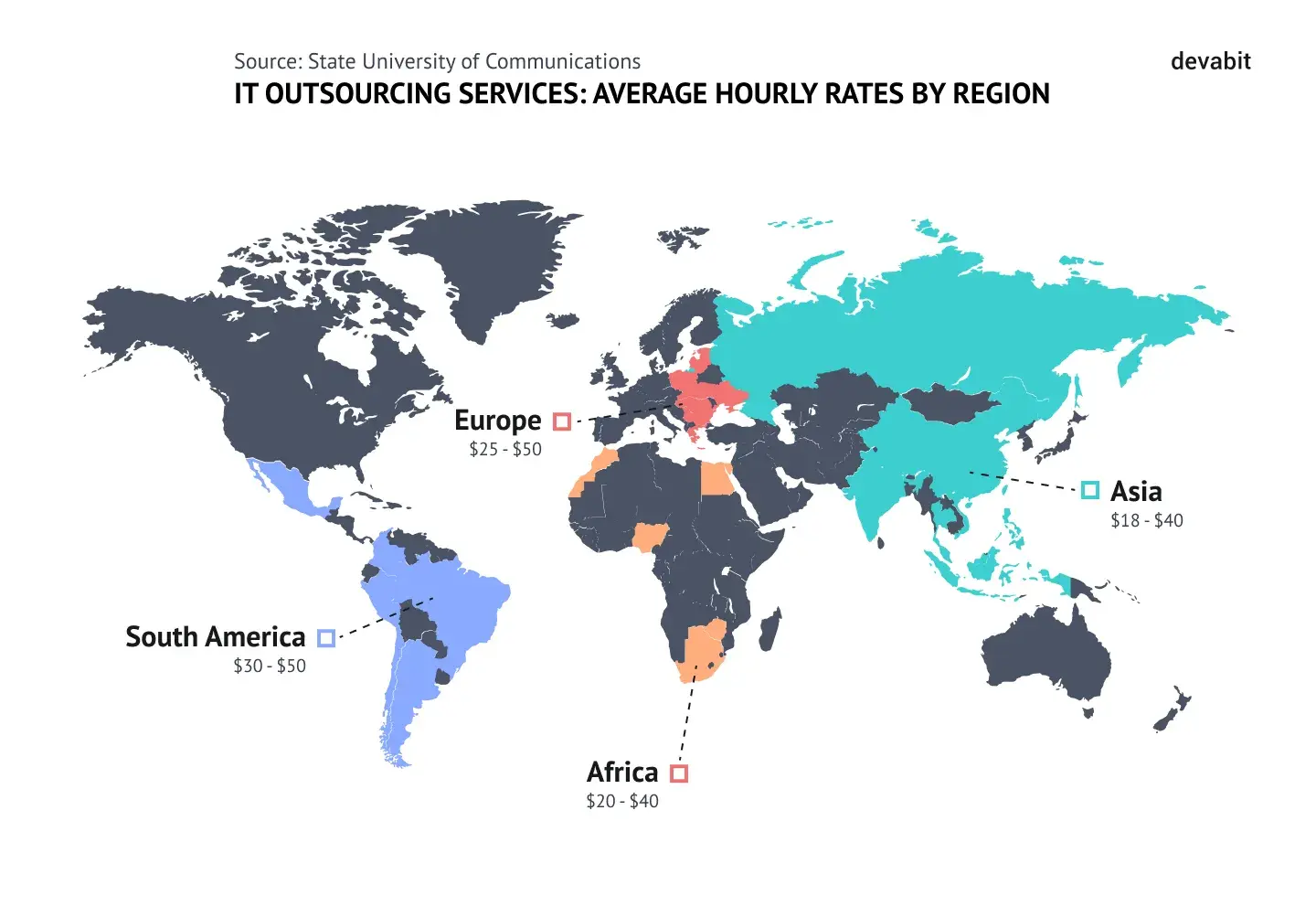 Choose devabit for Outsourcing Ukraine
As you have seen, outsourcing Ukraine has its reasons for such strong popularity. Highly skilled professionals, affordable pricing models, and a variety of IT technologies make this country attractive to outsource for many countries all over the world. If you are interested in outsourcing Ukraine, then devabit is an excellent choice With a wide range of services for every IT industry,
devabit
will definitely help your business succeed and achieve your goals and requirements. By outsourcing devabit, you have the opportunity to bring to life all your ideas and projects, working with a team of experienced and skilled professionals, including
Android
and
iOS
Developers,
UI/UX Designers
,
Cloud Application
and
Web
Developers, etc., who have expertise in the latest technologies and programming languages.
So, if you want to take your business to the next level, consider outsourcing Ukraine, especially devabit! Get in touch with our team today to learn more about our services and how they can assist in growing your business. Do not miss the opportunity to become better or bring your ideas to life;
contact us
right now!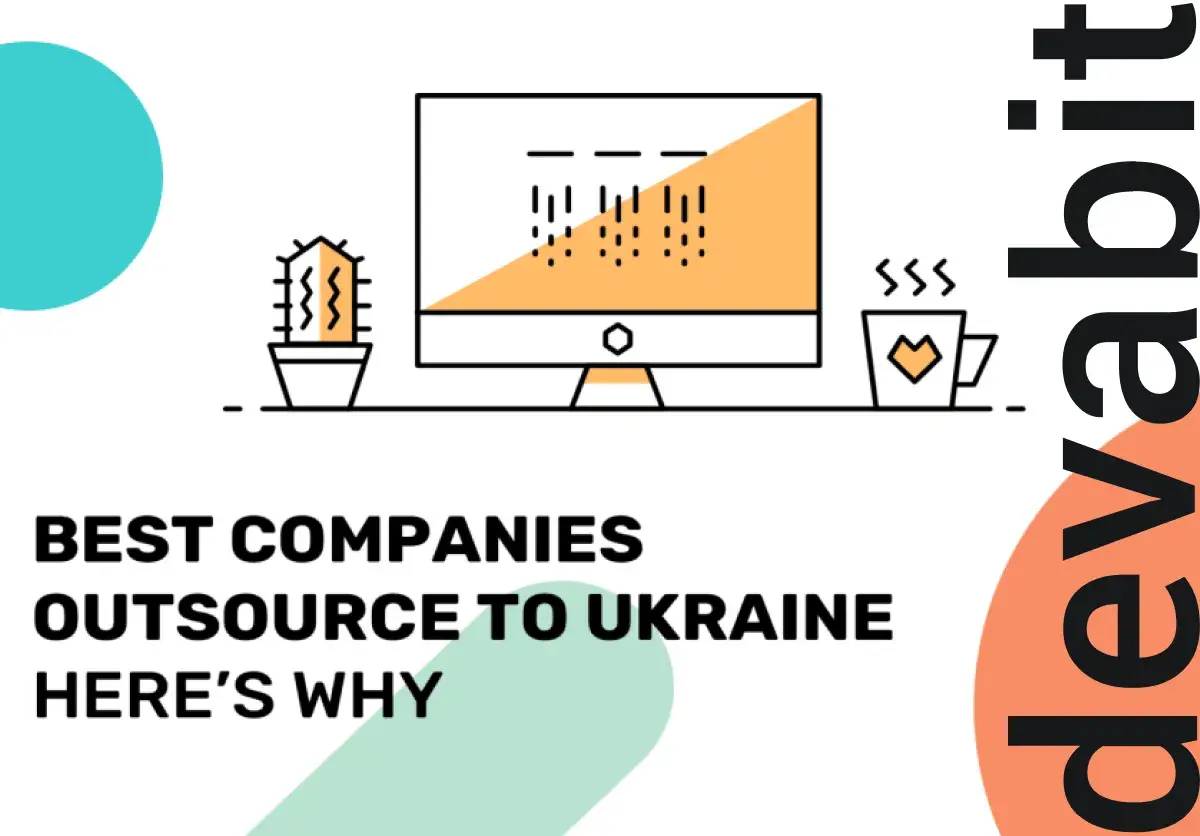 Recent Publications
Don't miss out! Click here to stay in touch.
Liked the article?
You will like our email too
Get the latest news from the devabit blog.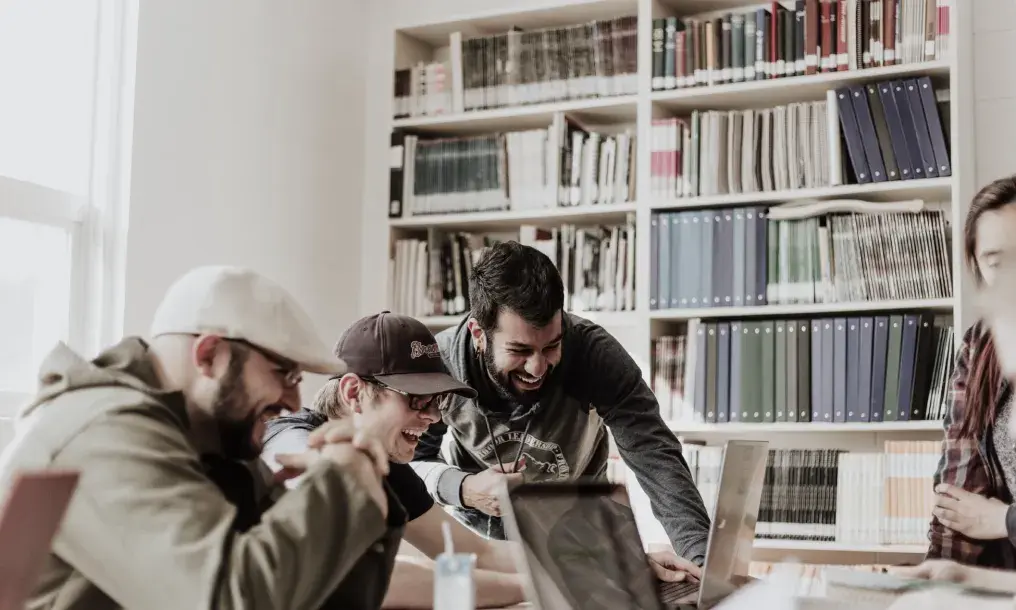 CONNECT WITH US WE'RE READY
TO TALK OPPORTUNITIES
THANK YOU! WE RECEIVED YOUR MESSAGE.
Sorry
something went wrong
One of our consultancy experts will get in touch with you shortly.
Please visit our portfolio to know more about us and the solutions we provide.