Future Trends of Outsourcing: 6 Predictions for 2023
Outsourcing appears to be the new normal, and it reshapes the whole global industry, becoming the prevailing practice and transforming the whole IT landscape. Organizations across various sectors are increasingly recognizing the benefits of outsourcing and implementing this process into their business strategies. At the same time, as IT organizations turn into more strategic and influential institutions, their reliance on partnerships with outsourcing providers has been amplified. The digital and data revolutions, automation, and personalization, along with many other worldwide transformations, are shaking the way IT businesses operate, both in terms of the kinds of services and their quality.
When the demand for IT outsourcing services started to increase, more and more IT companies decided to provide their clients with the ability to outsource IT specialists from all possible industries. For instance, at devabit you can find all types of professionals, including UI/UX and 3D designers, Android and iOS programmers, Vue.js, Node.js, React.js, Cloud, Web and much more developers that will definitely match your business' goals and objectives and satisfy all the requirements. In light of such high popularity, we have collected the hottest future trends of outsourcing which you definitely should take into account to rock in 2022.
1. Future Trends Of Outsourcing: Shortage and Urge for Bleeding-edge IT Skills
In response to extensive technological growth, many companies are increasingly turning to outsourcing as a way to remain competitive. The rapid development of such technological advancements as cybersecurity, artificial intelligence, blockchain, cryptocurrencies, etc. has created a pressing need for specialized expertise that has formed the future trends of outsourcing. Due to this, companies are seeking cutting-edge skill sets to outsource effectively and stay ahead in the market.

According to Gartner's report on worldwide IT spending forecasts from April 2023, global IT spending is projected to reach $4.6 trillion in 2023, representing a 5.5% increase compared to 2022. This growth is attributed to the increased demand for technology-driven solutions and digital transformation initiatives across various industries. The lack of in-house engineering talent will become one of the core reasons for the future trends of outsourcing. One survey that was conducted in the UK highlights the scale of the talent shortage. It illustrates that over 70% of technology employers in the UK expect to face a talent shortage over the next 12 months.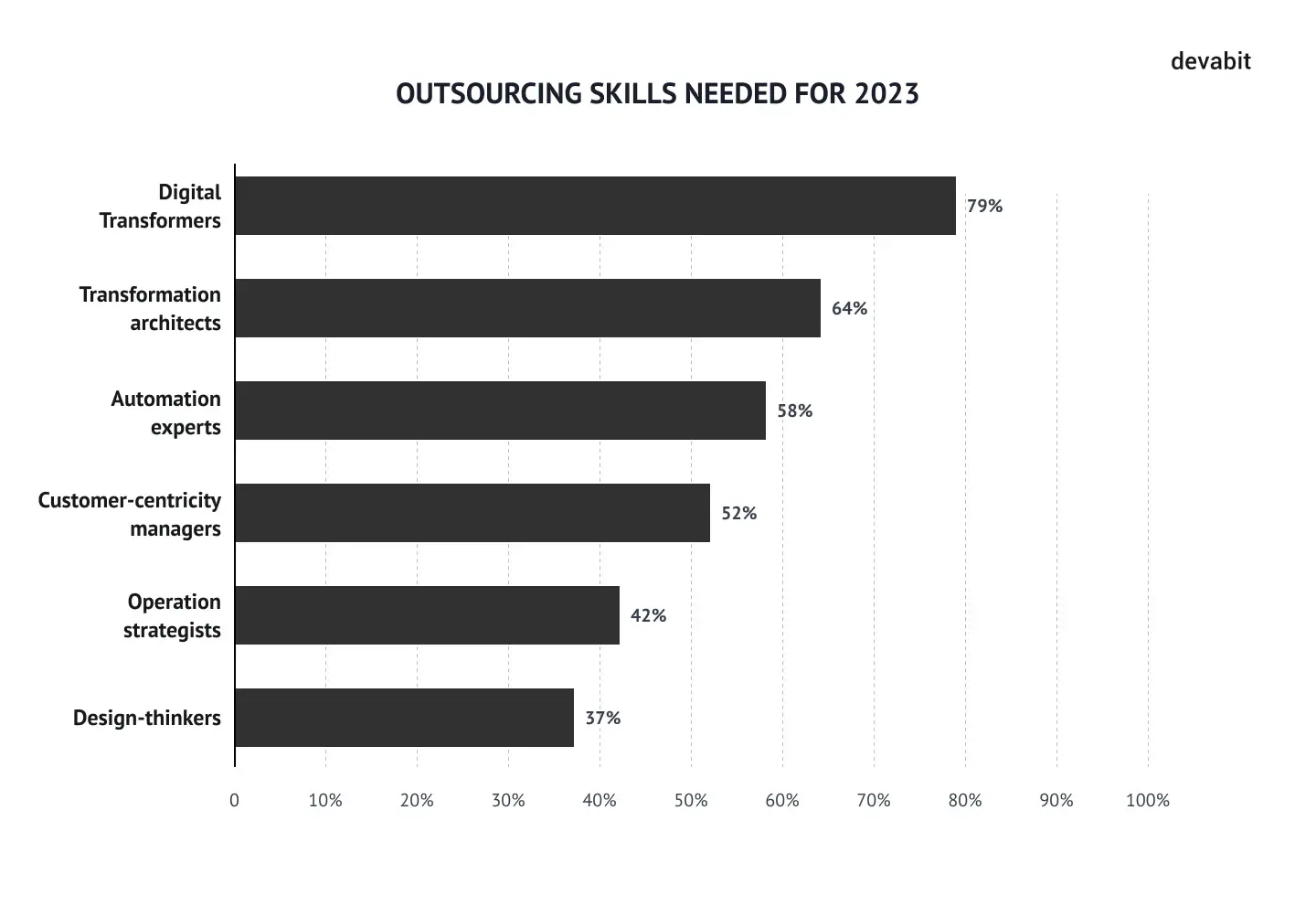 2. Future Trends of Outsourcing: The Hype Around Alternative Destinations
In the upcoming years, such countries as Ukraine, Poland, Romania, etc. will become significant players in the outsourcing landscape and stand up strong competition for India and China. It is not a secret that the largest share of global outsourcing revenue was generated in the EMEA (Europe, Middle East, and Africa) region, with India and China taking leading positions. These future trends of outsourcing are expected to accelerate in the coming years. Despite this fact, it can be changed soon as Poland, Ukraine, Romania, and Belarus will become the hottest future trends of outsourcing.

The dynamics of the IT industry in Ukraine are constantly growing and creating the future trends of outsourcing. The country has fostered a conducive environment for establishing offshore development teams, attracting businesses from around the world. There are already over 166 000 IT specialists in the country, with a future upward trend. According to the IT Ukraine Association analysis, the Ukrainian IT market increased by 5.8% in 2022. As evidenced by the National Bank of Ukraine, the IT industry provided currency growth amounted to $7.34 billion to the Ukrainian economy according to the results of 2022. Such growth is a testament to the country's commitment to developing its IT sector and positioning itself as a competitive country for the future trends of outsourcing.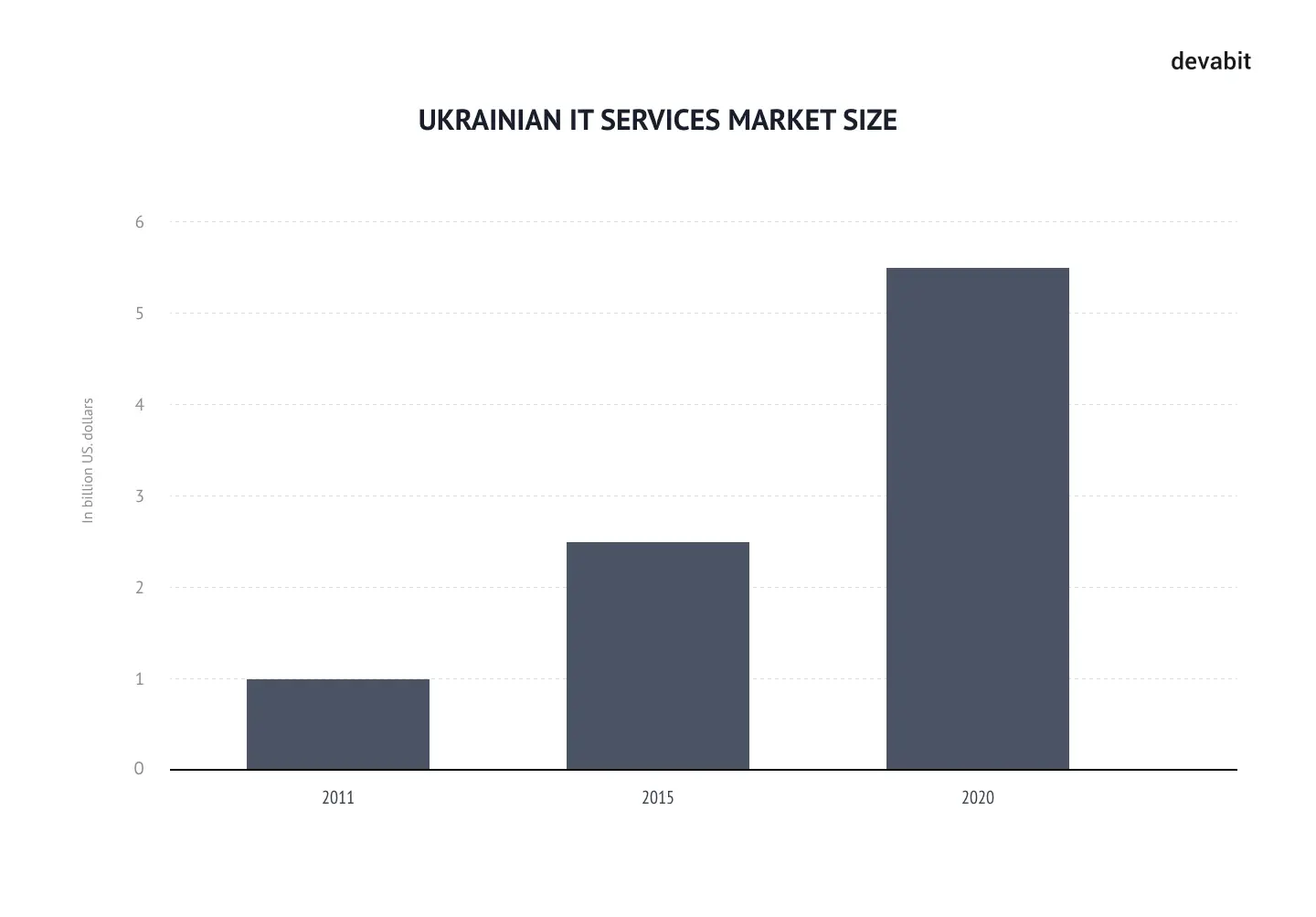 Ukrainian professionals combine moderate rates with mature workflows and high-quality results. Their expertise, along with the advantages of safe money transfers, cultural proximity, and a solid research and development base, make Ukrainian IT companies an attractive choice for long-term partnerships in various IT development projects. With the continuous growth of these emerging outsourcing destinations and the constant appearance of new future trends of outsourcing, it is crucial for businesses to explore the advantages they offer in order to drive innovation and maintain long-term success.

Need a reliable outsourcing partner?
3. Future Trends of Outsourcing: Focus on Cybersecurity and Compliance
If there is one of the future trends of outsourcing that forecasters agree on, it is the heightened importance of data security. Over the past few years, public awareness has been magnified about the issues of data security, prompting a growing demand for comprehensive data encryption.

Cybercriminals are taking sensitive data to new risk levels, much higher than ever before. Due to this fact, they have shifted attention to ransomware, which threatens to publish the victim's data or block access unless a ransom is paid. One of the most disturbing tendencies is national-level cyberattacks with political motives. This motivates governments to control internet connection access. Thus, the General Data Protection Regulation (GDPR), implemented in 2018, obliges all companies, regardless of their location, to protect the gained data. Demonstrative of this catastrophic change in viewpoint on the future trends of outsourcing are recent studies, which reveal that today's businesses consider employee security awareness training to be the most effective solution for preventing cybersecurity incidents, followed by breach detection systems.

Therefore, innovative IT companies are implementing a multi-level security approach with the help of outsourced cybersecurity services to eliminate risks, guard business data, meet compliance standards, and scale operations. According to the research conducted by Computer Economics, during the last year, the amount of security work outsourced increased. In summary, the future trends of outsourcing include a strong emphasis on data security. By partnering with outsourced cybersecurity services, companies have an opportunity to proactively address risks, meet compliance requirements, and ensure the scalability of their operations.
4. Future Trends of Outsourcing: The Rise of Augmented/Virtual Reality Projects
The global augmented reality (AR) market has experienced remarkable growth in recent years and was valued at around $38.5 billion in 2022, according to Grand View Research. It is expected to grow at a compound annual growth rate (CAGR) of 39.8% from 2023 to 2030. Similarly, virtual reality (VR) has also witnessed significant growth. The global virtual reality market size was valued at USD 28.41 billion in 2022 and is expected to grow at a compound annual growth rate (CAGR) of 13.8% from 2023 to 2030, according to the Grand View Research.

Lately, AR/VR technologies have been one of the most popular future trends of outsourcing, especially for the mobile market. With the boom of Pokemon Go and Apple's ARKit, mobile AR has been placed in the same category as headset-based AR devices such as Google Glasses. As a result, companies are increasingly turning to outsourcing to meet the growing demand for AR/VR future trends of outsourcing development. Right now, the market is full of uncertainty, but the long-term growth potential is remarkable. Moreover, the growth of AR/VR technologies over the years has been fantastic. Predictable tracking, measuring and rendering upgrades, 3D object detection, improved gesture recognition, and more natural controls are the requirements companies will be looking to outsource in order to make the product more convenient for its end user.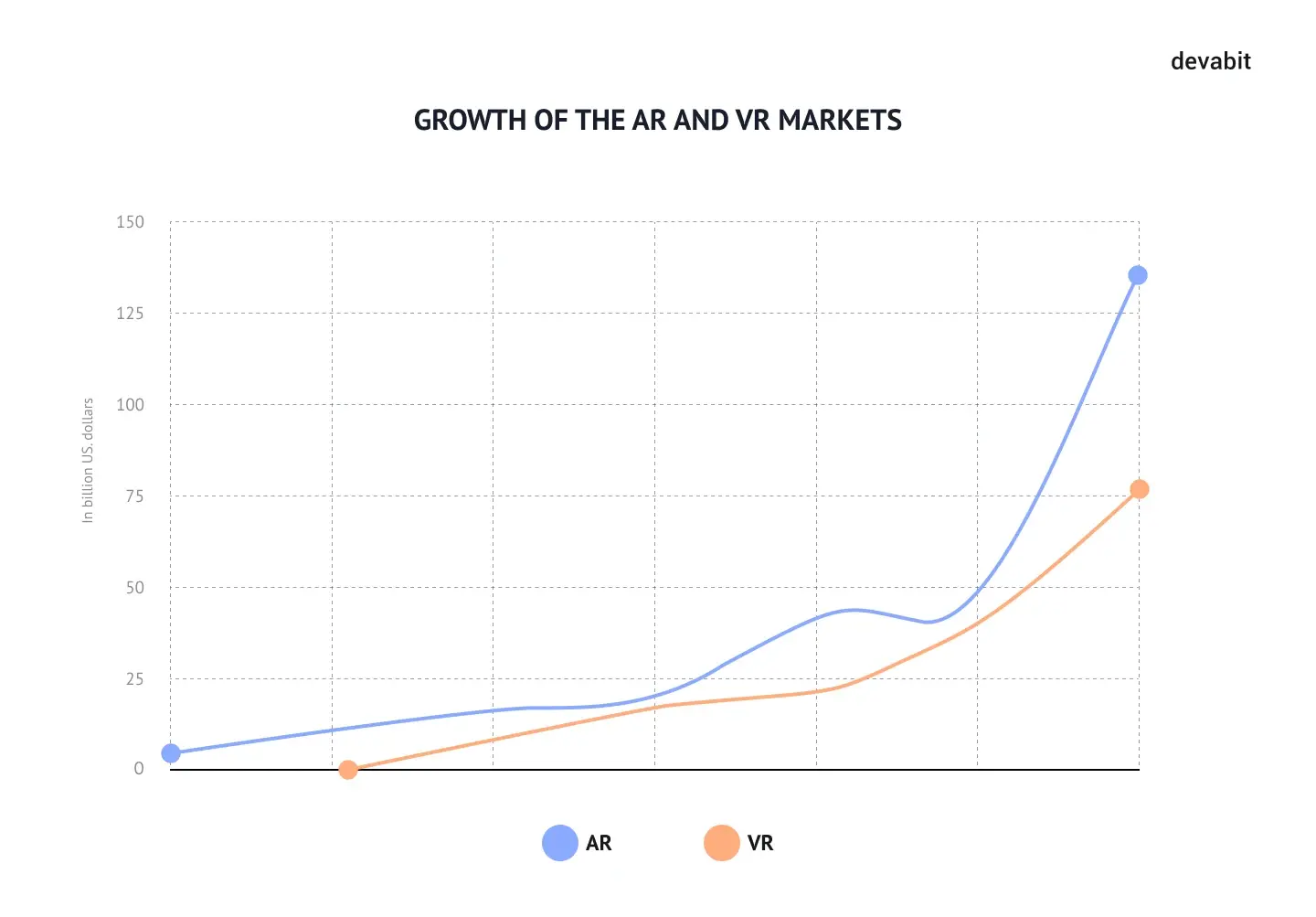 Besides, AR/VR technologies are transforming the shopping experience. Most leading retailers around the world, especially in the US, have already started implementing interactive elements into their online stores in order to follow future trends in outsourcing and make the purchase experience more advanced. This is applicable to many industries: from clothing and jewelry accessories to characters and furniture.

Moreover, AR/VR technologies can boost the sales of your product by making it more tangible and realistic. For example, lately, the devabit team has developed a VR escape room setfor the promotion of the Mr. Mercedes TV series. Filmed after S. King's famous novel, the game should have put a user into a special, intense atmosphere. Later on, at the 2018 San Diego Comic Con, AT&T presented this game to the public.
5. Future Trends of Outsourcing: Automation Through Artificial Intelligence
Automation is one of the key future trends of outsourcing that will trigger changes in our daily lives. Vast investments are expected to flow into two areas: robotic process automation (RPA) and artificial intelligence (AI). AI, in particular, is evolving at an astonishing pace, transforming various industries and gaining high popularity among the future trends of outsourcing.
As the data from the GSA report reveals, 83% of respondents believe RPA will be of greater significance over the next decade. Similarly, 80% of respondents hold the same belief about the growing importance of artificial intelligence. This highlights the increasing recognition of the potential of these technologies among the other future trends of outsourcing and reveals their impact on businesses as a whole. Therefore, we will face a growing demand for professional data scientists, big data analysts, and AI experts.
The integration of virtual agents and bots will definitely play a crucial role in streamlining routine tasks across industries. Reports predict that 2022 will also be the year when AI assistants will be developed to be powerful tools beyond smart speakers, providing efficiency across various domains. With the automation of routine and repetitive tasks, the job market will also be reshaped. It can cause the emergence of new roles that require special skills in managing these advanced technologies. All in all, implementing these future trends of outsourcing can position businesses at the forefront of technological progress and drive sustainable growth

6. Future Trends of Outsourcing: Changing the Nature of Partnership
Back in 2016, a study conducted by Deloitte revealed that 72% of respondents from the business sector were already outsourcing IT functions, with over a quarter planning to increase their outsourcing efforts. Notably, 70% of surveyed companies were going to outsource more in the upcoming years, and a significant 35% of them had plans for substantial increases. In this regard, 84% of service providers expect the outsourcing industry to grow, and 37% believe it will do so remarkably.

However, future trends of outsourcing have many strongly negative associations. Most of the companies are not willing to publicly reveal that they outsource their operations. Despite this fact, in the upcoming years, future trends of outsourcing will make it the only way for further growth of businesses, with no other channel giving the same economic efficiency. Thus, IT outsourcing providers will come out of the shadows and become strategic partners with strong, trusting relationships.

Due to such changes, the outsourcing industry will become more collaborative and competitive. In particular, clients will look for IT outsourcing vendors who provide customer-centricity and progressive technologies. Cost reduction will remain a priority, but companies will also look for partners who provide a value-driven approach. As the GSA report states, software development providers will be contracted as service integrators, sharing risk and responsibility.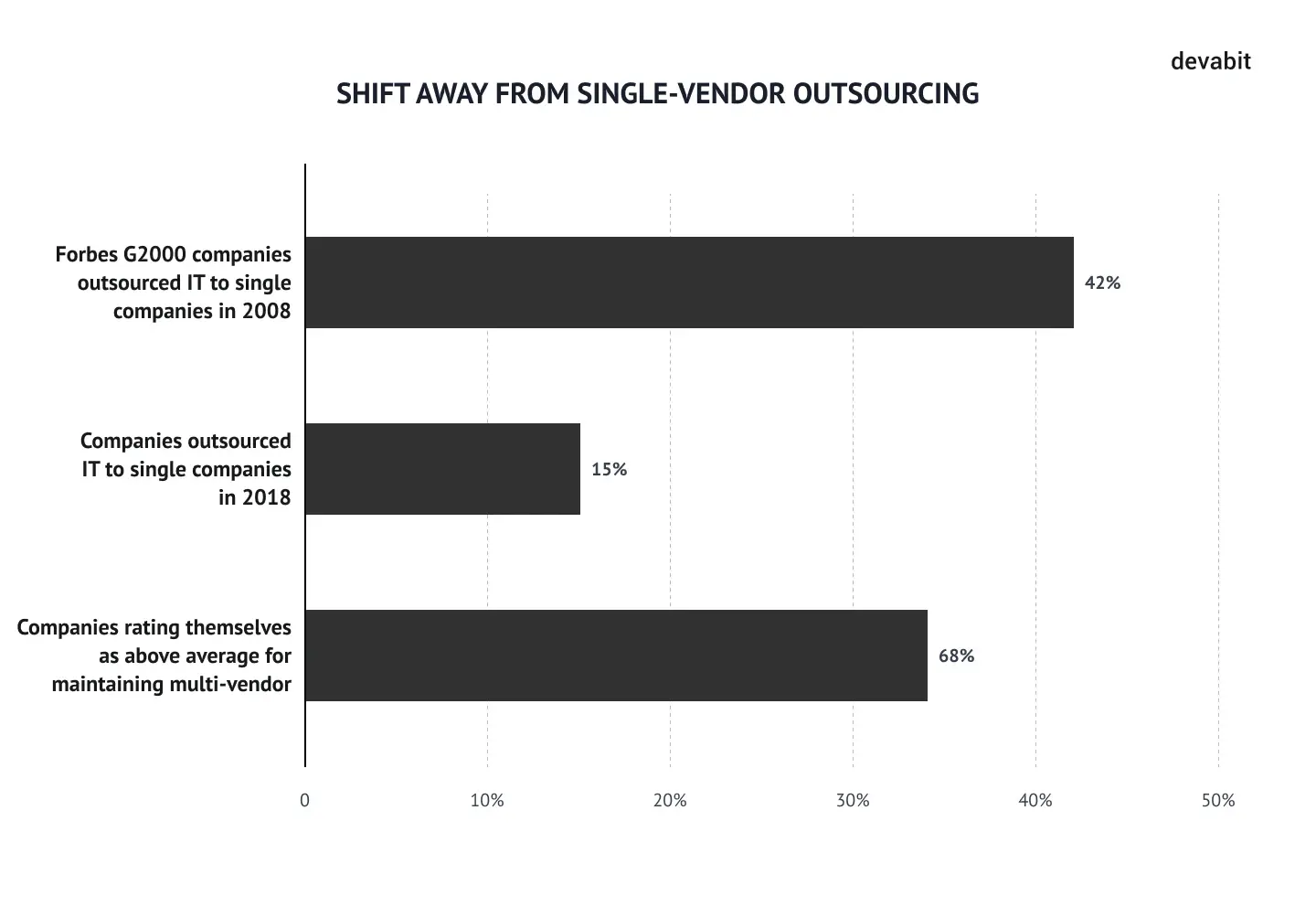 Obviously, this promises significant growth prospects for both vendors and clients. However, it also brings much business complexity. In the future, larger companies will likely partner with multiple narrowly specialized vendors. As the ISG data shows, in 2008, 42% of the Forbes G2000's largest global businesses outsourced IT to single companies. Today, this figure has declined to just 15%. 34% of companies rate themselves as above average for maintaining multi-vendor environments.
In conclusion, the future trends of outsourcing point towards its continued expansion and importance in the business landscape. Companies will be recognizing the benefits of future trends of outsourcing more and more, which will result in increased adoption and a swift move towards more strategic partnerships.

Future Trends of Outsourcing: Choose devabit
If you are considering implementing some of the future trends of outsourcing into your company and would like to meet a team of IT professionals from Ukraine, consider partnering with devabit! As a highly experienced company, we bring a wealth of expertise in a wide range of areas, including software, web, and mobile development, BPO, 3D and UI/UX design, and much more. Our programmers have a deep understanding of the industry and an extensive skill set that allow them to tackle complex challenges and deliver innovative solutions suited to your requirements and needs.

Don't miss out on the opportunity to partner with devabit and propel your business to new heights! Reach out to us today to discuss your outsourcing needs and explore how we can drive innovation and success together. Contact us now to start your outsourcing journey with devabit!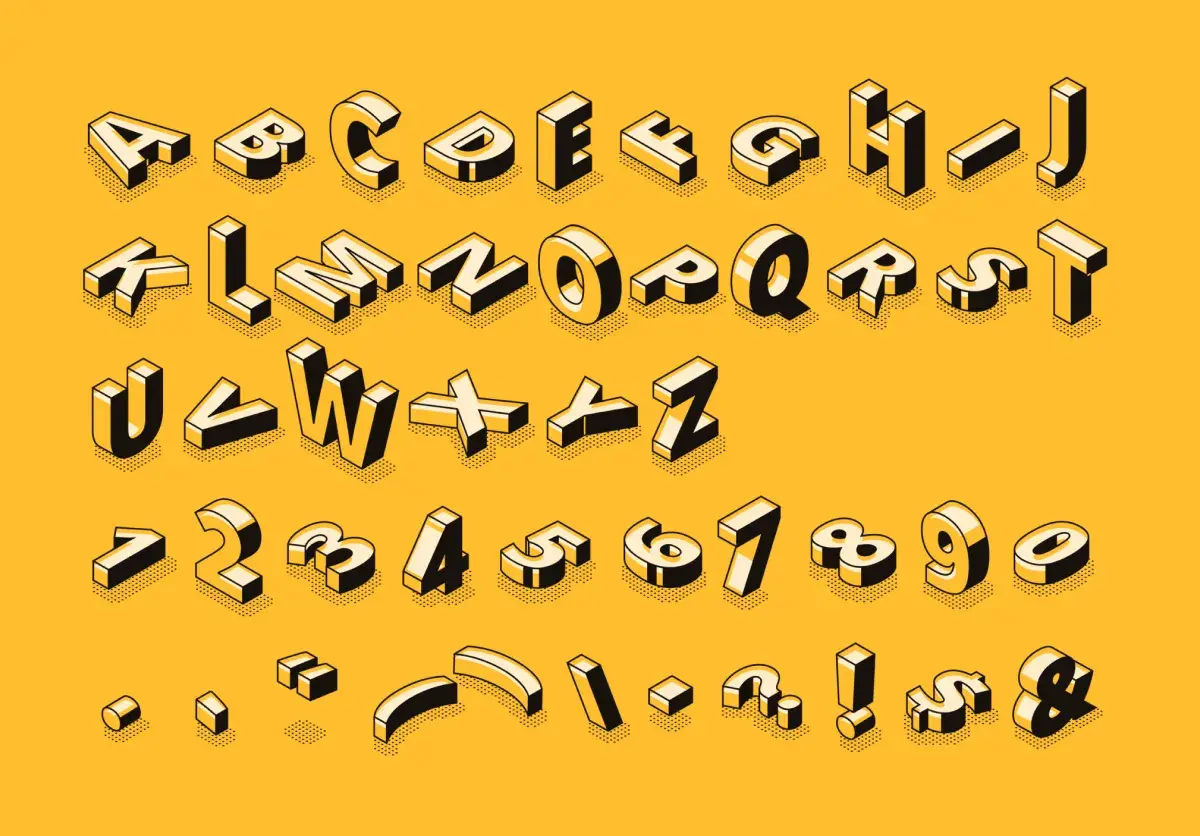 Recent Publications
Don't miss out! Click here to stay in touch.
Liked the article?
You will like our email too
Get the latest news from the devabit blog.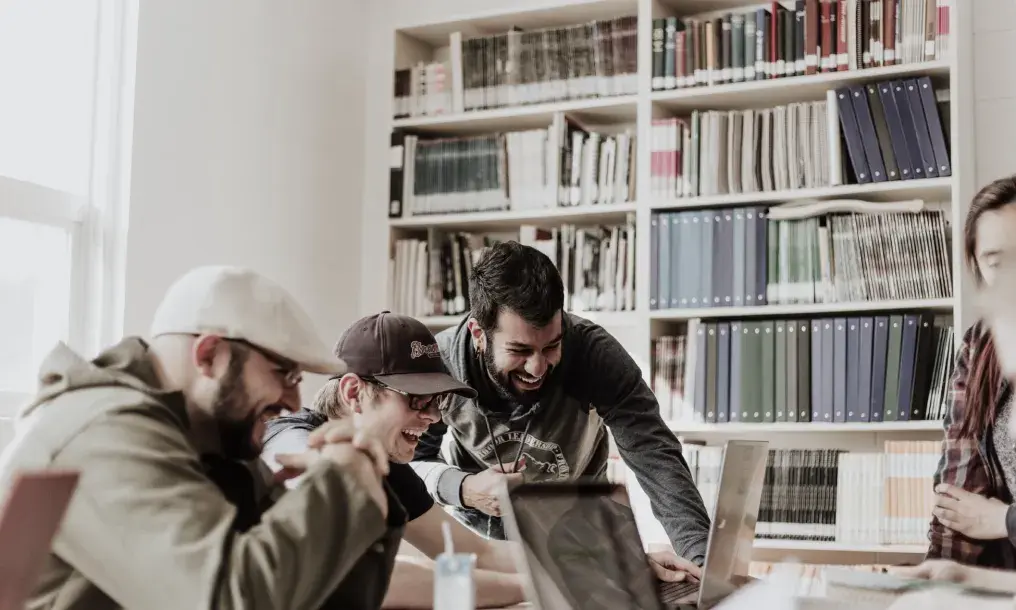 CONNECT WITH US WE'RE READY
TO TALK OPPORTUNITIES
THANK YOU! WE RECEIVED YOUR MESSAGE.
Sorry
something went wrong
One of our consultancy experts will get in touch with you shortly.
Please visit our portfolio to know more about us and the solutions we provide.